Last Updated: April 20, 2023
All retail business owners must have a combination of grit, determination, intuition, and a whole lot more to run a successful business. But as a business scales, the gut instinct can only go so far. At a certain point, it's imperative to trust data in addition to your great intuition.
We work with many small businesses that see a remarkable transformation in the way they do business with advanced retail analysis. We know there's a lot of new tech out there to consider, but this is one of the most critical pieces to adopt. Doing it well will give you far more insight and actionable advice into your business's operations.
So what are retail store analytics and how can it make such a big difference? Let's take a look at how sales reporting and metrics work and give you an introduction to how to build a better business.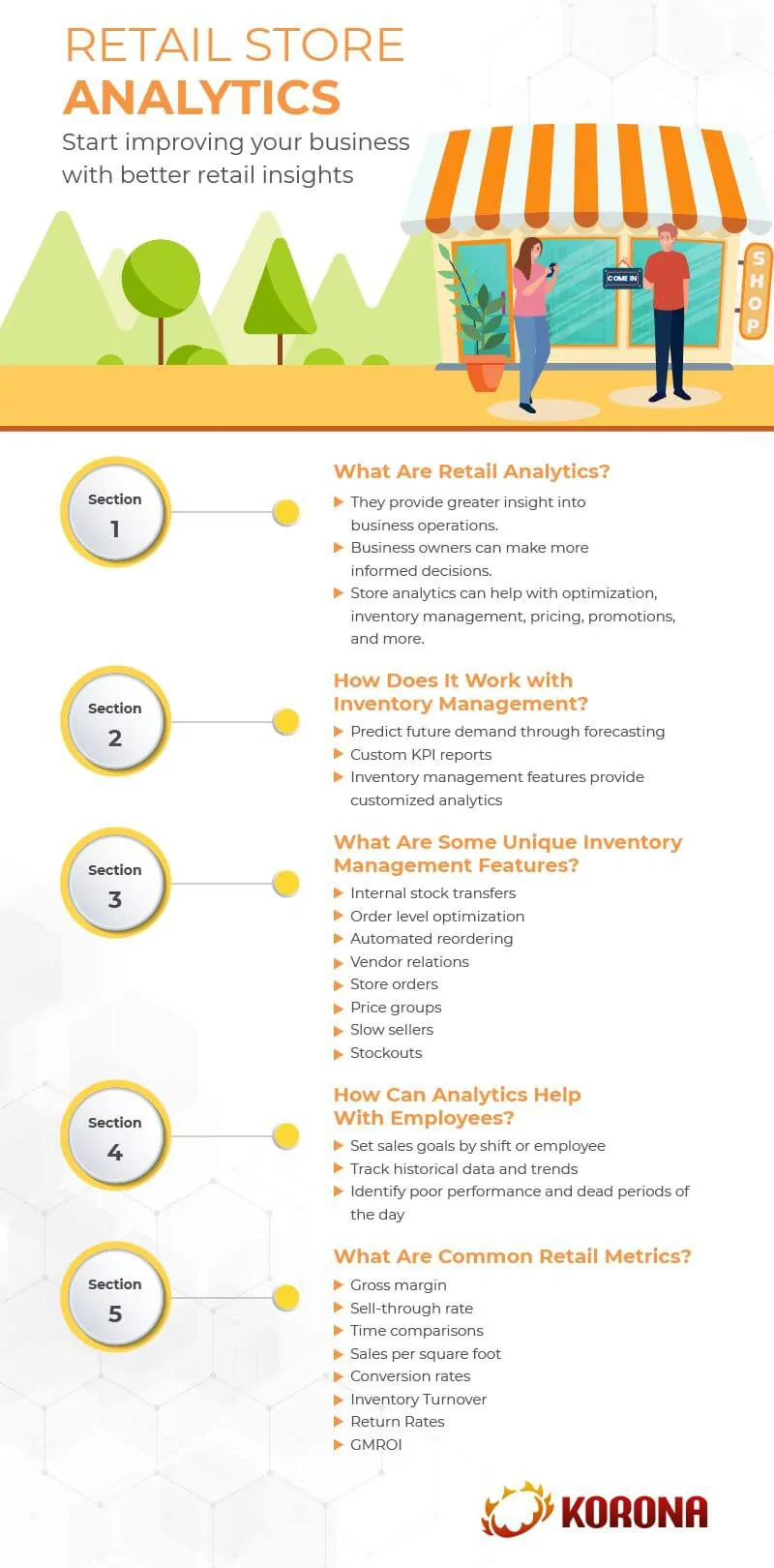 What Are Retail Store Analytics?
At the most basic level, retail analytics is a way of using data to better understand and measure the performance of a retail business. Armed with hard data that are presented in an approachable way, business owners can make better decisions and continue to scale their operation.
With retail analytics, so much of your business's operations will be revamped and made more efficient. It's so much more than just seeing total sales and product performance. Retail store analytics will assist with order optimization, inventory management, employee performance, commission, pricing, promotions, accounting, and more.
How Does Store Analytics Work With Inventory Management?
It all starts with inventory forecasting. Retail business owners need to be able to accurately predict the future demand for each of their products.
With KORONA POS, users can create detailed custom reports on hundreds of different KPIs to give a full picture of their business's operations. And with automated ordering, order level optimization, and store orders for multi-store operations, you'll be assured to have the right level of inventory for each product throughout the year.
Among many other features, KORONA offers retail businesses the following inventory management tools to work with overall store analytics:
Internal stock transfers

Order level optimization

Automate reordering

Vendor relations

Store orders

Individual store reporting

Price groups

Dispatch notifications

Slow sellers

Stockouts

Par levels
Each of these relies on your sales reporting to provide a more custom solution for each individual business. There's no such thing as too much data, and KORONA provides the most well-rounded data available.
At the end of the day, great retail store analytics help business owners avoid reactive decision making. Instead, it allows for advanced planning and anticipation.
How Can You Use Retail Analytics with Employees?
Retail analytics also help businesses set goals and sales targets. Use past data to find reasonable sales goals based on time of shift, day of the week, time of year, etc.
The custom sales reporting will easily identify the dead periods and the peaks of each day to better help you set goals.
This combined with employee reporting allows you to analyze staff performance and provide valuable feedback for each team member. You can also rerun reports to compare progress once feedback has been given. Again, this allows for more proaction and less reaction.
What Are Some Common Retail Analytics and Metrics?
There are hundreds of custom retail KPIs available in KORONA's retail software. Below are several of the most common:
Gross Margin

Time Comparison Sales

Sales per Square Foot

Conversion Rates

Inventory Turnover

Return Rates

GMROI
To learn more about how KORONA's inventory management and retail metrics can help your business succeed, set up a free trial. It's easy and free to get started and there are no commitments. Your dedicated product specialist will walk you through the ins and outs of the powerful features that will help transform and scale your business.