Updated: October 11th, 2022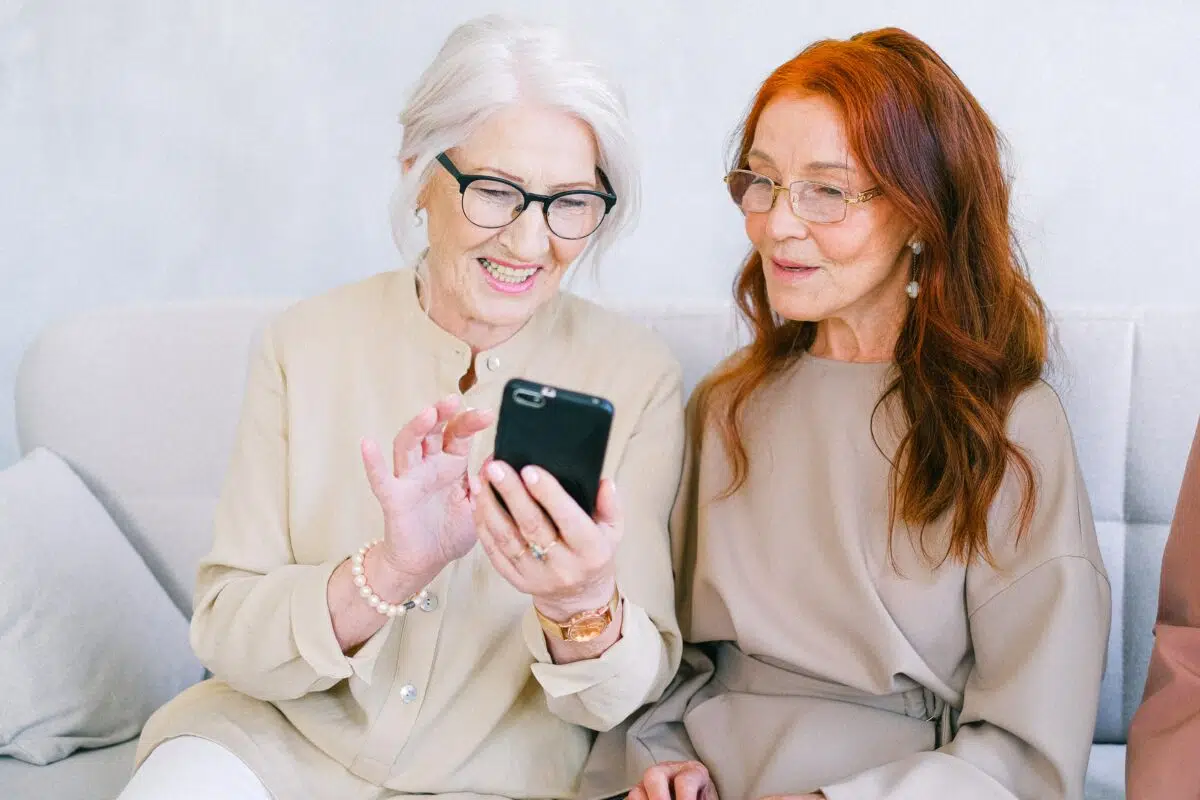 Before we get into the types of loyalty programs and how they can help your retail store, let's take a look at some quick facts about the state of these programs in 2022. All data is from The Loyalty Report of 2022, which surveyed over 17,000 shoppers using collectively over 340 loyalty programs. As we'll discuss later, you can see that there is plenty of room to improve customer satisfaction with retail loyalty programs.
The American consumer is, on average, now enrolled in 16.6 loyalty programs, and active in 7.6. This is a significant increase over the past five years.
74% of customers were more likely to recommend brands with good loyalty programs.
A low 35% of consumers felt that the brand was loyal to them.
32% agree that a particular retail loyalty program makes their experience better.
Brands experience sees a 6.8x lift when loyalty programs are tailored to personal preferences
For some inspiration, here are a few of the top ranking loyalty programs by industry:
Airline: Alaska
Hotel: Hilton
Grocery: Kroger
Health and Beauty: Sally Beauty
Apparel: Adidas
Specialty Retail: Amazon
QSR: Tim's Rewards
Why Are Customer Loyalty Programs So Important?
Keeping existing customers is much more valuable than recruiting new ones. Advertising and marketing to attract new clientele are expensive and unpredictable. Even more importantly, returning customers spend 67% more than first-time shoppers. Loyalty programs are a great way to keep your best customers happy. People like to feel rewarded for their business. It's nice to get free things, and even nicer to feel valued and a part of something bigger. Most major retailers, and many smaller shops, offer some sort of loyalty program. These can range from a punch card to Amazon Prime.
Rewards programs are great for two reasons: they get people to come back, and, because loyalty members are more likely to spend more money, they increase the average transaction value. In addition to the stats from the Loyalty Report cited above, the surveyors found that 78% of consumers are more likely to "do business" with a brand that has a retail loyalty program. 65% change how they spend based on the potential benefits of the loyalty program. Still, the post lockdown economy has seen some leveling out. In fact, year-over-year figures from 2021-2022 show that retail programs have actually seen a 3%-5% decline in enrollment. Clearly, there is substantial room for improvement for retail loyalty programs.
Types of Loyalty Programs
Points
This is the simplest and most common type of loyalty program. You earn points based on the amount which you spent. The points can be redeemed however the retailer chooses, whether it's with free product, discounts, or some other type of reward. Good loyalty programs even personalize this for each customer. The point system is great for retailers who have frequent shoppers making smaller purchases, such as a liquor or convenience store.
Many retailers offer a point for every dollar spent and then a gift card at certain milestones. Others use variations. Best Buy, for instance gives 0.5 points for every dollar spent and a $5 gift every 250 points. While only 1%, it keeps people involved by setting a goal and encouraging more spending.
Tiered Points
Many larger retailers have moved to this system. Tiered points rewards more valuable customers and allows goals to be reached more quickly. Some have combined this with the retailer's specific credit card members. It adds another layer of exclusivity, making the customer feel more valued. It also avoids rewarding one-time shoppers, saving you from people who take advantage of your loyalty program with no plans of returning.
GAP offers a range of benefits with their tiered loyalty program. Members with a GAP credit card get more points for every dollar spent, and extra bonuses like birthday gifts and 10% off every purchase. A third tier exists for those with over 5,000 points. Check out their loyalty breakdown below: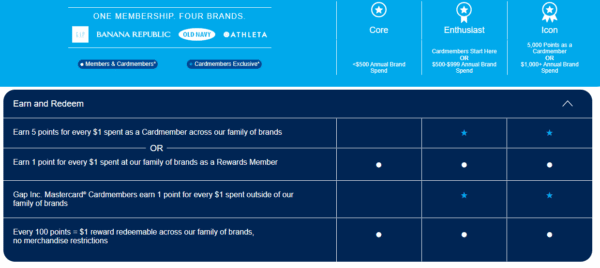 Coalition/Partner Programs
Some retailers benefit from teaming up with businesses that are trying to reach a similar market. It's, of course, important to avoid partnering with direct competitors and instead a retailer who is likely to attract the same type of client. Under this system, the loyalty program becomes more valuable to the customers since they can redeem points or rewards with multiple retailers. Smaller retail stores also benefit from partnering with more well-known shops and increasing their brand recognition. While fewer larger retail companies will benefit, there are some that can: stores with infrequent customer purchases. In this case, customers earn points at multiple locations that will remind/tempt them to visit the coalition retailer sooner than they would have otherwise.
Upfront or Membership Fees
What comes to mind for most people? AMAZON. Prime membership has been ridiculously successful and is helping define the future of retail. Costco and Sam's Club have done this profitably for years as well. Other big retailers are flying under the radar with their membership deals. REI offers a lifetime membership for $20 with a 10% member dividend on all purchases and special access to clearance and used items. Some brick and mortar locations also have in-store activities that are free for members.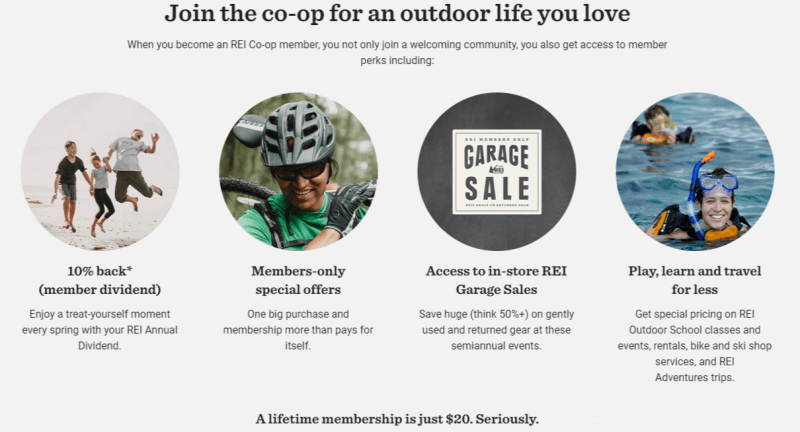 Brand Loyalty Programs Should Be Reciprocal
One of the focal points of 2022 Loyalty Report is the idea that brand loyalty goes both ways. In other words, loyalty programs should be designed for reciprocity. Consumers prefer brands and companies that they feel are loyal to them. There are many ways to make your clientele feel appreciated and cared for. Returning to the previous example of REI, any member of their loyalty program can return any clothing or footwear they find unsatisfactory, regardless of condition or wear. Showing your members that you care more about their satisfaction than anything else fosters this culture of reciprocal loyalty.
The Best Company Loyalty Programs Emphasize Personalization
Additionally, it is essential to pay special attention to shopper preferences, spending patterns, and purchase history. With detailed sales reports and consumer data driven by a robust point of sale, you can seamlessly power an integrated loyalty program that is tailored to specific segments of your customers. Utilizing a cloud-based, smart point of sale like KORONA POS will equip you with the actionable insights to personalize all parts of your customer relationship program.
Reward your clientele with items or promotions that they actually care about. Offer your best clientele exclusive access around a holiday merch drop, or free expedited shipping on their birthday. Ensuring that your customers feel valued and personally catered to is key.
The End Goal of Retail Loyalty Programs: Measure ROI and Profit
It's great to reward your regular customers, but your ultimate goal is to bring more customers into your store and, more importantly, create regular visits. This directly increases the overall customer lifetime value. If your loyalty program is greatly increasing this, you can afford to give away more substantial benefits. If not, you must be careful to not lose money on your loyalty program.
The key is to track and analyze the total purchases and measure different behaviors between members and non-members. With some essential loyalty and membership integrations, you can use your retail POS system to help you organize and simplify your sales data. This consolidates valuable information in digestible ways so you can make constructive business decisions. Give us a call today to learn more about our retail loyalty integrations!
Get Started with KORONA POS today!
Tell us a little bit about your business and explore all features that KORONA POS has to offer. And there's no commitment or credit card required.