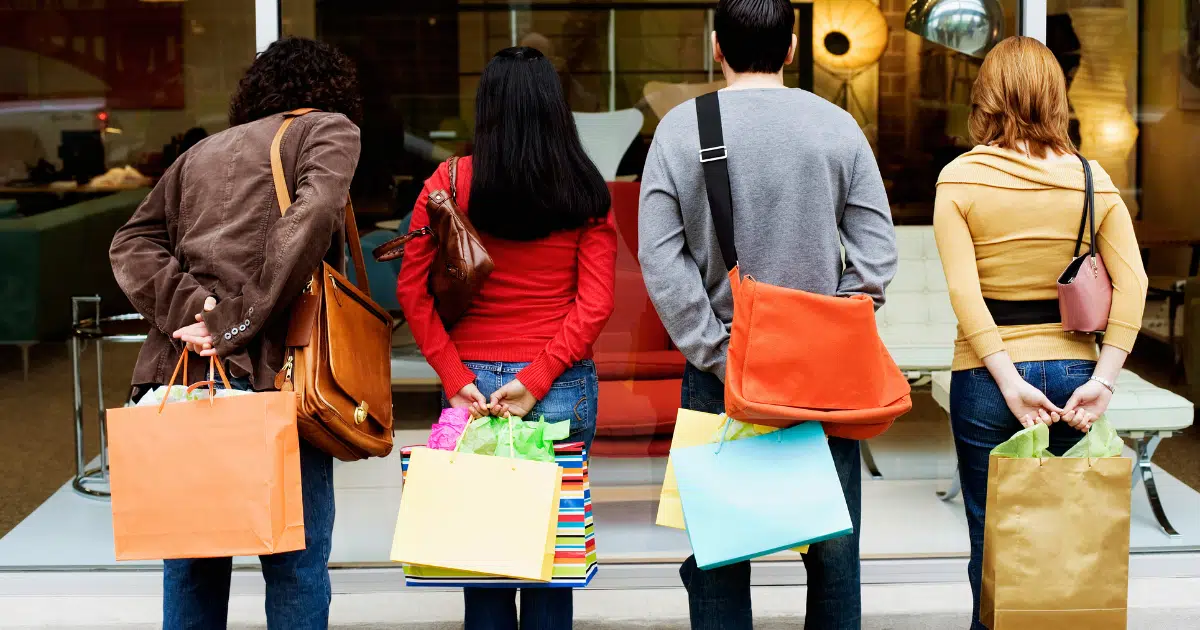 Knowing how to increase foot traffic to a brick-and-mortar store means attracting more customers to your store and potentially increasing your revenue. Providing in-store pick-up, working with influencers and brand ambassadors, and hosting events in your store are some of the strategies you can implement to drive more foot traffic to your retail store.
Increasing foot traffic is crucial in growing a brick-and-mortar or retail store. More traffic to your store means you have a better chance of increasing sales and customer engagement. When looking for a good location for your business, you need to make sure that the place you choose is conducive to foot traffic. Thereby, growing your business organically.
However, even after choosing the right location, there are still some marketing strategies to drive more traffic to your retail store. If you are struggling to attract more customers or looking to improve the traffic to your store, this blog is for you.
We will explain what foot traffic is, how to measure it, and eight proven strategies to get more foot traffic to your store and grow your sales substantially in 2022.
Table of Contents
What Is Foot Traffic?
Foot traffic is a metric that refers to the number of customers entering a retail store, mall, restaurant, etc. This metric is critical since it's an indicator of the presence of customers in the store and future sales. It goes without stating, but the higher the foot traffic the higher the sales.
Consider how important foot traffic is for the success of most retail businesses. That is to say, choosing the right location for your business is crucial. If you are considering starting a retail business, this is one of the things to have on your to-do list. Prior to doing so, conducting in-depth customer traffic analysis is particularly useful.
Retailers can typically access data about how many people come to their store on a given day. The most crucial traffic information that retailers should look out for includes the following metrics:
Average time spent by customers in the store

Average length of time spent shopping on an annual basis

Types of products or items that are most in-demand

Distance customers travel from their homes to the store

Comparisons of traffic data with competing stores
Why Is Foot Traffic Important For Your Retail Store?
Foot traffic is a key for business owners to have more data for making more informed decisions. For example, it allows you to know the busiest times in your store based on total sales and foot traffic and plan your staff schedule accordingly. Most importantly, you can measure foot traffic levels alongside total orders processed to see if your staff is successfully turning opportunities into sales. The better you can interpret the data, the better equipped you'll be to spot trends, benchmark your store's performance, and be more cost-effective in workforce planning and marketing.
Here are some additional benefits of foot traffic to consider include:
Better inventory planning
Measuring foot traffic will allow you to forecast sales and predict the appropriate amount of inventory required to prevent shrinkage and out-of-stock incidents. It will also help you avoid overstocking products.
Enhance your sales and discount strategies
If you know your retail store's busy hours or days, consider planning flash sales or special deals during busy times. By doing so, you'll hit more customers and, ultimately, sell more inventory.
Employee increase
Measuring traffic allows you to get more associates on the sales floor during peak periods. You can also avoid having too many staff during slow periods. The additional staff you hire can be part-time, which will allow you to reduce operational costs.
Growth opportunities
If your goal is to open new stores to increase sales, tracking foot traffic will offer a clear insight into how you can replicate your success in a second or third physical location. Knowing more about your customers and their buying behavior will help you develop your expansion plans.
How to Determine Foot Traffic?
There are several ways to measure your foot traffic. For the most part, many retailers use their WiFi network, people counters, heat sensors, surveillance cameras, and point of sale systems to integrate the data into customer traffic analysis to receive the information they want. You can also get information about the traffic to your store from the number of customers coming to your counter.
See related: How to Find the Best Retail Store Layout
Fortunately, you don't have to be standing at the door and manually counting all incoming people to measure foot traffic. There are several tools that allow you to count foot traffic and collect information about the customers who come to your location(s).
Traffic tracking software
With traffic tracking software, you can get an automated collection of in-store traffic information. Depending on your budget, there is a variety of different traffic tracking software available. Traffic tracking software includes Dor, Kepler Analytics, Aislelabs, among many others.
Social engagement
Social engagement is also another option for measuring foot traffic and gaining customer insights. For example, you can encourage customers to check-in during in-store demos or hold an in-store event for which participants must sign up and/or complete a questionnaire that will yield valuable customer data. If you already have a strong online presence through your website or social media profiles, you can make your store a check-in location or ask customers to submit information when they log in to the store's free Wi-Fi.
Sales data
While sales data tells you how many shoppers completed a purchase, it doesn't tell you the total number of people who came to your store. Sales data is excellent for measuring the percentage of shoppers that convert to a sale. You can cross-reference the total number of shoppers who walked into your store that you counted with traffic tracking software with the total number of orders processed by your store's point of sale system. As you increase your store traffic, ensure you carefully monitor your conversion rates to see how successful your employees are at turning sales opportunities into actual sales.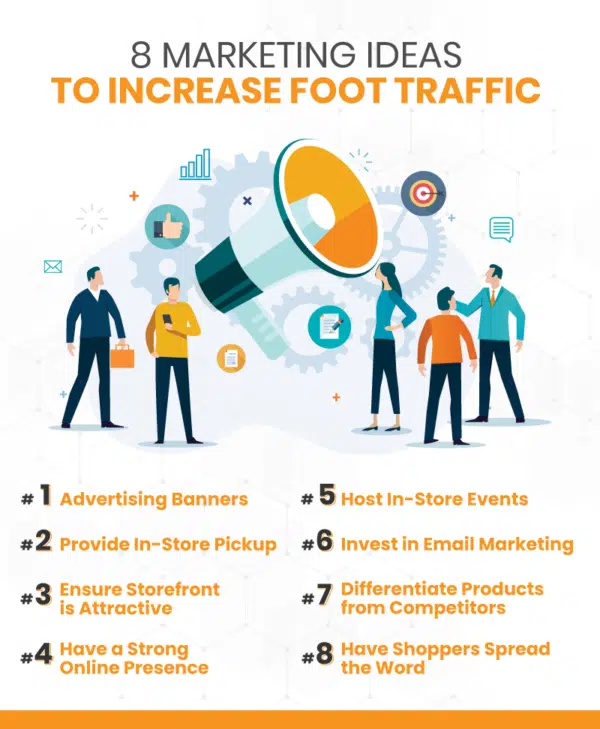 How Do You Increase Foot Traffic to Your Retail Store?
There are several ways to drive foot traffic to a retail store. Some retailers hold promotional events, sales, and fundraisers to drive more new customers into the store. Other retail stores also leverage their social media presence to better attract customers.
However, there are a whole lot of ways to get creative and bring more foot traffic to your area. Here are some other marketing strategies you can try to improve traffic to your store to generate more sales.
1. Leverage advertising banners
Using banner advertisements in front of your store is a strategy that will drive foot traffic. There are many different signage businesses can use as part of their advertising. Retail signage is a visual store graphic that you use to display information about store details, branding, events, and promotions.
For example, a deli that wants to attract more customers can set up a freestanding sandwich board outside your store. This information tells your customers about your products and business and can easily be utilized for advertising purposes and bring in more customers.
Sandwich boards, for example, cost about $20 and are very easy to install. Make sure that what you write on it is catchy enough. You can put in either a compelling offer or a phrase likely to make a passerby stop.
2. Provide in-store pickup
Another strategy to increase foot traffic to your retail store is using new fulfillment options. These options include buying online for delivery, ordering online and picking up in-store (BOPIS), and curbside shopping/pick up.
According to a study by Innovating Commerce Serving Communities, over 50% of adult shoppers use BOPIS, and 67% of these consumers increase the value of their order when they know they can pick it up immediately. This option saves them time.
The buy online, pick up in-store option ensures a smooth online and offline shopping experience for consumers and increases their satisfaction with your services.
In addition, these omnichannel shopping options, particularly BOPIS, can increase your sales because when customers place orders online and come to your store to pick them up, they are likely to take a quick look at other products and decide to buy them.
Even if the customer doesn't buy a product on the spot, they will see an item that may have attracted them. Eventually they will come back to buy it later, leading to increased sales.
See Related: How to Increase Impulse Purchases
3. Make your storefronts attractive
The look of your retail storefront is an essential element that drives foot traffic to the store. The window display helps convey information to potential customers walking around your store. For instance, your overall aesthetic, seasonal items, promos, and more.
By reading what they wrote on the window, people are more likely to check out what is in the store. In addition, the window can serve as a display area for some of your products. Make your storefront attractive to give passersby a reason to enter your store.
What you write or display on the window should be unique, classy, and able to catch the eye at first glance. If it's items or other products you want to showcase in your window, make sure they look good.
Tip: Change your window display often depending on the season or time of year. For example, consider highlighting your products in the window with Christmas decorations during the holiday season. You can also use the window to display exciting offers or discounts to customers.
4. Leverage online presence
As we mentioned above, the buy online, pick up in-store option is a strategy you should consider to increase your foot traffic. However, if you want to take advantage of the benefits of online shopping, you'll need a consistent and well-established online presence and digital marketing strategy. Most retailers opt for the creation of an eCommerce website.
Make sure you have a mobile-friendly website because 61% of people searching on their smartphones are more likely to contact a local business if its site is mobile-friendly. However, this is not enough. Creating a website comes with other sacrifices: investing in local SEO, presence on social platforms, and local search engine optimization.
Invest in local SEO
For better online visibility, investing in local SEO is a must. Developing a local SEO strategy makes it easier for residents of your city or area to find your retail store in search results. 78% percent of location-based smartphone searches result in an offline purchase.
Many retailers have started using Google's Local Inventory Ads. Synch up your inventory with the merchant interface to show local shoppers your products on Google Searches and Maps.
So, if you can develop and implement your SEO strategy and customers find your store after online searches, you are more likely to experience an increase in foot traffic and sales. For this, consult an SEO or digital marketing agency to help you better develop your strategy.
Optimize local search lists
As long as your business is not listed on websites such as Yelp, Google My Business, Facebook, Apple Maps, you are missing out on many potential visitors. Indeed, these online business listings allow retailers to improve their organic search results. Moreover, they are free and will let you mention all the information related to your store.
Be sure to include your store name, address, phone number, email address, link to your website, hours of operation, reviews, product photos, and, if possible, a virtual tour of your store. All this information allows you to quickly find your store in organic searches. However, this strategy will take a little more time and will make your listing more attractive and increase traffic to your retail store.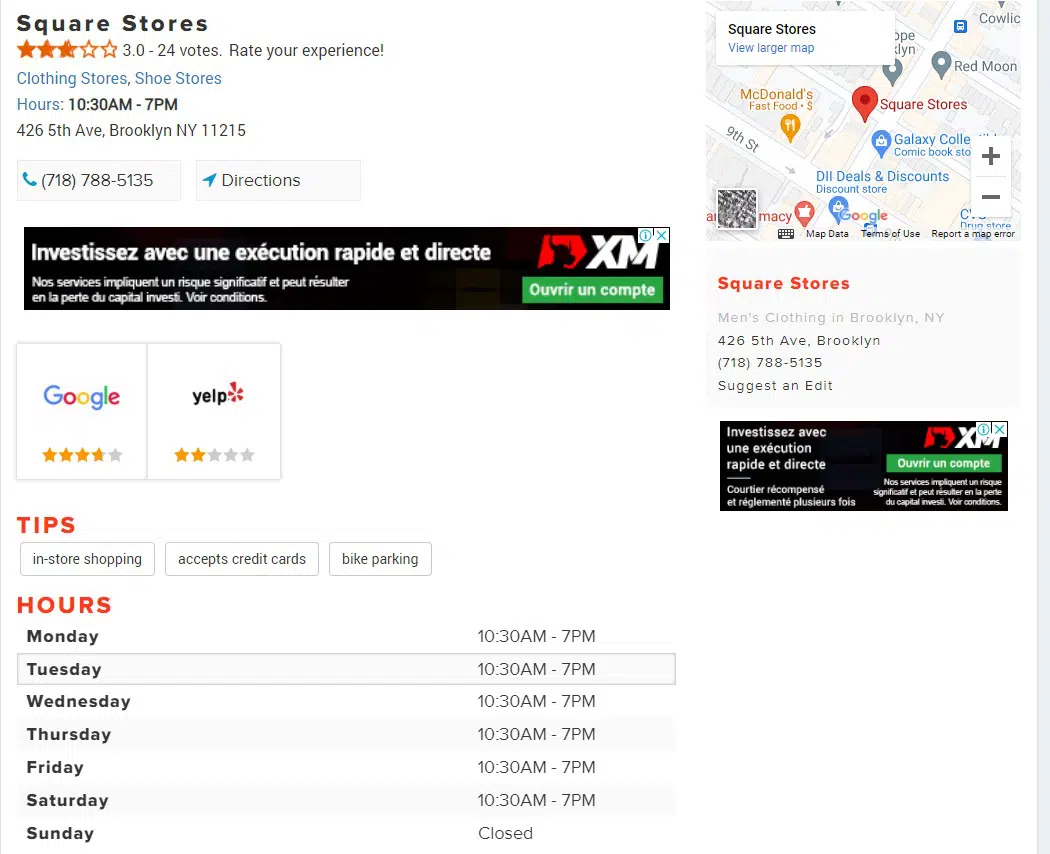 Have a strong presence on social media.
Social media is a goldmine that you should take advantage of. It allows more visibility to your business and helps build awareness, brand, trust, and community. Platforms such as Instagram, TikTok, and Facebook are ideal for attracting more customers and better advertising your products.
But it's not easy. Running successful campaigns on social media takes a lot of time to target the right audience and maximize conversions.
You may also like Instagram Marketing for Retail Businesses or 10 Winning TikTok Marketing Strategies
By improving engagement on social networks, you will be able to interact with more potential customers and existing ones. In addition, you will gain more awareness among your local audience who will be likely to make purchases in your store, thus increasing your foot traffic.
5. Host in-store events
Organizing special events in your store for your target customers is one of the best ways to drive foot traffic to your retail store. You can organize in-house events, for example, during the launch of a new product, the celebration of birthdays, or reward the customers who have been the most loyal to your store.
By inviting two or three other businesses to join you, they will promote the event through email marketing campaigns, social networks, or any other means of communication, to get more people coming to your store. Hosting in-person events allows your customer base to interact with your products and also allows you and your team to build rapport with your guests.
6. Leverage email marketing
Email remains one of the best ways to drive traffic to your store. If you have an event to organize, in-store promotions, new products to introduce to customers, or any other announcement an email marketing campaign is one of the strategies you should consider to achieve your goals. Inform customers about the advantages of coming to the store by offering them exclusive offers they can only benefit from on-site.
See related 7 Email Marketing Tips for eCommerce and Brick & Mortar Retail Stores
Also, tailor your email campaign based on your customers' location, demographics, and purchase history. This data is precious for a successful campaign, and you can access it through your POS system. A tip to make your marketing campaign a success is to indicate to your email subscribers the address and location of your store through a small card like the one below.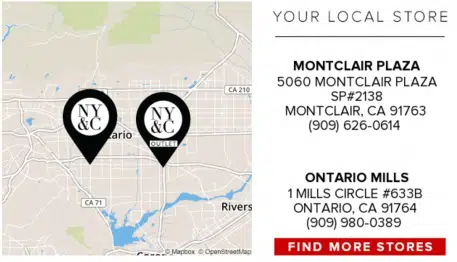 7. Differentiate products
When you open a retail store in a crowded commercial area, it means that there are probably other retail stores around you that sell the same products as you. So, to stay competitive and increase your chances of getting more customers, it is imperative to differentiate the product line you sell from other local stores.
This also means that while you are looking for a good business location for your retail store, you need to consider the type of retailers around you. If, for example, you are considering selling women's shoes and other accessories, and there is already a store that sells high-end ready-to-wear clothing, this may indicate that you will reach your target audience.
However, make sure you don't sell too similar products or risk losing customers to the ready-to-wear store that already have a loyal customer base. If customers don't find products in the ready-to-wear store, they're likely to come to you, resulting in an increase in foot traffic within your store.
8. Encourage shoppers to bring a friend
Encourage your customers to bring friends or relatives and offer them discounts or gifts. Your customers will be more likely to spread the word if they know that they have something to gain by recommending you to their friends and family. Spreading the word about your brand is a great way to bring in new loyal shoppers. The average consumer is far more likely to listen to a friend or family member than they are to a traditional form of advertisement. Doing so is a fantastic way to drive more foot traffic to the retail store. Here is an example below.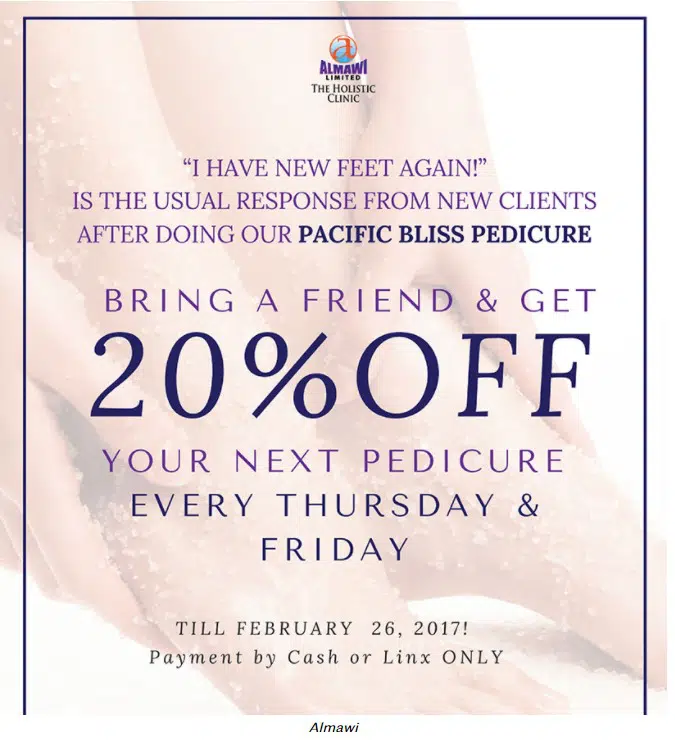 Use KORONA POS To Measure and Improve Your Retail Foot Traffic Through Sales Data
Before improving your retail foot traffic, you must first measure your previous strategies to know what worked and what did not. To find out, you need to look at your sales data to see how many buyers made a purchase.
Sales data is essential because it allows you to measure the percentage of buyers that turn into sales. Cross-reference the total number of customers who came into your store with the total number of orders processed by your store's POS system.
Learn more about How Sales Metrics Can Help a Small Business Scale
So make sure you have a cloud-based retail POS system that can process your transactions faster, tracking employees' time and efficiency. You need to monitor your conversion rates to see if your employees can turn sales opportunities into actual sales.
See related: Why Every Store Needs a Cloud-Based POS
KORONA POS is a retail POS system equipped with all these features and will allow you to have in real-time all the information related to sales and transactions within your store without you being present.
KORONA POS is also integrated with CRM and email marketing, promotion and discount features, retail inventory management tools, and many more. To learn more about how KORONA POS works, click the button below for a free trial.
FAQs: Drive Foot Traffic To Your Retail Store
How do I check my foot traffic?
There are several ways to check your food traffic. Surveillance cameras, sales data, traffic tracking software, social engagement, are all examples of ways to check your retail foot traffic. 
How do businesses increase foot traffic?
Companies can increase foot traffic to stores by improving their marketing strategy, strengthening their online presence, and offering regular promotions or other compelling offers that no consumer would want to miss