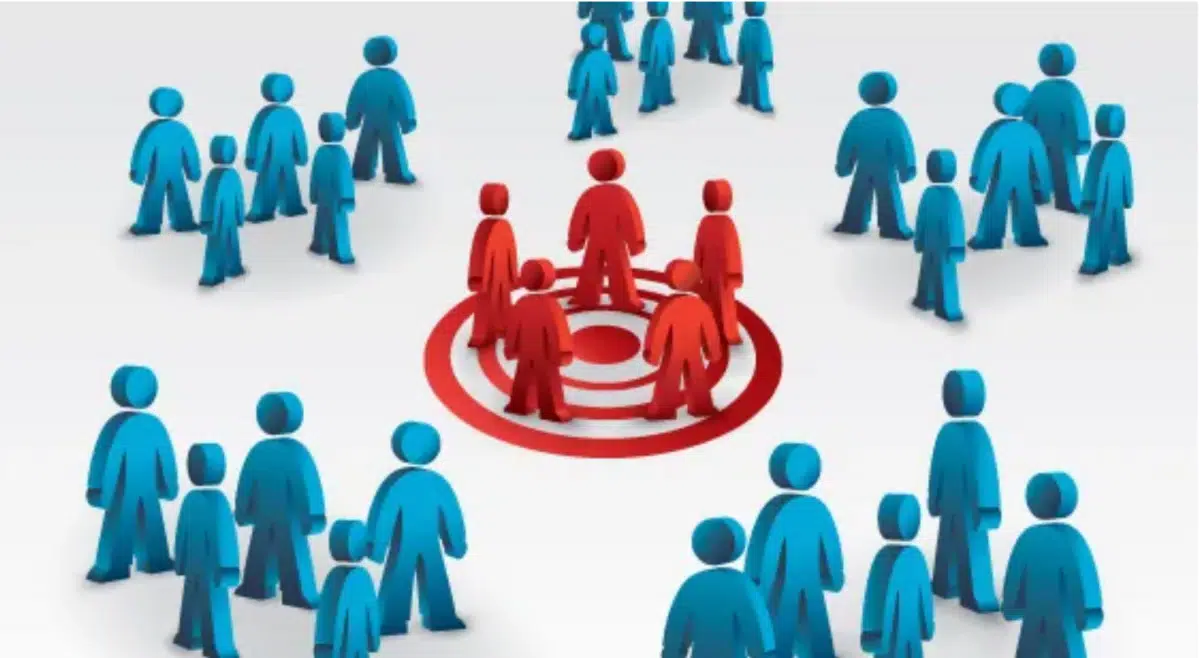 To determine your target audience, you must first understand that the buying process is in the hands of the customer and that you need to create targeted and personalized experiences for people if you want to get their attention among a sea of brands and advertisers. From Google Analytics to surveys and social media analytics, there are many tools available to retailers to determine their ideal customer profile.
One of the most essential elements of a marketing strategy is the development of an ideal target customer profile. Having an effective understanding of who your ideal customer allows you to build your entire business, message, products, services, sales, and support around attracting and serving this narrowly defined group of customers.
For example, Nike, the world's leading athletic footwear and apparel brand, offers comfortable sports shoes that come in a multitude of fun styles, types, and colors that appeal to a wide range of consumers.
The footwear and apparel brand is a global company that has been around since 1964 and uses its slogan "Just Do It" as an ode to its first and primary core audience: professional athletes. But who else does Nike cater to?
From women to young athletes and runners, Nike has a different Instagram account for each of its target audiences – and each account is just different enough to resonate with its specific consumer. This approach shows the company's deep understanding of marketing to multiple target audiences.
So how does your business find your ideal customer profile? And once you identify them, how do you best market to that demographic? This blog will cover how to define your target audience and reach the right consumers.
Table of contents
What Is a Target Customer?
A target audience is the group of people your marketing and advertising endeavors are geared toward. They are likely to be united by certain common characteristics, such as demographics and behaviors. Identifying your target audience is important when you run an eCommerce or brick-and-mortar business. It makes it easier for you to find new customers and attract interested shoppers to your website or store. This results in increased foot traffic, higher conversion rates, and, ultimately, sales.
Why Find Your Target Audience?
If you try to sell to everyone, you'll end up selling to no one. Getting to the bottom of your target audience will help you create a brand voice that resonates with your customer. Essentially, a target audience analysis gives you direction for your marketing and ensures greater consistency in your message, allowing you to build stronger relationships with your customers. Here are some other reasons why you should find your target audience.
Smarter marketing strategies
By identifying who you are targeting, you can market more effectively by using tactics that resonate better with your audience. By knowing what works and what doesn't, retailers can double down on effective campaigns and reduce those that don't. Marketing to such segmented audiences is more strategic regarding what messages, images, and promotions to implement and what channels to use to engage the customer.
For example, Nike's psychographic segmentation allows it to create a target market for sportswear, a target market for sports equipment, and a target market for fitness apps. By honing in on consumers in this way, Nike can identify the people most interested in running sneakers and yoga pants. This yields campaigns that are much more personal and resonate more deeply with consumers than if they were targeted with irrelevant products.
According to research, 91% of consumers say they are more likely to purchase from brands that provide relevant offers and recommendations, and 66% of consumers say that non-personalized content would deter them from making a purchase.
Increase in revenue
Increased sales are unarguably the most prestigious benefit of targeted marketing. Targeted marketing allows retailers to focus on the efforts and audience segments that generate the most revenue. For example, if you own a retail store that sells running shoes, ads in running magazines may be more appropriate for your target audience. So, choosing the right media is key to getting an ROI from your marketing efforts.
However, it's not just about focusing on the big spenders. Retailers can also analyze why other segments aren't spending as much. Is there a better way to target them? Do your buyer personas need to be revised to include a more relevant audience segment?
Other than customer attraction and adding value, target marketing is also essential for some other important reasons:
Expanding the product line after solving a specific need

Setting the right prices

Determining channels for seamless communication

Finding and highlighting the best features

Selecting SEO criteria and choosing the right keywords
See related: SEO for eCommerce Retailers: The Complete 8-Step Guide
A narrow target market allows organizations to avoid spending too much time and/or money on casting a wide net. This allows them to work with significantly reduced overhead and convert more potential customers.
STARBUCKS: Another True Example of Well-Thought-Out Target Marketing
Starbucks has evolved and reshaped itself to cater to both younger generations and more traditional customers. The company has clearly defined its target market into three categories:
Tech-savvy adults, who fully utilize the Starbucks mobile app

Their largest base – people between the ages of 25 and 40

Working professionals who have an urban lifestyle and specific preferences
Leaders must know their target market well enough to develop compelling and relevant value propositions. The viability and success of the entire sales process depend on knowing who is buying the product and what makes them do so. Target markets provide sales teams with the information needed to develop the strategy required to enter the market and make sales effectively. Failure to master emerging markets can stunt growth and lose lucrative business opportunities.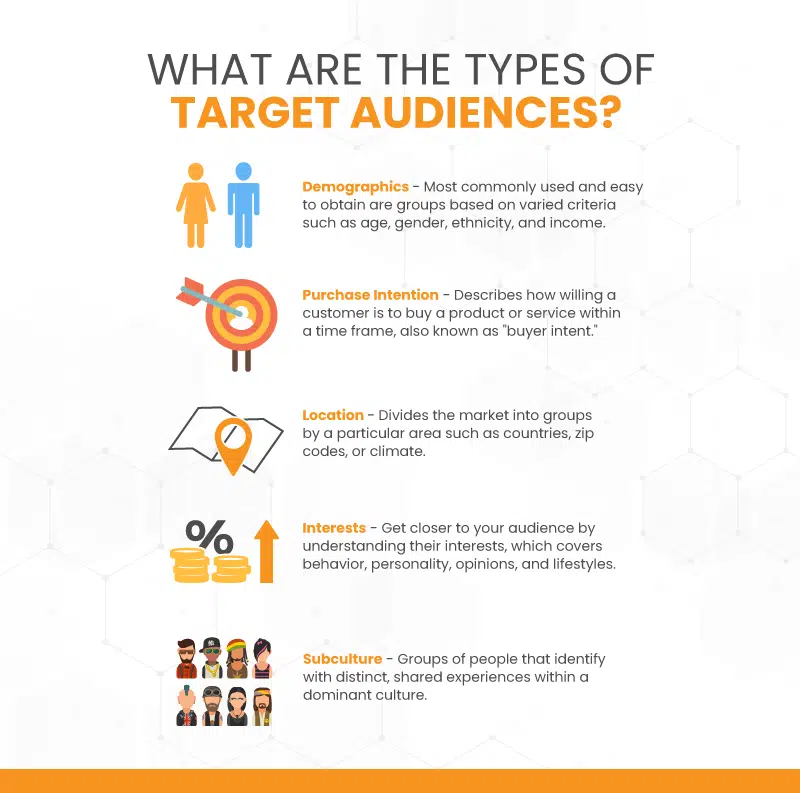 What Are the Types of Target Audiences?
A marketing campaign cannot appeal to everyone. What appeals to a single 60-year-old metropolitan woman will differ greatly from what appeals to a 32-year-old married father or a millennial living in the suburbs.
Knowing these differences and similarities allows you to create different target audiences and tailored selling points. You can create groups of any size and attributes depending on your business. Target audiences can be further segmented into categories that reference intent, location, interests, etc. Let's look at some examples of how you can divide your target audience:
Demographics
Demographic groups divide the market into smaller categories based on various criteria:
age

gender

ethnicity

income

education level

occupation

marital status
Demographics are the most common way to divide a market because the data is easy to obtain. You can tap into free census data, analytics software like Google Analytics, and consumer insights. Your point of sale system is also an essential tool for gathering this valuable information about your audience.
You may also want to read: How Does a POS System Work? 5 Common Point of Sale Questions?
Purchase intention
Purchase intent, also known as buyer intent, describes the degree to which a customer is willing to buy a product or service from you within a given time frame (depending on your sales cycle). Purchase intent considers various elements to visualize a customer's buying journey, including behavioral data, demographics, channel usage, and devices. This allows you to retarget ads or content to different intent groups to bring them closer to purchase.
Back to Nike, we notice that it leverages behavioral segmentation to build brand affinity and loyalty with consumers. This is seen in its personalized email and social media campaigns. Nike retargets them on other channels when people engage and show consistent interest in the brand on one platform. Nike uses the data and signals generated by consumer actions to refine its message and create strong relationships between consumers and the brand.
Here's a look at how they connect with the two most dominant age groups (18-24 and 25-34) on Instagram: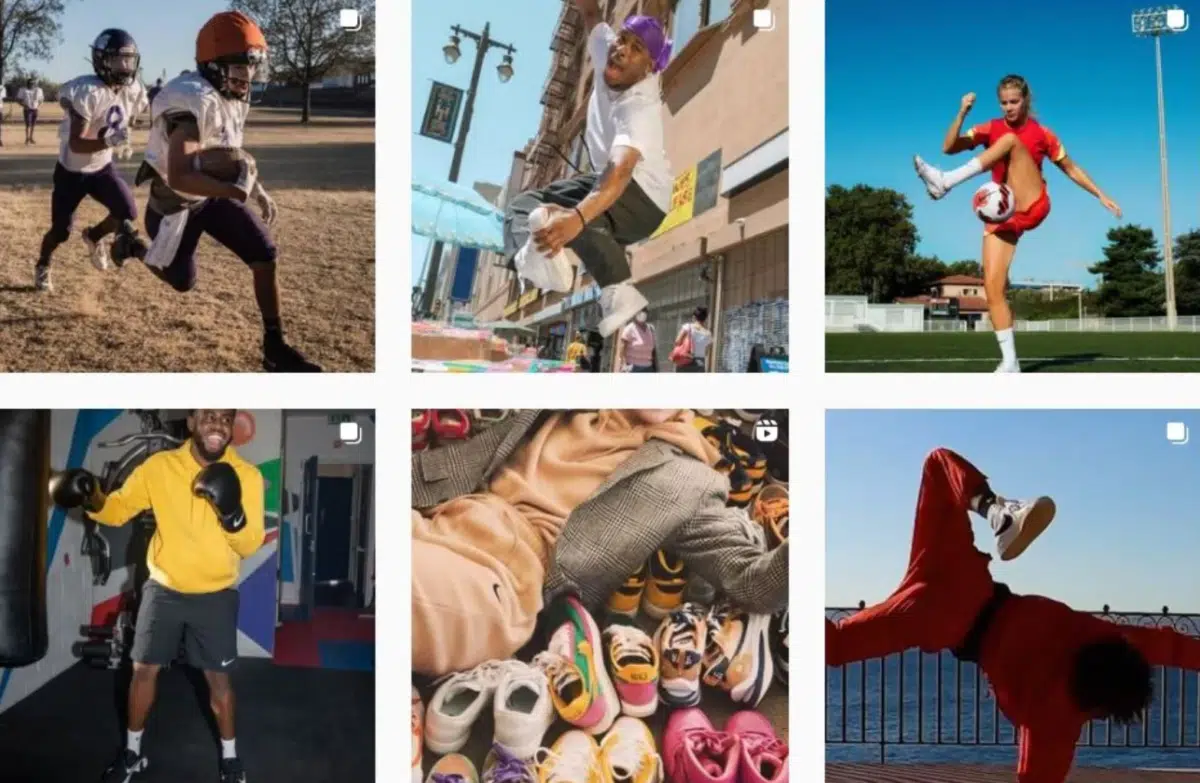 Among many others, Nike focuses on several purchase intent groups:
Use of the internal search field

Session duration on a product or category pages

Abandoned carts

Viewing 75% of a video ad
These groups do not always exist separately. You can focus on one type of target audience, such as demographics, or combine different types to create a detailed target audience and reach them specifically.
See also: Payment Analytics 101: Get Data From Your Credit Card Processing
Location
Location-based groups divide the market by location so you can better serve customers in a specific area. They are based on countries, states, and cities but also include other factors, such as cultural preferences, populations, and climate.
Nike consistently generates more revenue in North America than any other region. In 2021, 39% of its revenue, or $17.2 billion, came from North America, while EMEA revenue was $11.5 billion. Meanwhile, Nike earned $8.3 billion from Greater China and $5.3 billion from the Latin American and Asian Pacific regions.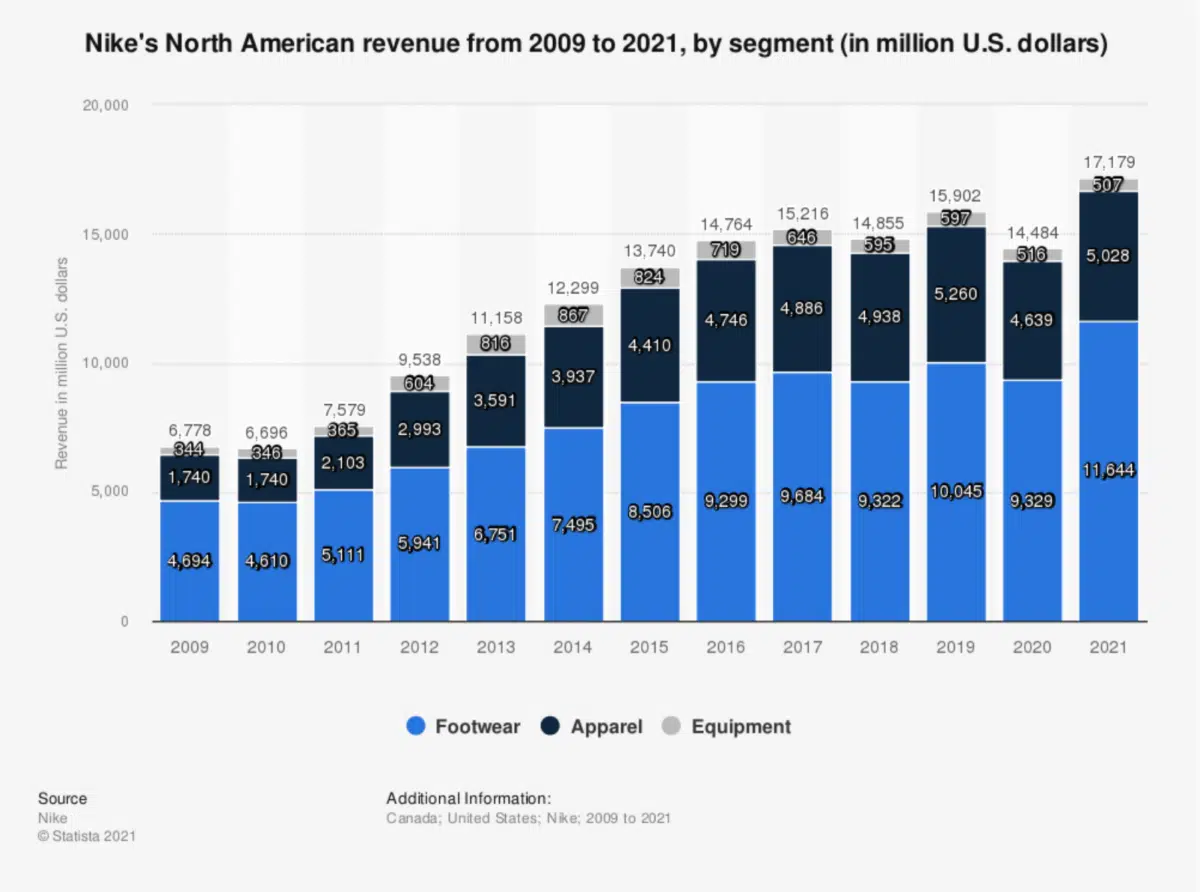 Even though Nike is sold worldwide, it leans strongly on geographic segmentation for its product lines and marketing campaigns because it knows that local culture and climate dictate consumer purchases. For example, its warmest winter items are unavailable in countries with more moderate temperatures.
Another example of how the brand relates to different geographic regions is the athletes featured in campaigns. In the U.S., ads may feature NFL superstars, while European and South American campaigns feature soccer players.
Similarly, SUGAR Cosmetics, for example, is a brand that targets women in India. It develops products that last all day in the regional climate, which is hot, humid, and rainy.
Interests
There is also data about people's interests. Knowing this data allows you to get closer to your audience through personalization and discover buyer motivations and behaviors. For example, consumers who ride road bikes as a hobby are likely to be more interested in new road bikes in the spring, when the weather is warmer and the road racing season begins.
Interest groups cover attitudes, interests, personality, opinions, and lifestyles. It could be books, movies, dancing, hiking, or anything that excites or values your customers. A better understanding of a target audience's interests helps you deliver more relevant ads, create content that appeals to buyers, and develop more interesting products.
Subculture
These are groups of people who identify with shared experiences. An example of this is a specific music scene or a type of entertainment. People define themselves by subcultures, and companies can use these cultures to understand who they are targeting.
An example of reaching out to subcultures is considering how they relate to your business, especially if you have a large potential audience. For example, Netflix markets its subcultures (people who watch certain types of content) using social media accounts specific to those subcultures.
How To Determine Your Target Audience?
While many reputable marketing and advertising agencies can help retailers define their target marketing strategy, there are several tools for retailers to determine their target audience.
Learn more about your customers by leveraging Google Analytics
For businesses that have an online store, Google Analytics is a comprehensive tool that provides demographic information about your audience and their interests.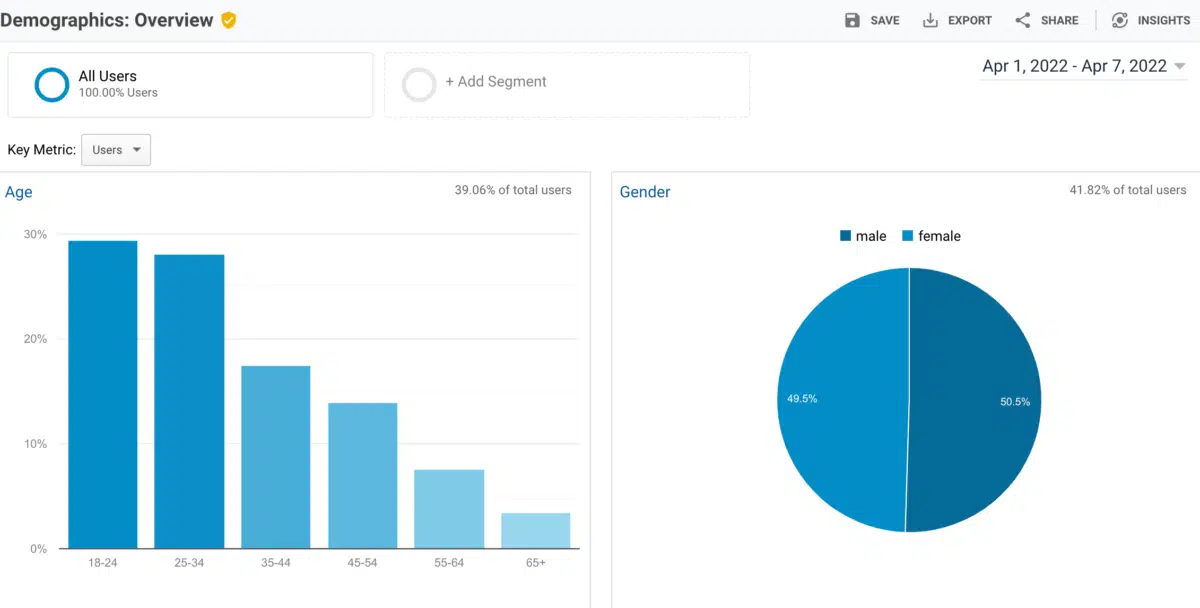 To give you a broader overview of what Google Analytics does, it helps businesses get information about their website traffic, where visitors are coming from (channels, media, sources, referrals, paid channels), which keywords are driving the most traffic, which pages are most visited, and the interests of your customers.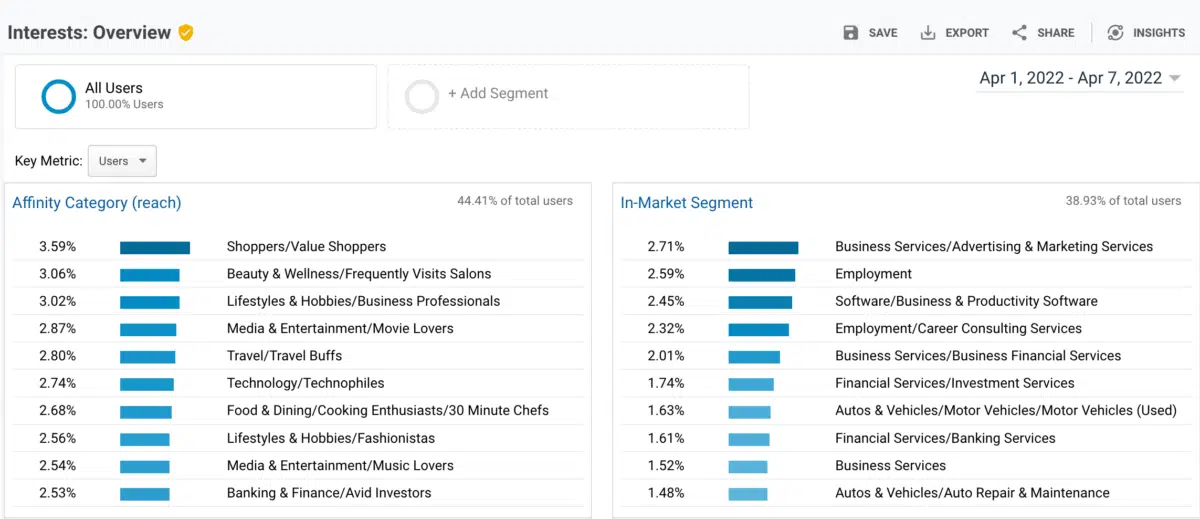 The data can then be analyzed to see page views, sessions, bounce rate, new versus old users, and session duration. You can also analyze the data to see what time of day users are coming to your site, what browser or device they are accessing your site from, the flow of behavior, etc. All of this data allows retailers to get a much clearer picture of their target market and better direct their marketing campaigns.
With Google Analytics, site insights are broken down into segments, such as age, gender, and location. The sections are clearly marked on the dashboard, with colorful graphics for your explanation.
See also: How to Find Customers Online: A Guide for Retailers
Conduct consumer surveys
Encourage clients and non-clients to take a survey. Incentivize them to get more responses. You can conduct these interviews by phone, email, on your website with a prompt, or in your store. Each method will reach different customers or potential customers, so it's not a bad idea to conduct a variety of interviews in different media. If you prefer to use an online questionnaire, try a tool like SurveyMonkey to create and distribute your questions, then collect the responses.
Ask basic questions about their age, family, occupation, income, and gender to create a complete profile of your customer and prospect base. It's also important to get to know them, so find out about their hobbies, beliefs, passions, values, and challenges. Also, ask questions specific to your industry. Find out what magazines they prefer to read, what social media they use the most, etc. And most importantly, find out who makes the buying decisions and where they make those purchases.
Create a customer persona
Combine all the information you gather about your ideal customer to create a customer persona. A customer persona is a picture of your ideal customer as if it were a real person. (You can even have a real customer in mind that exemplifies your ideal customer).
Here's an example of a customer persona for a bicycle retailer:
Mike is a 50-year-old professional with a household income of $150,000. He is married with grown children and lives in the suburbs. Fitness is a priority for him and he spends between $5,000 and $10,000 annually on high-end bicycles and accessories. He wants products that are functional, high quality, and convey status. If you have more than one ideal customer type, you need different customer personas for each type. For example, the bicycle retailer might also have this customer persona:
Josh is a 28-year-old single urban professional with an income of $90,000; he spends between $5,000 and $10,000 annually on bicycles and accessories. Josh prefers off-road and mountain biking and enjoys customizing his own bikes. Cycling is a social activity for him, and he likes to be the first in his group to own the latest bike gear.
Look at social media analytics
When are your followers most actively engaged on your social media channels? Is it when you post a funny meme on Instagram or create a poll on Twitter? By taking a look at these questions, you can get some clues about what content your audience is interested in, and thus, fill in one of the parts needed to find a target audience.
Each social channel is different and has a different audience, so it's important to look at your analytics across all platforms. For example, Twitter tends to have a younger audience, while Facebook tends to have an older audience. Along the same lines, Twitter is based on short content, while on Facebook you can post long-form content and videos.
Instagram is a visual-based social media platform, so content that is graphically stunning thrives on the channel. Knowing all this, you can start planning your strategy accordingly. Analytics can tell you who is viewing your profile. Additionally, they can tell you what works and what doesn't. By posting content that your audience is more interested in, you can gain followers who are part of your target market. Platforms like Hootsuite and Buffer are effective tools you can use to better track your social media efforts and get a lot of information about your target audience.
Three Easy Tips To Get To Your Target Audience
Running Ads on Facebook
Facebook ads are used by most eCommerce brands, regardless of their budget. Everyone willing to learn the basics of Facebook advertising can reach their target audience and drive growth with these social ads.
Facebook uses advanced ad targeting to find high intent buyers. Every action a user takes on Facebook and Instagram compiles a detailed user profile that you can leverage with Facebook ads. You can match your products to a list of demographics, interests, behaviors, and more to find the right audience for your ads.
The best part? You can easily send ads to Instagram users from Facebook's ad platform. This gives you the ability to connect with groups of people on different platforms, all with one ad.
Partnering with Influencers
Influencer marketing is the quickest way to reach your target audience. It consists of working with people who have built their reputation around a specific niche. They create content for their channels, promote your brand, and in return, you get more sales. Think of them as internet celebrities who act as brand ambassadors.
Nearly 80% of marketers find influencer marketing effective, which is why 75% of companies surveyed by Influencer Marketing Hub have a dedicated budget for influencer marketing in 2021.
Good influencer marketing channels include Instagram, TikTok, YouTube, Snapchat, and Instagram. Plus, you don't always have to pay to get influencer content. Retailers like Nominal, an online jewelry brand, send free products to would-be influencers to post on their social channels.
Build a referral program
A referral program is a marketing strategy that encourages your existing customers to share your brand with their friends, colleagues, and family. In return for their efforts, referral programs often offer customers rewards such as gift cards, discounts, points, or rewards. The beauty of a referral program is that it helps businesses easily find their biggest brand followers and track exactly where their new customers are coming from.
Formal plans also make it easy for customers to share your brand with dedicated testimonial pages and messages. Referrals have been considered the most effective tactic for marketers at every stage of the funnel. New customers acquired through referrals already trust your brand. An old but relevant study by Nielson shows that recommendations from family and friends are the most credible form of advertising.
There are tools like Referral Candy that make it easy for small businesses to set up referral programs. Referral Candy also automates the entire process, allowing your customers to easily sign up and share your brand with their friends. It then automatically sends rewards for every referred purchase.
Audience Examples from Target
Target
Target differs its content based on social platforms. For example, take a look at its Twitter account. The language is casual, engages users, and generally caters to a young, millennial audience. This is because most Twitter users are young.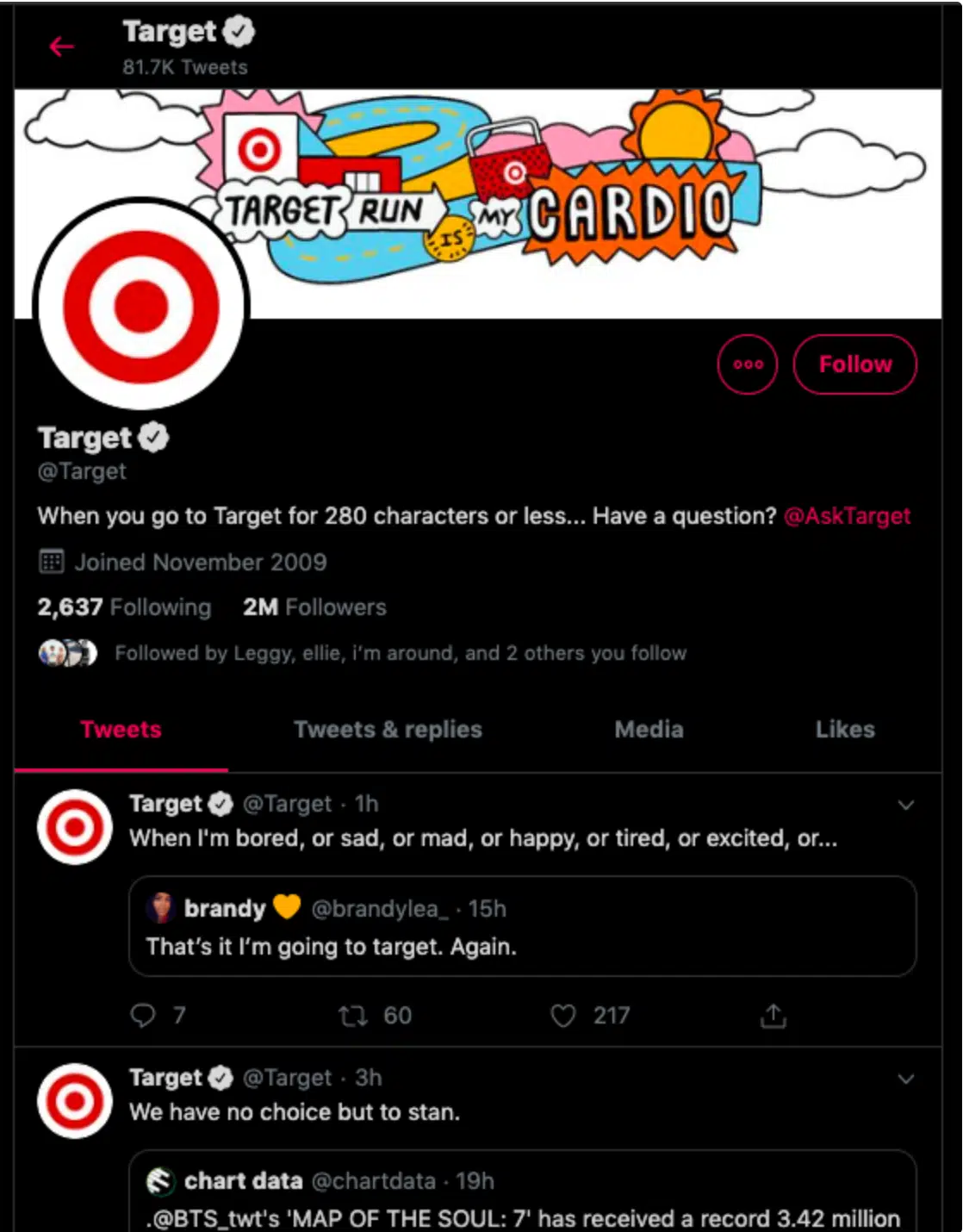 You can also check out this Facebook post, a partnership with Jessica Alba, an actress who focuses on her family.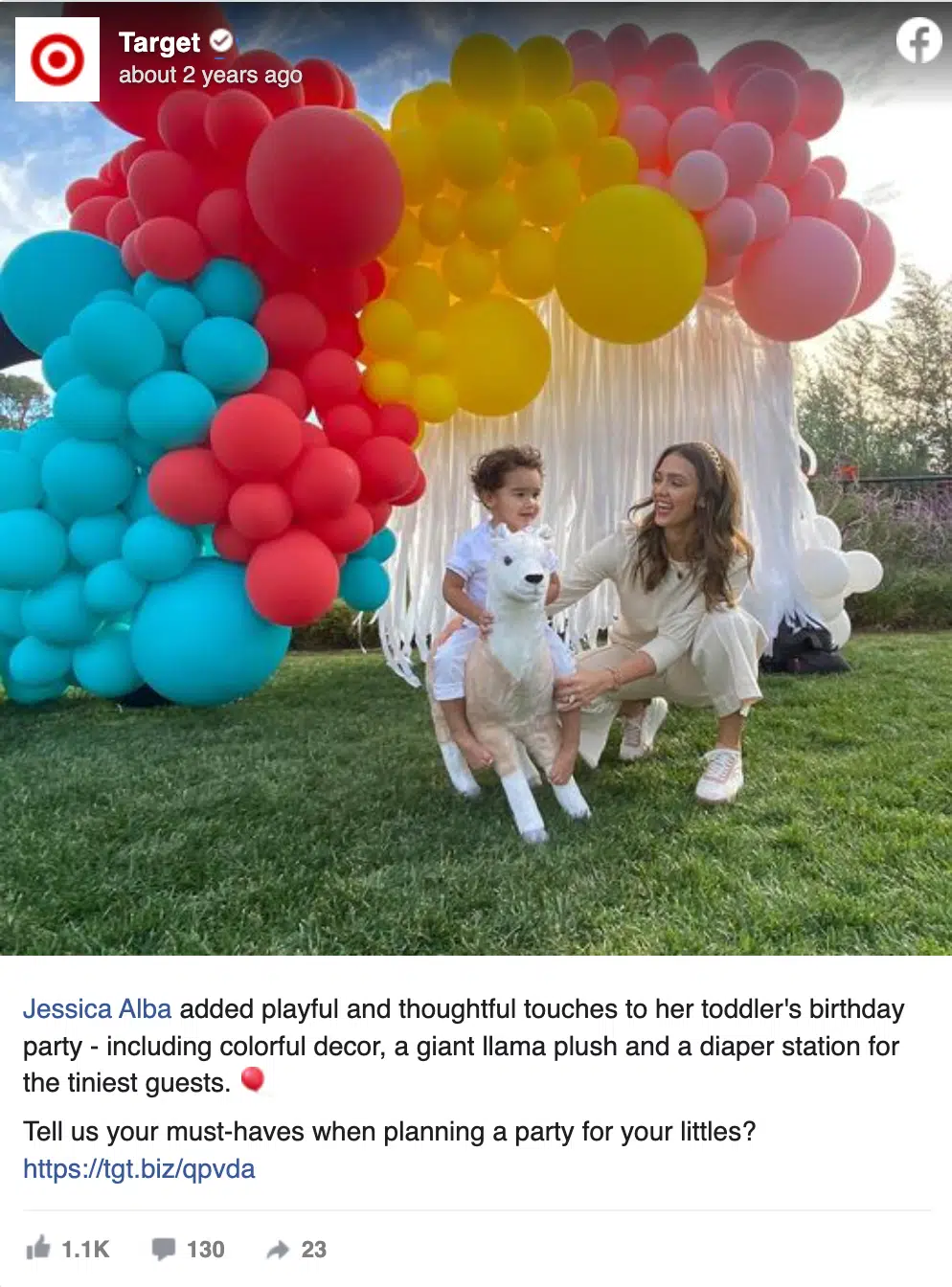 This is likely because Target's target audience for Facebook campaigns is family-oriented, while the focus is on youth on Twitter. Target, as a global brand, has different target audiences.
It can focus on one specific audience over another or on social media channels in general when it comes to campaigns. Target has found its target audiences and how they are represented differently and used that to its marketing advantage.
Target audiences are meant to engage consumers and give you a good idea of how you can target them. Identifying your target audience lays the foundation for an optimized marketing campaign focused on your ideal customers.
FAQs: Target Audience
What is a target audience?
Your target audience consists of potential customers who meet a list of qualifying criteria indicating a willingness to purchase your product. Qualifying criteria can be defined in terms such as demographics, interests, location, and purchase intent. A convenient way to summarize the characteristics of your target audience is to create a buyer persona profile and give it a name representing your ideal buyer. This allows you to put a face to your buyer and detail their qualification criteria. This can be useful for brainstorming, analysis, and strategy development.
How do you determine your target audience?
You can determine your target audience by analyzing your customer base and conducting interviews with them. Conduct market research and identify industry trends. Analyze your competitors. You can also create personas and use Google Analytics.