Last Updated: March 23, 2021
If you own a retail store, then you already know how stiff competition can be, both online and brick and mortar. Such direct competition may lead to a bidding war that you can't always expect to win since cutting prices way too low might result in low margins or insolvency.
But a strategy that can work is improving your customers' general shopping experience, ensuring that it's not always just the merchandise that brings shoppers into your store. Spending time improving your in-store experience can boost traffic and sales.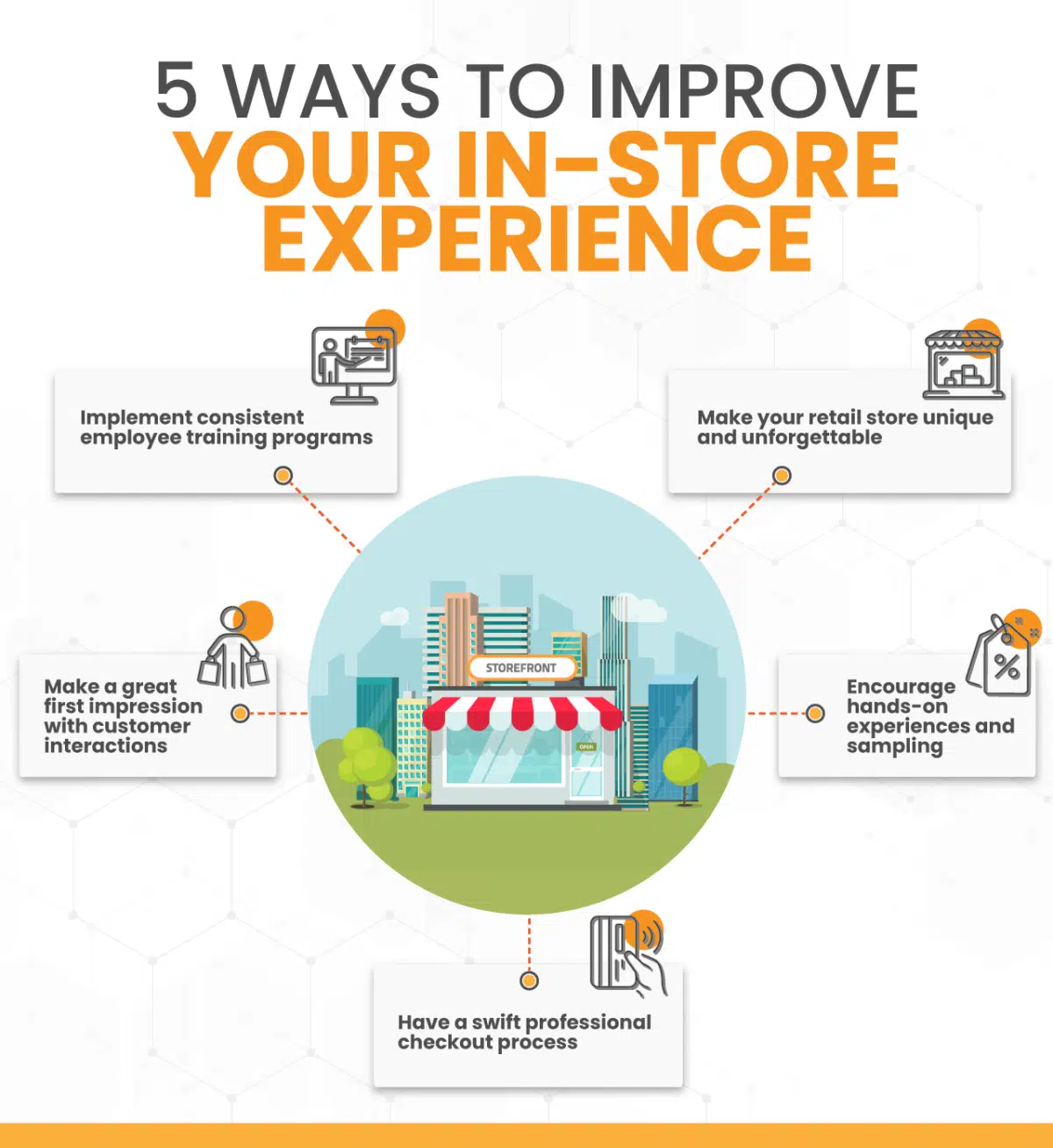 How to Improve In-Store Experience
1) Implement Uniform Training Programs
Products don't always just sell themselves. Often they're sold by knowledgeable and friendly salespeople. Therefore, develop a detailed and consistent training program for each new employee. Consistency is key. You want to make sure that your customers have the same experience every time they come into your store, no matter who they speak with.
It's also important to make sure your staff appreciates the product that they're selling. Give out samples and host in-store training to build knowledge and camaraderie. Depending on what you sell, many distributors will also come to your location to train staff on specialty items.
A solid training program will help your employees see the value in the experience they provide while also enabling them to enjoy the thrill of making a sale.
2) Make Your Retail Store's Experience Unforgettable
Make each customer's experience in your store as unique as possible. If you market your products through a wonderful in-store experience sales will become much easier. If you excel at this, your products can even become a souvenir or token of someone having simply visited your store.
An analytical sales approach is still vital – pricing strategies and retail KPIs are important factors in profit – but a great experience is also a key to success. With eCommerce exploding and market entry easing, you most likely won't be able to out-compete with low prices alone. Focus on the factors that make your retail store stand out.
Take some inspiration from Reformation, a sustainable fashion brand catered to modern, stylish women. They offer a unique shopping experience that allows shoppers to choose the clothing they want to try on through a touchscreen display on the wall.
The items they've chosen will then appear in their fitting rooms where they can plug in their own devices to play music and change the colors of the lighting to fit their mood. This strategy works perfectly with the brand as they design clothes for young, trendy, tech-savvy women who will enjoy these features and share their experience with their friends.
Incorporating retail technology trends into your in-store experience is a great way to get your customers to talk about your business.
See also: Experiential Retail: Creating Lasting Impressions in Today's Market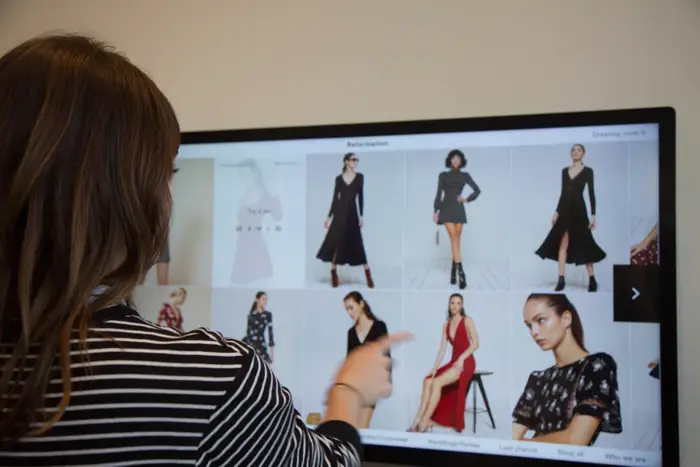 3) Make a Great First Impression
The initial engagement sets the tone for the rest of the interaction with each customer. A warm welcome and a genuine desire to help go a long way. Make sure your staff stays engaged the entire time they are on the sales floor.
Phone browsing, small talk, and other casual behavior can make customers feel unimportant and less likely to make a purchase. They have plenty of other options. Implement solid customer interaction training and ensure that each of your customers feels they've gained value from coming to your retail store.
Train your staff to be more than just salespeople and instead act as the expert of your products or services who at the same time can be approachable and even become a friend.
4) Encourage Hands-On Experiences and Sampling
If possible, allow your products to be sampled and experimented with. Sampling allows for a seamless introduction and talking point between your staff and each guest. Product testers show that you're confident in what you're selling and make it harder for people to say no. More interactive scenarios are ideal, when possible.
Wine or beer tastings at liquor stores are a great way to market your shop and talk about what you love. Host a bread-baking class at your bakery for kids in the neighborhood. Set aside an area at your game shop for guests to try out new board games with each other.
Online and eCommerce retailers are getting into the action too; more and more clothing and accessory retail shops are offering "Try Before You Buy" services.
Figure out what type of strategy will work well in your store. You can go in so many different directions. Done well, this can make your retail store a destination and improve your brand.
5) Change the Checkout for a Better In-Store Experience
Long lines are a nightmare for retailers. Sure, it shows that you're busy, but it also means that some guests in line won't be returning anytime soon. Most customers expect to be in line for under 8 minutes and 77% are less likely to return if they have to wait that long. If you own the most popular coffee shop or donut spot in town, you'll have to find new ways of getting through the line quickly.
Some stores started having employees go through the line with mobile tablets to increase efficiency. Sam's Club and other big retailers now allow scanned payments to be made through their apps. It personalizes the experience and lowers checkout time. Starbucks now accepts remote pre-orders so that customers can simply drive thru or walk-in to grab their drink, skipping lines by paying in advance.
Retail owners can also improve checkout times with a faster retail POS system. For shops that require fast turnover, even a small lag on your chip reader can keep a line backed up, losing your customers and cash. Click below to start your free trial with KORONA POS. Our point of sale solution is one of the fastest in the industry.
Get Started with KORONA POS today!
Tell us a little bit about your business and explore all features that KORONA POS has to offer. And there's no commitment or credit card required.