Last Updated: March 8, 2021
The bottom line for any retailer is profit. Unfortunately, profits come in waves, and even the top retail stores have slumps. Whether it's seasonal, construction outside your front door, new competition or any number of other possible factors, it's important to find ways to help increase traffic and boost your sales.
This doesn't mean that you need to sell to your customers. Many retailers are afraid of being perceived as salesy or gimmicky. But you should be able to strike a balance between this and providing excellent customer service and a great product. So today we have 10 strategies to increase retail profit and help your bottom line.
1. Niche Marketing for Higher Profit Margins
You hear a lot about niche marketing these days, but how does it apply to your retail store? This simply means that you should market toward a strictly defined target audience. Ideally, this saves you time and money by making sure that your marketing is hitting the eyes and ears of those people most likely to purchase your product. In turn, this will provide you with a great return on your marketing and advertising investment resulting in higher profit margins. During this process, any retailer must carefully decide exactly what its role in the market is and how best to establish a presence in that market.
Equally important is the follow-up to any marketing or ad campaign. It can be difficult to determine how successful a campaign might be so an audit must follow. This will help you gauge the effectiveness of your strategy and better plan for the next one. Through sales reporting, your retail point of sale system can be your guide during this process, helping you to identify your money making products and strategies.
2. Staff Training & Customer Service
Direct interaction with your customers is the best way to increase retention rates and loyalty, but also the easiest way to make sure someone is never coming back. A bad retail experience is hard to forget, and can also result in negative word of mouth. Ensuring good customer service means hiring carefully and training extensively. Never assume that your staff has the care or knowledge that you do (After all, you were passionate enough to take the enormous risk of starting your retail business!). Instead, implement a training program for new hires and be sure to offer continual training to brush up on existing products and teach about the new ones. This can easily become something that brings your team together and increases trust and openness.
3. Get Online and Improve Your Social Presence
Creating your online presence is an absolute necessity in today's retail world. Start with a sleek, easy-to-navigate website. For most retailers, the website doesn't have to be time-consuming or difficult (though for some, starting an eCommerce store in addition to your brick and mortar location might be worthwhile). Include a blog as an avenue for your content management. This helps include you as a part of the conversation. In addition to your website, create a strong social media presence, which is typically cheap and easy to manage. Make sure to also look at review sites to manage your reputation. More and more consumers are using online reviews before shopping somewhere so be sure that yours is strong. Lastly, start an email marketing campaign. You can ask for new customer's emails in order to register for your loyalty program. Email marketing has the highest return on investment and is a must for any small business.
4. Host Events and Get Outside
In-store events are a great way to bring in both new customers as well as increase loyalty from your existing ones. People like to try products before purchasing them. They also like to be educated on what they're buying. This is a great opportunity to do so, as well as show off your passion and expertise on what you're selling. If possible, host an outdoors event, or set up a booth at a state fair or 4th of July parade. Get involved with community events and become a part of the neighborhood.
5. Understand Your Customers
This sounds simple but can be difficult to have a proper perspective on sometimes. Your products should be aimed at a specific group of customers and must reflect an overall cohesion. It's tempting to simply carry products that you love but not everyone has your tastes, so you must make some concessions. Involve your customers at every opportunity and encourage feedback, both good and bad. Offer incentives for reviews, surveys or social media polls. This shows that you are focused primarily on your customer and care about their opinions. You can also run promotions by including free new products with certain purchases. Just ask for a review of the product so you can get easy feedback while also increasing loyalty.
6. Create a Holiday and Generate Buzz
Holidays are some of the biggest retail days of the year. But you don't have to wait for the 4th or Black Friday to come around. If sales are down, make up an excuse for a sale and advertise it with the holiday. Attach your name to lesser-known holidays like Pi Day or National Hamburger Day and devise a fun sale around it. It will be popular on social media and even if it doesn't boost sales that day, will increase the public's awareness of your brand. Use any opportunity to raise discussion of your retail store and product.
7. Cash Management & Sound Financial Records
Managing cash flow and devising a sound budget are both crucial for a healthy retail business. This may seem too obvious, but in a business with thousands of small things to remember, it can be surprisingly easy to forget about some of the bigger issues. It can also become too easy to spend money wildly or at least forget about small expenditures. Don't be cheap, but definitely be frugal, especially in the early stages of your business. Know exactly where every penny is going to you can cut costs down the road if need be.
8. Take Advantage of Your Display Areas
Every piece of your retail should be used creatively. Update any window displays regularly. It grabs attention and drives a higher conversion of foot traffic. Keep your signage fresh and up-to-date. Make a creative sidewalk sign or have a staff member help you out. Set up short-term promo displays around the store and see which sell well. Take advantage of the area around your point of sale. POS marketing is a great way to pad sales with last-minute impulse purchases. Stack the area around your queue and POS terminal with small products that your customers may have forgotten while shopping.
9. Controlling Inventory and Supplier Relationships
For many retailers, the majority of their capital is tied to their inventory. An owner or manager must order strategically. Using features on your retail POS will make this easier. Through advanced inventory reporting and ABC analytics, your point of sale can help direct and even automate future ordering. It can also tell you which products are best to push or which might need to come off the shelves.
It's also important to take advantage of any discounts from suppliers that might be possible. You and your suppliers have the same goal of selling the products. So work together. Ask about scheduled training with their products. If you have a bakery, for instance, ask your coffee bean provider to come in every few months for staff training and tasting. Suppliers also offer discounts for bulk orders. Figure out where you can order en masse and save money down the road. Follow your supplier social media and blogs for updates on new products.
10. Price Strategically with Promotions and Discounts
The psychology of pricing is absolutely fascinating. There is an incredible number of possible strategies. Try out a few and see which work better. Different promotions, discounts, shelving placements, and product comparisons can have a huge impact on your overall sales. Just be sure to carefully analyze each campaign. You want to ensure that the promotion is profitable. A misguided sale can also cost you a lot of money if planned poorly.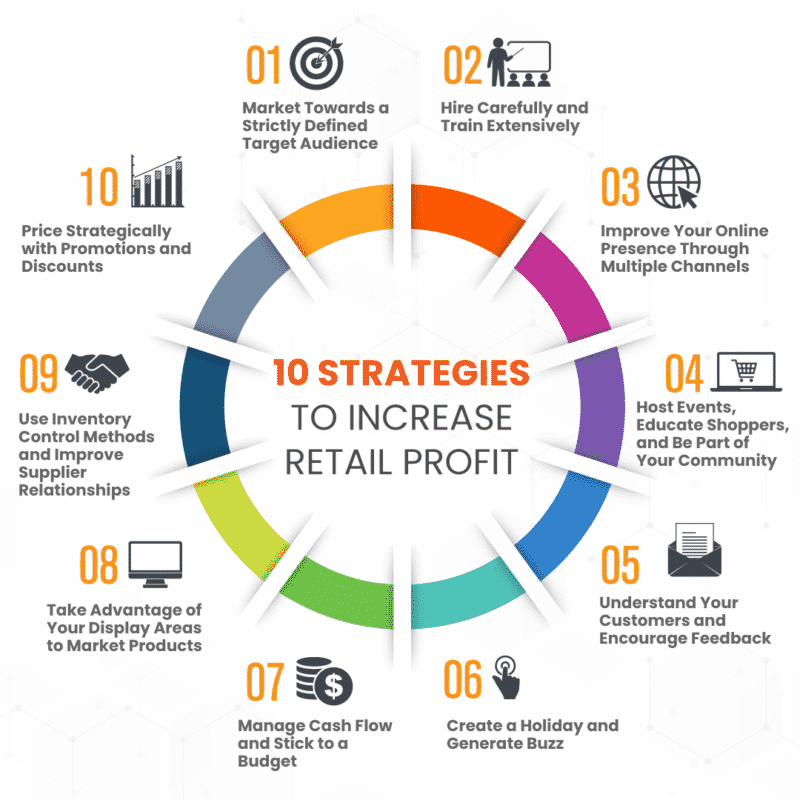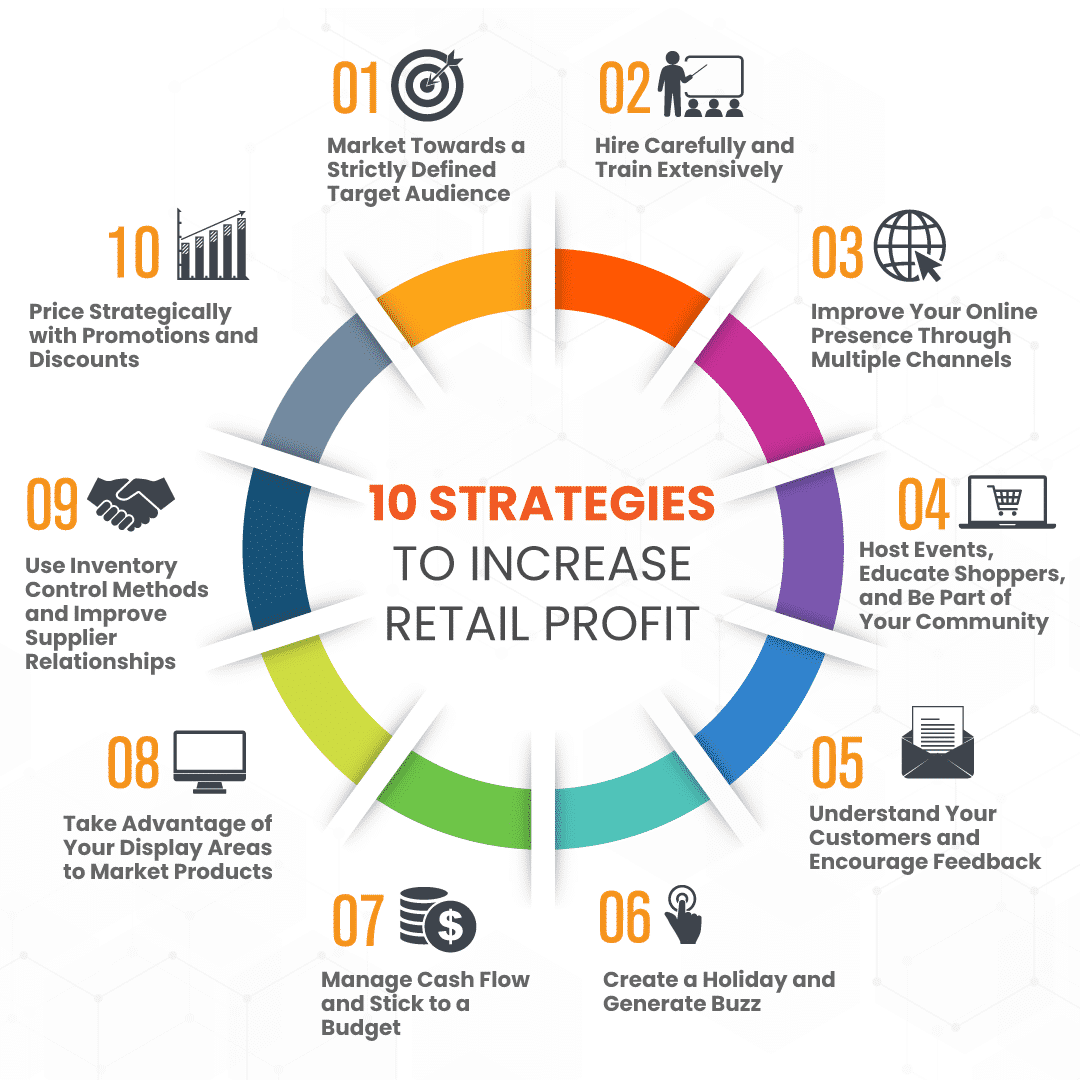 Strategies to Increase Retail Sales with KORONA
KORONA POS is here to help you boost your sales with the best POS system on the market. If you're in the market for a new point of sale, click below to give KORONA a free try. We're proud of what we do and are always love talking to businesses that are just as passionate about what they do.