Last Updated: May 5, 2022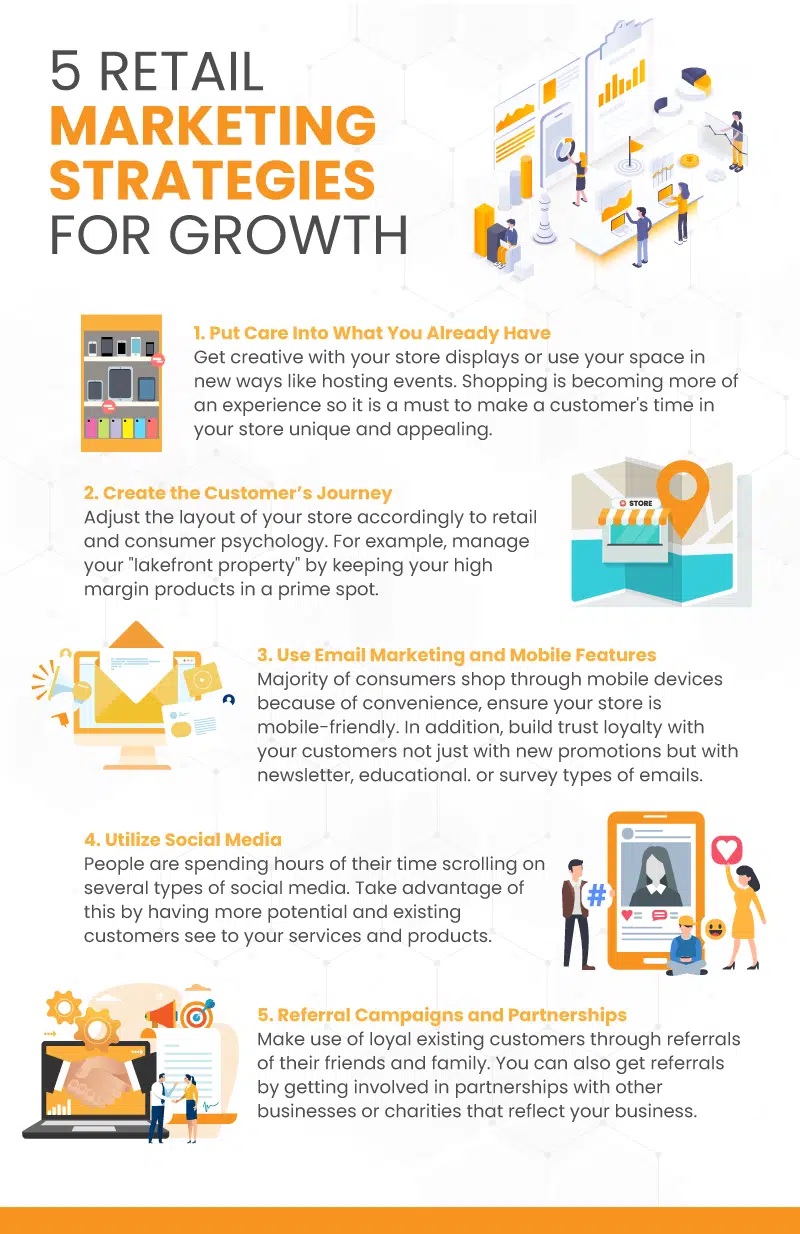 Whether you are a new business about to open your doors or one that has been around for decades, the primary concern is getting customers in the door. And coming back. Still, the day-to-day operations can be overwhelming and grueling, and it's all too easy to forget about implementing new retail marketing strategies or evolve existing ones. Some of them focus on changes you can make to your actual location, while others deal with outside resources and avenues. Here, we'll highlight some simple things to keep in mind. Even focusing on a few of them will result in more feet in your door or clicks on your website.
Put Care Into What You Already Have
Shopping is becoming more and more about an experience. The products must of course deliver, but customers look for ways that retailers can make their time in your store unique.
Keep your shelves stocked. This is particularly essential for your top-selling items. Keep track of your inventory and make sure you have a retail point of sale you like.
Use your space in new ways, like hosting events. Host a wine and cheese tasting at your liquor store or open your coffee shop to local "Meetups" and book clubs. Events like these bring people together and foster a sense of community.
Get creative with your displays and try to tell a story. Window displays are far from a thing of the past. This is your opportunity to be a place that draws people in and one that they mention to their friends. Check out Pinterest and Instagram for some easy inspiration.
Use your outdoor space wisely. Organic foot traffic is free and exciting. Take advantage of any available space outside your retail space to catch the eye of potential customers. Even simply a funny sign can make your business that much more memorable.
Treat and train your staff well. A well-informed and happy staff translates into excellent customer service. This reflects positively on ownership as well.
Retail Marketing Strategies That Create the Customer's Journey
A little bit of thought into this can go a long way. Getting clients to pass an extra wall of products or stay in your retail space five minutes longer can increase your average spend per customer. Retail marketing strategists hold Target as the gold standard. And think about it – what was the last time you went in for a $7 bottle of shampoo and didn't spend at least $40. Here are a few things to keep in mind:
Manage your "Lakefront Property" in Your Retail Store
This refers to the most prime spot in your retail space. It should contain new, more expensive, and high-margin products. Keep the basics and necessities in a middle aisle or a back corner and use this space for your new pour over coffee maker or a fancy, packaged, liquor gift set.
Pay attention to the "Decompression Zone"
Depending on the space of your store, this is generally the first 5′-15' past the entrance. It should be free of anything you'd like the customer to notice and allow a smooth and pleasant adjustment into your space.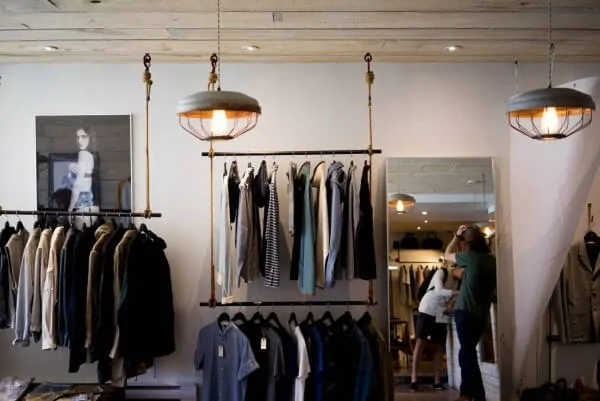 Choose a Retail Store Layout
Larger retailers often employ a grid that leads to customers traveling down aisles they would not have otherwise while searching for products. Others use a loop plan. These generally travel counterclockwise (the majority of people are right-handed and are more inclined to turn right once they enter a retail space) and allow a customer to zigzag either wall of the loop as they travel. IKEA has mastered this layout. If you have a smaller space, think about a free-flow layout. Get creative with your marketing strategy and highlight certain products. Keep track of sales based on placement and retail pricing strategy.
Be Detail-Oriented in Every Section of Your Store
The bigger picture can leave you forgetting about equally important details within your space. Don't let yourself lose sight of these. If you are in the store every day ask for a fresh perspective from a friend. Slight tweaks can breathe life into a space. Doing so will create a more pleasant experience and leave people lingering a bit longer in your retail store.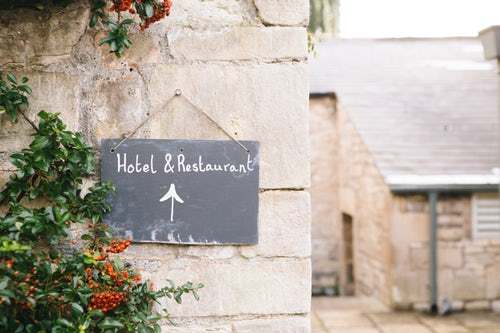 Market Using Email and Mobile Features
It may seem dated but it has the highest return on investment (ROI) of any advertising strategy (the average ROI is $44 for every dollar spent). Email marketing allows retailers to make repeated contact with customers on a number of levels. Repetition is an essential retail marketing strategy. The Rule of 7 states that a potential customer must hear a retail seller's message at least seven times before feeling impelling to take action. And importantly, you can do this without being annoying or desperate. Think about all the ways you're already contacted by retailers by email. They can come in a number of forms:
Promotional
New Product/Inventory
Newsletter
Birthday Greetings
Welcome Note for New Customers
Educational
Surveys
These don't have to feature gimmicks or come-ons. They can be truly helpful or offer genuinely good deals. These build trust with your customer base and reward loyalty. Make sure what you offer goes beyond simply selling the products. Add
Making your store or products mobile-friendly is also important. People spend more on mobile platforms than any other. The Amazon app is a dangerously convenient tool.
You Must Use Social Media for Marketing
And no, this does not mean you have to pay someone to manage it or that you have to buy ads. This is an option, especially for Facebook, but there are plenty of ways around it. A consistent and deliberate strategy for posting to Facebook, Instagram, Pinterest, LinkedIn, etc. will help brand your products and draw more customer attention.
Start groups. They don't have to be promotional or even sell your product. Social media groups can simply be a way to connect with your customers and get them to discuss what you sell.
Spend some time on your Pinterest board. It takes some time to find yourself at the top of search results, but it's an easy way to consolidate your products in a clean presentation.
Keep up with your Instagram stories. Instagram makes it easy for you to personalize these and take advantage of free advertising.
Use Referral Campaigns and Partnerships
Referrals from family and friends give you the highest conversion rate on sales. And again, it's a free form of advertising. Kindly ask customers for reviews on Google or Yelp. Offer a small gift for a review or referral too. Giving away products is always more productive than spending cash on advertising.
Partnerships with charities or other local businesses are rewarding and reflect well on your business. Choose a charity or event that you are passionate about and donate your time, money, or product. This adds a sense of local character, something that customers always love.
Email marketing is another great way to reach a large number of potential customers. With a return on investment of nearly $40 for every dollar spent, it's hard to go wrong with a basic campaign.
Implement Other Retail Marketing Strategies
There are countless retail marketing strategies that can help bring your business more success. Many are cheap or even free, and some can bring out your creativity and character. Hopefully, some of these ideas were helpful for business and will increase sales in the future. Let us know what you think!
Get Started with KORONA POS today!
Tell us a little bit about your business and explore all features that KORONA POS has to offer. And there's no commitment or credit card required.
FAQs: Retail Marketing Strategies
What are the main types of marketing strategies?
While there are numerous strategies for marketing in retail, the four P's in marketing are a great way to remember the main points of marketing strategies. The four P's are product, price, place, and promotion.
What are the advantages of retail marketing?
The advantage of marketing is that the consumer comes to you! If your marketing does well, you will attract customers and have growth in your sales. Thus creating a successful business revenue.
How do you attract retail customers?
Marketing is the best way to continue attracting customers to your brand besides having a worthy product and services. Most importantly along with marketing, staying up to date with current trends will help attract customers continuously.