Unless you live in a state where all liquor sales are state-run, opening a liquor store is a popular option for a lot of ambitious entrepreneurs. But is owning a liquor store profitable?
Liquor store owners can take a variety of different strategies when opening a new shop. Margins on wholesale alcohol are also reasonably high. Plus, if we've learned anything from the past few years, liquor demand is about as inelastic as it comes. So yes, it's an easier business to run profitably than many others.
But even though it's a good industry to break into, it still takes a lot of hard work and ingenuity to run a profitable liquor store. So let's look at what makes a liquor store business successful and how much you can expect to profit.
What Are the Pros of Running a Liquor Store?
While we touched on a few pros in the introduction, let's expand on those and discuss a few other pros to owning a liquor business.
The demand doesn't go away
Consumers have shown time and again that liquor purchases are just about the last thing they'll cut out of their budget. Liquor sales have yet to be seriously affected by any recession, uncertainty, pandemic, or any other factor that normally rattles business owners' psyches.
And liquor sales even significantly increased during the COVID-19 pandemic.
Liquor stores can be flexible
Business owners trying to get creative can do so with liquor stores. It's easy to choose a focus. You could open a boutique wine shop, a craft beer store, a whiskey spot, or a giant liquor emporium. Entrepreneurs can follow what they're truly passionate about and cater to a specific type of liquor shopper.
See related: Top 10 Small Business Ideas – Low Start-Up Costs and Easy to Scale
It's easy to sell on multiple channels
With more eCommerce shopping and convenient apps, consumers are now doing a lot of their liquor shopping online. And it's easier than ever for businesses to expand their presence in the digital realm.
Apps like Drizly and City Hive have made all aspects of selling online a breeze. And they can integrate with your liquor store POS system, too.
Learn more: How to Sell Alcohol Online – Build Your eCommerce Sales Today
There is state regulation for competition
States often limit the number of liquor stores in a given area. This is particularly common to see in more rural areas. Though that might make finding a location a bit harder, it will reduce your competition once you do. And it also allows you to better gauge future competition in the area.
Read also:
Demand for liquor is all year
Unlike a lot of retail businesses, liquor stores enjoy year-round demand. There is certainly an uptick in consumer spending around the holidays, but most people are good at coming up with excuses to drink no matter the occasion.
What Are the Cons of Running a Liquor Store?
Like any business venture, running a liquor store doesn't come without its risks. It still takes a lot of financial investment, determination, and foresight to make it a successful business. And with that in mind, it's important to understand the cons of opening a liquor store before getting started.
Liquor store inventory is expensive
It's hard enough to come up with the capital to get a restaurant stocked with enough beer, wine, and liquor. Doing so for an entire liquor store is even harder. Business owners should be prepared in their business plan to look for funding for getting the proper amount of inventory prior to opening.
And once open, the collective inventory on your shelves will remain high. It's hard to manage your inventory and ensure that you're maximizing your profits. Luckily, the right inventory management software can help.
You need costly licenses
City, state, and federal regulations provide a substantial barrier of entry for new liquor store owners. Even existing owners who want to scale to new locations are forced to reapply for permits and licenses.
Each state has its own Alcohol Control Board that regulates how liquor is distributed and sold. And the Alcohol, Tobacco, and Firearms (ATF) bureau is responsible for interstate distribution and sales.
Consult with a lawyer and your local city council about all requisite licenses and permits prior to making final plans for opening.
Liquor store real estate is expensive
Ideally, your liquor store is in an area that is convenient for your customers to access. Even better, it will get significant foot traffic. Unfortunately, such locations will be expensive.
Plus, your liquor license is bound to your license, so liquor store owners must sign long-term leases or buy the property outright. Often, new businesses must have signed on a lease before they even apply for their liquor license.
And because the amount of competition is regulated by geographic area, it's harder to find those prime spots.
Liquor distribution is regulated
Because of interstate regulation of liquor, figuring out your ordering and supplier relationships can be a difficult process.
For those liquor retailers that ship beer, wine, or spirits across state lines, compliance becomes an even trickier issue. All states have unique requirements and maximum quantities that a consumer can have delivered. In order to sell effectively, you'll need software that automates the compliance issues for each individual sale.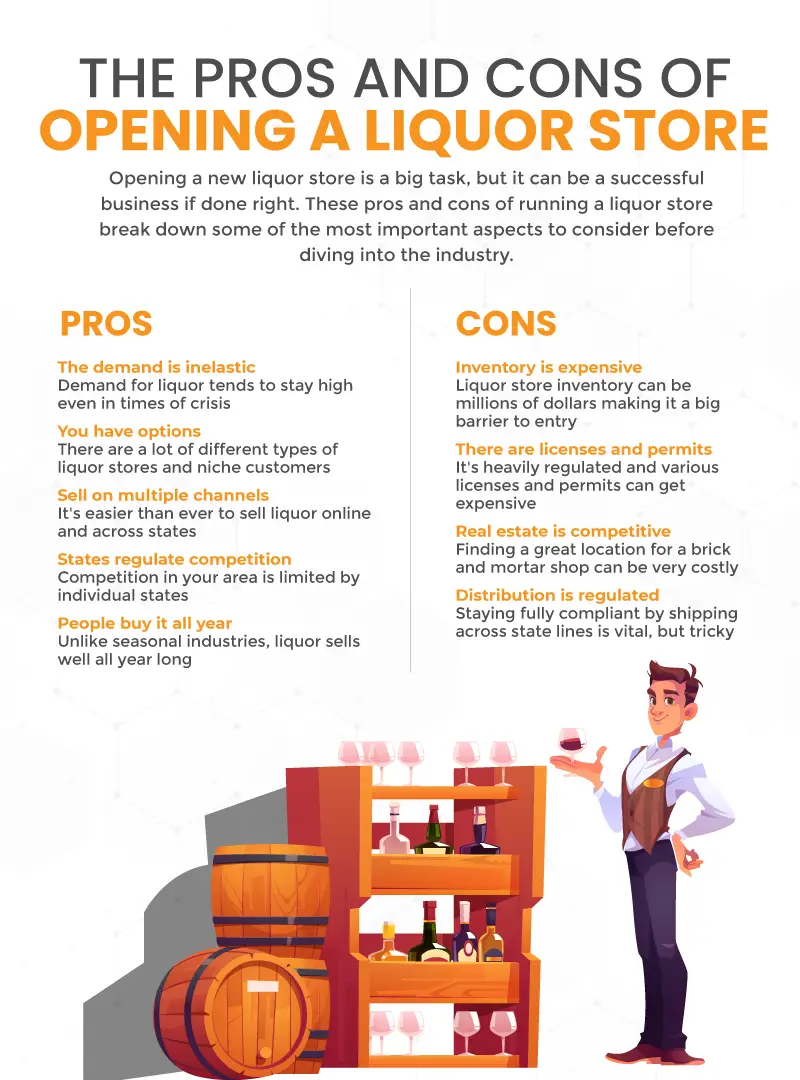 What Are the Expected Profit Margins of Liquor Store Inventory?
Liquor store profit margins range based on several factors, including your overhead costs, inventory, suppliers, and clientele. Cheaper alcohol will have lower margins than high-end items.
According to one in-depth study of liquor store operations, a well-run shop should net between 15% and 20%. For higher volume stores such as warehouse discount liquor stores, margins can be significantly smaller.
How Much Do Liquor Stores Make?
On average, a small to mid-sized liquor store may generate annual sales ranging from $300,000 to $1 million. However, highly successful liquor stores in prime locations can exceed these figures, earning several million dollars in sales annually.
It's important to note that profitability depends on pricing strategy, local liquor laws, and regulations compliance. As previously mentioned, overhead costs can also be significant in this industry.
How I Can Run a Successful Liquor Store?
While the most important aspect of running a successful liquor store business is how you get started, there are some ways to maximize your profits once opened.
Keep a finger on the pulse of your consumers
Make sure you're always staying up to date with the latest trends in the liquor industry. There are always new styles and flavors of drinks that suddenly see huge demand. Be ready and maintain good supplier relationships so that you can be at the forefront of each of these trends.
Also, take note of your shoppers' tastes and suggestions. The demographics of your neighborhood can change what your store offers in a big way.
Host events and educational opportunities
Consumers love learning more about booze. It's fun to bring new knowledge to your family and friends or introduce them to new drinks. Plus, when they do, it's free marketing for your store.
Plan some events and classes to help your customers learn more about what you offer. A lot of times, your distributors will host these free of charge so that they can promote their products.
Encourage shoppers to join your clubs
Set up wine, beer, or spirit clubs for your real enthusiasts. Loyalty clubs are a proven way to grow your sales and increase average customer spend.
Set up a customer loyalty program and make it easy for your shoppers to sign up, both in-person and online.
Run promotions and offer tastings
Keep your promotions and bundled deals fresh. It's a great way to move through any inventory that you're overstocked on. But it's also an opportunity to inspire your shoppers with new drink and gift ideas. Bundled deals are particularly effective at liquor stores.
Boost your impulse purchase selection
Spend a lot of time improving your liquor store impulse items. These items always have higher margins and are a key part of your business for boosting your bottom line. Liquor store shoppers also buy a lot of them.
These might include party supplies, non-alcoholic beverages, shooters, bar materials and tools, home brewing gear, and apparel merchandise.
Find unique beer, wine, and liquor inventory
Finally, take the time to keep your inventory unique. You want to stand out from your competition and the easiest way to do that is by offering products that they don't. Speak with your suppliers about some of their lesser known items. It's smart to start small and order just a few to see how it sells. Once you've found some success, order in bulk and figure out your pricing accordingly.
If your current suppliers aren't offering a good array of items, look at forming new relationships.
Will Owning a Liquor Store Be Profitable?
Liquor stores are some of the most successful businesses out there! But that doesn't mean you can just waltz in and start making a lot of money. Take the right steps from the beginning to set yourself up for success down the road.
Think about consulting experts and a legal office for more technical aspects, like ensuring you're complying with all laws and conducting smart ordering and pricing.
When you're ready to shop for a liquor store point of sale, give us a call at KORONA POS. We've made software designed specifically for liquor stores, making running a successful operation so much easier. To get started with a free trial today, sign up below!