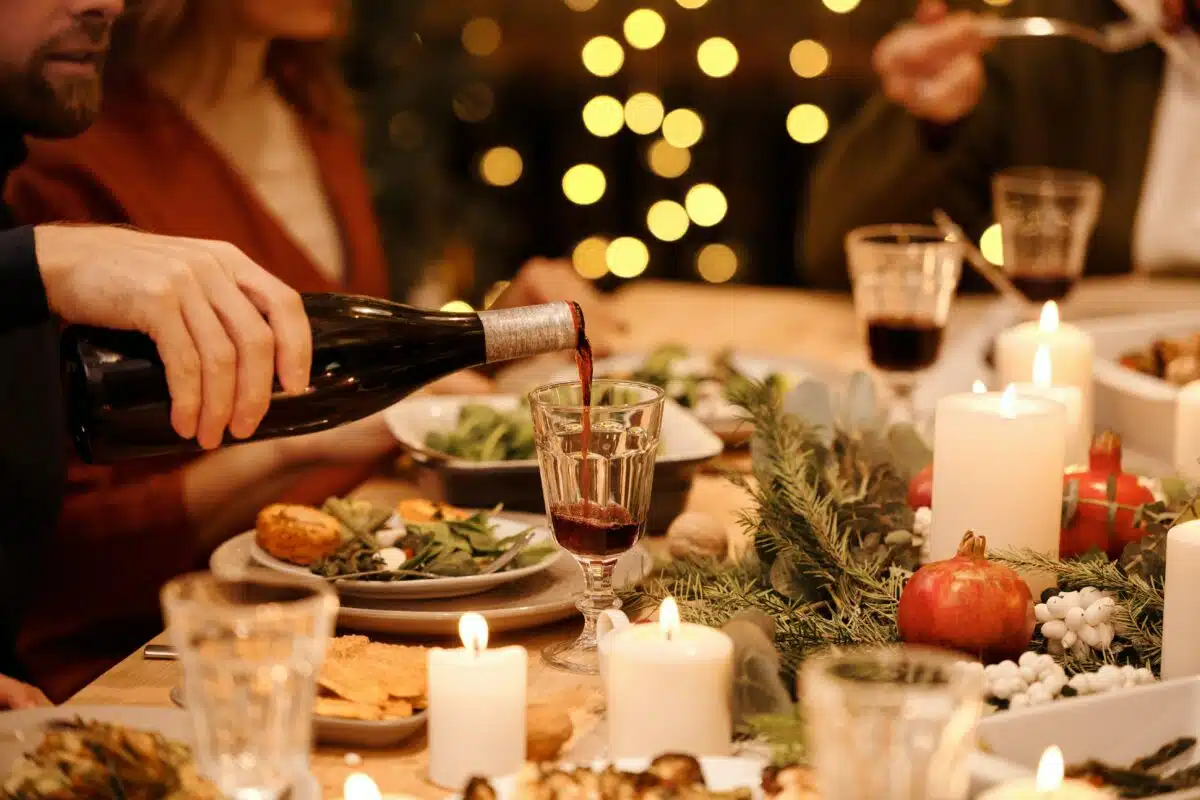 The winter holiday seasons are different from any other time period throughout the year. More people socialize, give gifts, and…drink a whole lot more than normal. In fact, the average American drinks almost twice as much during the holiday season as compared to the rest of the year. To be sure, the holidays are an extremely important season for alcohol retail. Consequently, business owners should implement some liquor store holiday promotion ideas to generate maximum revenue.
Like any retail marketing plan, liquor stores must use an array of strategies. These include in-store promotional activities, bundled deals, and even paid advertising. Read on for some more detailed advice on holiday liquor store promotions.
Table of Contents
Utilize Sales Data
First and foremost, use your data from previous holiday seasons to inform all of your decisions. Sales reports from a smart point of sale system should power your insights regarding what products to stock, how to promote them, and segmentation based on customer purchases. What kinds of wines sold during this season last year and the year before?
For more information about the point of sale reporting check out POS Reporting and Analytics.
Seasonal Specials
There are items that are especially desirable during the winter holidays. In fact, there are actually some items that are only available in December. For example, many breweries make limited release seasonal beers. An option for wineries or wine shops is to create a wine advent calendar. Feature a mini bottle of wine for each day of December leading up to Christmas Day. Offering these seasonal specialties will increase overall foot traffic and encourage customers to spend more during the holiday season.
Have your sales floor staff or cashiers mention these exclusive temporary items to every guest that comes into your store. Presenting these items as limited-time offers will make your clientele feel more compelled to buy them. Be sure to post info about seasonal brews and gifts on your social media and marketing emails.
Festive Drinks
In addition to limited edition beverages, consider stocking and promoting an abundance of celebration-focused items. Unsurprisingly, New Years Eve sees more sparkling wine sales than any other time of the year. Therefore, it'll likely pay off to feature and highlight more champagne, cava, and other bubbly options than usual.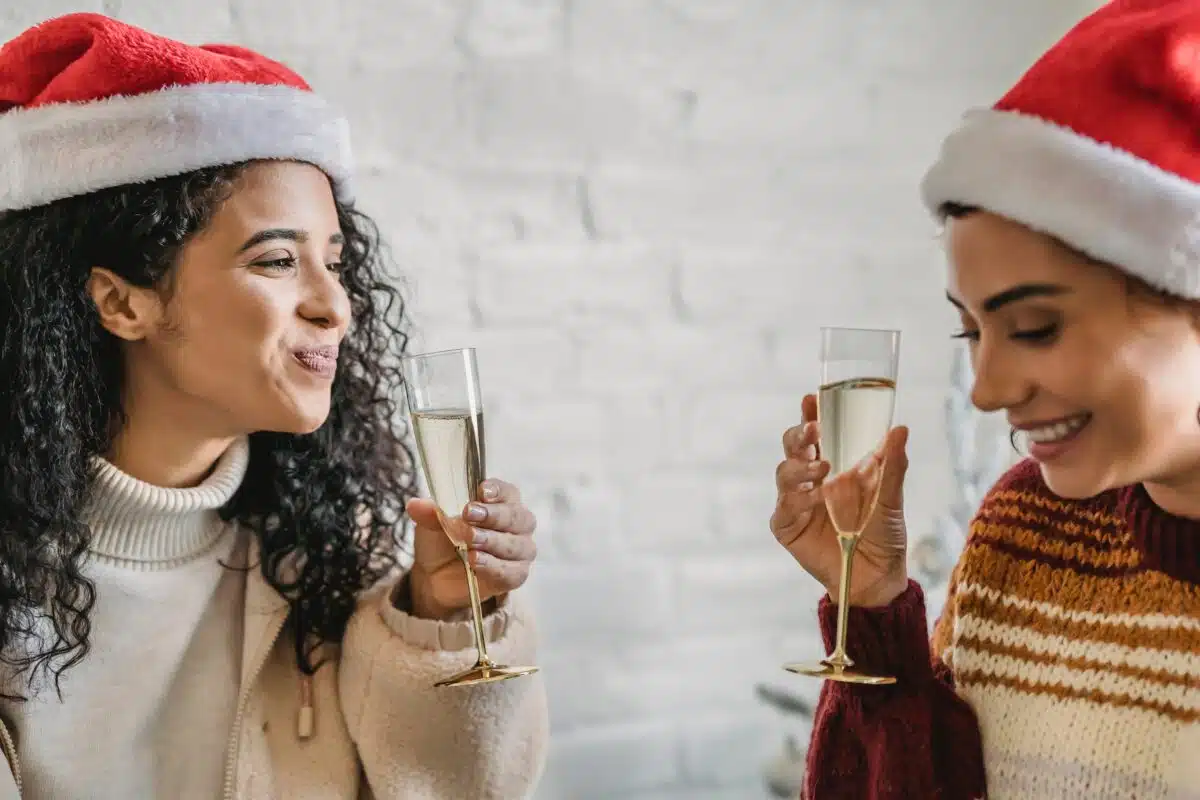 Ready To Drink
Another type of product that is extremely popular during the holiday season is ready-to-drink cocktails. Buzzballz, for example, makes a bottled eggnog. These drinks eliminate steps for party hosts, and offer party guests a great option to bring along with their mac and cheese, casseroles, cakes, and pies.
Bundles And Cross-Selling
The months of November and December typically see more parties, more people coming over, and more gatherings. Hosts are much more willing and happy to buy things they wouldn't normally buy. Use this as an opportunity to cross-sell items and present bundled packages for your clientele. Set up displays and combination deals that make sense for parties and winter get-togethers.
Think of putting rye whiskey and bourbon with vermouth and bitters on an end-cap display for a manhattan bar. Don't limit yourself to liquor products. You can add higher price margin items to this type of bundle. Pint glasses, measuring jiggers, stirring spoons, and fancy strainers are all tools that bartenders use to make great drinks for their guests.
Keep Gift Packages In Mind
Consumers won't just be buying for parties either. Many will be buying gifts for their friends and family or even themselves. Try to cater to your clientele by featuring gift bags, gift bundles, and seasonal packaging.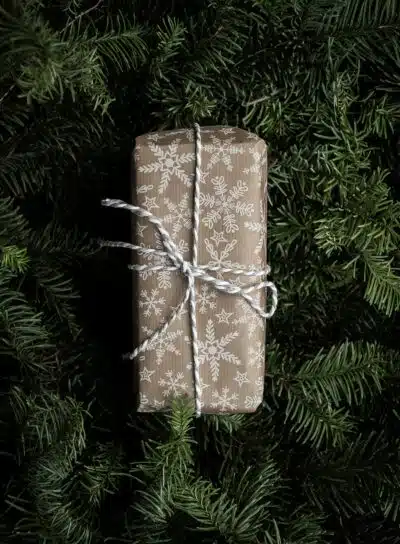 Showcase the most popular items at your cash wrap area or in the more prominent shelves of your store. Chances are, when shoppers come to grab what they need, they will be enticed by other gift ideas for their loved ones. To further push the envelope, provide free gift wrapping so that your guests can walk out of the store with some holiday shopping conveniently crossed off the list.
Liquor Store Tastings
Not only are people looking for gift ideas, they are also likely to be in a more social mood. Hosting tastings led by brands that you offer is a great way to make your store more interactive and fun.
Let shoppers learn about a product and try something new to talk about with family and friends. Many customers who enter your store will already have specific products in mind, so adding a great tasting table can increase basket size by convincing guests to buy a different product.
You might want to read: How To Organize a Wine Tasting Event: A Quick Guide For Wine And Liquor Stores
Offer Buy Online Pick Up In Store
Let's face it, holiday shopping is super stressful. A lot of Americans choose to do their shopping online. Integrated eCommerce platforms allow holiday shoppers to browse a wide range of products from an endless amount of vendors. Best of all, customers can do this from the comfort of their own homes or on the go.
That's why it's crucial to allow your customers to look over your wine and liquor products and make purchases directly through a sleek eCommerce website. Give your customers the option of buying online and picking up in store. This allows vendors to pre-package items, brings clientele into the store, and provides more shopping convenience for customers. It's a win-win for all parties.
Do Some Liquor Store Holiday Advertising
For local brick-and-mortar liquor stores, paid promotions budgets are best spent on loyalty programs and social media. Again, utilizing sales data and segmentation can help significantly in honing in on a more targeted and well-informed approach to marketing. With this insight you can tailor social media posting and advertising to local consumers.
Loyalty And CRM
If you own a liquor store you should implement a loyalty and customer relationship management program. These liquor shop loyalty platforms reward your clientele for repeat purchases at your store, giving them incentive to keep coming back.
Once you have a program in place, you can use these platforms to power your seasonal marketing campaigns. Customers will opt in with their cell phone or email contacts, through which you can send targeted emails or messages about new products, featured tastings, discounts, promotions, and more. Loyalty programs and CRM outreach is a great way to bring existing customers back into your store for the holiday season.

Social Media Marketing
Before you start paying for ads on Instagram or Facebook, set up your liquor store's profile. Be sure to have your contact information and address so that customers know where to go to visit your store. From there you can start posting content highlighting your brands and products, as well as your promotions and sales. During the winter months, post holiday-related content that is relevant to your wine and liquor offerings.
Once you establish a page showcasing your store you can pay for targeted ads. Social media advertising allows retailers to focus on demographics, location, and preferences. Make a plan for what kinds of promotions you think will be best for your store based on previous holiday seasons in conjunction with emerging liquor, wine, and beer trends. From there you can put together some graphics and messaging to attract new customers to your shop.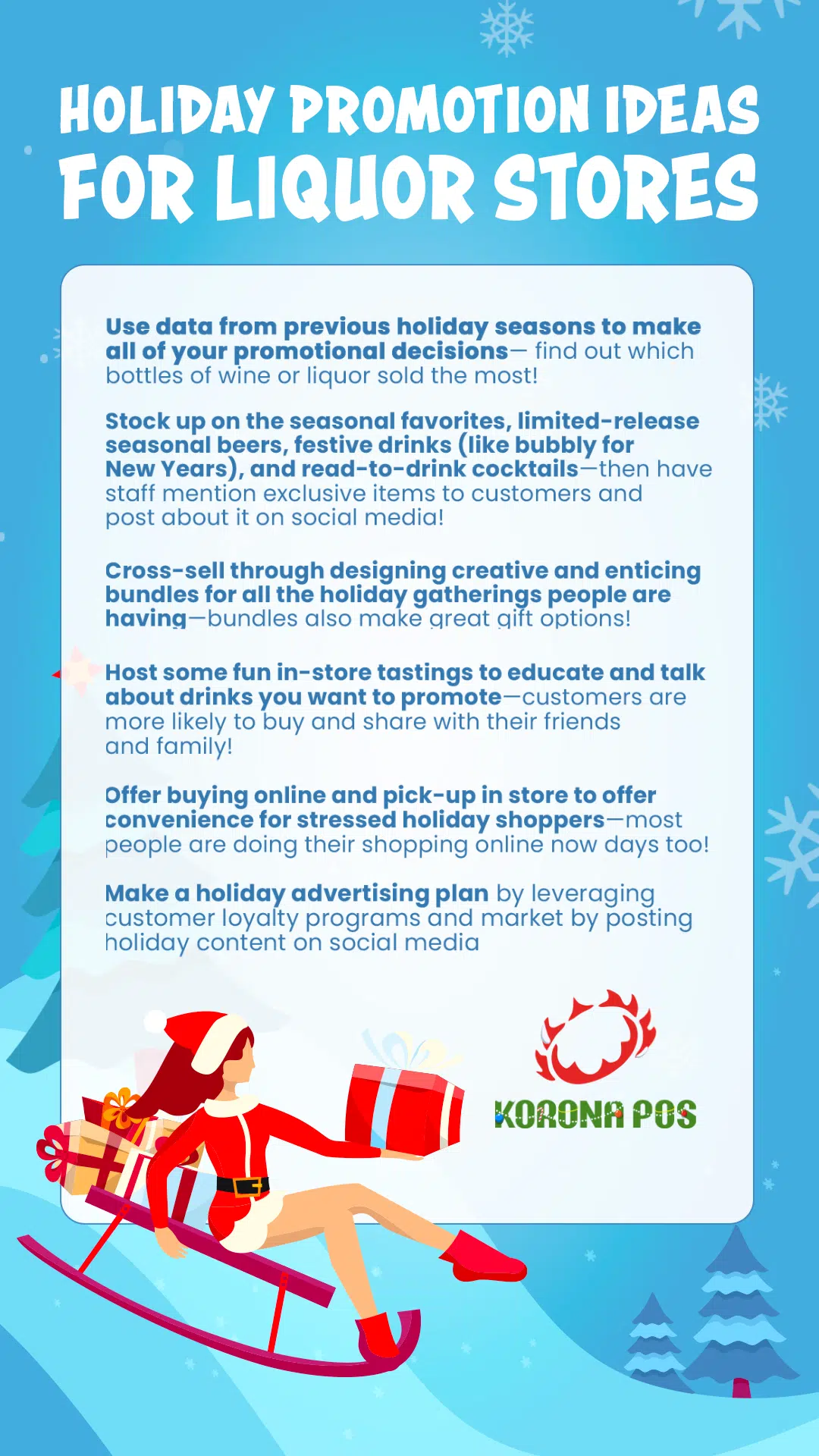 Invest In Great Point Of Sale
KORONA POS equips liquor stores with the most robust and powerful point of sale. Our reporting and analytics keeps operators informed with in-depth sales insights to make decisions regarding inventory, promotions, and discounts. In addition, we integrate with the best liquor store loyalty programs available, such as Bottlecapps, CityHive, and springbig. Keep your lines moving and customers happy with our lightning fast software and 24/7 customer service. Give us a call today to schedule a demo!