Shipping alcoholic beverages from one state to another or within the same state can be a major challenge for liquor and wine stores. In the United States, each state has its own rules regarding the marketing, distribution, and shipping of alcohol. Some even prohibit the shipping of alcohol altogether.
As the popularity of online shopping continues to grow, many states have loosened up their regulations surrounding the shipping of alcohol directly to consumers. Though you still can't head to a FedEx or UPS with a bottle of wine or spirits unless you have a license to manufacture, sell, distribute or import alcohol. In other words, if you are not a professional in the liquor industry, it's not legal to ship alcohol to anyone.
This article will explore how to ship alcohol where it is legal, detailing the process of shipping beer and liquor directly to consumers. We'll also explore alternatives to mailing alcohol by explaining the restrictions of each major carrier, including UPS and FedEx. We'll also walk through the states that forbid and allow the shipping of alcohol, with some key specifics for each of them.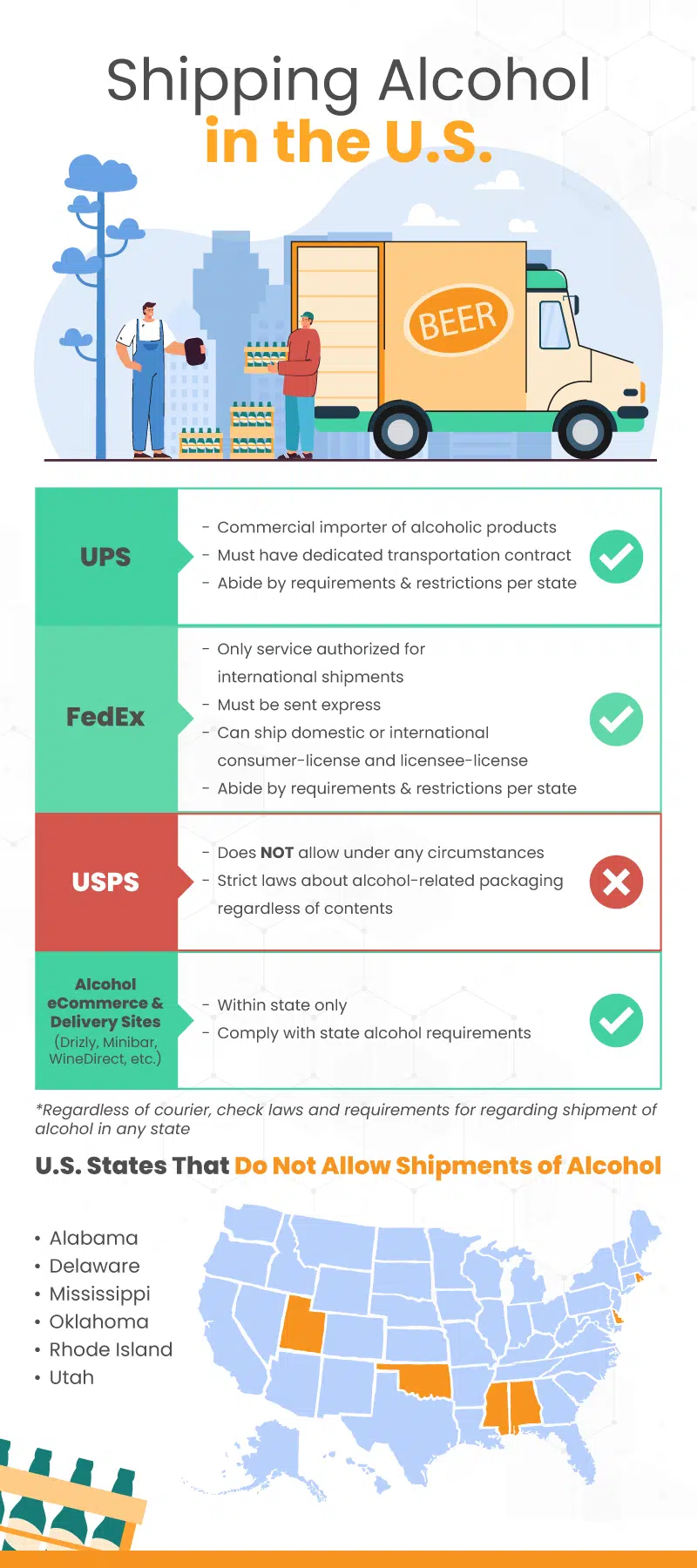 Table of contents
Is It Legal To Mail Alcohol In The U.S.?
Mailing alcohol is legal in a few states and illegal in a handful of others. Each state, city, and county where the seller is located has its own laws and regulations regarding the sale, purchase, and shipping of alcohol. This goes all the way back to the 21st Amendment, which gave each state the power to regulate the consumption of alcohol within its borders. It's resulted in a confusing patchwork of state specifications on how alcohol is regulated.
How To Ship Alcohol In-State?
Shipping alcohol within a state is the simplest method of mailing alcohol, but it is still complicated and confusing. Since you won't be crossing state lines, you'll only have to comply with the alcohol shipping requirements of your state (rather than the laws of your state and the state to which you ship the alcohol in cases of interstate shipping). Consumers can use one of the alcohol eCommerce and alcohol delivery sites, such as Drizly or Minibar, or WineDirect, to order alcohol directly to their homes or to send beer, wine, or spirits to a friend.
If you own a physical liquor store, you should think about creating an eCommerce site if you don't already have one. The International Wine and Spirits Record, an industry research firm, reports that in the U.S., 44 percent of consumers bought alcohol online in 2020, up from 19 percent in 2019. More and more consumers are expecting to have the option to order booze online, so it's important for retailers to adapt.
Alcohol manufacturers and wineries prefer offline advertising as their primary source of branding. Unfortunately, today, their audience is looking elsewhere. Millennials who order alcohol online are influenced by what they see on their smartphones. The more they find your alcohol brand in a marketplace or grocery store, the more aware they become of your brand. Outside of direct-to-consumer sales, the top three channels for online wine sales are "specialty retail," "online grocers," and "merchant websites." All three of these eCommerce channels have seen a significant increase in sales between 2019 and today.
Specialty retail companies (like Total Wine or Wine.com) have increased their online sales by over 85%. Online grocery stores have experienced an increase of 235%, and marketplaces (like Drizly and Instacart) over 280%. These statistics show that liquor and wine manufacturers will have to focus more on online sales channels to take advantage of the liquor eCommerce boom.
How to Ship Alcohol To Another State?
Shipping alcoholic beverages from one state to another is even more complicated because you have to consider the laws of both the state from which you're sending the alcohol as well as the destination of the state that's receiving it.
For example, don't waste your time or money if you want to send a bottle of wine from a visit to the Pennsylvania Wine Trail to a relative in Mississippi. While it is perfectly legal to mail wine from PA, it's entirely illegal to receive wine shipments in Mississippi.
However, there is a simple way to get around most of these convoluted laws. The best strategy for shipping an alcoholic beverage out of state is to find an established retailer where you send the alcohol. They can then sell it to consumers legally. This way, the retailer will not need to cross state lines and will simply follow the rules of their state's liquor control board.
In Which States Is It Illegal To Ship Alcoholic Beverages?
Some states expressly prohibit the direct shipment of alcohol to interstate consumers. States that do not allow it include Alabama, Delaware, Mississippi, Oklahoma, Rhode Island, and Utah.
Alabama: There are no exceptions in the state of Alabama. The delivery of alcohol from any source is strictly prohibited. In some cases, residents may make a special order request, but the Alabama Alcohol Beverage Control Board must review this request.
Delaware: In this state, you cannot deliver alcohol, with one exception. If you purchase alcohol from a store or restaurant, they can ship it directly to your house. It can only be sent to the person buying the alcohol, and you must be a Delaware resident.
Mississippi: There are no special cases or exceptions regarding the delivery of alcohol in Mississippi. Delivery is entirely illegal from any source.
Rhode Island: The rules for alcohol delivery are similar to those of Delaware. If you are a Rhode Island resident, you can purchase prepackaged alcohol from craft-alcohol businesses. These businesses are allowed to ship your purchase to your house.
Utah: There are no exceptions whatsoever; delivery of alcohol is illegal.
Read also: What Are Alcohol Control States: The Guide to Liquor Control States Laws
Some of the strictest laws regarding alcohol delivery are in Kentucky. Many counties are dry, meaning there can be no alcohol sold at all. Deliveries are prohibited both out of state and in the state. The one exception is that some wineries can acquire a permit to deliver wine to residents. Since the advent of the pandemic, some states have relaxed their rules slightly. For instance, in Mississippi, a consumer may also have liquor, beer, wine, or light spirits delivered to the consumer's home from local stores or retailers. This new law went into effect in the summer of 2021.
How To Ship Alcohol With UPS?
UPS is a commercial importer of alcoholic products and can ship wine, beer, and spirits, provided you have a dedicated transportation contract for each product. Shipping alcohol with UPS comes with many requirements and restrictions. Here are a few of them:
You must have a UPS account number.

You signed an alcohol shipping contract with UPS.

You are licensed federally to ship alcohol.

You have the necessary permits to import alcohol into the states you are shipping to.

You must follow the guidelines set forth by the sending and receiving states.

You must use EPS foam inner packaging or a molded fiber tray.

You must pack the alcohol in the center of the shipment, away from the sides of the package.

The package must be considered solid by UPS.

The load must be labeled and comply with UPS, state of origin, and destination guidelines.

You must indicate on the package that it contains alcohol.

You must receive a signature from an adult 21 years or older at the delivery time.
Again, regardless of the courier you wish to use to mail alcohol, research the laws regarding the shipment of spirits in any state where you plan to do business.  Some states require a valid shipping license to ship products across state lines; others have more lenient laws, such as only having to show your eCommerce business license. To learn more about the requirements for shipping alcohol with USP, click here.
Mailing Alcohol With FedEx
Shipping alcohol through FedEx is another great option, especially if your customers are buying over long distances or even overseas. Each year, FedEx's extensive air fleet is part of the reason they can deliver over 3 billion packages. You can find all the FedEx rules on the FedEx Delivery Resources page. To ship alcohol with FedEx, you must abide by the following rules:
Register with FedEx for an account number.

Sign the alcohol shipping contract with FedEx through your account manager. The agreement not only lets FedEx know which companies are selling alcohol but also protects both parties from violations.

Use polystyrene on the inside and cardboard on the outside for packaging. FedEx requires that spirits be shipped with these materials for safe transport and delivery.

Avoid packing peanuts and wrapping paper and cardboard dividers.

Use tape to reinforce your packaging.

Clearly label the shipment and follow FedEx guidelines.

Mark the package clearly to indicate that it contains alcohol.

Receive a signature from an adult 21 years or older at the delivery time.
All international alcohol shipments must also be sent express. Include this factor in your rate structure if you have multiple international customers. Also, after signing the shipping agreement, you can ship goods in one of four ways. These four ways are consumer-license (both international and domestic) or licensee-license (both international and domestic).
How To Ship Alcohol Internationally
Only FedEx Express services are authorized for international alcohol shipments. There are two types of international alcohol shipments: licensee to licensee and licensee to the consumer.
Licensee to Licensee: This means that both the importer and exporter are licensed entities. For U.S. import shipments, the sender must be licensed by the country/territory of origin following the laws and regulations of that country/territory. For all international shipments between licensees, the shipper must be aware of and comply with all applicable laws and regulations of the exporting and importing countries or territories.

Licensee-to-consumer: For international shipments between a licensee and a consumer, it is the shipper's responsibility to know and comply with all applicable laws and regulations in the exporting and importing countries or territories. FedEx only transports wine from licensee to consumer internationally. These shipments are only authorized via FedEx Express services and only to select countries.
You may also want to read:
Shipping Alcohol With USPS
Can you ship alcohol through USPS? The answer is no. The United States Postal Service does not allow for the shipping of alcohol under any circumstances. USPS also has strict laws about packaging mailings that once carried alcohol. If an alcohol-related mark is visible outside the box, USPS will not accept the shipment, regardless of the box's contents.
Liquor Store POS
If you own a liquor store, you'll need a point of sale (POS) system to manage your inventory and track your store's sales easily. You also need a POS system to synchronize your physical and online store data if you have multiple stores and/or an online liquor store. And for that, KORONA POS is the solution you need. Check out some of the most important liquor store point of sale features below:
Detailed and printable cash register reports

Customizable eCommerce platform

Accounting software integration

Coupons, bundles, and promotions

Time tracking and payroll functions

Scaling to multiple locations and franchises

Integration of liquor store customer loyalty

Age verification reminders

Cloud-based liquor POS system

Automatic inventory ordering

Employee management custom POS permissions

Overstock warnings

View all inventory in real-time, no matter where you are

Alerts to know when inventory is low

Unparalleled customer service to assist you with your system installation and any issues you may encounter.
KORONA POS has been listed this year as the market's most effective liquor store POS software. If you want to learn more about this POS system, click the link below for a demo with one of our product specialists.
FAQs: How to Ship Alcohol in the U.S.
1.
How to ship alcohol?
To ship alcohol, you must first determine where the alcohol will be sent. Is it in your state? To another state? Or outside the United States? Next, you need to know the rules that regulate the shipment of alcoholic beverages from the sending and receiving states. Finally, choose a liquor importer such as FedEx or UPS to send your liquor. You can also use online grocers or online marketplaces like Drizly to ship your alcohol. 
2. Can I ship alcohol via FedEx?
Yes, you can ship alcohol with FedEx. But to do so, you must be a company with the appropriate liquor licenses (licensees) and be enrolled in the FedEx alcohol shipping program to ship to your customers in certain states or countries.FedEx requires alcohol shippers to use certain types of packaging, which they describe on their website. They also offer specific guidelines for wine in their wine packaging guide.
3. Can you ship alcohol via USPS?
No, it is not possible to ship alcohol via USPS. USPS prohibits the shipment of alcoholic beverages both domestically and internationally. 
4. What states can liquor be shipped to?
Forty-four states allow the shipment of alcoholic beverages. Each of them has its own rules, which you must follow. The states include Alaska, Arizona, Arkansas, California, Colorado, Connecticut, Florida, Georgia, Hawaii, Idaho, Illinois, Indiana, Iowa, Kansas, Louisiana, Maine, Maryland, Massachusetts, Michigan, Minnesota, Missouri, Montana, Nebraska, Nevada, New Hampshire, New Jersey, New Mexico, New York, North Carolina, North Dakota, Ohio, Oklahoma, Oregon, Pennsylvania, South Carolina, South Dakota, Tennessee, Texas, Vermont, Virginia, Washington, West Virginia, Wisconsin, and Wyoming.