We've talked plenty about how to increase profit margins and run a more efficient and successful business. For many retailers, margins are quite thin, so even making small changes to how you operate can have a major impact on your bottom line.
One way that business owners can lower their inventory expenses and increase their margins is by negotiating with their suppliers. But your suppliers are unlikely to just give you discounts. It takes some savviness and skill to lower your inventory prices.
In this blog, you'll learn how to deal with suppliers by staying communicative, loyal, and transparent. These supplier negotiation strategies will help retailers understand how to make the most of their vendor relationships and lead to long-term success.
What Are Supplier Negotiation Strategies?
Supplier negotiation strategies consist of various ways to improve your standing with your vendors. These range from simple courtesy and politeness to more nuanced negotiation for bulk discounts or free items.
When going about the process be sure that you always have the capital and storage space to handle any order you place.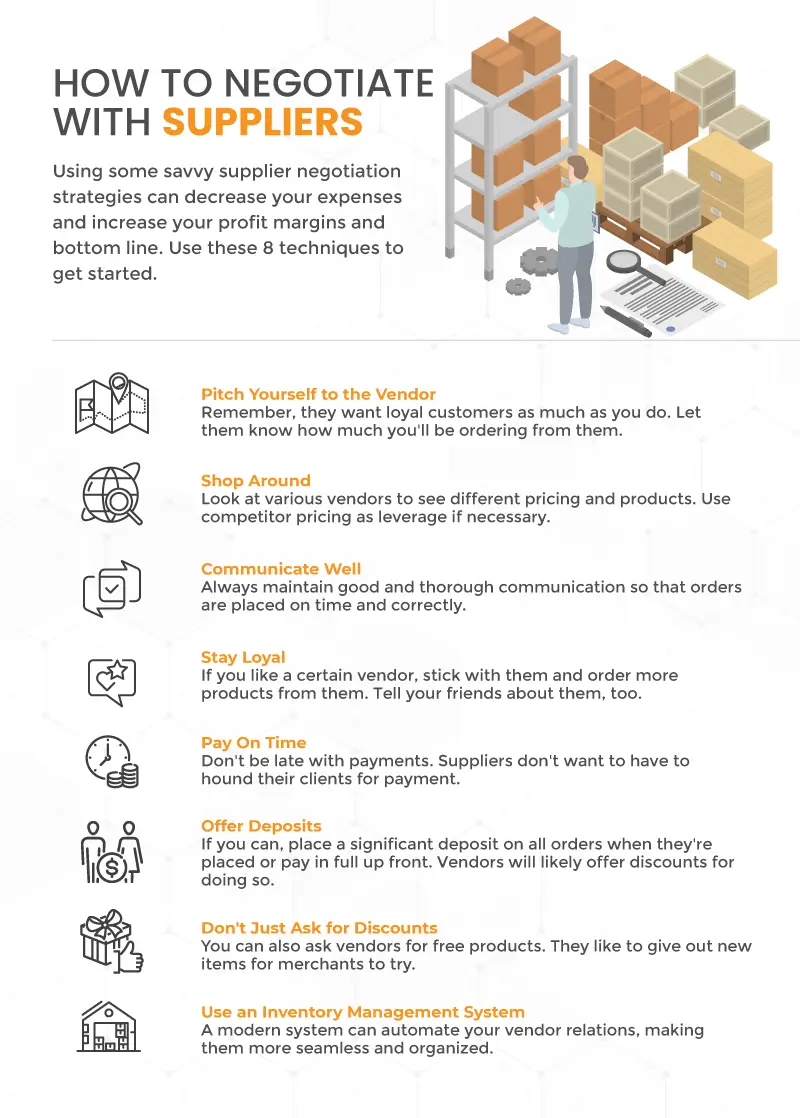 1. Sell Yourself From the Beginning
One way to start is to focus on selling yourself as a client as much as the vendor does on being your supplier. Put yourself in the shoes of the supplier and remember that they are a business owner just as you are. Of course, they want dedicated and loyal shoppers.
Pitch your anticipated orders and prove past order history if you have a proven track record. Try to project what you'll be ordering and give your suppliers a good idea of what to expect from a partnership with your business.
Getting off on the right foot is such an important step in fostering successful long-term relationships with your product vendors.
2. Shop Around for Different Vendors
Before settling on a single or a variety of suppliers, shop around for different options. You'll find wide variations in price, quality, delivery time, communication, and general friendliness. Think like your shoppers and take your time during the process.
This is particularly important for new merchants. You want to establish your business's brand and product line. You must be working with suppliers that provide products and services of the quality that your customers will expect.
In the negotiation process, let various suppliers know that you're shopping around and what their competition is offering. They might not engage in strict price competition but they'll be more likely to sweeten the pot for you.
3. Communicate With Your Suppliers
As with pretty much everything in business (and in life, for that matter), it's vital to have good communication. It's perhaps the most important aspect of your supplier negotiation strategy. No vendor will like dealing with a business that orders late, doesn't pay on time, or makes vague requests.
Establishing solid communication and reliability from the beginning will make your business stand out among your suppliers, building trust and rapport. In turn, they'll be more inclined to come to you with special offers, better pricing, and priority. Play your cards especially well and some might even buy back items you're overstocked on.
See also: What Is Swell Allowance in Retail: Supplier Relations 101
4. Show Continued Loyalty
If you like a particular vendor, show your loyalty to them. Again, think like a business owner. They'll appreciate your loyalty as much as you appreciate your regular customers.
Try out new products they offer

Consolidate your ordering among fewer vendors if possible

Set repeat orders over a given period of time

Introduce them to other business owners
5. Pay Your Suppliers On Time
This goes without saying but too many small businesses run into trouble with late payments. Your suppliers don't want to hound you for money, even if they know they'll eventually get it. Pay on time or early.
Automated invoicing and accounting services make this really easy. This is especially useful for businesses that deal with different billing cycles among their suppliers. Automating the process ensures that no payments are missed and takes some stress off of your plate.
If you're having trouble making payment in a timely manner then you might have issues with your cash flow and inventory management. In that case, it's important to address those problems as soon as possible since they're signs of far deeper problems with your business.
6. Offer Upfront Deposits
Similarly, you might consider paying upfront. The only thing suppliers love more than being paid on time is being paid early.
Paying half or in-full upon the placement of the order will make your vendors exceedingly happy. It will also provide you with a bit more bargaining power.
You're likely concerned about your accounts receivable. So are they. If you have healthy cash flow and the wiggle room to pay early, do so.
7. Ask for Free Items and Promotions
Sometimes it's easier to bargain for free items than it is to get a discount. Your suppliers might be overstocked in something themselves. In the negotiation process ask them about freebies, too. They appreciate the fact that you're not simply trying to get the very lowest price available and instead are open to trying out some new things.
Suppliers might have a new product that they want their clients to try out. For this they allocate funds for what's called trade spend. They pay stores to promote specific products. This mutually beneficial practice can help optimize inventory management and reduce costs through better demand forecasting and supply chain efficiency.
Ultimately, effective trade spend strategies can enhance profitability and competitiveness within the highly competitive grocery industry.
8. How to Deal With Suppliers Through Your POS System
Finally, use your retail point of sale system to make this process accurate, automated, and efficient. The right solution helps businesses communicate with their suppliers, whether they're a single-store, national chain, or even franchise.
With KORONA POS, businesses can set up automated reorder levels, conduct order-level optimization, and run thorough product analytics so you can see what's selling and what's not.
Sign up for a free trial below to see it all for yourself. You'll see how much easier managing your vendors and inventory is with powerful software.