Many people are turning to entrepreneurship for more freedom and better financial stability. Every year, millions of small businesses sprout up across the United States. According to the JP Morgan Institute, more than 99% of the 28.7 million businesses in the United States are small businesses. In other words, small businesses are the backbone of the U.S. economy, and their numbers keep growing, with 60% of them having revenues of more than $100,000.
However, not all small business ideas are profitable and easy to implement. While other types of businesses require a fair amount of funding and a long investment period before they generate a return, others require less capital with a quick return on investment (although the return on investment may not be the same).
In this guide, we will list the ten most profitable small businesses that you can start in 2022. Each of these types of businesses has the potential to grow rapidly and does not require a large amount of start-up capital.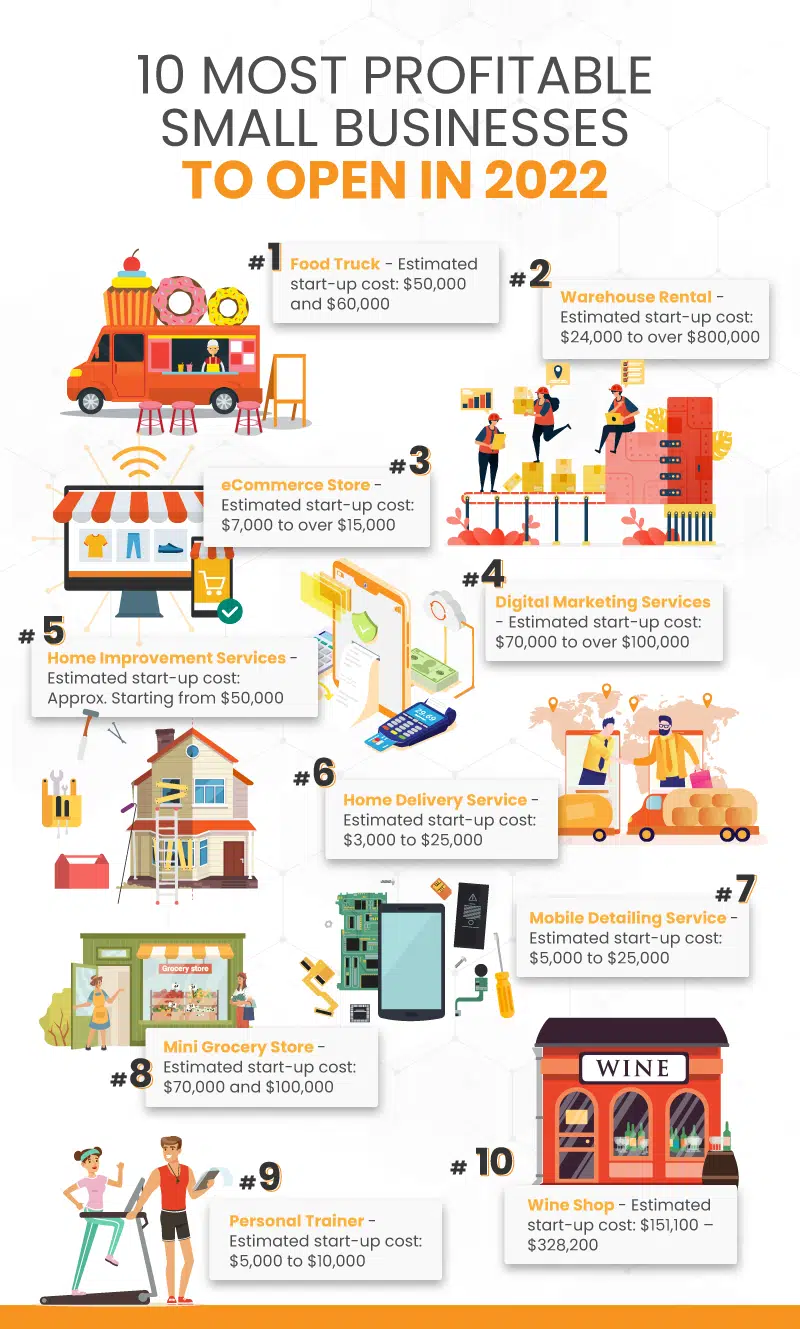 10 Most Profitable Small Businesses
1. Food trucks
The food truck movement continues to grow every year. In 2011, there were approximately 8,677 food truck businesses in the US. Today, there are over 24,000 active food trucks in the US. According to Zippia, the food truck industry is growing at an average rate of 12.1% each year, and the industry is expected to continue this trend.
With the rising cost of rent in major cities, many restaurant professionals are finding it increasingly difficult to finance a location in busy downtown areas where their customers are most likely to be. The food truck thus allows those who want to start a specialized cooking business not to pay the rent of a location as traditional restaurants do.
However, some expenses are unavoidable. You have to think about obtaining the necessary licenses, equipment, kitchen utensils, and many other additional expenses. It is estimated that obtaining permits and any other types of permits needed to establish a food truck, as well as ongoing legal compliance, will cost you just over $28,000.
The average cost of starting a food truck business and obtaining all the necessary permits is between $50,000 and $60,000. Though this is, of course, still a sizeable amount of money, it's an investment of less than $100,000 that can generate an average income of $250,000 to $500,000. This makes it easy to see that a food truck is one of the most profitable businesses you can start.
Estimated start-up cost: $50,000 and $60,000
2. Warehouse rental
The growth of eCommerce has never been so meteoric as it has in recent years. In 2020, more than two billion people purchased goods or services online, and in the same year, online retail sales exceeded $4.2 trillion worldwide.
With this boom, the U.S. is expected to need an additional 1 billion square feet of warehouse space by 2025. Having a warehouse space capable of being leased to eCommerce owners or suppliers can be an exciting business opportunity. Building a warehouse depends on the type of building you want, the price of square feet, and the size.
The basic cost to build a steel warehouse ranges between $7.50 to $40.00 per square foot. However, you should expect to pay anywhere from $24,000 to over $800,000 to build a warehouse. Once built, you can rent out your warehouse and profit from the rental income once the business is open.
Estimated start-up cost: $24,000 to over $800,000
3. eCommerce store
Another profitable small business you can start in 2022 is to start an eCommerce store. Today, buying goods and services online has become a habit for many people around the world. By 2020, the total number of digital shoppers in the United States was 256 million.
This number was projected to reach 291.2 million online shoppers by 2025. Online sales are evolving each year reaching record numbers. However, the question many people ask is how much money can you make with an eCommerce store.
According to a rough estimate, in three months, an average eCommerce site in the United States makes over $150,000 in monthly revenue, while the business after a year generates nearly $330,000 in monthly revenue.
See also 7 Best Tips For Running A Successful eCommerce Website
To start an online retail business, there are certain expenses you need to prepare for, such as your eCommerce website costs, manufacturing, software tools, inventory and logistics, licenses and permits, and other additional expenses.
You can start an eCommerce business for as little as $100, the cost of a basic domain and website theme. As an eCommerce business owner, expect expenses to climb to $40,000 in the first year. But if you run a business well you will have an exciting return on investment thanks to the profit margins.
According to estimates, an eCommerce store created after three months can generate about $63,000 in monthly revenue. This income can climb to an average of $127,000 monthly income.
Estimated start-up cost: $7,000 to over $15,000
If you plan to have an in-house team, you may also want to consider the additional costs:
Web Developer – $53,000
E-commerce manager – $59,000
E-commerce manager – $100,000
A very important expense you need to consider is the cost of your inventory. Make sure you find a supplier that offers you good quality products at reasonable prices.
Learn more about How to find the Right eCommerce Product Suppliers for Your Store
4. Digital marketing services
The COVID-19 crisis has forced many companies and individuals to work online. Moreover, with the growing number of online businesses, digital marketing services are becoming more and more necessary. Therefore, to meet the demand of these companies, you can start a digital marketing agency specialized in offering a specific service.
A marketing agency can specialize in the following:
Copywriting

SEO writing

Paid Advertisements

Content creation and strategy

Social media management

Website design
Anyone with some basic digital marketing background can start a successful agency. Just have expertise in the service you wish to offer, and hire the right people to support you. In addition, you may start as a sole proprietorship and recruit employees down the road as your business starts to grow.
Estimated Start-up cost
For a small digital marketing agency business, you'll need about $70,000 or less

For a medium scale digital marketing agency business, you'll need over $100,000
5. Home improvement services
The housing market has experienced strong growth over the past two years. Despite the health crisis, 2021 was marked by historically low foreclosure rates and the highest number of home sales in 15 years.
As the number of people buying homes increases, so does the demand for home improvement services. For American homeowners, improving the design of their homes is the most critical factor to consider when planning a remodeling project.
The U.S. home improvement industry is more vital than it has been in more than a decade and includes interior design, building material sales, carpentry, plumbing, landscaping, appliances, decorating, and other home improvements.
Most of these fields require training and access to equipment or materials. So if you have a specific skill in home improvement, a home improvement service is a profitable small business you can start in 2022.
Estimated start-up cost
If you want to start out simply as a renovator and work as a sole proprietorship, you will need to budget approximately $50,000 to $75,000.

If you decide to start offering major renovation services, expect to have a starting capital of $250,000 to $500,000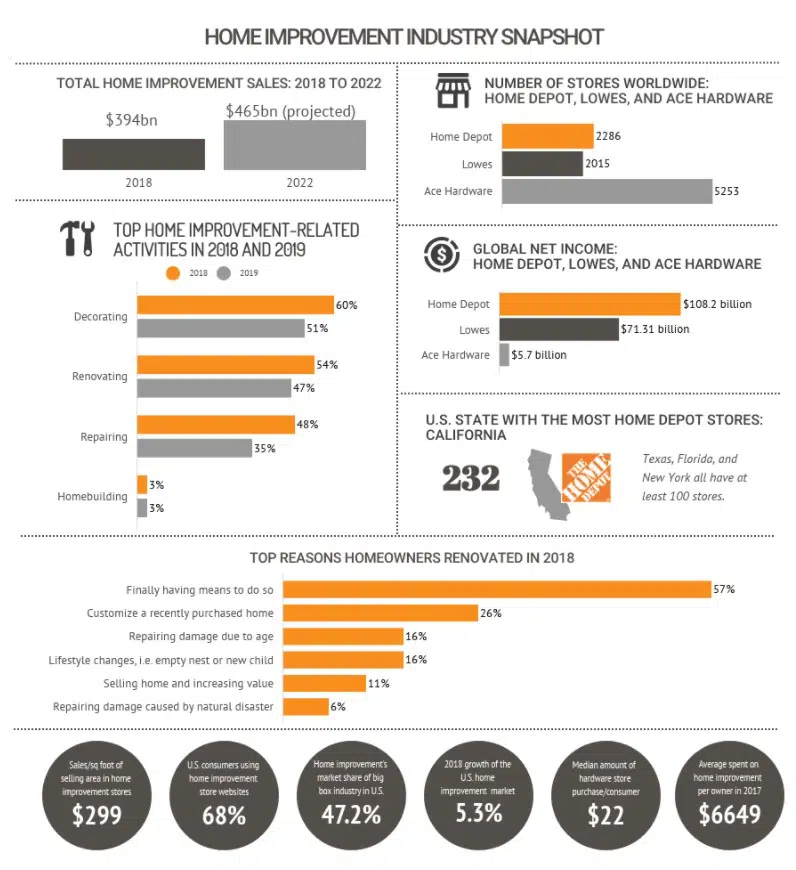 6. Home delivery service
Another profitable small business on our list that you can start in 2022 is a delivery service. As a result of the COVID-19 pandemic, many people prefer to stay home and have their products delivered directly to them.
This situation has created an unprecedented boom in demand for delivery services. You could offer a local courier service to deliver food, medicine, groceries, alcohol, and offer to run other essential errands.
You can start this kind of business on your own by first offering your services to your friends and family and then try to reach a wider network of people down the road.
Estimated start-up cost: $3,000 to $25,000
7. Mobile detailing service
Mobile detailing is also one of the most profitable small businesses out there that you can start. It consists of cleaning, renovating, and finishing a vehicle to go beyond what a traditional car wash offers.
Mobile detailing can be done both inside and outside the vehicle. Many people would pay extra for a mobile car wash service to come to them instead of driving across town to access a car wash.
This is especially obvious for people with high-end cars who want a professional and personalized service. Mobile car wash and cleaning services offer the benefit of convenience for the car owner and avoid costly overhead and significant start-up costs for the business owner. The most costly aspects of starting a mobile detailing business are the specific licenses and equipment needed.
Estimated start-up cost: $5,000 to $25,000
See Related: The Ultimate Guide on How To Start a Car Wash Business In 2022
8. Mini-grocery store
Opening a mini-grocery store can be a lucrative business, especially if you choose a great location for your business. For grocery stores, it is often advisable to find an area of a city with little competition. And if you are just starting out and don't have a lot of capital, you may consider opening a mini grocery store.
For the expenses you will incur when opening your mini grocery store, you will need a cash register with a credit card processing machine, a POS system, freezers and refrigerators for perishables, shelving and display cases for merchandise, baskets for customer use, employees, necessary licenses and permits, and a rental space for your business.
Estimated start-up cost: Owners of a mini grocery store can expect to spend between $70,000 and $100,000. Of course, you should be prepared for other additional expenses down the road.
9. Personal trainers
Body and mind health is being taken more and more seriously by many Americans. If you are a fitness enthusiast and you think you can change people's lives through more training, then this business is for you. You don't need to work in a large corporate gym, nor do you need to have a big facility to train your clients.
The health crisis has even made it possible to offer remote training and coaching sessions. What makes personal training one of the most profitable small businesses is that, apart from the professional licenses you need, all you need are the weights, bands, and yoga mats in the trunk of your car to start your business.
However, you will need to have a clear plan and strategy in setting up such a business. You must first determine your credentials, determine your role in the business, define your availability and mistakes, get professional liability insurance, and offer consultations.
Typically, per 30-minute session, personal trainers charge $25 to $50, $40 to $70 per one-hour session and $60 to $100 per 90-minute session.You can offer one-on-one sessions in your client's home or by advertising group classes at a local park or community center. Making the fitness class interesting and accessible to your clients is important.
Above all, know how to choose your target audience correctly. Social networks like Instagram and TikTok can quickly help you gain recognition and customers' trust.
Estimated start-up cost: $5,000 to $10,000
10. Wine shop
Starting a wine shop is one of the most profitable businesses to open in 2022. As a wine shop business, you will have a large potential customer base from the get-go.
According to binwise while restaurants and bars are estimated to have a profit margin of about 70% on wine, retailers still make a sizeable 30-50% margin. Meanwhile, distributors and wholesalers typically had a profit margin on the wine of about 28-30%, and producers and wineries have a gross margin of about 50%.
In general, the wine industry is very profitable, as the growth rate of the wine industry suggests. As a retailer or wholesaler, you can target high-end restaurants, bars, liquor stores, and hotels, as well as individuals as your potential customers.
Estimated start-up cost: $151,100 – $328,200
KORONA POS TIP
You can't run a vineyard or wine shop without a POS system as you will need to manage your inventory, wine club, and fast processing of customer transactions. And for that, you need to have the right POS system that integrates all the necessary features for a successful wine business. Learn more about the critical winery POS features for vineyards, wine shops, and tasting rooms here.
You may also read 5 Tips for Running a Successful Winery and Improving Sales
How to Start a Profitable Business?
The most profitable businesses vary in several factors, such as the time required, start-up costs, and the amount of time needed for a return on investment. However, no matter which most profitable business idea you are considering starting, there are certain preliminary steps you will need to take to get your business off the ground.
Step 1: Conduct thorough research on your business idea
.
Before starting a business, you need to have a clear picture of what you want to get involved in. It's essential to thoroughly research the type of business you want to start, to know all the details, including the pros and cons. Doing so will ensure that the business concept will be successful.
To determine if your business idea is the right one, first think about doing a market study to find out if there is a demand or need for the products or services you want to offer. Market research will also help you determine the level of competition you will face.
Step 2: Find a name and make your business official
The next step in making your project a reality is to name your business and register it. To make sure that the name you give your company is not already taken by another company and to avoid legal issues down the road, you need to trademark it. Consult the USPTO website.
KORONA POS TIP:
Trademarking your business name is an important step in the process of establishing your business. It avoids legal disputes with other businesses but also makes your business credible. Moreover, without trademarking your business name, you can't get your business registered. Learn how to trademark your business name now.
Another step to formalizing your business is finding the right legal structure for your business. You can decide to register your business as a sole proprietorship, an LLC, or a corporation.
After choosing the right business structure, you need to apply for an Electronic Identification Number (EIN), registering your name as "Doing Business As" (if necessary). The last step to consider in establishing your business is obtaining the business licenses and permits your business needs to open its doors.
See related Types of Business Licenses for Small Businesses
Step 3: Finance your business
Your business idea and established business plans would be useless if you do not have the capital to finance your business. However, as a new business owner, you will have difficulty receiving financing or a traditional business loan from banks.
However, there are several alternatives financing for your business that you can access. You can start by financing your business with a business credit card. You can also visit the SBA website (Small Business Administration) to get loans or financial assistance to start your business.
And luckily, this list is for more affordable options for starting a new business. Most of these will require more minimal loans, allowing you to get out of debt faster than some more traditional businesses.
Wrap Up
Even though you may be tempted to open a larger business, the most profitable businesses for entrepreneurs are those that are easy to launch, have low initial costs, and respond to a market need or trend. They have higher rates of success and bring with them lower financial consequences in the result of a failure.
To successfully launch a business, you need to plan for a handful of specific components such as market research, a detailed business plan, POS software (for retailers and brick-and-mortar business owners), business skills, experience, and many more.
Although no industry is 100% guaranteed to succeed, the list of companies suggested in this article is a good jumping-off point to give you ideas of small businesses you can consider investing your money in. If you want to start a business and need a POS system, don't hesitate to reach out! Click on the button below to get started.