Each state in the United States has its own rules and regulations regarding the sale and consumption of alcohol. For example, nearly anyone can open a liquor store in New York; in neighboring Pennsylvania, no one can! As a result, working in the liquor industry can be particularly challenging.
There are two common types of liquor regulatory systems in the United States: open states and control states. If you want to get into the business of selling alcoholic beverages, you'll need to understand the rules governing the sale of alcohol in the state where you want to operate. Knowing whether you operate in a control or open state is the first place to start.
In open states, private businesses are allowed to buy and sell alcohol according to state laws, while other states control the distribution and/or sale of alcohol (wine, spirits, and beer). These are known as control states. In this guide, you will learn a little more about a control state, the differences between control states, and their advantages and disadvantages.
Table of Contents
What Is a Liquor State Control State?
The power to control alcoholic beverages was transferred to individual states after the United States abolished Prohibition in 1933, which prohibited importing, transporting, and selling alcoholic beverages such as beer and wine.
As a result, two types of alcohol regulation solutions have been adopted by states: those that delegate control over the sale and distribution of alcohol to local governments and those that allow sales by private retailers entirely. States with a monopoly or complete control over the distribution and sale of alcohol are called control states or alcoholic beverage control (ABC) states.
In control states, a government agency usually runs the wholesale operation of the system. It then either delivers the products to private off-premise retailers or, in most control state systems, the state also owns the off-premise retail function of the system. Across all controlled states, the state sets the minimum price for each product, which sets the price for the consumer. In total, there are 17 controlled states versus 33 open states.
What Are The 17 Control States?
There are 17 states where the state government controls at least one aspect of alcohol sales:
Alabama
Idaho
Iowa
Maine
Michigan
Mississippi
Montana
New Hampshire
North Carolina
Ohio
Oregon
Pennsylvania
Utah
Vermont
West Virginia
Wyoming
However, some notable exceptions exist where individual counties in some states have chosen to control alcohol sales. Take Maryland, for instance. The state as a whole is not a control state, yet Montgomery County must comply with certain liquor laws. Currently, it has 25 off-premises liquor stores.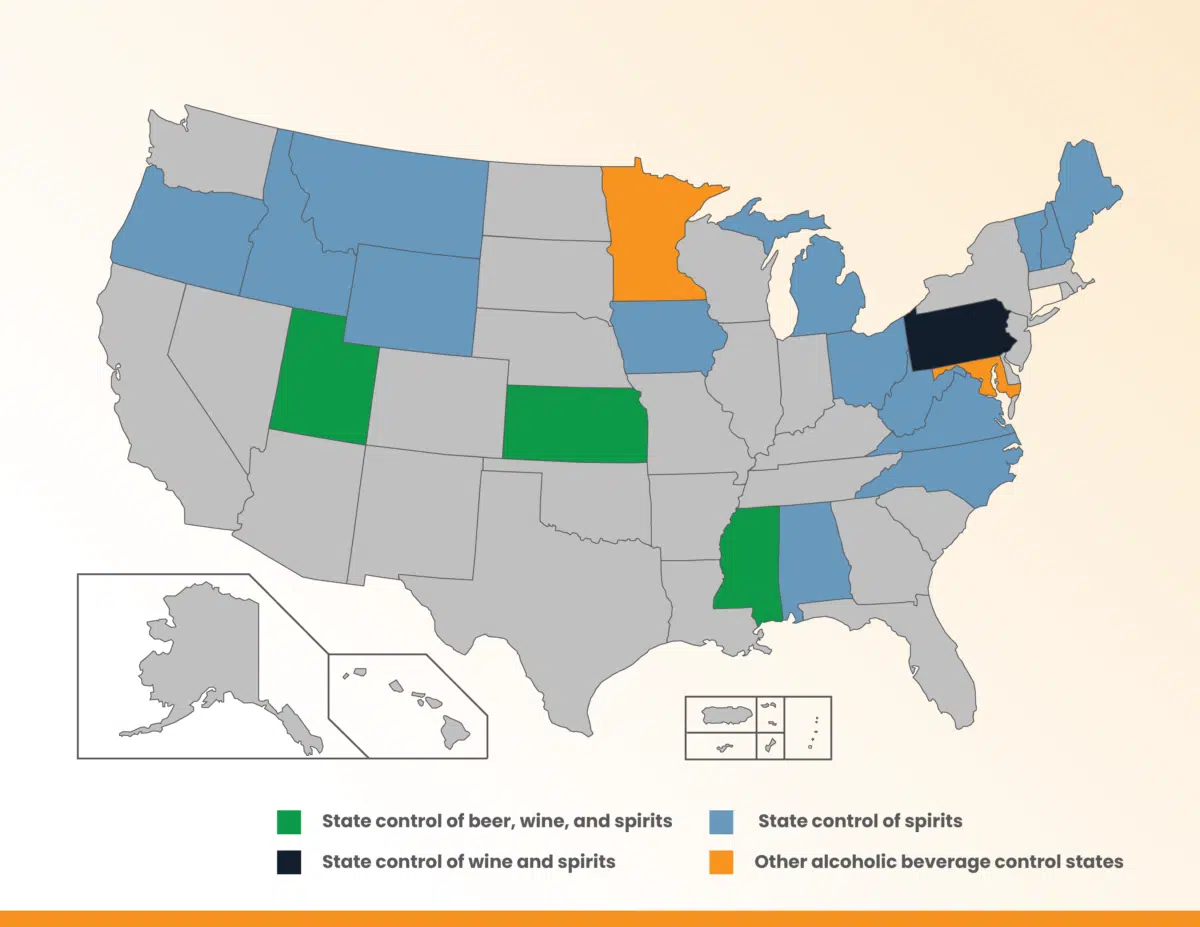 What Are The Differences Among Control States?
There are two distinct groups among the 17 control states. The first group is stricter and ultimately limits the sale of alcohol to state-run ABC stores. These states include Alabama, Idaho, New Hampshire, North Carolina, Pennsylvania, Utah, Virginia, and Washington.
In New Hampshire, alcoholic beverages are sold tax-free, attracting out-of-state customers. North Carolina is also somewhat unique in that stores can be run by local county and city governments.
The second group is where the state plays a more subtle role in controlling alcohol sales and distribution. Instead of asserting power at the retail level, these states allow alcohol to be sold in private outlets and work at the distribution/wholesale level, allowing them to determine what products will be sold at minimum prices.
These states include Iowa, Maine, Michigan, Mississippi, Montana, Ohio, Oregon, Vermont, Wyoming, and West Virginia. If you would like a more detailed look at the alcohol policies in each state, check out the comprehensive guide developed by the National Alcohol Beverage Association.
How Do You Apply For a License In a Liquor Control State?
The procedures for applying for a state liquor license vary from state to state. First, there's the paperwork. Fill out the pre-application or application (depending on your state) for a liquor license. Don't forget to bring an ID card and written approval from your local governing body.
Then submit all of these documents and the required fee to the appropriate state liquor control commission. For example, if you are in the state of Vermont, contact the Vermont Division of Liquor Control. You can now even fill out the application and attach the documents online. The laws and regulations section provides more information on alcohol and tobacco laws and statutes.
The application requirements differ depending on the type of business you need a license for (for example, you may need more paperwork if you want a wine store and apply for its license than you would for a restaurant application). Fees vary from state to state. In the state of Vermont, for example, the Retail Delivery License costs $100 to DLC, while in Virginia, the application form for an on-site retail outlet costs $195.
The Benefits of a Control State
A well-run liquor business will have a good profit margin. Therefore, state-run stores can generate revenue for the state concerned. The local government can use this money to provide residents with better education, health care access, roads, etc., at a reasonable cost.
States that control the sale, distribution, or manufacture of alcohol ensure that a limited number of stores are licensed to sell alcohol. The fewer stores there are, the more difficult access becomes. As a result, this also arguably helps limit alcohol abuse and drinking and driving incidents in the state.
Similarly, the controlling states also have the power to set the price of liquor. Liquor prices are generally higher to limit sales and curb alcohol consumption.
Disadvantages of a Liquor Control State
Liquor stores in alcohol control states operate according to hours mandated by the liquor department or local government. Most often, these outlets remain closed on holidays and work for limited hours on Sundays. In addition, they are not allowed to promote liquor sales by offering discounts or "buy one, get one free" programs. All of these measures can be disruptive to business sales and result in lower revenues. New breweries and distilleries may also find it challenging to meet all requirements since controlling states have a strict licensing process.
In addition, states decide what type of alcohol can be sold and to what extent you can have an inventory of alcohol. In this case, bottles from new breweries may not find their way onto the shelves of your supermarket or liquor store. All of these regulations are not conducive to the marketing of alcoholic beverages. Supply and product choice are almost always more limited in this model.
How To Get Listed in a Control State
Registration
Some states require a brand to obtain a state control code for each product before it can be offered for sale, while others issue their own state code once the product is active. The control state code is a unique six-digit code assigned by the National Alcohol Beverage Control Association (NABCA) that can be used in all states that use the control state coding system.
Establishing Demand Through Testing
A product must generate interest in the market it seeks to enter before it can be endorsed by the control state in which it intends to establish itself. One way to do this is through special orders. A special order is most often referred to when a single retail account is interested in a one-time purchase to test how well the product will sell. This process allows the product to be sold on a one-time order basis. These orders are typically smaller and, depending on the state, maybe as little as a single bottle or case. When a product is special ordered, it is not held in bonded inventory and is not present on off-premise shelves.
Getting a listing
If demand for the product is working well enough through special orders and other retail customers in the state are requesting the product, the next step is to try to obtain a full listing. The purpose of a full listing is to generally allow the product to have an allocation in the bonded warehouse or a presence on off-premise store shelves. Full listings require the broker to make a formal presentation for the state board to approve the product.
Running a Spirits Business in an Alcohol Control State: Conclusion
When comparing liquor selection in control and open states, there are generally far fewer options on the shelves of ABC stores in control states. ABC stores also have more limited hours and, in some states, are closed on Sundays. So if you can buy alcohol in the control states, you'll need to make sure you buy it before closing time. Also, smaller craft brands simply do not have the resources to navigate the government system to ensure their products make it onto the shelves.
However, this does not save the fact that ABC liquor stores have enough liquor inventory on their shelves, which makes liquor inventory management a real challenge. And that's where KORONA POS can be a big help. KORONA POS is a point of sale software specifically designed for liquor stores, wine stores, and wineries. It improves operational and management efficiency by enabling better inventory control, which improves revenues and profits.
Since the control states are a little more strict on the sale and consumption of alcohol, it's important to follow each state's requirements if you're operating as a private retail business. And one of the basic rules of not losing your license is not selling to minors. And in that regard, again, a POS system may have features that invite age verification and registration verification for a product with age restrictions. KORONA POS allows you to enter information from a government ID or scan the ID. In addition, the system can store the data in case it is needed later to prove that the ID has been verified. To learn more about how KORONA POS can help a state-control alcohol store, click on the link below to discuss with one of our product specialists.
FAQs: What Are Alcohol Control States
1. How many control states are there in the US?
There are currently 17 control states in the U.S., including Alabama, Idaho, Iowa, Maine, Michigan, Mississippi, Montana, New Hampshire, North Carolina, Ohio, Oregon, Pennsylvania, Utah, Vermont, West Virginia, and Wyoming, and Maryland. 

2. What is a control state?
Control states are states in which the government is involved in some aspects of the sales and distribution process. You can only buy alcohol in strict control states at state-run ABC retail stores.

3. What's the difference between all the control states?
In some control states, the government intervenes at the distribution level to select brands and set prices. Other controlled states exercise power at the retail level by limiting sales to ABC outlets.

4. Which states have the strictest liquor laws?
The strictest states on alcohol are Pennsylvania, Utah and North Carolina. For example, in North Carolina, drink offers such as "buy one get one free" are completely prohibited.