Nothing is more rewarding for a liquor store owner than customers who are loyal to their store and recommend it to their friends and family. Building more organic word-of-mouth marketing and referral business is a great way to grow your sales.
And consumers still prefer to do it in person. According to a recent Chase Design study, up to 90% of consumers prefer to buy their liquor in-store. This suggests that people are more likely to be repeat customers of a physical location rather than just shop around for the cheapest option online.
But what about your local competition? How can you ensure that your shoppers will keep choosing to come back to your spot? Building customer loyalty requires a strong relationship based on trust. So how can liquor stores build customer loyalty to increase their sales? In this article, we'll walk through the best strategies for building customer loyalty for your liquor stores and discuss how a loyalty program integrates with a POS system.
Table of Contents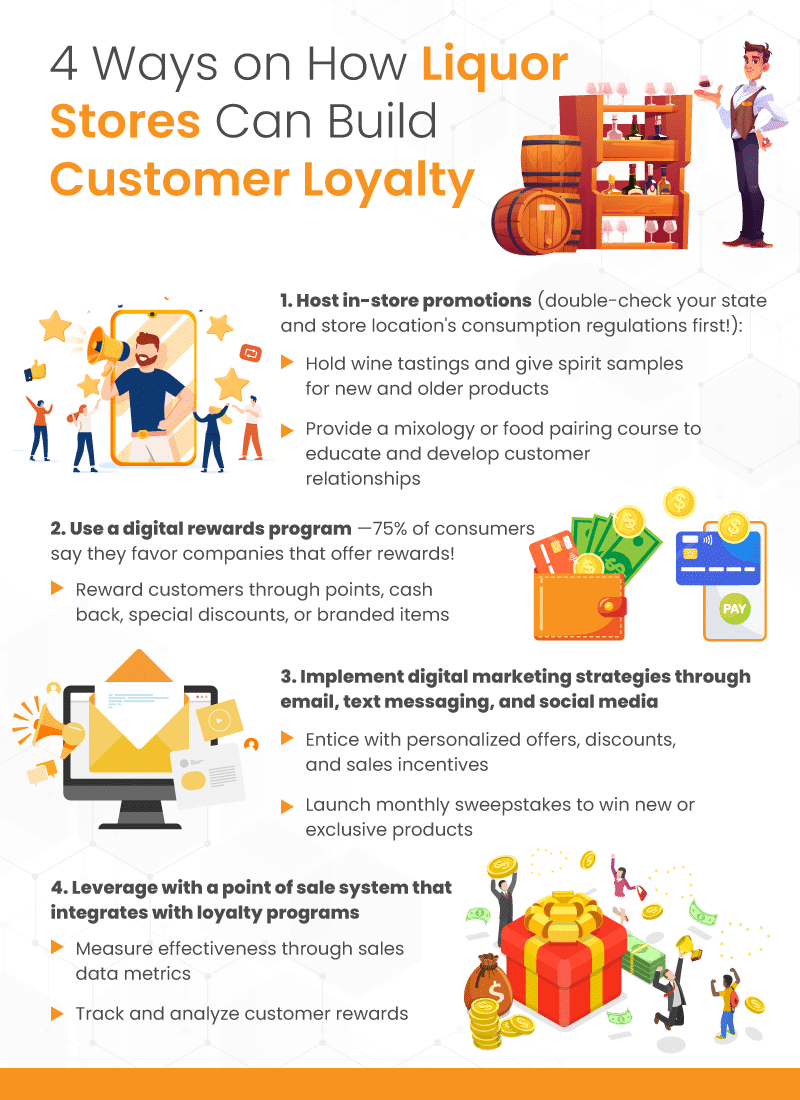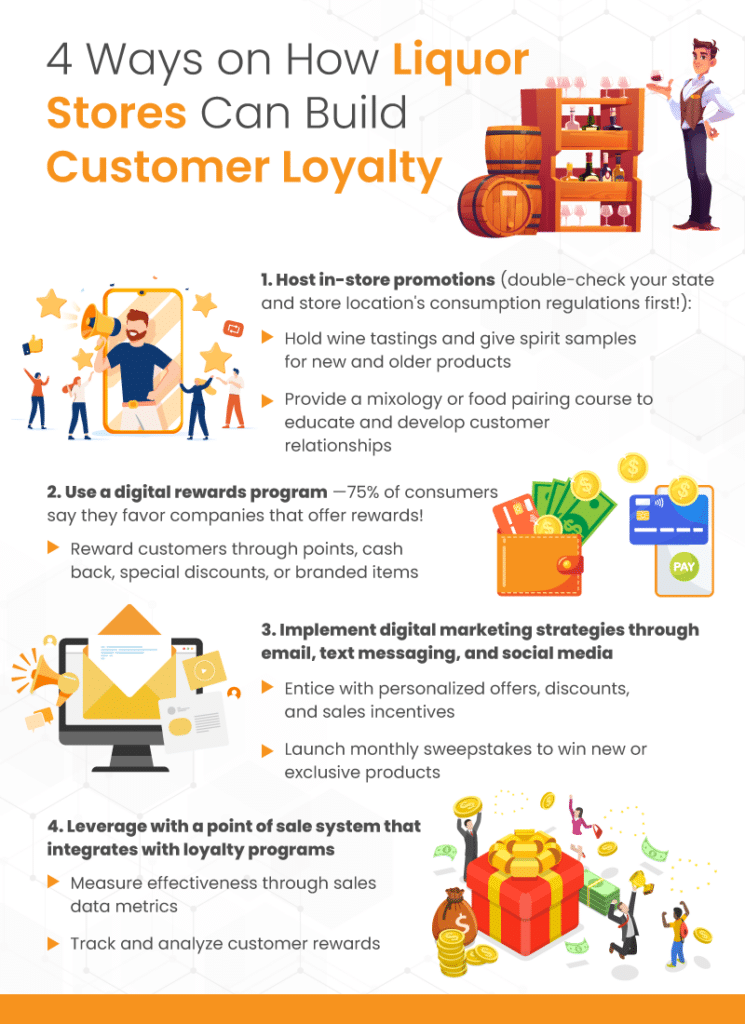 How To Build Customer Loyalty With In-Store Promotions
In-store promotions allow liquor store owners to connect directly with their customers. This personal connection is essential because customers remember the brands they have directly interacted with.
When liquor store owners create opportunities to interact and mingle with customers, they learn a lot about each buyer and gain valuable information about consumer preferences and favorites. Therefore, running in-store promotions, such as wine and liquor tastings, mixology classes, and other experiential events, can be very beneficial.
Hosting in-store promotions that invite your loyal customers to interact with you will help you get to know them better. You increase the chances of getting them to sign up for your customer loyalty rewards program or provide their contact information to create customer accounts in your point of sale system.
The benefit of running in-store promotional events will allow you to understand the core demographics of your customer base, allowing you to customize future promotions. Demographics will enable you to create segments, or "clusters," of customers in your POS and loyalty rewards program to do your future marketing as personalized as possible. Here are three in-store promotion ideas to build customer loyalty and leave a positive impression on your liquor store.
Read also: Retail Loyalty Programs: Types of Programs and Loyalty Marketing
Wine tastings
The primary purpose of hosting a wine tasting in your liquor store is not necessarily to increase sales of the wines you are promoting (though it could be in part motivated by this). Instead, it is often used to gather customer contact information that you can use in future direct marketing efforts. So, when serving samples and talking to customers, encourage them to get your newsletter, provide their cell phone number, and sign up for your loyalty program. Limit yourself to three wines and choose either new arrivals or older products that have not moved.
Spirits samples
Each state has its own regulations regarding the sale and consumption of alcoholic beverages, so make sure that alcohol tastings are legal under your state's laws. Above all, avoid having a customer become intoxicated during the tasting.
You might also want to read: How to Get a Liquor License in Oklahoma: A Guide for Liquor Store Owners
It's best to organize a tasting of alcoholic beverages, offering samples of mixed cocktails. First, it allows you to sell additional mixing products such as vermouth, triple sec, and margarita mix. It also gives customers ideas and information on creating their own cocktails if they purchase the spirits they are sampling.
Mixology course
Mixology is the study and art of inventing, preparing, and serving cocktails and other drinks. However, holding mixology classes at every liquor store is not always possible. Your state's laws and your retail location may not allow it. So make sure all the requirements are met before you get started. But if possible, mixology classes are great for developing personal relationships with your customers.
Scheduling mixology classes will require more organizational work at first. Still, once you collect customer contact information to enter into your point of sale system and loyalty rewards program (if the customer agrees), you can quickly contact your customers via direct messages to invite them to sign up for your classes. Also, mixology classes can even be a reward offered as part of your customer loyalty program.
You Might Also Want To Read: How To Run a Successful Liquor Store: 6 Proven Tips For Liquor Stores Owners
Building Customer Loyalty Through Digital Rewards Programs
75% of consumers say they favor companies that offer rewards. The more rewards you provide and the easier it is for your loyalty program members to redeem those rewards, the more they will spend at your liquor store. Building customer loyalty through a rewards program is about determining the type of rewards you can offer your loyal customers. The most basic options are point value, cash back, or access to special discounts. It is also possible to open bonus points when customers sign up for the program, which is an added incentive.
When contacting your loyalty program members, keep your messages short, easy and relevant. Although it's a store-wide sale, your marketing should be customized for each customer, considering their personal preferences.
Send short, easy, and relevant messages to your loyalty program members. Although it's a store-wide sale, your marketing should be personalized to each customer, taking into account their personal preferences. For example, if you're running a summer sale with a 10% discount on all of your store's beers, your email marketing campaign for Michael should focus on his favorite beer, Busch Light, while Jane should receive emails about her favorite hard seltzer, White Claw. Implement your special promotions via SMS, app push notification, and additional digital marketing with the same level of personalization.
While there are different loyalty programs, the points program is usually the most effective for a liquor store. This program is based on the "spend more to earn more" principle. Every time customers spend a certain amount of money buying liquor in your store, they are rewarded with points. Points are calculated based on the item purchased. For example, purchasing $100 worth of liquor earns the customer 10 points. These points accumulate over time and can be redeemed in the store for any item based on their point value. Reward programs are a great way to get new customers and retain existing ones.
Your liquor store can brand items such as mugs, t-shirts, or bags and give them away for free to your customers after purchasing a particular liquor brand. This can entice more people to buy the product to get the branded items; in return, you can get contacts from them. Place the free articles on beverages that have a high-profit margin.
Building Customers Loyalty Mobile Marketing Strategies
Several digital marketing strategies will increase customer engagement and loyalty to your brand. Here are a few of them:
Personalized offers, discounts, and sales incentives
With a comprehensive approach to collecting digital customer data through your point of sale, you can leverage the data at your disposal to streamline your personalization efforts for all digital marketing campaigns. Once a customer has consented to joining, you can schedule the digital marketing campaigns you send to that particular customer to be so personalized that they are only contacted for product promotions that match their favorite wines, spirits, beers, and mixes. Your loyalty program can collect even more detailed customer data, which you can use to develop personalized promotional campaigns to ensure the best possible marketing.
Monthly SMS sweepstakes to win
Launching an SMS lottery campaign is just one example of mobile marketing you can implement. If you offer such a lottery every month and the prize or prizes to be won are fun, exciting, and exclusive, you will increase overall customer engagement with your brand. For example, new products not yet available in your liquor store can be great raffle prizes. Get the word out about upcoming releases and build customer loyalty by offering premium spirits, organic red wine, or seasonal craft beers. Whether a customer wins, they'll know about the new product and be inclined to buy it anyway.
Rewards program for loyal customers
Rewards programs have been proven to build customer loyalty, and as a technology, these programs are ideal for recording each customer's browsing and purchase history, which can be leveraged in how, when, and why you market to them in the future. Because rewards programs collect detailed customer data and include SMS and push notification capabilities to reach members, they can allow liquor store owners to launch personalized promotional campaigns that customers respond to.
Bonus: Social media can also play an essential role in customer retention because when customers engage with your brand on social media, they feel organically a growing sense of connection to you. The trick is to get your customers to follow your liquor store's social media accounts and like, comment, and share your posts. If you offer loyalty rewards in exchange for social media participation, social media engagement will increase faster.
How Does a Loyalty Program Integrate With a POS system?
Your POS software doesn't just host your customer loyalty program. It can also help you measure the effectiveness of that program. As sales and customer data flows through the software, you should be able to easily evaluate the success of your program with a few metrics. Tracking the number of rewards processed and the most popular items gives you a good idea of how effective your program is. You can also analyze individual and combined customer spending to see how things are looking after your customers enroll in the system.
Best of all, since the system tracks everything, you won't have to worry about keeping a separate record for your loyalty program, and you can make every customer feel special because of it. However, to enjoy all these benefits, you need to choose a POS software suitable for liquor stores. And for that, KORONA POS is the right solution for you.
Read also: How Can Liquor Stores Effectively Manage Their Inventory?
According to Fit Small Business, KORONA POS tops the list of best POS software. Not only does it offer you a loyalty program fully adapted to your needs, but it also offers a multitude of features allowing you to streamline your inventory, payroll, and many more. If you have several liquor stores, KORONA POS enables you to follow each site's evolution and efficiency in real-time without necessarily being on your premises. Enter your email below to book a free demo of how KORONA POS can help you build customer loyalty.
How Can Liquor Stores Build Customer Loyalty? Wrapping Up
Retaining customers is much easier than acquiring new ones. That's why maintaining customers through rewards programs should be part of your strategy. Spirits stores can build customer loyalty through in-store promotions, digital rewards programs, and mobile marketing strategies.
Overall, the best marketing strategy to build customer loyalty for liquor stores is to create attention around your brand and product without overdoing it. You can also use social media platforms for marketing your liquor store by regularly posting messages that inform and educate your customers about your product.