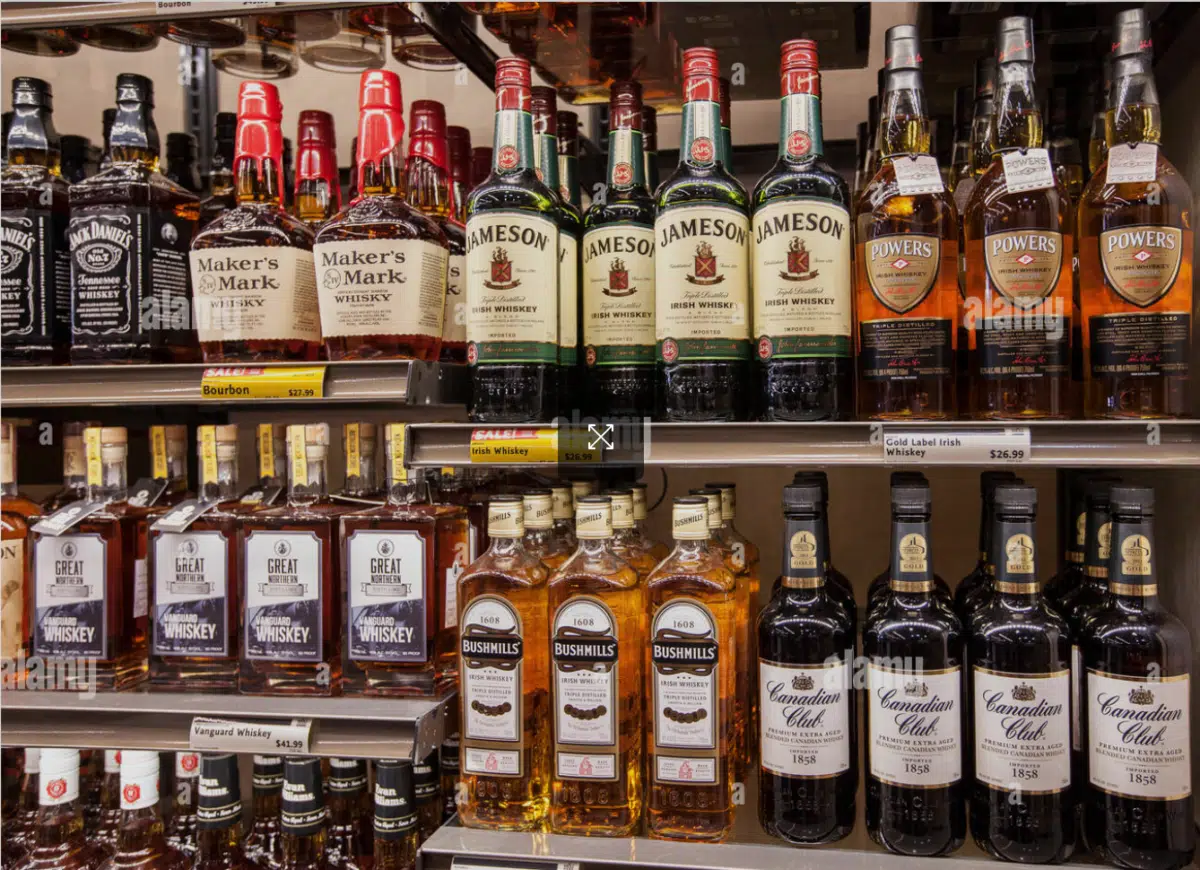 Liquor store inventory management is one of the most daunting challenges for any liquor store owner or manager. Maintaining adequate inventory levels can mark the difference between business success and failure. And while there are many benefits to owning a liquor store, inventory management can be particularly onerous for the uninitiated.
Fortunately, inventory management solutions exist that make the management process more efficient. Check out this blog to learn more about liquor store inventory management and how POS software can streamline inventory management and all operations in a liquor store.
Table of Contents
Challenges of Liquor Store Inventory Management
1. Managing a wide range of products
Maintaining an adequate inventory level is essential to any liquor store's success. And most must offer their customers a wide variety of products. Thus, balancing a sufficient inventory of hundreds, if not thousands, of products is probably one of the biggest challenges to being competitive and successful. After all, failure to maintain appropriate inventory levels puts the owner at risk of losing customers.
Handling these SKUs requires the liquor store owner to understand how to use different systems to manage inventory levels without overstocking or risking under-stocking properly. Judicious liquor store inventory management undoubtedly impacts the bottom line.
2. Challenges with cash flow
Sufficient working capital is essential to ensure a consistent flow of inventory, but it also represents a significant financial commitment. Purchasing many different products requires a lot of capital for liquor stores. This can cause substantial liquidity problems for a small business, especially if the owner is cash-strapped.
In addition, liquor store owners often have to buy in large quantities to get the best prices. Some have to compete with "big box" stores, meaning they have to buy several months' worth of inventory, resulting in significant cash outflows.
See related: Liquor Store Inventory Management – 3 Common Problems
Advantages of Managing Liquor Store Inventory With a POS System
Instant notifications of inventory levels
Another great feature of liquor store POS systems is that the business owner is notified by the system when inventory levels are too low or too high. This notification of understock and overstock is very helpful in managing liquor store inventory, working capital, and loss prevention.
Once the POS system is configured, it can inform the business owner of inventory balances for each of the store's products. This automatic process gives the owner the confidence that inventory is being tracked to meet customer expectations. It also prevents overstocking, which unnecessarily depletes cash reserves, making cash flow smoother and less strained.
The most advanced POS models also automatically order products when inventory reaches predefined levels. This feature is especially beneficial when the owner has more than one store that needs to be stocked to manage liquor store inventory.
See related: Liquor Store Industry Trends: Modern Reporting And Analytics
Bonus: A cloud-based point of sale software like KORONA POS makes your liquor store inventory a no-brainer. Any changes to the inventory will be reflected across all locations in real-time. Plus, it can all be done with a lightweight handheld scanner. In addition, KORONA POS is also fully integrated with several retail eCommerce platforms like WooCommerce. This means that sales data from online and physical stores can be consolidated together in your all-in-one POS system.
See also: Future Of Cloud-Based POS: Trends in the Point of Sale Industry
Age verification
If you own or manage a liquor store, chances are you are constantly dealing with fake IDs. Selling to a minor is a significant risk, and repeat offenses can result in losing a liquor license. Counterfeit IDs are becoming more realistic and challenging to detect today. KORONA POS is equipped with age verification systems. Age verification verifies the legitimacy of a driver's license. This reduces the risk of selling alcohol to minors and the liability that comes with it. Your staff simply swipes a customer's ID card, and KORONA POS reads the magnetic strip on the back.
Customer relationship management (CRM)
A point of sale system for liquor stores that want to offer customer loyalty programs is perfect for facilitating a personalized sales process to customers. The point of sale can be automated to track customers' purchases, points, and/or rewards.
These programs are easy to implement, and customers love them. They are a great way to manage customer relationships for repeat purchases. The system also records valuable customer data such as names, email addresses, phone numbers, etc. This information is invaluable for marketing to existing customers via promotions. And, in the end, they help you understand your demand and inventory on a deeper level.
Theft prevention
Good management of alcohol stocks also implies control against theft. Many liquor stores' large volumes of inventory can result in undetected theft. This makes it difficult to know when the theft occurred and to find the culprit.
However, with a POS system, theft is minimized because discrepancies in inventory counts are easier to detect. The POS system can help the owner establish operational restrictions for employees to reduce theft, such as voiding receipts, voiding items, changing prices to avoid unauthorized discounts, and monitoring cash drawers.
Additionally, some cashiers will erase items on a receipt if the customer pays cash. KORONA POS does not allow this practice. You can prevent further action at the point of sale with an open drawer. Ask employees to close the cash drawer after each sale. The software allows you to define your own customer settings by specifying who can cancel an item on a ticket. This makes it much easier to require authentication. All security features are fully customizable, allowing KORONA POS to adapt to your store rather than forcing you to adapt to the software.
POS system reports
The POS system is a goldmine of data that can be used to create a variety of different reports on the efficiency of your liquor store. The system details profit margins, cost of goods sold (COGS), transactions per employee, inventory turnover ratios, etc. This data is critical to identifying which products sell the most or the least. It will allow you to identify effective sales strategies and the performance and efficiency of your employees. KORONA POS reports are not just an endless ocean of numbers. The software breaks down your sales metrics in a digestible way, so you know what changes need to be made.
See also: Best POS System For Liquor Stores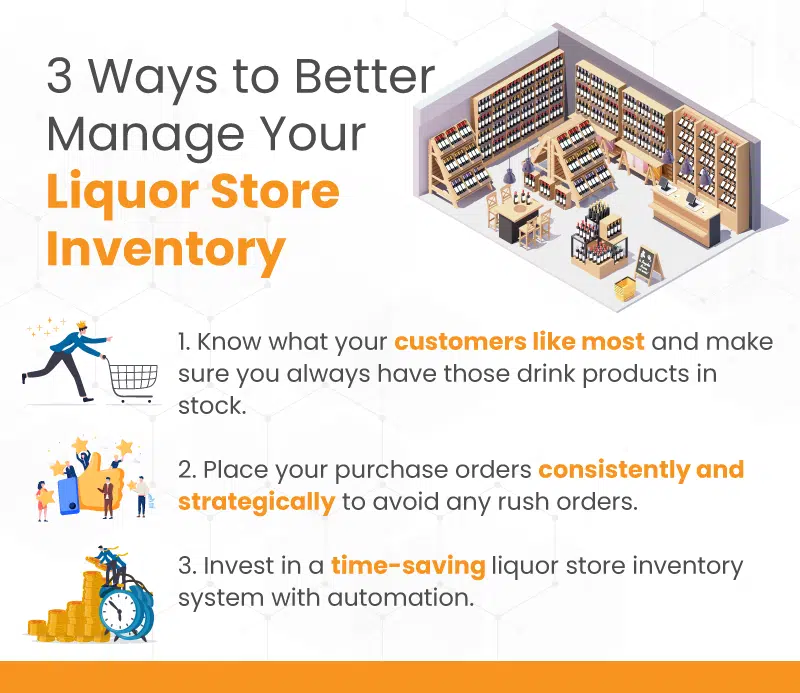 Three Ways to Better Manage Your Liquor Inventory
1. Know your customers and how to make them happy
Nothing is more satisfying to a customer than getting what they want. By knowing their favorite drinks, you can significantly reduce drink shortages. Are your customers the type who want a beer on tap or the next hot cocktail? If they are the cocktail type, what liquor is most frequently consumed, and how can you optimize the brand you use for popular menu items?
Use the data at your disposal to get to know your customers and keep them coming back. Of course, this data can only be obtained through reliable and powerful point of sale software.
2. Place purchase orders strategically
Placing rush orders for products because you didn't realize the store was out of stock is an easy way to waste money. As described above, a consistent and complete inventory helps prevent rush orders, as does using a liquor inventory scale.
On the other hand, ordering too much of a given product leads to unused dead stock in your back room, which can be just as bad for your business. Strategic ordering, using valuable information from an effective inventory management system, will go a long way in preventing both of these worst-case scenarios.
3. Invest in a time-saving liquor inventory system
Improving your liquor store's inventory management relies on a solid inventory process. The easiest way to improve your inventory is to invest in software that can meet your store's needs and quickly automate your inventory management processes. However, speed is not the only criterion to consider. Make sure the software is efficient and tailored to your needs.
Kristen Lee, owner of Pine & Peoria and Pine & Harvard in Tulsa, decided to change her point of sale software shortly after purchasing the two liquor store businesses. She realized that her liquor stores needed better inventory management, sales and product reporting, and backend management. Her move to KORONA POS couldn't have been easier. Check out the video below to learn more about her store and her thoughts on KORONA POS.
When it comes to the best way to manage liquor store inventory, a point of sale system is a must. On top of maximizing efficiency, having a sophisticated POS system also directly impacts sales at a liquor store business in several ways.
The POS system improves operational and management efficiency. It brings better inventory control, which in turn improves revenue and profits. Learn how KORONA POS can help. Click below to start a free trial or schedule a product demo.
FAQs: How Can Liquor Stores Effectively Manage Their Inventory?
1. How do you keep track of alcohol inventory?
The most modern and easy process to track liquor stocks in a liquor store is the use of an inventory management system. Due to the complexity of liquor management, it is recommended to use a tool that minimizes errors and theft by customers or employees.
2. What is the best POS system for a liquor store?
While there are several good liquor store point of sale software, the first one to make Fit Small Business' list is KORONA POS. KORONA POS also includes tools for physical inventory, customer and employee management, eCommerce and marketing integrations, and multiple payment processing options. In addition, from a monthly fee perspective, it is much more affordable than other POS systems.
3. What are the benefits of a cloud-based system for my point of sale system?
Your liquor store's point of sale system can benefit greatly from a cloud-based system, especially as you expand to have multiple locations. With your system on the cloud, you can access vital information to help you make decisions for your business even when you're not at your premises. A cloud POS system provides greater security for your customers and your company's data.