Running a wine shop or liquor store has always been a profitable business. But sales have particularly skyrocketed over the past few years. 2020 set new records for alcohol sales, fueled in large part by the rise of online beer, wine, and liquor orders. According to Forbes, alcohol sales approached $25 billion in the U.S. in 2020. And online alcohol sales nearly doubled to about $5.6 billion. It's with that in mind that liquor stores should be thinking about ways to maximize their sales.
One important for way liquor business to maximize their profits is to capitalize on impulse purchases. They are a great way to boost the average ticket price and improve your bottom line. And, ideally, they're helpful items for your shoppers. A great selection of impulse items simply reminds shoppers of something they had forgotten, rather than have to convince them to buy something they didn't think they'd need.
Liquor store impulse items are some of the most important to sell well. At most liquor retailers, these items have high margins and are often sold in multiple units at a time. Let's go over some common products that liquor store businesses can sell at the cash register to help boost sales.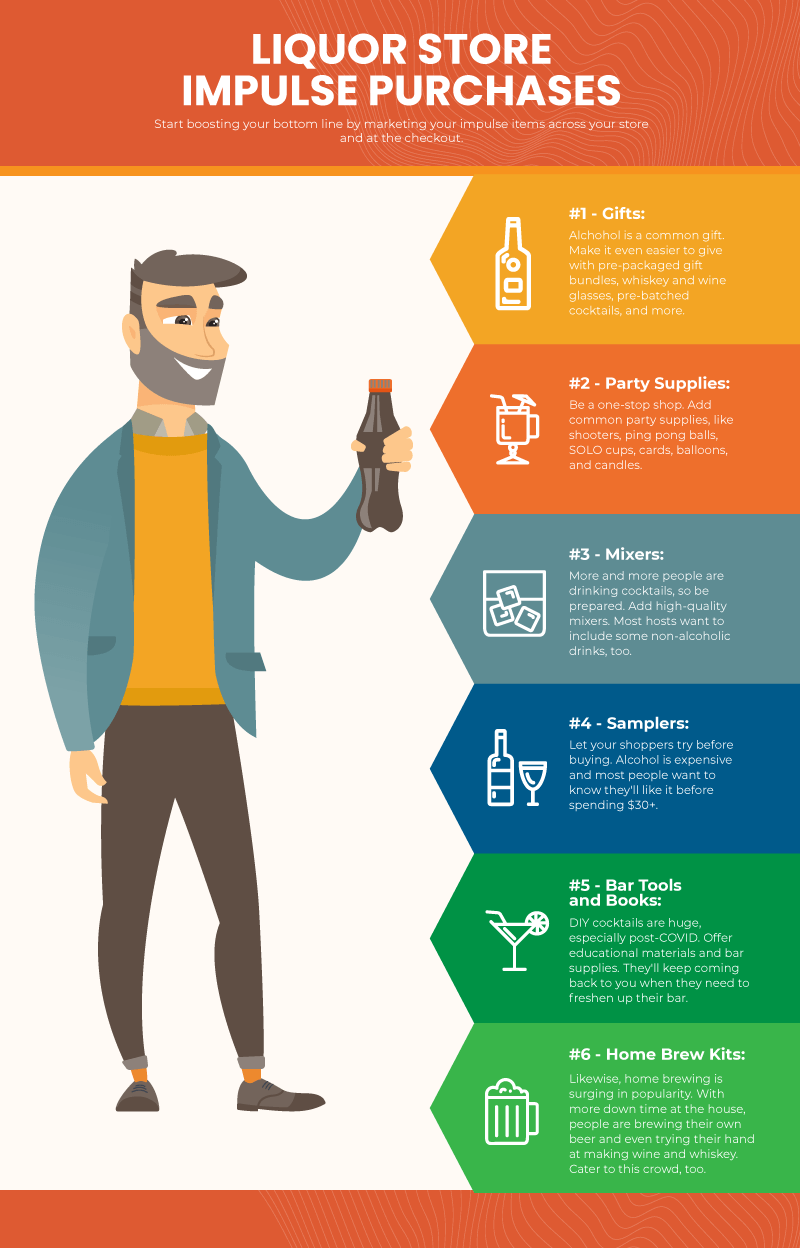 1. Gifts
Alcohol is one of the most common gifts given. A nice bottle of whiskey or fine wine is nearly universally enjoyed and a safe gift to give no matter the occasion. So give your shoppers some additional gift ideas with your impulse purchase selection.
Bundled deals are one of the easiest ways to offer shoppers nice gifts for their friends and family. 

Pairing different types of wine or spirits together gives customers a great way to try multiple new items.

Adding cocktail or whiskey glasses to a set is another popular combination.

Others might include all ingredients to make a classic cocktail, like an old-fashioned or negroni kit.

Pre-batched cocktails have also become increasingly popular. Giving a premade Manhattan bottle is perfect for people who don't have experience with cocktails at home.
2. Party Supplies
It's likely you've seen plenty of instances of liquor stores selling party supplies near the checkout area. This part of the retail space is the most useful for impulse buys.
There are plenty of items you could consider adding to the party supply section:
Hangover remedies

Energy drinks

Shooters

Ping pong balls

SOLO cups

Cards

Balloons

Candles

Soda
These are just a few items that you could add to your inventory. Have your cashiers record items that customers ask about at the register. If you have a few things that are asked about often, talk to your suppliers about adding them to your next order.
3. Mixers
It's important that liquor stores sell a whole lot more than liquor. Soft drinks are also important. First, you want to cater to all demographics, not just alcohol drinkers. If someone is shopping for a party or gathering, they'll likely want to get some items for non-drinkers. An array of quality soft drinks is perfect. Don't keep it bare bones. Instead, stock unique juices, sodas, coconut water, kombucha, etc. Make your liquor store more of a one-stop-shop instead of simply carrying the basics.
Mixers are also important for making many popular cocktails, of course. Take inventory and make sure you carry the proper mixers for common drinks. Quality citrus juice is one that not enough liquor stores carry. If you sell premium liquor, you should also sell premium soft drinks.
For liquor retailers, you're likely able to charge higher prices for these items than you'd see in grocery stores. Adding this convenience to the shopping experience means that consumers will be comfortable paying more.
4. Samplers
Sampling various beer, wine, and spirits is a great way to get a few extra sales and to introduce new products to your customers. Typically, a liquor store will host a distributor to offer samples for a promotional item. These samples allow owners/managers to gauge how successful an item will sell, while also offering their shoppers with a great discount.
If your inventory is out of sync and you have a glut of a certain item, samplers also provide a great way to move through product and increase last-minute impulse buys near the checkout.
5. Bar Tools and Books
Hosting cocktail parties is more popular than ever. The re-emergence of craft and classic cocktails has picked up a lot of steam over the past several years. Liquor stores can make this easy while also increasing their sales.
Put together a section devoted to this with some great marketing:
Cocktail recipe books

Shakers

Cocktail glasses

Tongs

Stirrers

Reusable straws

Muddlers

Strainers

Paired bottles

Bitters

Garnishes
Again, find ways to improve the shopping experience. Your guests will spend more and come back more often.
6. Home Brewing Materials
Lastly, add a home brewing section. This might seem somewhat counterintuitive – you don't want your customers to replace your alcohol with their own – but this adds another service to your store.
Add a section devoted to home brewing with the requisite materials for beer and wine-making alongside educational information. If you or one of your employees are already into home brewing, be sure to engage with customers to help them get started.
Even though they may replace some of their shopping with their own beer or wine, it's a great way to build customer rapport and engage in conversation with them. Homebrewing is becoming increasingly popular so remind those shoppers who haven't started it yet. It's a higher-end impulse purchase, but a great one nonetheless.
And for more information on how to keep track of your impulse inventory, check out KORONA. The software has features developed specifically for liquor stores to help automate inventory and ordering, and optimize pricing. Learn more with a free trial by clicking below. It's fast, easy, and comes with no commitments.