Last Updated: April 4, 2021
Opening a new coffee shop is certainly a daunting task. The industry has exploded over the last several decades; with it so has competition and customer expectations. It's an expensive endeavor as well. Espresso machines, grinders, refrigeration, and other important pieces of coffee shop equipment can run you a pretty penny. Even small details of the store, like mugs and saucers, can add up quickly. A solid business plan, proper budgeting, and a healthy self-confidence are essential.
Okay, now that your blood pressure is through the roof, let's look at the latte half full. Any coffee shop entrepreneur has a real passion for the art and everything that comes with it. This kind of passion will lead to a successful business. Plus, you've entered an industry that does nearly $800 billion in sales in the United States alone. Americans are drinking more coffee than ever, and they're doing so at small, local businesses like yours.
With the right formula, that expensive equipment can pay itself off quite fast. Here, we've compiled a list of coffee shop equipment that every new establishment should consider, including how the right coffee shop point of sale solution can make life a little easier.
8 Pieces of Coffee Shop Equipment Your Business Needs
1. Espresso Machine
Big surprise, right? A quality, industrial espresso machine can range from a couple thousand to easily well over 10k. This purchase will be very budget dependent but is clearly essential for every coffee shop. Just make sure you do your research! Do you want a manual, semi-manual or automatic machine? How many groupheads are needed? Would you benefit from a large, ultra-efficient machine or something smaller for a lower volume? Check out this brief guide on some things to consider in your search for the perfect espresso machine.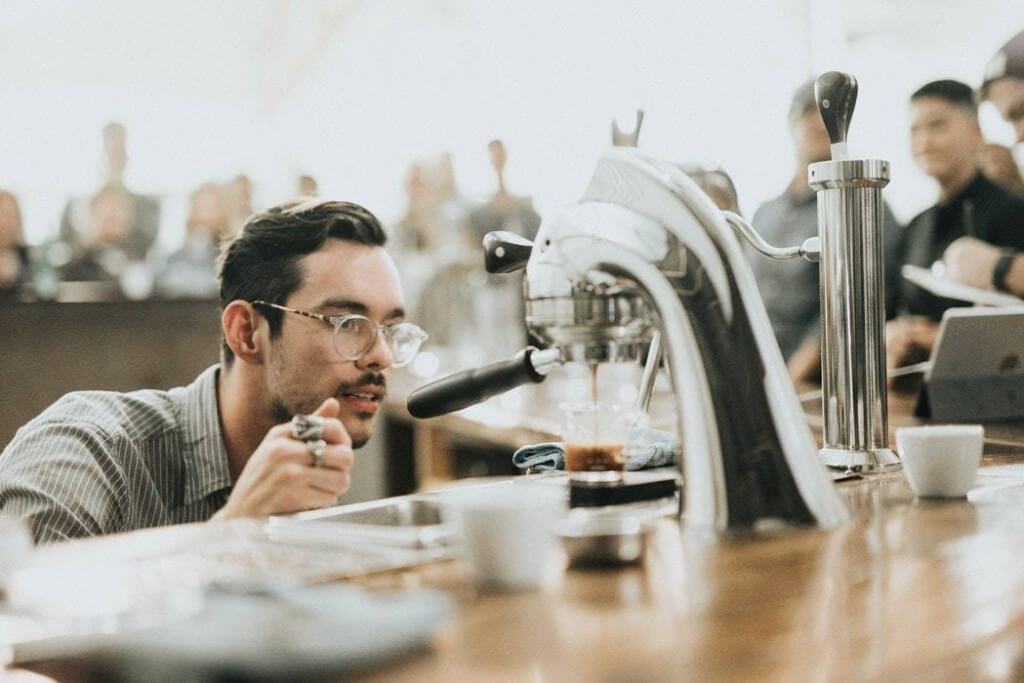 2. Coffee Grinder
No matter how great your espresso machine is, the espresso won't taste up to par without a correct grind. This purchase probably isn't as fun as your espresso machine but it's just as important. Again, ask yourself a few questions: Do you prefer manual or automatic? Do you need different grinds for french press, drip, espresso, etc? Do you want a digital measurement of each grind? If you're looking for some in-depth grinder analysis, this blog is devoted entirely to coffee grinders.
3. Drip Brewer
Depending on what kind of shop you're opening, you may want an industrial drip brewer. These have become less popular in recent years as they've been replaced by a higher demand for espresso-based drinks and alternative brewing methods, like french press and pour over. But if you plan on serving a high volume of morning customers who are in a rush, a solid drip brewer could be a lifesaver. They're much more inexpensive than an espresso machine and can still make a great cup of coffee.
4. Water Filtration System
An exceptional water filtration system is often overlooked by new coffee shop owners. It's easy to focus on the beans, the roasting, and the espresso machine. But a regular cup of coffee is 98% water and the quality can drastically affect your coffee. You might want to consider a reverse osmosis system which removes impurities but remineralizes the water. Alkaline water is another popular trend, balancing out the strong acidity in coffee. This water is anything but basic. Here's a small rundown of a few of the most popular options for a coffee shop filtration system.
5. Refrigeration and Freezers
Proper refrigeration is necessary for any coffee shop. If you plan on serving food or juices, for example, you'll need a more substantial system. You might want to consider a chef's refrigeration system with pans, or perhaps even a walk-in refrigerator for a larger operation. Many newer systems can be built into your coffee shop beautifully, leaving your aesthetic untouched. And with space being a common issue for shops, fitting the equipment in naturally is important. Check out equipment options that are eco-friendly so that you can cut back on emissions and save money on your utilities.

6. Ovens and Toasters
Likewise, you'll benefit from equipment that can heat your products as well. The majority of coffee shops serve food, many now featuring extensive menus. Proper ovens and toasters are becoming essential for new coffee shops. Look for machines that are convenient to use and heat quickly. Most quick-service items should not take much preparation or inconvenience. Convection ovens are pricey but are remarkably efficient, easy to install and use, and generally have long lives.
7. Shelving and Display Board
Shelving and display materials can be easily overlooked but are critical for running a smooth operation. Crowded work areas are inconvenient and reflect on the shop as a whole. Like refrigeration, with a little creativity, proper storage can be beautifully integrated into your coffee shop as part of the whole. The same goes for signage. It's inexpensive and is a way for you to add a little more character to your cafe. Consider some digital signage ideas for inspiration.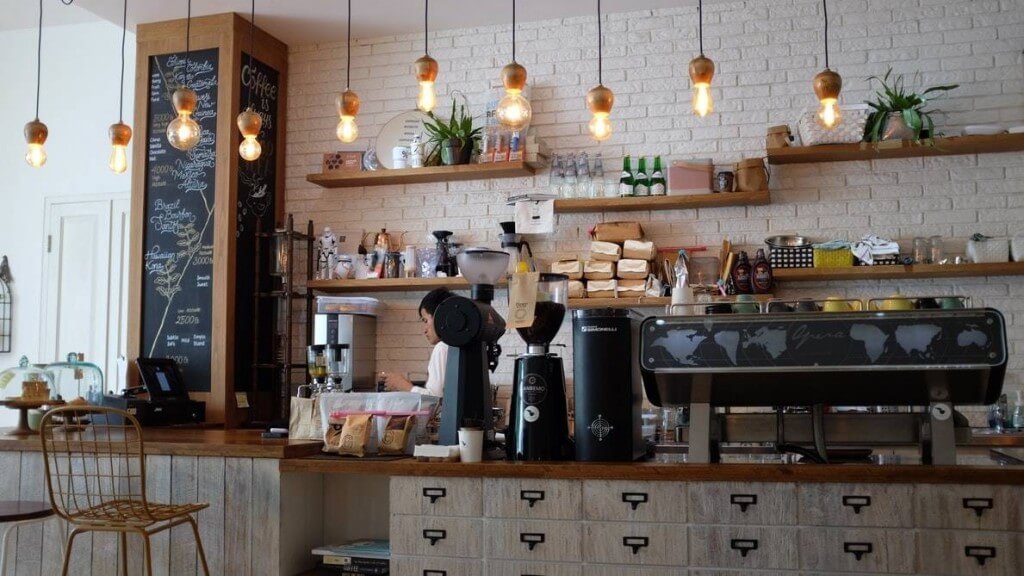 8. Point of Sale System
One of your final decisions before opening is choosing the right point of sale. Don't make this decision lightly, however. Your POS can substantially affect your business. For any quick-service store or coffee shop, fast transaction speed is vital. Your point of sale solution can also help with inventory, ordering, time tracking, marketing and much more. KORONA POS has software specifically designed with coffee shops in mind.
Good Luck with Your Coffee Shop Equipment Decision!
There are plenty of other things to consider when opening a new café or coffee shop, but hopefully, a couple of these pointers were helpful. There's a little part of most people that would love to own a cute coffee shop, so way to go. Find out more about KORONA's café point of sale by clicking below!