No business can rely entirely on its current customer base. Instead, there must be a constant pursuit of looking for new ways to scale and attract audiences that have not heard about the brand before.
Raising brand awareness and taking your business to the next level can be pretty difficult, particularly if you are in a competitive market. Nevertheless, there have been multiple examples of startups that appeared out of nowhere and became recognizable leaders in their respective industries. More common, though, are the cases in which a small business invests time and resources in a long-term approach. Executing your brand awareness strategies well will bring remarkable growth down the road.
If your current brand awareness strategy is not bringing the results you want, consider implementing some changes. The suggestions in this article are a good way to get started.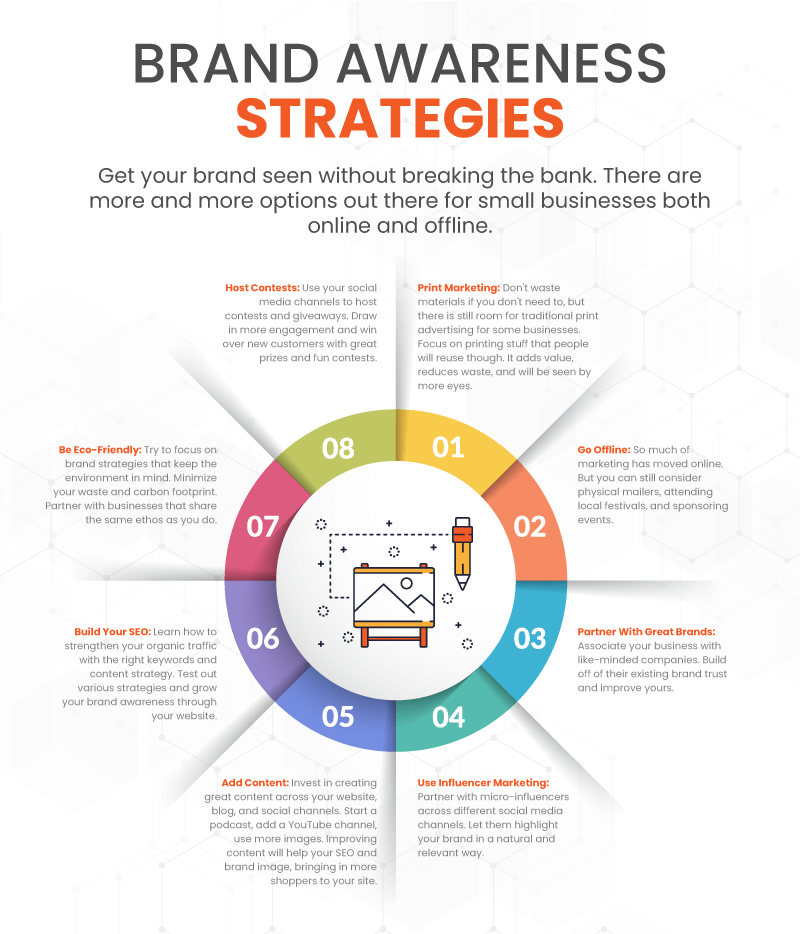 1. Bring Back Print Marketing
While 2020 might have made it difficult to attend live events and raise your brand awareness any place outside the internet, 2021 and beyond offer hope that some more traditional forms of marketing will make a comeback.
There are so many different brand awareness strategies that businesses can implement in this realm. For instance, you or a group of your employees could participate in a charity marathon with each wearing merchandise that identifies them as part of a company. Simple t-shirts with a logo are usually more than enough.
In fact, printing branded material in general provides an excellent opportunity to reach wider audiences. You can create custom t-shirts, hoodies, face masks, and other merchandise and give them as complimentary gifts or prizes for your best customers.
You may wonder how does print on demand work and what it takes to get started. Like most marketing endeavors there are hundreds of new online services to help facilitate this at an affordable price. Services like Printify, Printful, and Lulu Xpress bring small businesses quality and well-integrated options.
2. Go Offline in Other Ways, Too
Of course, there are plenty of other offline tools besides printed materials. As we mentioned above, though the world will still continue to be connected online, the coming years will see a resurgence in more traditional marketing campaigns.
Think about physical mailers

Look for various print ads that would be a good fit

Attend local festivals, fairs, concerts, and other gatherings

Sponsor local clubs and teams

Send out branded gifts and prizes for social media contests or

loyalty rewards
There is one important thing to remember with your offline marketing, however: keep it eco-friendly. It's hard to justify wasting materials on physical marketing components when you can do so much of it digitally. So look for partners and materials that are more environmentally sustainable.
3. Cooperate With Trustworthy Brands
Showing an audience that you work with well-established brands builds trust. Look for local non-profit organizations to donate to. It helps strengthen your community, and they may share the news on their social media channels or a website, giving you some free positive publicity.
A joint venture with a recognizable brand is also worth considering. You could announce a partnership with a company that promotes some shared initiative. Consider doing the same with another retail store. Look for brands that share a similar ethos and would provide your customers with complementary products.
Finally, consider your product sourcing and vendor relationships. Take the time to learn where all ingredients come from, the manufacturing conditions in which they were made, the fairness of wages for all of those involved along the way, and the environmental impact the product might have, to name a few. Be diligent and form lasting relationships with suppliers you know and trust.
There is no need to be alone. You can share your success with others and create brand awareness strategies that are beneficial to multiple parties.
4. Take Advantage of Influencer Marketing To Raise Brand Awareness
Influencer marketing is one of the best strategies at the moment. Brands are looking to create a partnership with both micro-influencers and A-level celebrities alike. The goal, of course, is to reach more people and raise awareness.
People are more likely to trust a brand that authoritative figures endorse. The word from the brand itself does not hold as much weight as it used to, particularly since the inception of social media platforms, review sites, and more oversight in general.
Of course, you should do your research before approaching any influencers. You do not want to work with someone who does not share the same values as your brand. Avoid creating contradictions between your brand's message and any influencer you sponsor.
Additionally, influencer marketing is not necessary for any business. Focusing on a great product should be a higher priority than asking for paid plugs from random Instagram accounts.
5. Add Impressive Content
General content is another item on the list of priorities. Supplementing your brand with useful content is a great way to draw in new shoppers to your website and keep existing shoppers there a bit longer. Focus on your blog, YouTube channel, social media platforms, and any affiliate sites. Keep your branding and messaging consistent across any of these channels. You may struggle at first to find your style that will be easily recognizable on any platform, but that`s where a professional writing service can come in handy. They will help you develop an efficient strategy for creating engaging content and maintaining regular posting.
You might seek guest content as well. It is similar to cooperating with other brands, except the goal is to get a promotional video, an article, an infographic, or another piece of content on your website. Doing it right will help your SEO strategy and provide more value for your readers.
Keep in mind, though, that publishing too much guest content can backfire. Your audience (and Google!) will figure it out and start to think that you have been running out of ideas and have started to rely on others.
6. Focus on Search Engine Optimization
Speaking of SEO, ranking high on Google and other search engines means more exposure. Boosting organic traffic to your site brings in new users at an affordable rate. And done right, you're bringing in high-intent shoppers who are more likely to convert.
However, reaching that point is difficult, particularly when you are in a competitive niche. It's a long process and requires a lot of trial & error and patience. Hiring an SEO professional and letting them handle the campaign could be a valuable investment. Start small and measure the impact any strategies have on your sales as you go.
7. Aim for Pro-Environment Practices
We touched on this earlier, but reducing your business's waste and carbon footprint is an important step to take. It should be done for the sake of doing so, but it has the added benefit of enjoying broad support among consumers. It's clear that shoppers are willing to spend more on eco-friendly products. Take inspiration from businesses across the country that have enjoyed remarkable success despite taking on more overhead with their product line.
When given a choice between supporting a company that promotes green policies and supporting one that neglects growing issues, the pick for most consumers is quite clear.
Moreover, you are more likely to improve your word of mouth marketing. An environmentally sustainable product at the right price that is of lasting quality is one that a whole lot of people will tell their friends and family about. Ideally, this is a Michael Scott win-win-win – a win for you, a win for your shoppers, and a win for the Earth.
8. Organize Contests and Give Away Freebies
People love contests. And they love free stuff even more. Freebies and contests may seem like a cheap trick, but they're effective. You could organize contests on social media platforms and invite users to participate by liking or sharing your content.
Contest posts on social media tend to go viral, so it is no surprise to see so many brands giving away stuff if it means more exposure, followers, awareness, and, ultimately, more customers.
Read More: 10 Must-Read Retail Blogs of 2021 From KORONA POS For Retail and Small Business Owners
Raise Brand Awareness for Your Small Business in 2021
Have your own ideas? Let us know! We love hearing from all of you and learning what works and what doesn't. We all probably have too many resolutions for the year, but start with a few big changes and run with it.
And if you're looking for better software to run your business, look no further. KORONA POS brings retailers all of the tools they need to succeed at their brick and mortar or eCommerce stores. Click below to learn more and sign up for a free trial.