By the end of 2021, the U.S. coffee market revenue reached nearly $82 billion. The number of coffee shops has also increased from 35,600 to 37,300. Amazingly, the industry hasn't lost its momentum through the onset of the "third wave."
Franchise coffee shops are the primary beneficiaries of this growth in the coffee industry. For example, Dunkin' Brands Group, the largest coffee shop franchisor, has added 1,500 outlets to its network in the last five years. As more and more coffee shop franchisors emerge, thousands of new franchisees are joining them, too.
Whether you are a coffee lover or not, opening a coffee shop franchise business can be profitable if you know how to do it. But there are many coffee shop franchises, and knowing how to choose the best one is a critical step for your future coffee business. This guide will walk you through some of the best coffee shop franchisors. You will also learn about the criteria and elements to consider before signing a contract with a coffee shop franchisor.
Table of contents
Starting a Coffee Shop Franchise: What Are The Best Coffee Shop Franchisors To Deal With?
There are a few notable exceptions in this list because several of the biggest coffee shop brands are chains rather than franchises. For instance, Starbucks' absence from any coffee franchise list is one of the most striking things. The famous American coffee chain is not a franchise in the United States, even though it partners with foreign companies for its international locations.
However, there are still plenty of options to choose from, and the list of coffee shop franchises is far from waning. Starbucks' closest competitor, Dunkin', is a franchise operation with about 9,000 stores. Dunkin' and Tim Hortons both have aggressive growth plans for the next five years. Find some additional top coffee shop franchises below and their various franchise fees.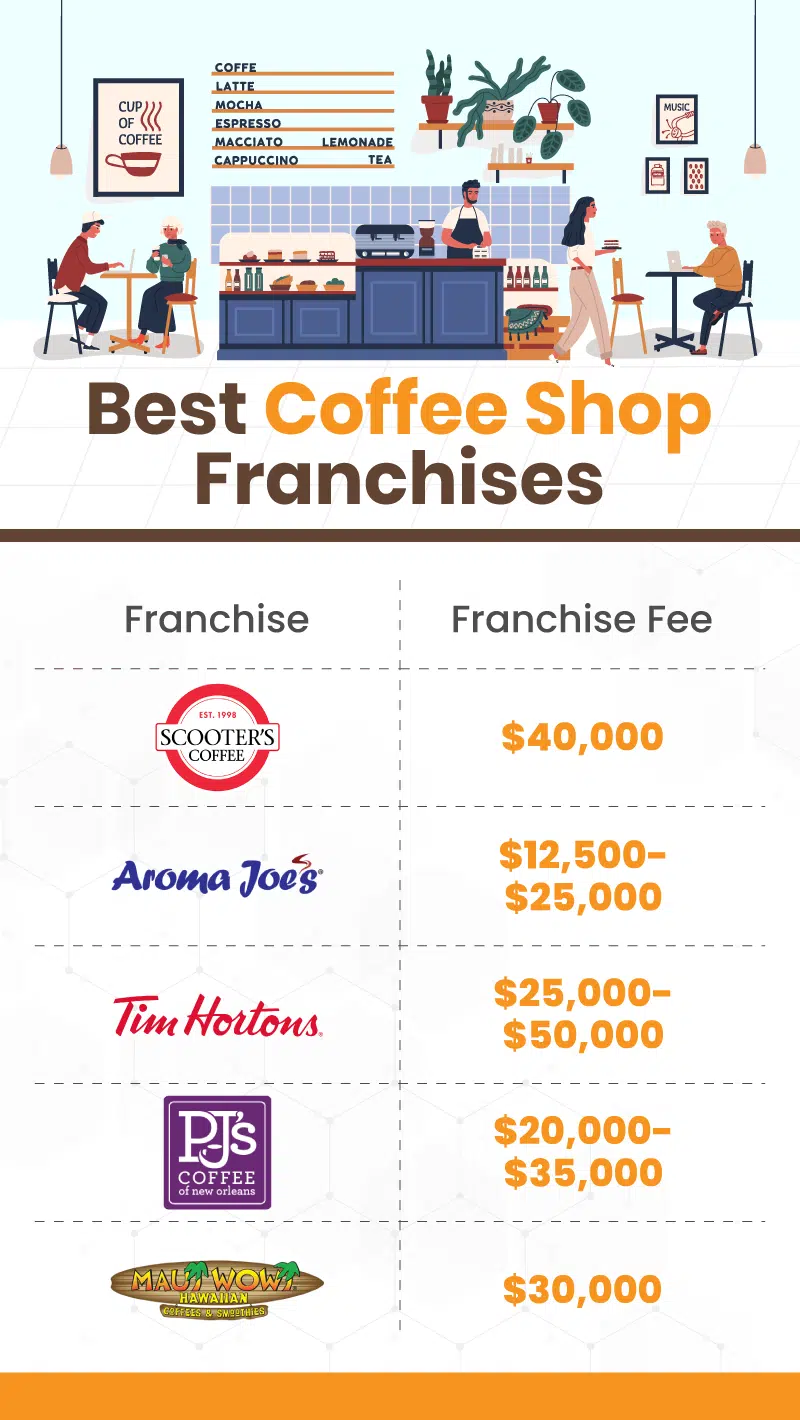 1. Scooter's Coffee
Scooter's Coffee, ranked among the top franchises in Entrepreneur's annual Franchise 500 ranking for 2020, is an incredible opportunity for anyone looking to open a coffee shop franchise. This ever-growing brand has more than 275 locations across 17 states, including coffee shops and drive-thru kiosks. The potential profit of a Scooter's Coffee franchise is far higher than the industry average.
A Scooter's Coffee franchise owner's salary can reach approximately $320,000 per year before depreciation, interest, taxes, and any debt service. The median wage for a high-performing store is about $184,000.
The median for all stores is about $90,000. The franchise requires a 6% ongoing royalty fee, a 2% advertising royalty fee, and a minimum liquid capital of $200,000. A Scooter's Coffee franchise costs between $794,000 and $1,264,500. Since financing a coffee shop franchise is one of the most stressful aspects for the soon-to-be franchisees, Scooter's Coffee has established strategic partnerships with various lenders. These lenders offer both SBA and non-SBA loan options to their franchise partners.
2. Aroma Joe's Coffee
Aroma Joe's Coffee is another drive-thru coffee chain founded by brothers Marty and Tim McKenna and their cousins Brian and Mike Sillon. While there are other coffee shop franchises you can consider investing in, Aroma Joe's Coffee has one of the lowest investment requirements. Aroma Joe's Coffee requires a minimum liquid capital of $150,000 and estimates that the minimum investment cost to open a franchise is $283,500. The franchise fee ranges from $12,500 – $25,000.
3. Tim Hortons
Founded by Canadian field hockey legend Tim Horton in 1964 and franchised since 1965, Tim Hortons is a chain of quick service restaurants but is best known for its coffee and donuts. Tim Hortons requires a minimum of $500,000 in liquid assets to become one of its franchisees. The franchise fee is $50,000 for a standard store and $25,000 for a non-standard store, for which a 20-year franchise agreement is issued for a specific location.
The royalty ranges from 4.5% to 6% of sales depending on the underlying real estate lease type, and the advertising contribution is 4% of current sales. In addition, Tim Hortons offers several development models to serve customers in a variety of store formats, including, but not limited to, self-serve drive-throughs with or without seating, urban lines, and food court locations. The typical size of a standard store ranges from 1,000 to 2,300 square feet.
4. PJ's Coffee of New Orleans
PJ's Coffee of New Orleans is one of the coffee shop franchises that bills itself as a competitor to Starbucks and offers a similar menu but boasts better beans and superior roasting.
The total initial investment for franchisees ranges from $300,000 to $551,000 for a traditional full-service PJ's. However, larger, full-menu PJ's located in a strip mall or freestanding building with a drive-thru will require a more initial investment, somewhere between $406,000 and $1,024,000. Non-traditional locations require less spending on leasehold improvements, furniture, and fixtures. The initial investment for non-traditional locations ranges from $180,000 to $373,000. PJ's Coffee of New Orleans' franchisees incur a franchise fee between $20,000 and $35,000.
5. Maui Wowi Hawaiian Coffees and Smoothies
The popular Maui Wowi coffee and smoothie franchise was founded in 1982 by Jeff and Jill Summerhays, and it stood out from other coffee shop franchise concepts by the laid-back environment it offers.
Franchise costs and fees vary depending on the contract you choose and the type of operating unit. Maui Wowi Coffee Shop Franchise provides three types of operating units:
Mobile operating unit at events, which requires an initial investment of between $28,900 – $193,050

Mobile operating unit at a permanent location with an investment of between $35,100 – $238,050

Fixed operating unit with an investment cost of between $96,350 – $1,074,000
The ideal Maui Wowi franchise candidate will have a minimum of $50,000 in liquid capital and a minimum of $100,000 in total net worth. The initial franchise fee is $30,000.
What Are The Most Important Fees Involved In Owing a Coffee Shop Franchise
Although coffee shop franchises differ from each other in terms of investment and initial capital, they all have ordinary expenses:
Franchise fee

Leasehold improvements

Conceptual site plan, preliminary due diligence, and site work

Deposits,

licenses

, and permits

Staffing and management

Point of sale system and software

Signage

Interior and exterior design

Equipment, fixtures, and furniture

Marketing and branding
How To Get Financing For Cafe and Coffee Shops Franchise? 
Financing a business is undoubtedly the most daunting and nerve-wracking step for any entrepreneur. Investing all of your own funds may not be a good idea, as your coffee shop franchise will not yield profits overnight. That's why most candidates need to take out a loan.
So whether you are looking to buy a drum roaster or that scarce, expensive, but worthwhile batch of green coffee, there is a business loan to suit your needs. Here are some popular options for types of loans you can resort to.
SBA loan
SBA loans are issued by lenders, usually small banks, but guaranteed up to 85% by the US Small Business Administration. In terms of amount (up to $5.5 million), term (up to 25 years), and interest rate (the lowest in the market), SBA loans are the most appealing for a coffee shop owner.
Of course, you must fulfill the eligibility criteria for these loans, which require a high credit rating (usually 680+), several years in business, good income, and a good financial situation. SBA 7(a) loans are the most popular financing program because they give borrowers a lot of flexibility in how they spend their money. You can refinance old debt, use it as working capital, etc.
Term loan
Term loans are "traditional" business loans, which likely consist of a lump sum paid into your company's bank account that you can use as flexible working capital. Some business term loans require you to have a business background. For example, if you owned and operated a coffee shop franchise and would like to open a new coffee shop as a second business, a term loan may be a perfect fit.
Equipment financing
Coffee shop equipment can cost an arm and a leg when opening a coffee shop. That's why equipment financing can be an ideal solution for financing your equipment purchase. Equipment loans are available from both banks and online lenders, so you'll have several options to choose from to find the right financing for your business. Several significant equipment financing companies include Balboa Capital, Currency Finance, Crest Capital, eLease, etc. Inquire with equipment financing companies and have an attorney assist you if possible. You can use other financing options such as business lines of credit, invoice financing, merchant cash advance, or crowdfunding. Click here to learn more about how to finance your coffee shop franchise business.
What Are The Pros & Cons of Owing a Franchise Coffee Business? 
Pros of a franchise coffee business
Franchisor's brand awareness
An established coffee shop brand often attracts customers familiar with the business. As a business owner, you may not need to spend money upfront to promote your business. However, this does not preclude the need to budget for marketing. Large franchisors invest heavily in their marketing and branding. Therefore, a strong brand reputation will help you stay competitive with other coffee shops.
Once you are a franchisee of a coffee shop franchise, you may have a marketing plan provided by your franchisor. When the parent company launches a marketing campaign, you are immediately included. The company provides you with printed materials, a coffee menu board, and, if possible, the recipe for certain coffee specialties.
Franchisors often have their own barista recruitment, which means you don't have to search for baristas and train them. However, if you find your own baristas, they will have to go through the same training program (provided by the franchisor) as all other franchise employees.
Lower risk of business failure
Buying a franchise to open a coffee shop is a wise decision because it lowers the risk of business failure. This risk is reduced because you purchase established business concepts that have been tried, tested and successful. Plus, the franchisor typically covers some of the common startup costs for new businesses.
Prior experience in the coffee industry is not required
You don't have to be a coffee industry wizard to buy and run a coffee shop franchise, as franchisors generally provide the training necessary to run a successful coffee shop. This allows a wider range of entrepreneurs the opportunity to open a coffee franchise. However, if you have it, it's an advantage to your credit. The franchisor will turn your passions into skills by providing proper training and support.
Cons of a franchise coffee business
Buying a business coffee franchise opportunity is pricey. Along with the initial investment, you will also need to pay for consumables, inventory, site rental, franchise fees, royalties, worker wages, advertising, licenses, and equipment.
Limited room for maneuver
Franchises provide all owners who follow a set business plan; this usually means you won't be able to attract creative ideas from your business. It would be better if you stick to their policy. For example, it is impossible to change the logo or make corrections.
As a franchise owner, you must purchase all coffee and inventory through your franchisor or one of their vendor partners.
Coffee Shop Franchise: Due Diligence Before Investment
The last step before you invest and commit to a legally binding agreement should always be to do your due diligence. An important document to read is the Franchise Disclosure Document (FDD). Analyze the opportunity and talk to everyone you can about the company. Question your franchisor as much as you want. Discuss with current franchisees their experiences. When it's time to sign the franchise agreement, request legal advice on its contents to ensure everything is in order. Below are some other important questions for your franchisor:
What installation and start-up assistance will you receive?

Is there initial training?

Will I get ongoing training and support?

What happens if the franchisor decides to sell its business?

What will they do to help if your business performs poorly?

How long will it take to recoup your initial investment?

Are the royalties sustainable in the long term?
The answers to all of these questions will help you know if starting a coffee shop franchise is worthwhile.
Related Coffee Shop Resources
Coffee Shop Franchise Opportunities: Wrapping Up
Coffee shop franchises can be profitable for many, depending on the level of investment and demand for coffee in a market. Some coffee shops also have a strong brand associated with them and may be familiar to consumers, making them potentially more profitable and expensive to start.
However, there are coffee shop franchises that only require a small initial investment. Do your research and find out how much you need to spend before embarking on the adventure. Remember to carefully read the FDD. Finally, you must choose the right software used to run your coffee shop.
Coffee shop POS features, like those that KORONA POS offers, can help you better streamline your coffee shop operations and can integrate with any processor of your choice. Click on the link below to learn more about KORONA POS coffee shop POS system.