DISCLAIMER: This article is provided for informational purposes only and should not be construed as legal, accounting, tax, human resources, or other professional advice. Please contact your attorney or another appropriate advisor if you require advice specific to your situation.
Coffee is the second most popular beverage in the world, consumed by many people at the beginning of their day and often several times throughout the day. Coffee drinkers in the United States consume an average of two to three cups of coffee per day. This infatuation with coffee consumption is part of the reason for the increase in the number of coffee shop establishments in the US.
Over the past five years, the U.S. has seen a 2.4% growth in coffee shops each year. More than one-third of people between the ages of 18 and 29 report having visited a coffee shop recently. Starting a coffee shop can be a lucrative business, but the million-dollar question is how much does it cost to open a coffee shop?
There is no exact answer to this question since it all depends on the type of coffee shop you want to open. A coffee shop with a drive-thru and dining room can cost anywhere from $200,000 to $400,000, while a small coffee stand can cost as little as $60,000 or less. In this article, we will discuss how much it takes, on average, to start a coffee shop, the inevitable costs, and whether owning a coffee shop is worth it.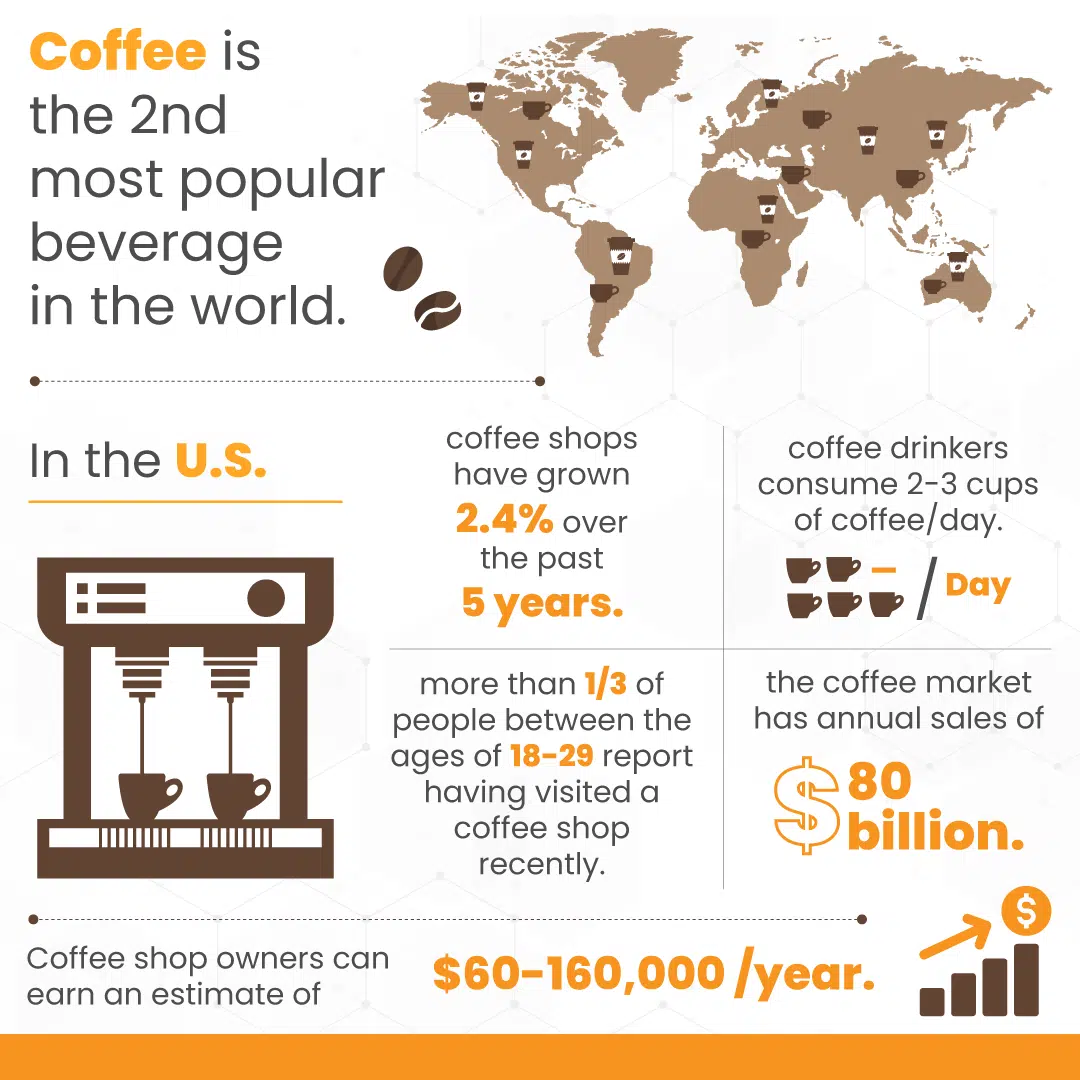 Table of contents
1. What Is The Average Cost To Open a Coffee Shop Business?
On average, the cost to open a coffee shop with seating is between $80,000 and $300,000. However, it is possible to open a coffee shop for less. To avoid the overhead of a permanent location, you can opt for a food truck or partner with local businesses to open a pop-up coffee shop in their stores on certain days of the week. Opening a food truck or coffee kiosk is typically a lower cost, starting at around $60,000. Similarly, a coffee shop with a drive-thru and dining room can cost between $200,000 and $400,000. As you can see, there is no exact cost to start a coffee shop. It all depends on your vision and the type of coffee shop you want to establish.
2. What Are The Key Costs Involved In Setting Up a Coffee Shop?
The checklist below provides an overview of coffee shop start-up costs to help you plan your budget and estimate the investment you will need to open your business. Typically, the essential costs cover location, coffee shop equipment, employee salaries, licenses, permits and insurance, marketing, interior and exterior design, and various technologies such as a coffee shop POS.
Location
The best locations for coffee shops to develop are generally highly populated and often include areas with a high density of office buildings or "business centers. Coffee shops can also be successful as drive-thrus, especially in areas where driving is more popular. The cost of finding the ideal space depends on the location and size of your coffee shop, as well as the availability of space in your community. Leasing a space in a desirable neighborhood will improve your chances of early success but will increase rental costs.
To determine the location of your new coffee shop, you must decide whether to rent, buy or build. Look for existing restaurants and stores for sale, as it is easier to convert a space used for similar purposes than to start from scratch. However, most of the space you leased needs to be renovated. Unless you purchase an existing shop, you will also need to invest in your new space and turn it into a coffee shop-like space, no matter what decor you choose. Consider hiring a real estate agent specializing in the restaurant industry or commercial properties to find a location for your new coffee shop.
Coffee shop equipment
Your coffee shop equipment will account for a significant portion of your start-up expenses. You'll need to budget anywhere from a minimum of $20,000 to a maximum of $400,000 for kitchen equipment and restaurant furniture. There are a few pieces of equipment that any coffee shop can't afford to be without:
Kitchen equipment
Though you likely don't intend to cook anything overly complicated in your coffee shop, you will need to be able to heat sandwiches, paninis, ice cream, and breakfast pastries if you plan to serve these types of dishes. Many coffee shops order ready-to-eat food, so you won't need anything too fussy. Next, you'll need a commercial refrigerator and freezer. A commercial-sized sink is also necessary. Most new coffee shops will spend at least $50,000 on repairs and renovations or new equipment and appliances.
You might also want to read: How To Make A Coffee Shop Menu
Commercial coffee grinder
Industrial coffee brewing and filtering equipment are expensive. They're not the equipment you use for your morning cup of coffee. Below are some of the most popular machines:
Marzocco Strada AV: best overall and costing at least and costs $28,000+

Victoria Arduino Black Eagle 3-Group: Best for busy coffee shops and costs $25,000+

Synesso MVP Hydra 2-Group – Best for medium-sized coffee shops and costs $18000+

La Marzocco Linea Mini – Best for small coffee shops and costs $6000+
Coffee Roaster
Having a coffee roaster is a perfect way to spread your brand beyond the four walls of your establishment. You'll need a commercial coffee machine if you want to roast your own beans to make your drinks on-site or sell them by the pound. Depending on the quality and size of the machine, expect to spend about $10,000 to $35,000.
Espresso machine
The espresso machine is undoubtedly the lifeblood of a coffee shop – and it comes with the most considerable equipment expense. Estimate $10,000 to $20,000 for a high-quality semi-automatic espresso machine.
Water filtration
Filtered water is required for coffee making, especially espresso. Set aside a budget of $650 to $800 for a system that will cover your coffee needs.
Drip coffee maker
A drip coffee maker is a system through which water automatically drips into a heating tube. Once the water is heated, it is poured over the ground coffee, passes through a filter, and comes out as a cup of hot coffee. Budget $1,500 for a complete drip coffee installation, including a quality drip coffee maker, at least two airports, and filters.
Permits, Licenses, and Insurance
Like any other business, you are expected to have permits or licenses before operating. For a coffee shop, you will need several types of permits and business insurance. Permits, licenses, and insurance can cost anywhere from $5,000 to $20,000. While costs vary depending on the location and size of the business, the required licenses, permits, and insurance policies generally include the following:
Certificate of Occupancy (Building Permit)

Building Health Permit

Sign Permit

Food Service License

Business License

Music License

General Liability Insurance
Read also: What Licenses Are Needed To Open A Coffee Shop: 6 Common Café Licenses
Hiring and professional services
One of the most significant costs in setting up a coffee shop is the salary paid to your employees and the fees for the professionals who might help you.
Professional: Professional services that you can use during the process of opening your new coffee shop can include restaurant consultants, marketing or graphic design agencies, architects or interior designers, lawyers, and accountants. The cost of these services can range from $500 to $50,000.
Operational staff: You will need to hire managers and baristas, depending on your coffee shop's expected volume of business. Baristas generally earn minimum wage. The average hourly salary for a barista in the United States is $12.92 per hour, not including tips. General managers of coffee shops typically earn an annual salary of about $40,000.
It's advisable to employ only a few people when you first start. Before increasing the number of employees, collect data on the busiest days. If you have a lot of customers and they are waiting in line to get their coffee, you need an extra employee.
See also: Reduce Labor Costs in Retail, Coffee Shops, and Bakeries: 5 Simple Tips
Marketing and branding
The cost of marketing and branding your business depends on many factors. New locations of established restaurants may rely on existing brand recognition, and local franchises often have marketing and advertising paid for by the parent company.
New coffee shops are usually the most expensive to market. Major marketing and branding costs for new coffee shops include email marketing, paid advertising, setting up your website, creating an attractive loyalty program, etc. The success of your marketing campaign will be partially associated with your coffee shop's point of sale.
The point of sale system is a mine of information you can leverage to better understand your customers' preferences. Marketing costs for restaurants are estimated to be around 3-6% of your total business sales. For smaller establishments, you need to start with a lot of social media to get your name out there. Making your storefront stand out is also essential.
Must-read: How to Run a Successful Coffee Shop – 10 Tips for Cafés
Interior & exterior design
You have to consider your coffee shop's interior design and furniture in your budget. The elements concerning the interior design you need to invest in are the lights, the decor, the signage, the music system, etc.
Coffee shops are well known for their atmosphere and ability to sit and relax. In recent years, outdoor seating areas have become very popular with restaurateurs, providing a safe and distant space for visitors.
Due to the increase in the number of people working from any location and flexible hours, the demand for coffee shops offering workspaces, retail outlets, and comfortable places for business meetings will continue to grow. Estimates suggest you budget around $1,000 to $40,000 for your outdoor coffee shop renovation.
Coffee shop POS software
An additional cost you will incur is associated with your coffee POS system. The total cost of your POS system will vary depending on the provider and equipment you choose. Modern point of sale software can cost anywhere from $50 to $200 per month, while all of the associated hardware will often cost you a one-time payment of $1500 to $5000.
Check out the innovative KORONA POS software for a POS system tailored to coffee shops. An advantage of KORONA POS is that there is no contract to sign. Subscriptions are simply monthly agreements. In addition, there are no upfront fees, installation fees, or other hidden costs. KORONA POS also allows you to use any payment processor and offers a hardware leasing option. To learn more about KORONA POS, click on the link below.
Must-read: 5 Coffee Shop POS Features To Brew Up Business
3. How Much Do Coffee Shops Owners Make?
Chances are, opening a coffee shop won't make you rich anytime soon, but it depends on how you define "profitable." Does profitability mean the coffee shop can pay the owner's base salary? If so, owning and operating a coffee shop can be profitable for the owner. Owners of small to medium-sized coffee shops can earn between $60,000 and $160,000 per year. The first year can be particularly challenging, but increasing your sales through marketing and technology will allow your business to make more money.
FAQs: How Much Does It Cost To Open a Coffee Shop
1. How profitable is a coffee shop?
Coffee shop owners can earn between $60,000 and $160,000 per year. The U.S. coffee market as a whole is the largest in the world, with annual sales of $80 billion. It's easy to see why: the average American coffee consumption rate is 1.87 cups per day.
2. How much capital is needed for a coffee shop?
Opening a coffee shop with table service typically costs between $80,000 and $275,000. 1. A large drive-thru store can cost up to $400,000. A small kiosk can cost between $60,000 and $100,000. For example, if you want to become a coffee shop franchisee of the popular Dunkin' Donuts franchise, it takes about 40,000 to $90,000 in franchise fees and $400,000 to $1.5 million in initial investment.
3. Can I start a coffee shop with $10000?
It is possible to start a coffee business with $10,000. An espresso catering business can cost you between $5,000 and $12,000. Similarly, a mobile coffee business can cost anywhere between $10,000 dollars and $90,000 dollars. It all depends on the type of coffee shop you want to open.