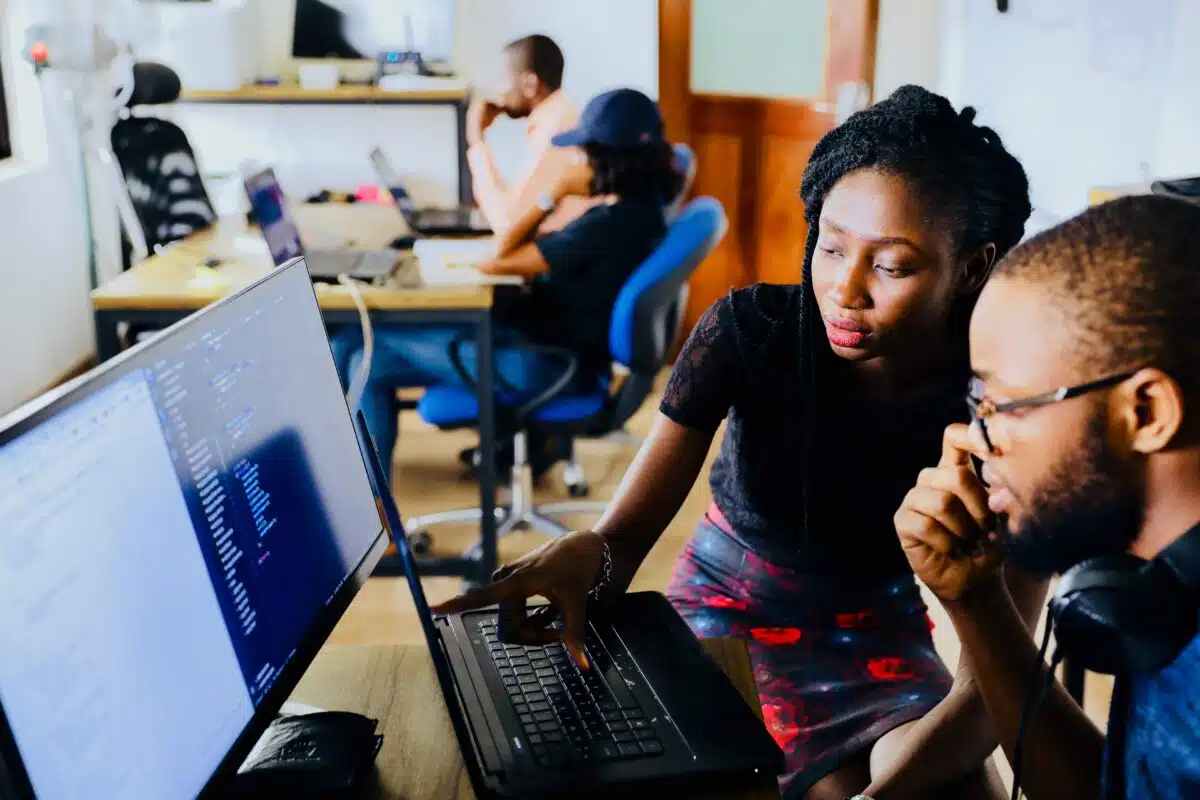 The benefits to organizing are endless. Studies show that tidier and properly designed workplaces help reduce stress, increase focus, and improve efficiency. Plus, having clutter everywhere is just…gross. So if you're wondering how to organize your small business, we've got you covered.
Organizing a business requires work on multiple levels. Obviously, you must physically declutter your space. But you can also give your work-life a boost by utilizing automated technology, planning ahead of time, and stopping to self-inspect. Read on for more details on keeping your business in great shape!
Table of Contents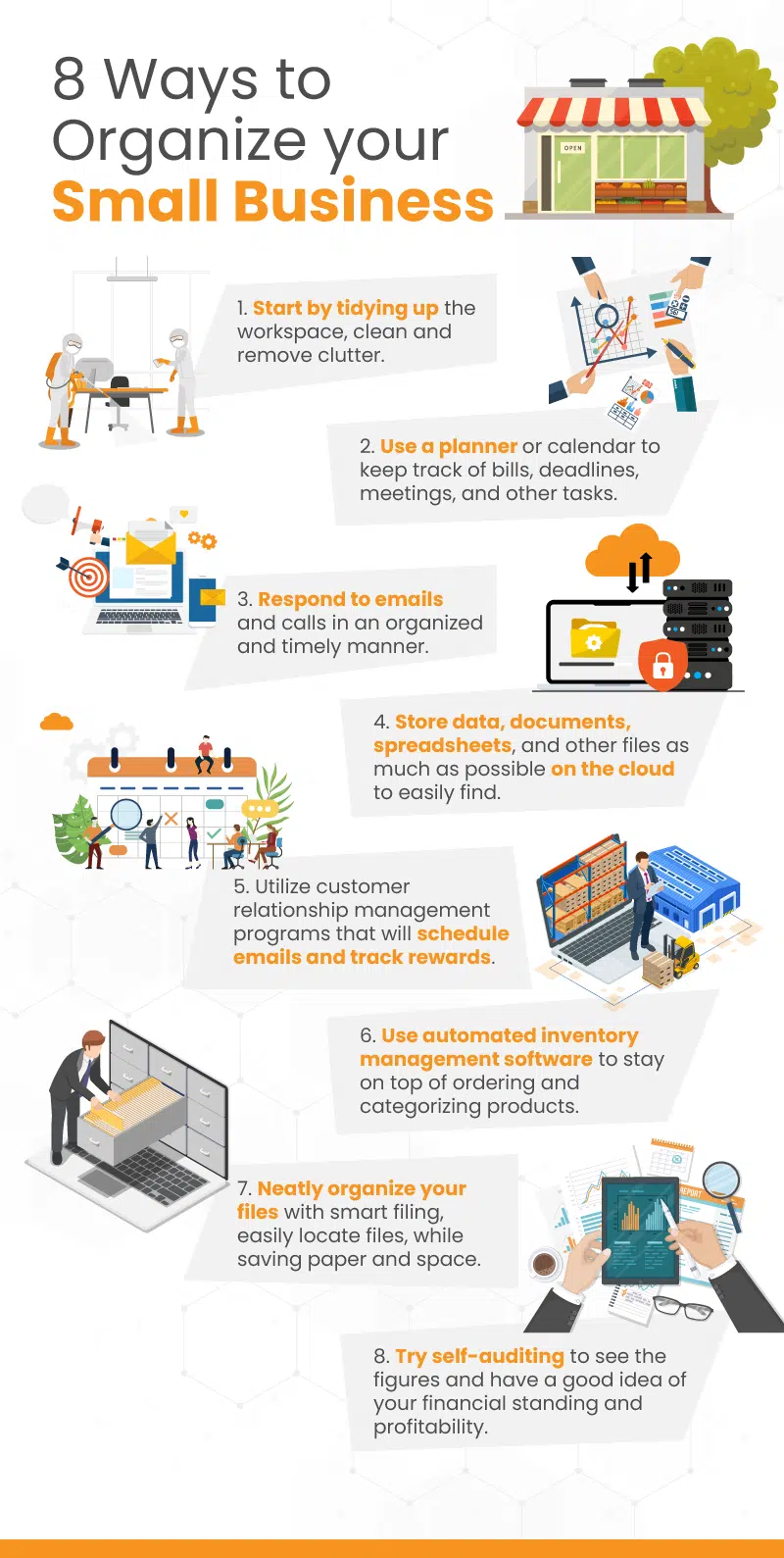 How To Keep Your Business Organized: Tidy Up The Workspace
The first step is to literally organize your space. That means getting rid of clutter and making sure that your workstation, office, and store are tidy and clean. Remove objects that don't actually serve you during your work day.
Do you have obsolete printers, desktop computers, or furniture? Consider donating to a local school or library. Try to make it a point to only have the items you really need around you.
Reducing items around your workspace can significantly increase your efficiency and morale. Better yet, make decluttering an ongoing and scheduled activity. Set a recurring time, like every couple weeks or month, where you and your office mates or work staff tidy things up and remove unneeded stuff.
Organizing A Business With A Plan Or Calendar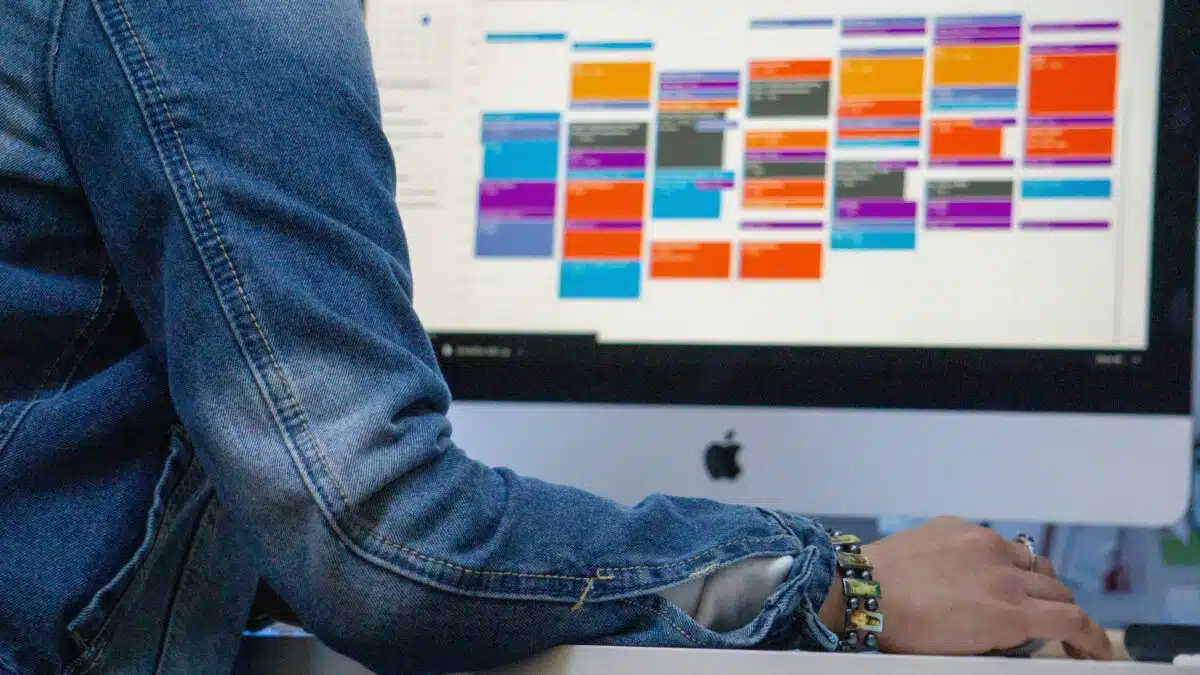 Having your work day planned will help you avoid missing deadlines and confusing tasks. Utilize some type of calendar to keep your priorities in order. You can use an old-school paper calendar, your smartphone/computer app, or some other type of software. Having everything that you need to accomplish organized and spelled out in one central place is a huge plus.
Consider investing in a project management program for you and your employees. Depending on what type of business you run, you can schedule and delineate assignments and tasks to your staff using these software platforms. Check out Monday or Gqueues, which both offer comprehensive project management capabilities.
Keep Your Correspondence Prompt
Many modern office workers are responsible for responding to dozens, if not hundreds, of emails every day. This can be a huge pain and downright stressful. However, it's imperative that businesses respond to emails as promptly as possible.
People do not want to wait for replies, especially in the realm of customer service. Therefore, answering emails in an organized and timely manner must be a priority for you and your co-workers. Try to set designated time slots each day specifically for answering emails. If you can't seem to get through responding within that frame, then add some more time. At the end of the day, you might find that you need to hire more staff.
Put As Much As You Can On The Cloud
In the modern work environment, using the cloud is a must. Gone are the days when you get stuck without a flash drive (or a floppy disk!) for your presentation or meeting. All cloud storage is available from any location through any internet-connected device.
Cloud-based services generally operate as a software-as-a-service (SaaS) format. Through a monthly subscription to data storage, you can keep all of your data, documents, spreadsheets, and whatever other digital files you store on the cloud. That way, any of your employees with permission, can access them wherever and whenever they need them.
Utilizing cloud-based storage is particularly important if you employ staff remotely (you may take on remote-based customer support staff, for instance, or even hire them from overseas using a service like Remote), as this enables them to access important documents securely while working from a remote location.
Cloud-based point of sale also presents an incredible advantage for retail industries. Small business owners and operators of retail shops can effortlessly access all of their sales reports, employee management, and inventory counts remotely. With KORONA POS, for example, you can simply log into your account to monitor your business from the comfort of your home or on the go.
Organizing Your Small Business With CRM Software
Generating new business is hard enough. Maintaining clientele relationships takes a ton of work and preparation. However, much of this labor can be streamlined and automated using CRM software. With these applications, you can keep track of client relationships and manage correspondence with optimized efficiency.
Keep your engagement with your clientele up to par without taking too much time and labor in doing so. Schedule promotional emails, birthday rewards, and more. Robust retail POS systems can feed sales history and purchase patterns to target segmented customer preferences. Keeping a steady rhythm of correspondence can be streamlined by utilizing CRM software in conjunction with a great point of sale.
Automated Inventory Management
Remember, your inventory is part of your office or workplace. Therefore, keeping it neat and organized is crucial for retail small businesses. Of course, you have to manage the actual physical side of it, as in doing manual counts, arranging your inventory, and categorizing your stock.
But equally important is using technology for tracking and synching counts. Using inventory management programs can eliminate a lot of the headaches associated with stock counting.
Luckily, modern point of sale systems like KORONA POS include these capabilities. Every time a purchase, exchange, or return is made in-store or through your eCommerce site, your stock will automatically adjust to the right levels. Plus, with predictive stock-level widgets, auto-reordering, and in-depth notifications, you will never have to worry about organizing your small business inventory.
Organizing Small Business With Smart Filing
With the capabilities of the cloud and digital wireless technology, there is no longer a need for printed hard copies of every file. In fact, consider it an advantage to go as paperless as possible. Digitizing further reduces clutter, not to mention it saves money and trees.
Once you've converted all of your documents, be sure to take the next step in organizing them through your cloud-based storage. Create folders with accurate titles, and try to continuously sort files whenever you start new documents, spreadsheets, etc. Folders will allow yourself and all of your staff to easily locate and access whatever they need quickly and easily.
Consider Self Auditing
Stopping to take a look at your numbers is essential. Run some tests to determine how your bottom line looks. How about your balance sheet? Keeping an eye on these figures will give you an idea of your financial standing and profitability.
Especially helpful are analyses such as key performance indicators. These will keep you tuned into how well your company is organized and performing. KORONA POS comes with a built-in KPI dashboard to suit your business needs. Organizing your small business requires knowing where and when to make changes and adapt.
Invest In Great POS
For retail companies that want to stay efficient and organized, investing in a great point of sale system is a must. KORONA POS offers the fastest, most intuitive software on the market. Get your staff on-boarded in no time, and keep your lines moving at lightning speed.
Every aspect of running your business can be synched and organized with our open API, too. Give us a call today to learn more about our cloud-based point of sale!