Last Updated: March 22, 2021
Finding the best hours of operation is a crucial part of any retail business. Unfortunately, it's often overlooked. Many small retailers are missing out on revenue by not evaluating when they should open and close. Fortunately, it doesn't require as much research as one might think. In today's age, the right retail POS system should be able to provide you with all the data you need to figure out if you need to adjust your hours. We'll explain what statistics you can use and provide some prime examples that indicate when there is action required.
Best Days of Operation for Your Small Business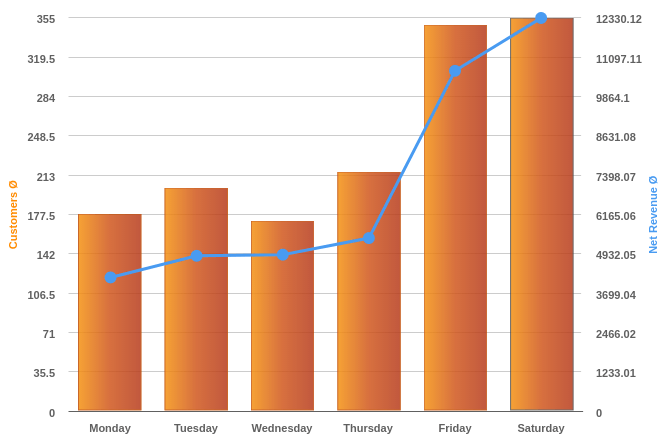 Let's take a look at this weekday comparison from KORONA POS. This retailer opens Monday through Friday and is closed on Sundays. Now it doesn't take much to see that the weekend means business. Judging from this statistic, Sunday could potentially be one of the best days of the week. In this particular case, the retailer is likely losing out on over $10,000 in revenue per week. Of course, this is a more obvious example, but using reports such as these and comparing them week over week, month over month or even year over year can illuminate trends and patterns that can help you make better business decisions.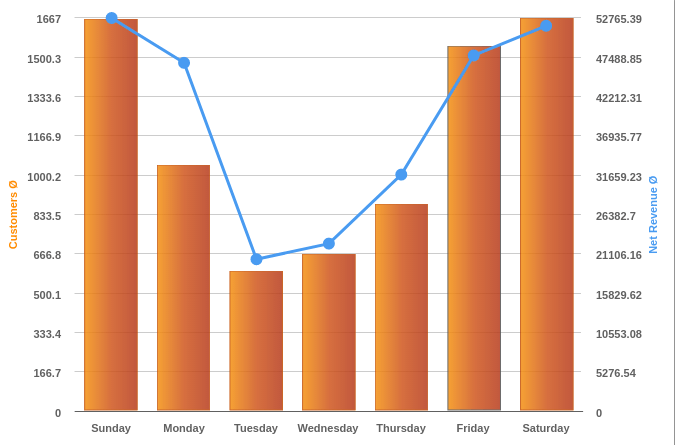 The second chart is another business which keeps doors open on Sundays. In this case, it is even their busiest day of the week for both the total number of visitors as well as revenue. If you're ever in doubt about your retail store's optimal hours, give it a test run. Your total business potential certainly won't be realized in the first couple of weeks, but you can use this trial period to see if there are any upward trends. If so, it might be worth expanding your hours. Additionally, the same data and rationale can be used to shorten hours and save your own time or your labor costs.
Best Hours of the Day to Be Open for Your Small Business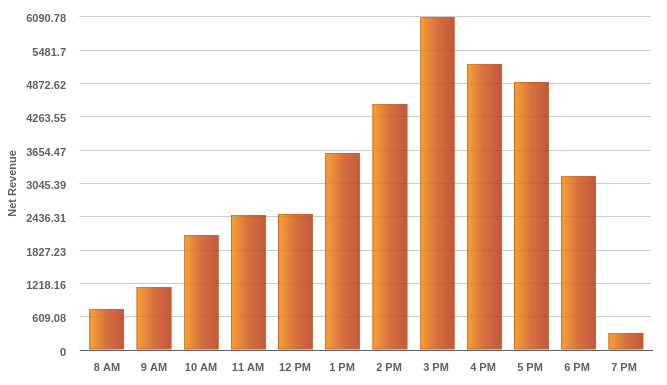 Many retailers just stick to one schedule that fits all and keep the same hours for each day. In some cases, this makes sense in order to stay consistent and predictable for your customers. However, some stores might be missing out on revenue or spending unnecessary operating costs. Again, we are using a KORONA POS statistic as an example. This chart to the right shows the total revenue per hour. You can run this report for any time period and even filter the results by day of the week to figure out which hours are most profitable on what day of the week.
In this example, the retailer opens at 8 AM and closes at 7 PM. We can see that sales peak mid-afternoon after a slower start to the day. Sales dropped sharply near closing time. Perhaps it's worth considering staying open later since the majority of sales came in the second half of the day. Again, information such as this is easy to retrieve and allows business owners to try new hours or days of the week.
KORONA POS Can Help You Find Your Best Hours of Operation
Please keep in mind that every business is different and most business owners have a good idea of what the best hours of operation should be. However, if your hours are based on gut feelings and guessing it's probably worth backing up your opinions with solid data. Of course, no point of sale system can assist you better with that than KORONA POS. Click below to check out our free retail POS system trial.
Get Started with KORONA POS today!
Tell us a little bit about your business and explore all the features that KORONA POS offers. There's no commitment or credit card required.