Coffee shop employees don't just keep the espresso machines running. They're responsible for maintaining customer relations, communicating vast product knowledge, perfecting the art of coffee-making, and so much more. So, finding the right team of employees can make all the difference in your shop's success.
That's why we're here to help. In this article, we'll dive into a successful coffee shop employee's roles, responsibilities, and qualities. We'll also talk about how to write attractive job descriptions for your target applicants and how to create a streamlined process for onboarding your new team members.
Finally, we'll examine why using a POS system, which can automate parts of their job, can be a great way to maximize employee efficiency and ensure everything runs smoothly in the shop. Read on to learn what it takes to create a top-notch coffee shop team!
Table of contents
Roles and Responsibilities of Coffee Shop Employees
Your coffee shop team requires a variety of roles to help you keep your shop running smoothly. When hiring, it is essential to ensure you have the right number of staff that can complete the tasks needed for each role. Generally speaking, a coffee shop has three main roles: barista, cashier, and shift supervisor.
Barista
This primary role involves creating drinks behind the bar, from simple drip coffees to more complicated espresso drinks. Baristas are also responsible for keeping the workspace clean and stocked with supplies.
Cashier
The cashier is responsible for taking customer orders, ringing up sales, and dealing with payments. They should also have a strong knowledge about menu items to assist customers when needed.
Shift Supervisor
A shift supervisor oversees each shift, ensuring that baristas and cashiers perform their tasks correctly and providing an enjoyable customer experience. Shift supervisors also manage restocking supplies and tracking any stock discrepancies.
It's crucial to ensure that each employee is adequately trained on their job duties before starting work to reduce mistakes or liability issues. Moreover, using a POS system will significantly streamline staff tasks, reducing time spent training while increasing efficiency in the coffee shop operation.
Qualities to Look for When Hiring Coffee Shop Employees
A great team of coffee shop employees can make or break your business, so finding the right people who fit the role is key. What should you look for? A few qualities serve as the foundation of outstanding coffee shop employees. Most importantly, you should identify people with a passion for and knowledge of coffee. Not only do they need to understand how to make the perfect cup, but they should also be able to talk about the origin and process of different coffees with customers.
In addition to being coffee aficionados, your cafe employees must have excellent customer service skills. Your staff not only represent you and your cafe's brand, but they're also responsible for delivering an enjoyable customer experience. They should also be able to work independently and in a team setting, as their job requires both collaboration with colleagues and taking the initiative when needed.
Finally, while not required, it can be helpful if your staff has some knowledge of POS systems, as those digital cash registers streamline many tasks that would typically take more time without them. Finding someone with these qualities can prove challenging, but you'll know when you've found them!
Tips for Hiring the Right Coffee Shop Employees
When it comes time to hire new employees for your coffee shop, you'll want to take the time to make sure that people you hire share your values and have the skills necessary to do their job well. Here are a few tips for hiring the right coffee shop employees:
Establish your ideal candidate profile
The first step in hiring is to define what kind of candidates you're looking for. For example, do you prioritize experience or attitude? When creating your ideal candidate profile, consider values like integrity, passion, and honesty. These are essential qualities to look for in a good employee.
Create job descriptions and announcements
Next, make sure that job postings include information on qualifications (required skills, experience), job duties, and responsibilities. You should also take some time to think about what hours of operation your coffee shop requires; when outlining hours during interviews, be as transparent as possible, so candidates know what they're signing up for.
Ask questions during the interview process
When interviewing candidates for a position in your coffee shop, ask questions related not just to the job itself but also to their past experiences to gain insight into how they may handle situations in the workplace. You should be able to gauge whether a potential hire would fit in with existing staff members and have the skills required based on their responses.
Training sessions
It's important to make sure that all your employees are up-to-date with the latest brew methods and techniques. Making sure that all of them have the same knowledge will mean smoother operations across all shifts. Consider taking them through an induction session and providing additional training so everyone is on the same page when it comes to customer service.
Basically, when crafting a job description and hiring someone to join your coffee shop team, there are some key qualities you should look for:
Reliability: Make sure that the person you hire can be counted on to show up when they say they will and complete their tasks accurately.
Customer service skills: Ensure the person you hire has great customer service skills so that clients will have positive experiences with them.
Ability to work quickly: Coffee shops are fast-paced environments, and having someone who can work quickly and efficiently is critical to success.
Leadership skills: Taking the initiative and leading by example is essential; look for applicants who demonstrate this quality as a point of distinction throughout their application process.
Adaptability: The best coffee shop employees will be adaptable, meaning they can manage ever-changing demands or situations that may arise during their shifts or day-to-day work at your shop.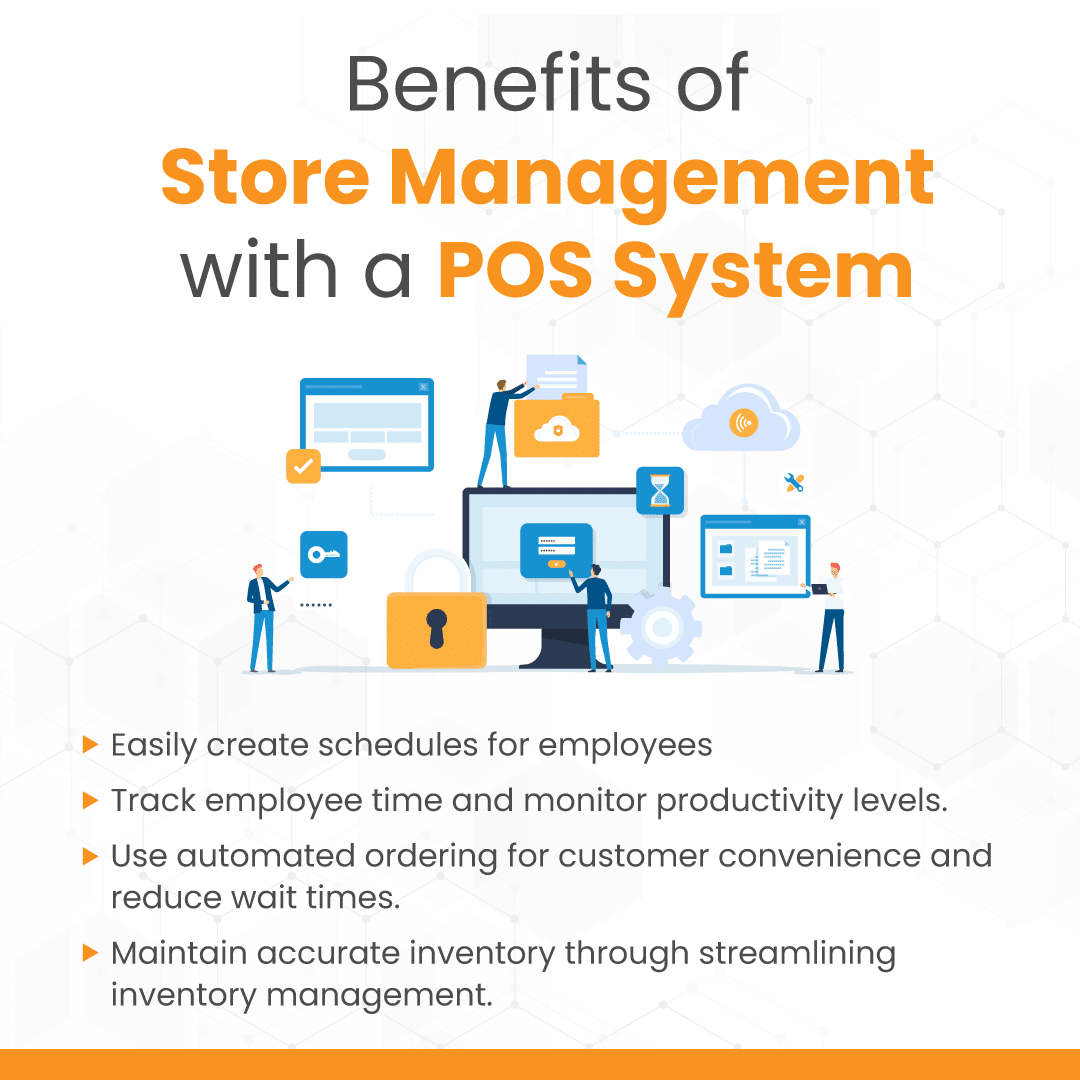 Streamlining Management With a POS System
A POS system can be a great way to streamline the management of your coffee shop employees. With an integrated POS system, you can easily manage employee hours, paychecks, store operations, and customer orders. It also helps with inventory tracking, which is essential for busy coffee shops. Some of the key benefits that a POS system provides include the following:
Easily scheduling employees: A POS system allows you to quickly create schedules for your employees and assign tasks as needed. This ensures that all employees are always on the same page regarding what needs to be done and when.
Tracking time and productivity: You will be able to track and monitor employee time and productivity levels with a POS system in place. This will help you make more informed decisions about allocating resources and efficiently managing staff.
For example, KORONA POS, one of the best point of sale software programs specifically designed for coffee shops, gives employees the ability to clock in and clock out. As a coffee shop owner, you need this data to not only evaluate the efficiency of your employees but also to generate a payroll without headaches.
Automated Ordering: Your customers will love the convenience of ordering their coffee quickly with automated ordering through the POS system. This means less time waiting in line and more time enjoying their purchase! Having a POS system in place for your coffee shop employee's tasks will save time and money while providing an excellent customer experience at the same time.
Streamline inventory: As a coffee shop owner, keeping an accurate inventory is essential for an efficient and effective business. Coffee shop POS systems allow for streamlined inventory management to reduce stockouts and excess inventory. POS systems help with tracking sales, allowing you to understand your customer's buying habits better and enabling you to adjust stock levels accordingly. They also enable tracking of raw materials, order and supply chain costs, and additional expenses associated with any products.
Additionally, POS systems use real-time data to provide timely stock updates. This means you can stay on top of running out of items or stocking too much of an item. By streamlining the process and keeping accurate inventory records, you can avoid stockouts and save money on products that cost too much. With the right POS system, you can ensure that your coffee shop is stocked with the right amount of items and enjoy the benefits of smooth-running operations.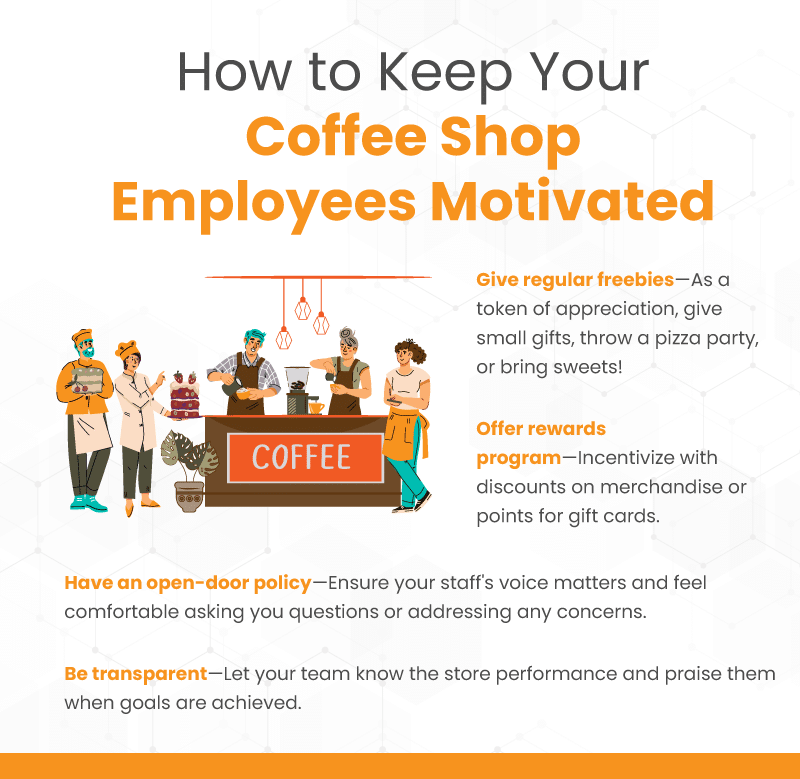 Tips for Motivating Coffee Shop Employees
Your coffee shop team is essential to the success of your business, so it's important to make sure that they are motivated and engaged. There are plenty of ways to do this:
Giving regular freebies
When your employees see that you appreciate their work by having regular freebies or celebrations in-store (even something small like a free pizza party for a job well done), they're more likely to stay motivated and feel valued. Also, if you don't give away free stuff on a regular basis, your employees may start feeling taken for granted.
Offering rewards programs
Rewards programs are great for motivating employees. It could be anything from getting discounts on merchandise to the ability to accrue points that can be redeemed for gift cards. Anything that gives employees a chance to save money will be greatly appreciated.
Have an open-door policy
It's essential to ensure your staff feels comfortable coming to you with questions and concerns. By having an open door policy, they know they can come to speak to you anytime without judgment or criticism. This shows them that their voice matters and makes them feel like a part of the team.
Be transparent
Make sure your team knows the direction in which you're going. Let them know what you expect from them and keep a close watch on their performance. Praise them when they achieve the goal and help them when the going gets tough.
Load up on technology
An effective way to motivate your employees is by using POS systems to streamline tasks like payroll, attendance tracking, and up-to-date scheduling shifts. By taking away some of the administrative burdens from them, you give them more time for customer interaction which can lift their spirits and morale at work.
See also: How To Run a Shop Successfully
How Many Employees Do you Need To Get a Coffee Shop Up and Running
Running a successful coffee shop also means knowing how many employees you need to get up and running. It depends on the size of your business and how much you're willing to invest in staff. Generally, each shift should have at least one barista and one cashier. Depending on the number of customers expected to visit, it may be useful to have additional staff on hand.
See related: How Many Employees Do You Need for Your Coffee Shop?
Conclusion
Managing a coffee shop is a rewarding yet challenging experience. It takes careful planning and execution to ensure the best team is working with you. The key to success lies in understanding the roles, responsibilities, and qualities needed to bring out the best in a coffee shop employee. The best way to hire the right people is to focus on their skill set, enthusiasm, and customer service ability.
Moreover, using POS systems can also help streamline tasks and eliminate human error. This will ultimately save time and money. These steps allow you to create a successful coffee shop that runs efficiently and serves the best coffee in town!
Resources on Coffee Shops You Might Want To Read