Last Updated: February 11, 2022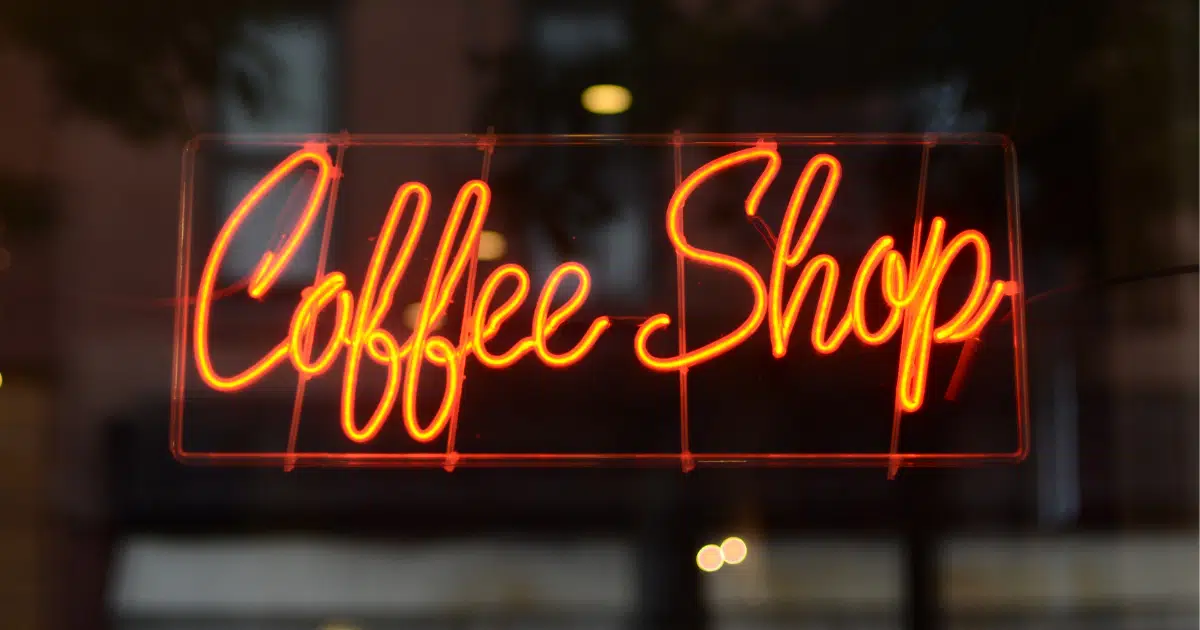 There's a coffee shop on every corner these days. And they're certainly not just serving your basic drip. More and more coffee spots are roasting their own beans, brewing in different ways, and offering more extensive food menus. And customers show no signs of being over-caffeinated. Despite the decrease in exports and imports of coffee products from the COVID-19 pandemic, the global coffee market is expected to reach $155.64 billion in 2026.
So with competition being more fierce than ever in trying to be the best coffee shop, how can one stand out from the pack? Is it simply great coffee, or a combination of the coffee with name recognition, location, shop aesthetics, strong business intuition, an exceptional coffee shop POS, or maybe a gimmick? More and more, it seems that it's necessary to do all of this the right way. So take a look at our guide on how to run a successful coffee shop.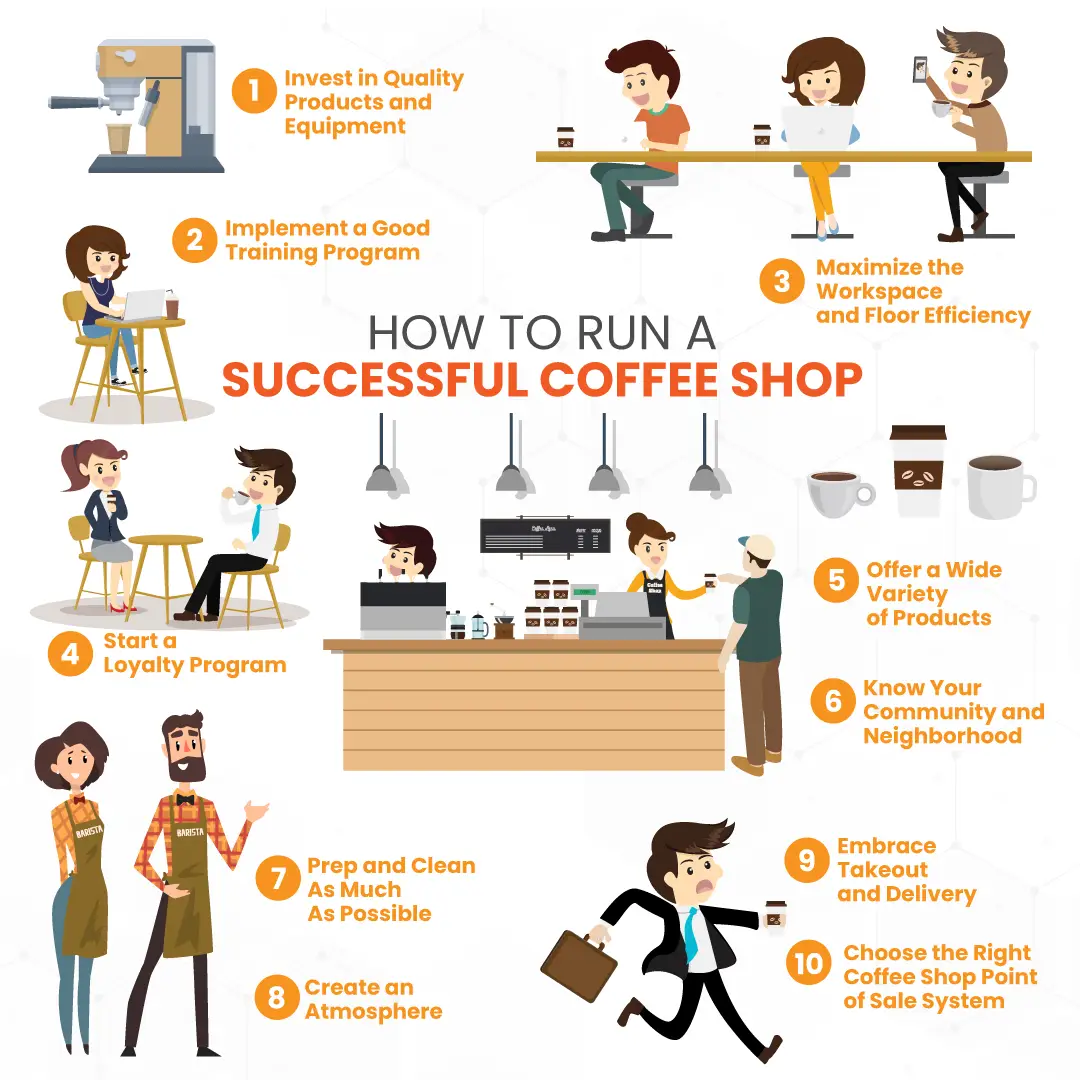 1. Quality Is the Most Important Factor
Use your money wisely. Buy quality beans that were sourced ethically, use good creams and milks/nut juices, buy an espresso machine that will be able to handle your volume and a water purification system that will keep the taste clean, and buy a small business point of sale system that allows employees to enter orders quickly, process transactions easily and make your shop run more smoothly.
2. Implement a Good Training Program
Making quality coffee beverages is an art. Don't trust just anyone with the job. Implement a thorough training program for each new staff member. And offer continual training on your products for all staff.
You can ask distributors or representatives to come into your shop to help train and teach on specific items. Offer a fair wage to prevent high turnover rates. Any successful coffee shop keeps a cohesive and content staff.
See also: How Many Employees Do You Need for Your Coffee Shop?
3. Maximize the Workspace and Floor Efficiency
If your coffee shop is in a good location, real estate will be pricey. Maximize the space that you have to keep customers comfortable and staff efficient. Plan your floor well to provide comfortable spaces while also allowing for as many guests as possible. Also, leave enough room for your staff to work well. Coffee shops require a large amount of storage and workspace, especially if you serve food or during peak hours. Base your spatial planning off of what your needs will be during your busiest hours.
Utilize clear, highly visible signage to organize the different areas of the room so that people can easily be informed and follow directions. You want to prevent people from blocking certain areas that may keep your staff from working efficiently. You also want your customers to feel safe during this time, so invest in tools such as floor markers to promote social distancing.
4. Start a Loyalty Program
Coffee shops get a large percentage of their business from regulars. Reward your most loyal customers with an occasional free coffee, pastry or bag of beans. There's no need to get stingy with your loyalty rewards – those who take advantage of it are those spending the most time and money in your store. It shouldn't take six months to earn a free drip coffee. In addition, integrate your POS system with your loyalty program to help you manage it. This creates a simple customer database that you can also use for email marketing down the road.
5. Offer a Wide Variety of Products (But Not Too Wide)
It's essential to offer at least a few pastries or other snacks at your coffee shop. But if possible, expand your food menu. It could benefit your business to become a lunch or brunch destination rather than simply coffee. Bake as much as possible in-house, and order the rest locally. Customers love a coffee shop that is a part of the community.
Be careful to not stretch yourself too thin, however. Don't offer so much that you end up with substantial waste. And cater to a specific coffee clientele. If you don't want to be the triple caramel mocha with extra whip kinda place, don't be!
6. Know Your Community and Neighborhood
Unlike other retail businesses, a coffee shop is very much a member of the community. It can even define a neighborhood or become a landmark. And you want every single coffee drinker in your vicinity coming in for your coffee and scones. So know that community well. Keep your prices reasonable. Plan your space for mothers and their kids, for young professionals and their laptops, or whatever average customer comes in.
7. Prep and Clean as Much as Possible
This keeps your staff on the ball and your day-to-day running cleanly. Implement a prep schedule and make sure your staff is keeping the space clean and the pars filled. Be careful to label and date every perishable item and to discard when expired.
Train everyone on health regulations as well. Not only is it the law, but it's also just good practice. Don't serve anything you're not proud of, or wouldn't enjoy as a customer yourself.
8. Create an Atmosphere
Coffee shop customers don't always simply want a cup of coffee. They may want a place to relax and read the paper, get together with an old friend, study for a test, or work remotely. Set up your space with intention. You can also change this down the road once you have a better feel of your typical customer. Make it an inviting space so people are always tempted to come back for whatever escape they're seeking. Creating a pleasant customer experience is paramount to retaining your customers and making them loyal to your brand.
Note: In case you are considering encouraging your customers to tip, it is important to know that tipping trends are constantly changing. Avoid especially pre-service tip requests. According to a study, consumers consider this approach unfair and manipulative. It reduces the likelihood that they become regular customers and, therefore, can threaten your business.
Learn more about How to Manage Tipping at Your Business here.
9. Time to Embrace Takeout
Seamless, UberEats, GrubHub, PostMates, whatever it is, get down with it if your staff and productions can handle it. This is especially important if your location is less than ideal or you lack foot traffic. Food and beverage orders through apps are through the roof. Get on the gravy train and use it for marketing purposes as well.
10. Choose the Right Coffee Shop Point of Sale System
Let your point of sale make your business easier to run. KORONA POS coffee shop software was built so coffee shops can be flexible and scalable while also handling a high volume of customers. Your POS can help with scheduling, ordering, inventory, and so much more. Check out our free trial and see for yourself!
Get Started with KORONA POS today!
Tell us a little bit about your business and explore all features that KORONA POS has to offer. And there's no commitment or credit card required.