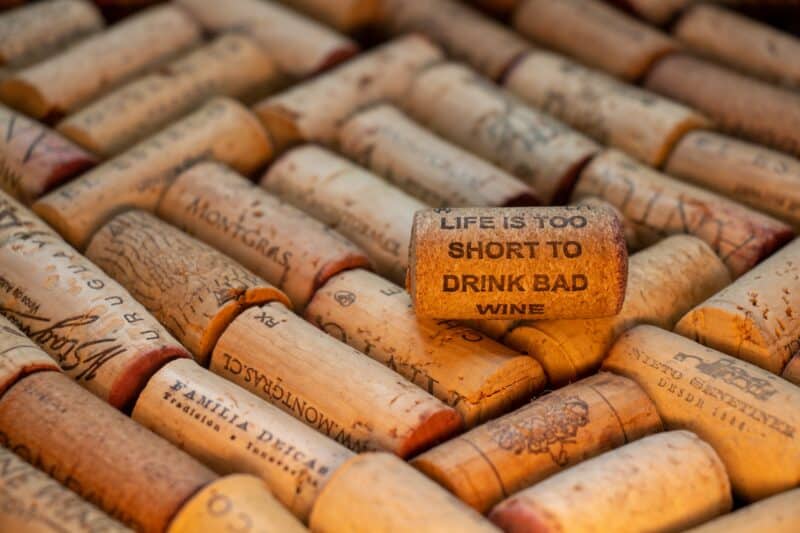 The U.S. has seen a steady increase in wineries across the country over the past few decades. These wineries have popped up all over the country, as viticulturists and producers find niche grapes and tastes to satisfy customers. In fact, there are now over 11,000 wineries in the U.S., and they can be found in every state.
While creating good quality wine is obviously key to success, winery branding and marketing are equally important. There is a ton of competition in the wine industry and standing out amongst this competition is critical. Your branding should tell a compelling story while conveying your message and identity through your label, social media, eCommerce, and beyond.
Check out the rest of this blog for a detailed guide on winery branding. Learn about everything from labeling to eCommerce selling. In the end, you'll have a more efficient and successful winery operation.
Table of Contents
Figure Out Your Niche
You can't begin to work on your winery branding before first determining your target audience. And while you don't need to limit your brand too specifically, it's a good idea to do some market research to get a grasp of what the actual demand and competition is within your locale and the greater industry at large. To be sure, different categories and price points aren't set in stone, and many brands of wine can appeal to more than one subset of consumers.
Keep in mind that the location of your winery will have a huge impact on what grapes can be grown. So if you buy expensive land and grow cabernet grapes, then your price point will need to be reflected in that. In turn, your labeling and winery brand identity will need to match that price point in terms of aesthetics and quality.
See related: How Do You Start Your Own Wine Brand
Invest in Great Labels For Wine Brand Development
Despite the advice, people do actually judge books by their covers. The same goes for wine labels. Labels should be original, eye-catching, and appealing. They need to draw browsers towards the bottle.
However, most importantly, labels should represent the essence of your wine story. The theme of the art or design should reflect the message, price point, and style of your product. For example, many traditional chateaux in Bordeaux feature architectural depictions of the actual castle-like buildings that the vineyards are built around. This aristocratic, old-world design matches their full-body style, cost, classification, and point of origin.
On the other hand, natural wines, a much newer style with less traditional grape combinations and funkier flavor notes, have much different branding. They often design labels with whimsical and playful contemporary artists. Since these bottles are more modern, less expensive, and somewhat novel in their processes, more playful designs make sense for their branding.
There is obviously plenty of middle ground between these two examples. In fact, most of the wine in the world will fall somewhere in the middle. To be sure, there are many directions to go when it comes to labeling. The main point is that the label should catch the eye of shoppers, stand out from competitors, and be an entry point for telling the story of your winery.
Label Design and Brand Creation For Wineries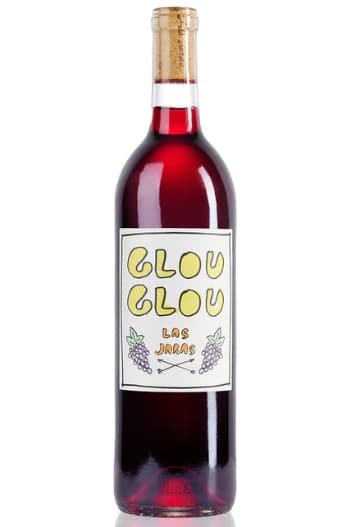 The price of labeling can vary considerably depending on detail, coloring, and other elements. In addition, the size of your winery team, as well as your budget and product list, will influence your branding plan. Either way you have several options for the actual physical design and labeling of your bottles.
To be sure, there is an extremely mixed bag of approaches when it comes to winery branding. While some labels will choose to set up an in-house design team, most will outsource their label and logo making. Others will do the bulk of their design in-house while farming out specific bottles and lines to third party companies.
There are both individual freelance wine label designers as well as full on wine branding firms that wineries can consider hiring. In reality, all combinations of options are possible. You can choose to outsource the whole process, order the labels from a printer, or mix and match depending on the project at hand. The possibilities are endless as long as there is proper planning and consistent philosophy.
In fact, you don't necessarily need to use an official "label designer" at all. Natural wine brand Las Jaras had the label for their red-blend "Glou Glou" designed by their friend and business associate Joe Beddia, a Philadelphia pizza chef. Here's a picture of their highly successful red blend.
See also: How Much Does Branding Cost For Small Business Retailers
Where Are Your Wines Selling?
The strategies and steps you take to market your brand will depend somewhat on your sales channels. Certain obvious steps need to be taken no matter what. But depending on whether you see more online or in-store will determine your focus.
eCommerce Wine Branding
Brands that sell more through online platforms will unsurprisingly need to focus more on digital marketing. Social media is a great place to develop a following for a new winery brand or product. Use the platform to showcase what your winery is all about. Highlight your vineyard topography and terroir, show off pictures of your tasting room, and let your staff be creative by allowing them to assist with managing your social media.
You can even consider letting your audience get deep into the winemaking process with you. Exhibit the guts and gears of your winery with an honest look at how your wine is made. Update your social media pages consistently to keep customers engaged and up to date. Start a YouTube channel, podcast, or virtual event to educate people on wine production and more general wine knowledge.
Brick-and-Mortar Wine Branding
All of the aforementioned marketing techniques will help build your exposure and brand recognition. Consider adding a landing page on your website platform so that interested shoppers can see which local liquor stores stock your wine.
One of the most proven techniques to increase brand awareness is through in-store wine tastings. With in-store sampling you can get face-to-face with real customers to tell your brand story while sharing your wine flavors. It's a great way to spread word-of-mouth interest in your products with a hands-on approach to brand experience.
Remember in-person sampling events don't have to be simple counter set-ups during store hours. You can really think outside the box and host fun events in local shops, like cheese pairings, tutorials, or presentations about your vineyard or winemaking process. Don't forget that these tastings are also a wonderful way of collecting feedback!
Hands-On Customer Interaction
A hands-on approach to customer engagement will enhance your brand's personality. Have actual winery employees answer questions on social media, Google Business, and email inquiries. Customers want to communicate with real staff members that know the intricacies of the business and winemaking process.
Who is your cavemaster? Who cuts the grapes? Do you have a chef on site? Try to initiate as many genuine customer interactions as possible. This is especially important for building your brand if you have a tasting room or host events at your winery. The personality of your brand will be reflected in how you communicate with interested clientele.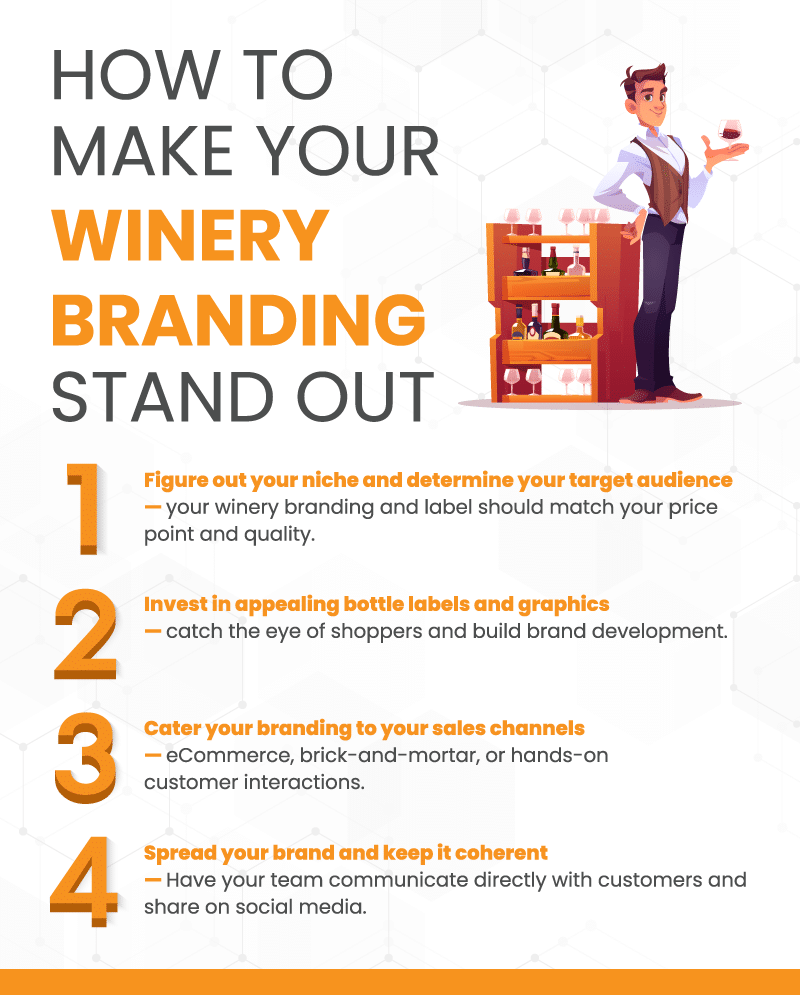 Winery Branding: Build Around Your Onsite Attributes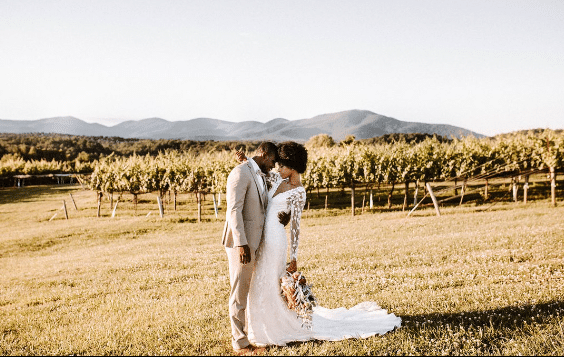 However you decide to build, design, and curate your winery should be used as an asset to your branding. Do you have a barn tasting room? Do you do tours of the vineyards, or tastings out on a patio? All of these winery features will speak for the brand experience of your winery.
These experiences will make memorable impressions on your guests and hopefully will be shared on their own social media, too. As such, your décor and layout should sync up with the rest of your brand message and story.
Feel free to get creative in order to spread community interest in your vineyard. Think about hosting collaborations with local fooderies or musicians to enhance the wine drinking experience. The more positive exposure you get, the more positive brand recognition you will achieve both locally and globally.
Keep Your Wine Branding Design Coherent Across All Channels
Optimize your winery for omnichannel retail. The idea is to keep your branding consistent across all channels. When a shopper picks up your bottle in a liquor shop, views your social media page, or drives up to your winery to see it in person, your branding should remain steady and persistent.
Luckily, this can all be made possible by working with a modern point of sale system. Whether you're creating ticketed events for a vineyard tour, selling bottles of red through your winery shop, or shipping cases through your website, KORONA POS has it all covered.
We offer custom eCommerce buildouts to tailor design your domain branding. Plus, sales reports and inventory management through our industry leading, cloud-based software. Give us a call today to learn more about our winery point of sale system!
Frequently Asked Questions About Winery Branding
What makes a wine brand stand out?
A bold, eye-catching label is the first step in branding a wine. The label should reflect attributes of the story of the wine brand and producer. Continuing that brand story through the website and social media pages is also important.
How do I promote my wine brand?
You can promote a wine brand by creating social media pages and trying to reach your target audience through ads. In addition, in-store wine tastings can help spread brand popularity through word-of-mouth marketing. Keeping branding consistent through all channels will help increase recognition and customer acquisition.
How much does it cost to start your own wine brand?
The cost of starting your own wine brand will depend on whether you're purchasing actual vineyard real estate. Some wine brands and wineries will choose to acquire grapes from other producers. All said and done, the cost of starting most wine brands ranges from $200,000 up to $2 million.