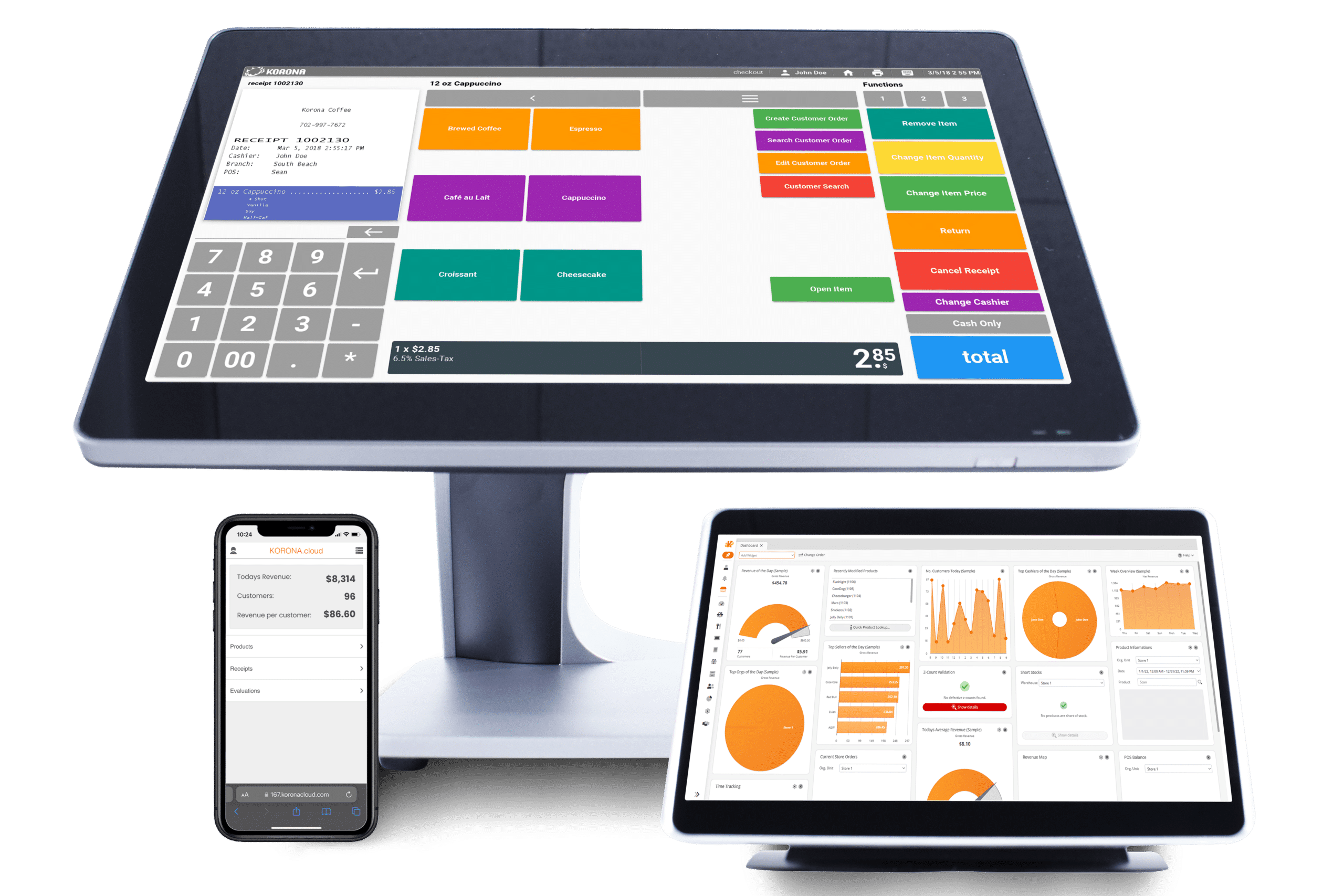 Retail businesses often seek efficient and cost-effective point of sale (POS) solutions, and while Lightspeed POS offers robust features and scalability, it comes with certain pain points. It's known for its high cost, often requiring specific hardware that adds to expenses and a noticeable learning curve for users.
Additionally, Lightspeed's customization options are limited compared to other POS systems, and some users have expressed concerns about the responsiveness of its customer support.
Fortunately, there are several alternatives to Lightspeed POS that not only address these pain points but also offer similar functionality at more accessible price points.
In this article, we will explore five top alternatives for retail businesses: KORONA POS, Epos Now, Square POS, Clover, and Shopify POS, comparing their key features, pricing models, and overall pros and cons to help small and medium-sized retailers find a suitable replacement for Lightspeed.
1. KORONA POS
One of the first alternatives of Lightspeed Retail is KORONA POS. It's proven as one of the best point of sale systems for retail businesses. KORONA POS caters to convenience stores, liquor stores, gift shops, dispensaries, CBD stores, wineries, vape shops, thrift stores, quick-service restaurants, and more. KORONA POS offers many features designed to streamline businesses and enhance customer experiences. Here's why KORONA POS could be the perfect fit for your retail business:
Smooth inventory management
Managing inventory is one of the most challenging retail business aspects. KORONA POS simplifies this with a robust set of tools to handle SKUs, categories, brands, promotions, and more. The system even offers low-stock alerts and easy inventory transfers between locations or warehouses.
While most POS systems provide minimum and maximum product levels, KORONA POS takes it further; it automatically sets these levels based on your sales data and ordering patterns. This capability is a game-changer for businesses with large product ranges, as it saves time and allows you to focus on other crucial aspects of your operations.
Streamlined checkout and payment experience
The intuitive interface of KORONA POS makes the checkout process fast and efficient. KORONA POS offers integrated payment solutions with any major credit card processor (Lightspeed charges its users a premium on monthly subscription fees if they opt out of using their processing). This allows businesses to choose the payment processor that offers the best rates and services for their needs.
Here are some of the benefits of using KORONA POS with a third-party payment processor:
Lower processing fees: Businesses can often get lower processing fees than if they were locked into a contract with the POS company by choosing their payment processor.
More flexible payment options: Businesses can offer a wider variety of payment options to their customers.
Better customer experience: Customers appreciate the option to pay with their preferred payment method, which can increase sales.
In addition to the fact that KORONA POS allows you to partner with any processor, it supports EMV chip cards and NFC payments like Apple Pay and Google Pay. KORONA POS even incorporates RFID technology to speed up the scanning of multiple items, setting it apart in the market for its advanced capabilities at the point of sale itself.
See related:
Customer loyalty programs and promotions
KORONA POS isn't just about making your business operation easier; it's also about enhancing the customer experience. With benefits like customer loyalty programs, gift cards, and coupon redemptions, you can keep your customers coming back for more. The system also allows you to create and manage intricate discounts and promotions effortlessly.
Comprehensive reporting and analytics
Data-driven decision-making is crucial in today's competitive retail landscape. KORONA POS offers advanced reporting features that allow you to track sales trends, popular brands, and customer behavior. This invaluable insight helps businesses make informed decisions to boost their profits.
Unrivalled customer support
Customer service is a cornerstone of KORONA POS. It offers round-the-clock support through phone, email, and chat. It also provides an online knowledge base, free software updates, and optional on-site training, ensuring you're never left in the dark.
You can also experience the seamless efficiency of KORONA POS with dedicated product specialists throughout onboarding. Experts will not only guide you through the installation and deployment of all essential features but also promptly resolve any concerns you may encounter, ensuring a smooth and productive transition to the system.
Third-Party integrations
KORONA POS's ecosystem includes numerous third-party integrations, allowing businesses to connect their POS system with other software and services they use, such as accounting software or payroll services.
This flexibility enhances the system's functionality and adaptability to specific business needs. Some of the third-party integrations with KORONA POS include various eCommerce partners, loyalty solutions, accounting software, time tracking, and more.
KORONA POS Pricing
Whether you're a small liquor store or a large retail chain, KORONA POS scales to meet your needs. Its pricing is divided into two plans with a few additional module options:
KORONA POS Core: A simple plan for standard business operations priced at $59/month.
KORONA POS Retail: An advanced plan with inventory management and more automation priced at $69/month
KORONA POS offers optional additional module packages depending on your business needs. It also provides POS hardware from tablets, receipt printers, credit card readers, terminals & cash drawers.
2. Epos Now
Epos Now is another Lightspeed alternative that caters to a wide range of businesses, including retail, hospitality, and service industries. Epos Now features hundreds of integrations. From staff and inventory management to delivery services, these integrations enable you to build a workflow that aligns perfectly with your business operations.
Here are some of the benefits of using Epos Now:
Run with different operating systems
One of the standout features of Epos Now is its cross-platform compatibility. The software works seamlessly across Windows, iOS, and Android operating systems, allowing you to use any compatible device to run your business. If you've already invested in hardware, you can easily integrate it with Epos Now's system.
Cloud-based POS
Epos Now operates on cloud-based software, ensuring that all your critical business data is stored securely in off-site servers. This frees up space in your physical location and adds an extra layer of security against hackers and accidental data loss. This also means that you can access all the major operations of your business even when you're not in your stores.
Simplified payments
Epos Now acts as a payment processing system through its in-house service, Epos Now Payments.
Its straightforward pricing model sets it apart, with one flat rate for transactions and no long-term contracts. It offers chip-and-pin, contactless, and remote payments and accepts all major payment types.
All Epos Now payment terminals are PCI compliant by default through their innovative encryption technology. Their terminals are EMV compliant and support Apple Pay and Google Pay. This transparency eliminates the risk of unexpected charges, offering peace of mind to business owners.
Comprehensive hardware solutions
Both Epos Now Standard Package and Complete Solution come with a touchscreen, cash drawer, card machine, and receipt printer—all for a $0 upfront cost and a small subscription fee. You also have the option to add extra accessories like barcode scanners and additional card machines, allowing you to customize your setup further.
Epos Now Pricing
Epos Now does not provide transparent pricing information upfront. To understand their pricing structure, you must reach out to their sales team directly. Nonetheless, Epos Now does disclose some of its hardware pricing, offering printers starting at $250, barcode scanners from $73, and various other accessories priced from $55.
3. Square POS
Square POS is a popular and versatile point of sale system that has gained significant traction among businesses of all sizes. With its user-friendly interface and robust features, Square POS has become a viable alternative to Lightspeed POS for many merchants. Here are some of the benefits that make Square POS a popular Lightspeed alternative:
Ease of use
Square is known for its intuitive and user-friendly interface. Setting up the system, adding products, and processing transactions can be done with minimal training. This ease of use can save businesses time and reduce the learning curve for employees.
Related: Customers Face Square Issues: Entire POS Goes Down For 12 Plus Hours
Hardware options
Square offers a range of compatible hardware options, from basic mobile card readers to more advanced countertop terminals. This flexibility allows businesses to choose the hardware that best suits their needs, whether it's for a brick-and-mortar store, pop-up shop, or mobile business.
Inventory management
Square POS provides robust inventory management tools that allow businesses to track stock levels, set up low-stock alerts, and easily add new products. This feature helps businesses optimize their inventory, reduce overstocking or understocking, and make data-driven decisions.
Multi-location support
Square offers multi-location support, making it suitable for businesses with multiple stores or locations. Users can manage inventory, sales, and employee permissions across different sites from a centralized dashboard. While Lightspeed also offers multi-location support, Square's pricing structure can be more budget-friendly for businesses with multiple locations.
Payment flexibility
Square POS supports a variety of payment methods, including credit and debit cards, mobile payments (such as Apple Pay and Google Pay), and even digital gift cards. This versatility ensures that businesses can accommodate a wide range of customer preferences.
Customizable reporting
Square provides detailed sales reports and analytics that help businesses gain insights into their performance. Merchants can track sales trends, identify top-selling products, and monitor employee performance. Lightspeed offers similar reporting capabilities, but Square's simplicity and ease of use may make it more accessible to a broader range of users.
eCommerce integration
Square seamlessly integrates with Square Online Store, enabling businesses to sell products online. This feature can be especially beneficial for businesses looking to expand their online presence and reach a broader customer base.
Lightspeed also offers eCommerce capabilities but may require a separate subscription for its eCommerce platform.
Customer engagement tools
Square offers tools to engage with customers, such as email marketing and customer feedback collection. These features can help businesses build and maintain customer relationships, driving repeat business and loyalty.
While Lightspeed POS has its own set of strengths and may be better suited for certain industries or larger enterprises, Square POS stands out as a cost-effective and user-friendly alternative with a broad range of features that cater to the needs of many businesses, particularly smaller and growing establishments. Ultimately, the choice between Square POS and Lightspeed POS should be based on the specific requirements and priorities of each business.
You might also want to read: What Is Square POS? How It Works, Its Limitations, and Square POS Alternatives
Square POS pricing
Square offers two primary pricing tiers:
Standard Pricing: The POS software is free, but Square charges a premium for processing. This starts at 2.6% plus $0.10 per transaction for typical card swipes or dips. If you manually input card numbers, it's 3.5% plus $0.15 per transaction.
Square Plus: This option costs $60 per month per location, with an extra $40 per month for each additional device. Transaction fees get reduced to 2.5% plus 10¢ for in-person sales and 2.9% plus 30¢ for online sales.
Keep in mind that these rates can vary based on certain factors. If your business processes a substantial volume of payments, you may qualify for lower rates, such as 1.9%. However, this often comes with higher flat monthly fees. Additionally, using specific payment methods like American Express or Apple Pay may result in higher processing fees.
Read also: Are Square POS Fees Too High? Understanding Your Processing Rates
4. Clover
Clover is a point of sale and business management platform designed for small and medium-sized businesses. Below are some of Clover's key features:
Flexible hardware
Clover offers a variety of hardware configurations to suit different business needs. Options include a mobile POS tablet, desktop terminals, cash drawers, receipt printers, bar code scanners, and more.
Robust POS software
The Clover software allows businesses to accept various payment types, manage inventory, view sales reports and analytics, manage employees, and customize receipts. Key capabilities include order management, loyalty programs, and integration with accounting software.
Cloud-based system
Clover utilizes cloud technology so the system can be accessed anywhere with an internet connection. This allows for remote management, reduced hardware costs, automatic updates, and lower risk of data loss.
Business management tools
Beyond the basics of ringing up sales and accepting payments, Clover provides additional features to manage the business. Examples include employee payroll management, customer databases, marketing tools, and accounting software integrations.
Scalable for growth
Clover is designed to grow with a business. The system can handle complex menus and inventory needs for a large restaurant or accommodate the simplicity of a small retail shop. Clover also offers advanced capabilities for businesses with multiple locations.
Payment Flexibility
Clover POS accepts a wide range of payment methods, including credit/debit cards, mobile payments, and cash, thereby offering customers multiple payment options.
Clover Pricing
Clover pricing is divided into three main categories: Starter, Standard, and Advanced.
With Starter, accept payments and run your business with a compact 8″ countertop POS for $60 for 36 months.
Standard offers a paired 14″ touchscreen terminal and 8″ customer‑facing display for $135 for 36 months.
For the Advanced plan, businesses can extend their reach with a handheld device on top of our 14″ and 8″ countertop displays for $185 for 36 months.
For the starter pricing plan, Clover will charge you for card-present transactions 2.6% + 10¢ and 2.3% + 10¢ for the standard and advanced plan. For Keyed‑in transactions and for all plans, Clover charges 3.5% + 10¢.
5. Shopify POS
Shopify POS is a cloud-based point of sale system that is designed for retail businesses of all sizes. It offers a wide range of features that help businesses manage their inventory, accept payments, and track sales. Shopify POS is also integrated with Shopify's eCommerce platform, meaning businesses can sell in-store and online.
User-Friendly Interface
One of the most striking features of Shopify POS is its user-friendly interface. Unlike other systems that require a steep learning curve, Shopify POS is designed to be intuitive. This means that your staff can get up to speed quickly, reducing training time and costs.
Scalability
Shopify POS is built to grow with your business. Whether you are a small retailer with a single store or a large enterprise with multiple locations, Shopify POS can scale to meet your needs. This flexibility makes it a long-term solution, unlike other systems that may require a complete overhaul as your business expands.
Inventory management
Effective inventory management is crucial for any retail business, and Shopify POS excels in this area. The system allows for real-time inventory tracking, automated reordering, and seamless integration with your online store if you have one. This ensures that you never miss a sale due to stock-outs and can manage your inventory efficiently.
Omnichannel capabilities
In today's retail environment, an omnichannel approach is more important than ever. Shopify POS allows you to integrate your in-store and online sales channels effortlessly. This means you can offer services like click-and-collect, or easily manage returns and exchanges across platforms, providing a seamless customer experience.
Customization and integrations
Shopify POS offers a wide range of customization options and third-party integrations. From accounting software to customer relationship management (CRM) systems, you can tailor the POS to fit the unique needs of your business. This level of customization is often missing in other systems like Lightspeed Retail.
Shopify Pricing
Shopify offers three pricing plans for retail businesses: Basic, Shopify, and Advanced.
The Basic plan costs $39 per month.
The Shopify plan costs $92 per month.
The Advanced plan costs $399 per month.
In addition to the monthly subscription fees, Shopify also charges transaction fees for credit and debit card payments. These fees vary depending on the plan and the type of payment processor you use.
6. Best Retail Lightspeed Alternatives: Wrapping Up
In summary, KORONA POS, Epos Now, Square POS, Clover, and Shopify POS all have unique benefits that make them strong contenders as Lightspeed POS alternatives for retail businesses.
Key factors like hardware flexibility, payment processing, inventory optimization, and cross-channel integration are offered across these platforms in user-friendly packages tailored for retail.
While Lightspeed POS still holds strong appeal for larger enterprises, small and medium-sized retailers can likely find an equivalent or better-suited POS system among these five options at very competitive price points.
By evaluating your business's specific needs and priorities, you can determine if transitioning from Lightspeed to one of its lower-cost retail POS competitors makes strategic and financial sense. Any of these five systems would allow a retail business to manage critical point of sale operations and unlock key data insights without the high costs of Lightspeed.
Click the link below to learn more about how KORONA POS is the perfect solution for your retail store!