Last Updated: February 11, 2021
The point of sale system has come a long way in the past couple of decades. Rather than simply act as a till or basic cash register, points of sale continue to make business owners' lives easier in numerous ways.
But with these new tools and technology, come a learning curve with the software and terminology. So let's cover some of the basics: What is a POS system? What is the point of sale system definition? What are POS purchases and transactions, POS debit and credit?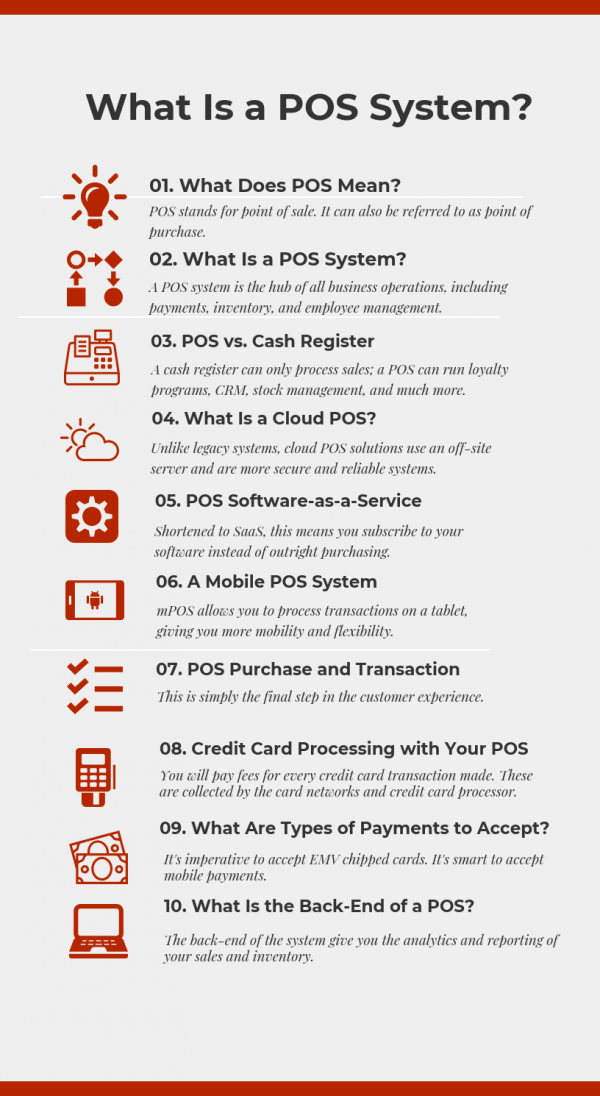 What Is the Point of Sale System Definition?
As you probably have figured out, POS is short for point of sale. A point of sale typically refers to the area or machine at which a transaction takes place.
In fact, you might also see it called the point of purchase, or simply, checkout area. This area usually consists of impulse purchases or last-minute buys, a cashier, and a point of sale system. It's the last step in the customer shopping experience and should be convenient, aesthetically pleasing, and leave each shopper satisfied.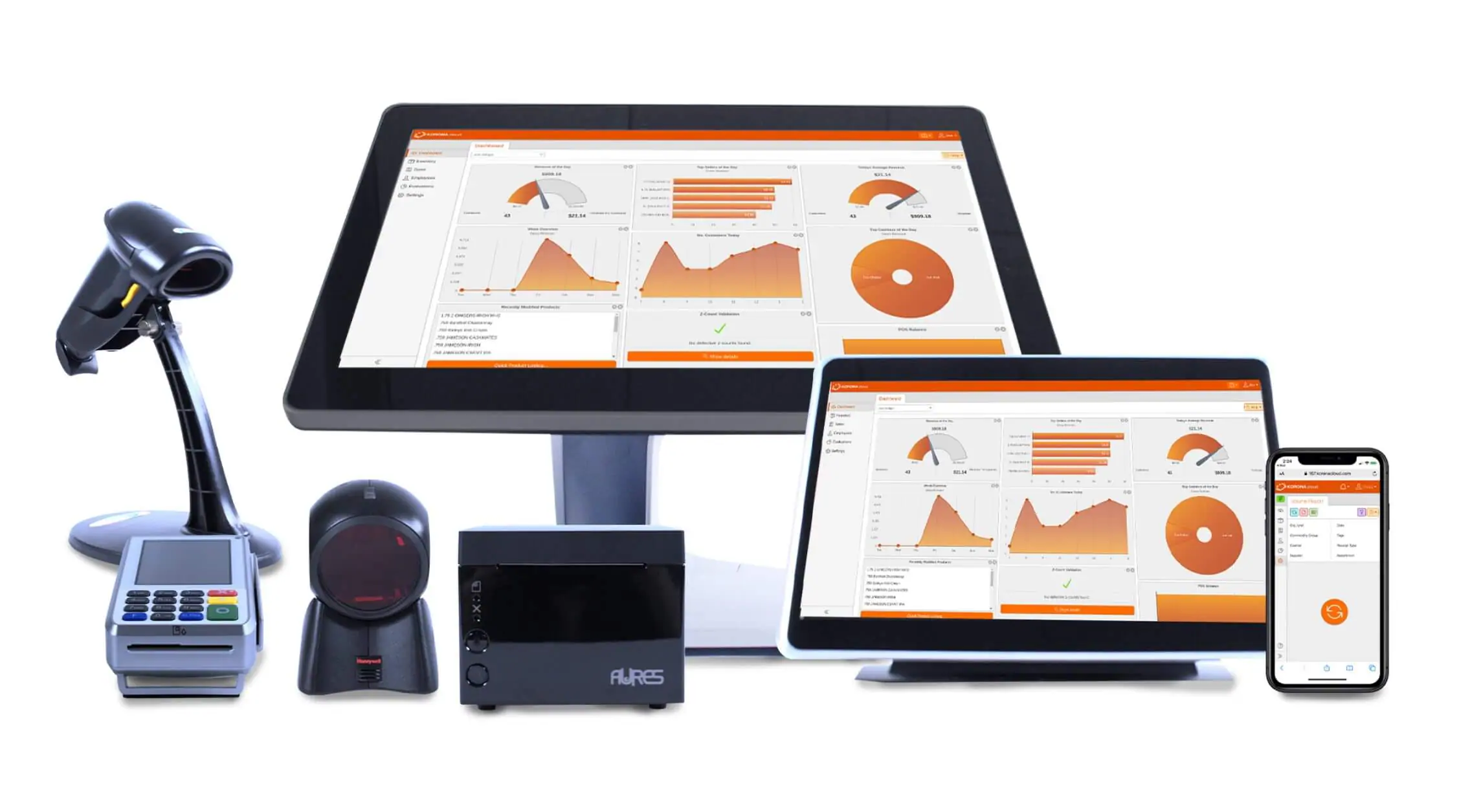 So What Exactly Is a POS System?
A POS system is more specifically the tools that facilitate each transaction. A modern POS system consists of many features for business operation, including both hardware and software.
The hardware is usually comprised of a desktop computer or mobile tablet, a receipt printer, a credit card machine, a scanner, and a cash drawer. The point of sale software powers each transaction, communicating with each piece of hardware and keeping a history of all sales. The information can be stored in servers found on-location or, for cloud-based systems, stored in remote servers.
Overall, a point of sale system is the heart of all business operations. It processes transactions, handles inventory management, and is the point of most of the communication between shoppers and employees.
Importantly, the best POS systems can help your business grow and succeed. For more details on this, take a look at our POS System Buyer's Guide!
A POS System or a Cash Register? What POS Terminal Is Better for Your Business?
We put together a guide to the great POS versus cash register debate, so we'll cover the basics here.
A cash register processes sales and holds cash. For ancient dives in Brooklyn, they actually work pretty well.
For most other businesses, a POS system is the way to go. Through modern POS terminals, your system does everything that a cash register can do and a whole lot more.
A POS system can run your loyalty program and customer resources management, conduct your inventory management, track staff sales performance, offer analytics on your products, and much more.
See Related: POS Payment Terminal Features: 4 Must-Haves for Every Retailer
What Does Cloud POS Mean?
Cloud-based point of sale systems started entering the market in the early 2000s. The only option prior to cloud points of sale was what is now called a "legacy system."
Legacy POS systems keep all data and information stored in on-site servers. Typically, a business will have one back-end computer on in an office on location. This computer is responsible for processing and housing all of the information gathered by each POS terminal. If the central computer is malfunctioning or offline, transactions cannot be processed and information cannot be saved.
A cloud POS system keeps all transaction and product data in remote servers, hosted by your POS software. These servers are much more secure and reliable, ensuring that no transactions are lost and no sensitive customer/business records are vulnerable. Transactions can also continue to be made even when the local internet connection is down. Under a legacy model, these are often lost. With the cloud, the processing is simply queued until the connection returns.
What Does It Mean for Your POS to Be a Software-as-a-Service?
Often shortened to SaaS, a software-as-a-service means that the software is sold as a subscription rather than an outright purchase to own.
Many different types of software operate this way, and POS platforms are no exception. Most critically, a SaaS model protects you from overspending on technology that will quickly be outdated.
Purchasing the software to own may seem like a smart business investment, but POS software evolves rapidly. You might have to upgrade your system multiple times per year.
With a POS SaaS subscription, you're guaranteed to have the most recent software and tools available. Your software will update automatically anytime your POS provider makes a change or adds a new feature.
What Is a Mobile POS System?
A mobile point of sale, or mPOS, give your business added flexibility for conducting transactions. Using a tablet, you can process credit cards from anywhere in your store. This gives your associates the flexibility to add convenience to a shopper's experience if they want to ring them up on the go.
An mPOS can also assist you in making the retail checkout experience faster. With tablets, you can easily add a lane during your busiest times.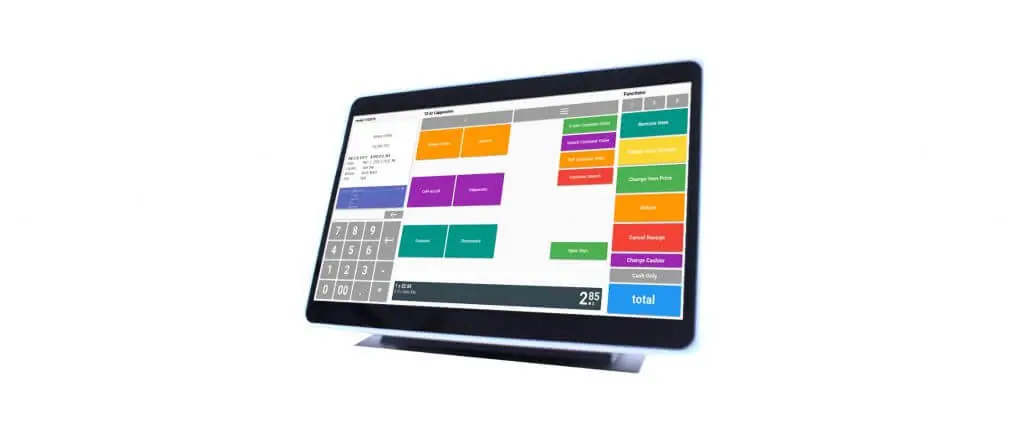 How Is a POS Purchase or POS Transaction Completed?
A point of sale purchase is the moment that a transaction tendered. For a cash transaction, this happens when the drawer is shut and change is returned. For a credit card transaction, this occurs when the card is approved and a signature is accepted.
Additionally, your POS hardware will communicate with any relevant banks and credit card processors during a credit or debit payment.
What Are POS Credit Card Processing Fees?
With each credit or debit transaction, a credit card processing company is responsible for making sure the customer and retailer banks communicate and that the money is deducted from the customer's bank (issuing bank) and transferred to the retailer's bank (acquiring bank). For this service, they take either a flat-fee or percentage of the transaction cost.
Credit card processing and the processing fees associated is a nuanced and often difficult to decipher issue for small businesses. And, in many cases, purposely so. In general, look for processors that are not also POS companies, or those that lock you into a contract.
A good processing company will be transparent and offer easy explanations for exactly what you can be charged for. Some common determinants of rates are the customer's credit card company or the way the transaction is processed (swiped, tapped, keyed, or inserted).
Look for average rates between 2 and 2.5% and check that the processor can be used with your POS system.
What Are the Different Types of Payments That Your Point of Sale Should Accept?
Currently, the most important form of payment that most business owners need to accept are EMV cards. Standing for Euro Mastercard Visa, these cards use chips in order to provide more secure transactions. The chips carry dynamic bank information, meaning the codes are encrypted and change often.
For nearly all types of businesses, accepting EMV cards protects you against possible fraud. U.S. law states that the business, not the bank, is responsible for any fraudulent transaction that is swiped. Check out our FAQ on EMV payments here.
While less critical, many businesses are anticipating the rise of mobile payments. Mobile payments are conducted through a smartphone, watch or another similar device. There are no laws incentivizing businesses to accept mobile payments, but more and more consumers are expecting the convenience of this option.
What Is the Back-End of Your POS?
Your POS system should come with analytics and reporting capabilities, such as ABC analytics, which allow you to make sound business decisions on your product. These can break down large amounts of data into more accessible takeaways.
The portal to this information is often referred to as the "back-end." The name comes from legacy systems in which you would literally go to the back of your store to the central computer. For cloud systems, this simply means accessing information that is not visible to the cashier or customer.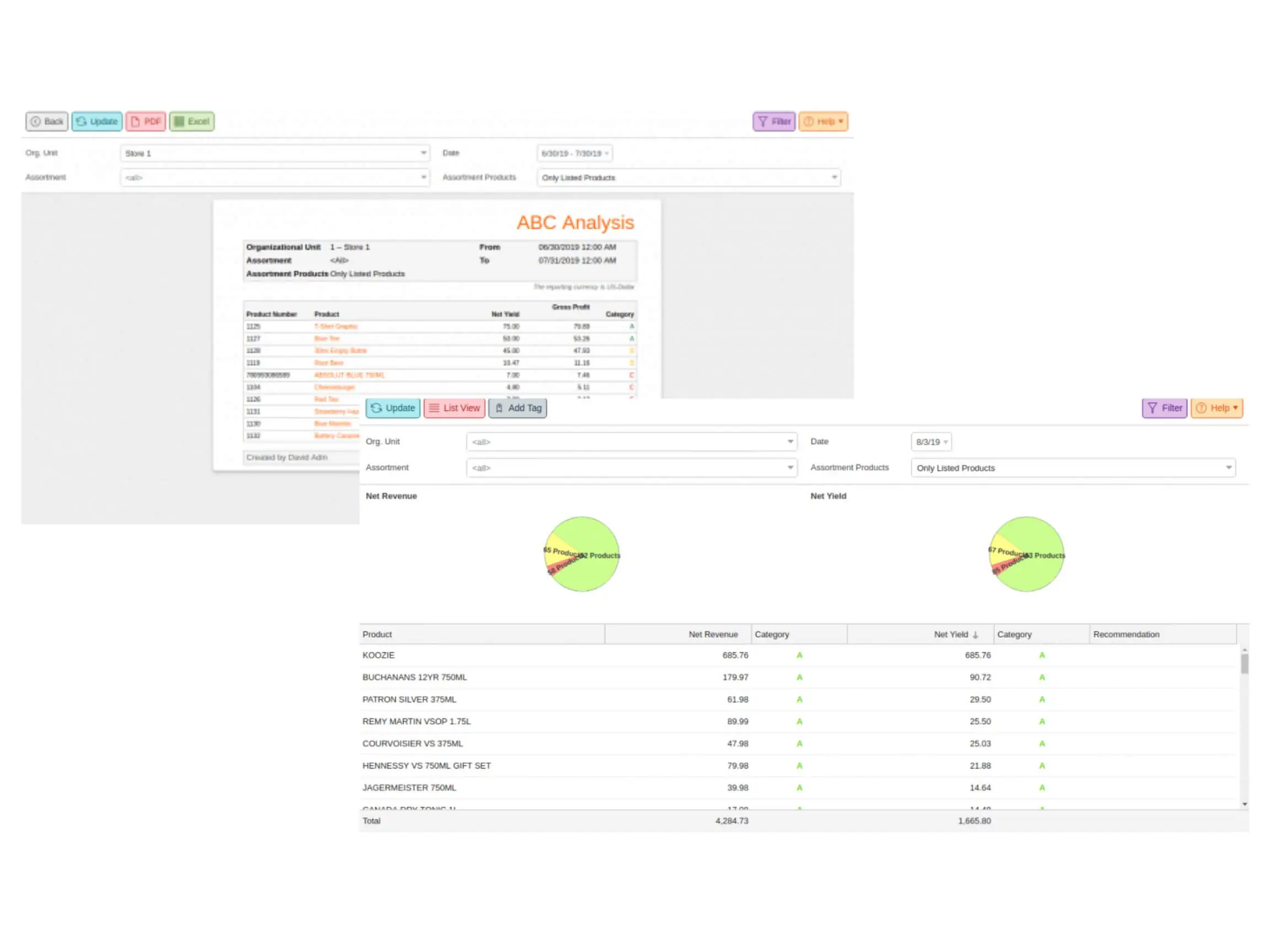 Everything You Need to Know About Your Point of Sale System
We hope that covers just about all of the basic components and terminology behind your POS system. A great point of sale can be an integral part of your business, so it's important to know what your shopping for and what to expect. To find out more, check out our other guides below, or just drop us a line. Our team is here to answer any questions you might still have.
Get Started with KORONA POS today!
Tell us a little bit about your business and explore all features that KORONA POS has to offer. And there's no commitment or credit card required.