Last Updated: June 23, 2021
It probably hasn't been that long since you've bought something based on a recommendation from a friend or family member. And that's true for most consumers. In fact, the vast majority of us trust personal recommendations over any form of marketing.
But many businesses aren't taking advantage of referral marketing as they should be. In fact, many are still asking themselves, "What is referral marketing anyway?" This is troubling particularly for small businesses who lose out on a host of potential sales and regular customers. So let's define referral marketing, look at some ways to implement it in your business, and cut back that bloated marketing budget.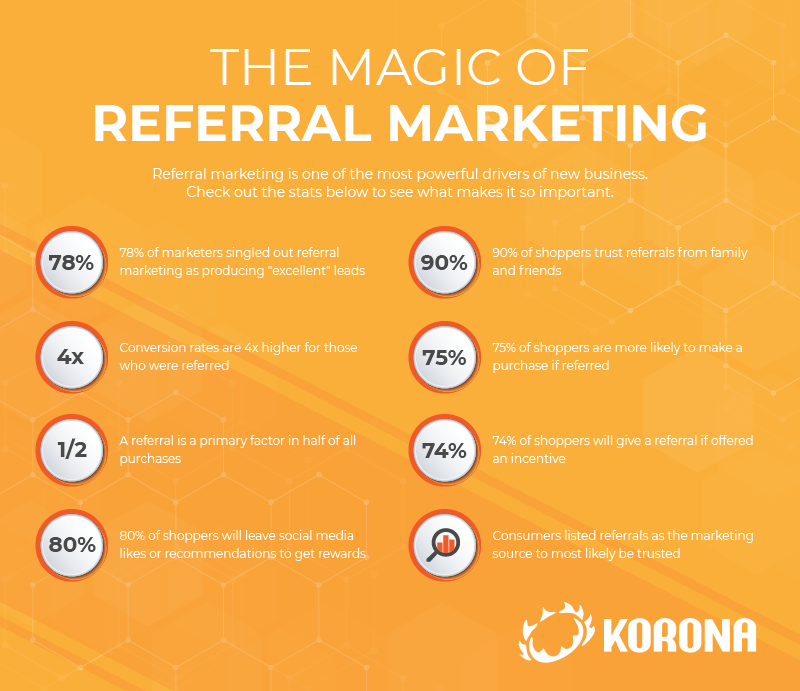 Some Referral Marketing Statistics
Let's start off with a few pieces of data that illustrate the importance of referral marketing. All statistics are from Software Advice, Forbes, Nielsen, and Market Force.
Over 90% of shoppers trust referrals from friends and family
Conversion rates are 4x better for those who get a recommendation
Over three-quarters of consumers are more likely to make a purchase when receiving a referral
A word-of-mouth recommendation brings in 5x the sales that a paid ad brings in
A direct referral is a primary factor in nearly half of purchases
Half of consumers say that family, friends, and colleagues are the most important sources of brand awareness
Over half of shoppers share some of their purchases on social media
More than half of consumers are likely to give a referral if they have a direct incentive
Nearly 80% of shoppers leave social media likes to get discounts or rewards
What Is Referral Marketing?
Referral marketing is a strategy that any business can use to increase their word-of-mouth reach. Referral marketing incentivizes or encourages consumers to tell their friends and family about a certain business.
In many cases, a person will tell someone they know about a business naturally, and that person will become a new shopper at your store. But offering referral incentives or even simply reminding your regular shoppers to tell their friends and family about you will bring in far more referred shoppers. Intentionally creating more shoppers through referrals will help your business grow quickly while keeping your marketing budget under control.
Why Does Referral Marketing Work?
Referral marketing is a powerful tool for nearly any type of business. There are several reasons that getting word-of-mouth referral can bring immediate and lasting impacts on a business. Below are a few to consider.
Referral marketing is targeted
Shoppers know what their friends and family like. So any recommendation that comes their way from a loved one or colleague will be more likely to convert to a new customer.
From a marketing perspective, you've already identified your target market and gotten the shopper in your store. With referral marketing, you don't have to worry about targeting the wrong consumers – the person giving the reference will do so for you.
Having such a niche target market already identified for you allows you to advertise more effectively and efficiently.
It's the most trustworthy marketing
Consumers always trust a person they know over any marketing pitch, advertisement, or description. That's why Yelp, Trip Advisor, and other consumer generated review sites have become so popular.
Your reach can be exponential
Word-of-mouth spreads. And these days, it can spread remarkably fast. Your run-of-the-mill shopper has a vast social network. Through social media, they can reach each of those people instantaneously, who then might share it themselves.
See related: Word of Mouth Marketing Strategies: 6 Ways to Get More Referrals
These three items make referral marketing so valuable to any type of business. So now that we've established what it is and why it's so important, let's look at the type of businesses that will benefit from it.
What Business Types Will Benefit From Referral Marketing?
First of all, any type of business will benefit from a great referral marketing program. But there are certainly some business types that will benefit more than others when it comes to growing their referral marketing programs.
eCommerce stores – An eCommerce brand can reach a target audience anywhere in the world and usually have more engaged followers on social media. It's important to get shoppers talking about your brand and a referral program is an easy way to start.
Plus, eCommerce stores can implement referral codes easily into their payment gateway. Nearly any online company that you come across will offer shoppers a discount or free item if they tell a friend about your business.
See related: Top 5 Digital Marketing Tips for Your eCommerce Store in 2021
Business to business services – A lot of massive online subscription service companies were kickstarted by exponential growth through their early referral programs. These services bring residual income for the business and are often times big accounts. Offering a referral discount for businesses that recommend the service to others can really drive more sales long-term.
High-margin sales – Businesses that sell expensive items with high margins, like cars, electronics, appliances, or jewelry, to name a few, will often offer a generous referral bonus to those who bring in new business. It's hard to attract new shoppers to these sorts of big-ticket items, and with higher margins, these retailers can afford to offer some kickback for bringing in new shoppers.
How Do You Start a Referral Marketing Program?
It's not as hard as it might seem to start a referral program. And there are so many ways of doing so. But it's important to formalize the referral program, inform your staff about it, and make the operation uniform across the board. Doing so will bring in more revenue for your business.
Start by identifying the incentives you'll offer
Most people are happy to provide a referral if they're happy with their experience at any business, but few of us do. That's why it's important to sweeten the spot. After all, even leaving a simple review can be a pain.
Incentives can come in many different forms, including discounts, cash back, store credit, or free items. Check out your competition to see what they offer for referrals and try to up the incentive a bit if possible.
Just be careful not to get too generous! You don't want to give away the farm to get a new shopper in your store. Check your retail POS sales reporting to make sure your offer isn't too damaging to your bottom line.
Make sure your customers know about it
Your referral program won't get off the ground without your shoppers knowing about it. Make sure it's clear on your website, in your store, on receipts, in your email marketing, and on your social media.
Remind shoppers of it everywhere so that they'll never forget about it the next time they see a friend, colleague, or family member who might really like your store.
Make it simple
Like anything in your store, you don't want the process to be annoying or cumbersome. It's frustrating to have to spend hours trying to secure a 10% discount – not all consumers are couponers. Likewise, you might be targeting a shopper who isn't as organized or tech-savvy and will only follow through with the referral if the process is straightforward. Don't require too many forms or sign-ins to complete the process.
Keep your staff in the loop
It's important that you rely on your team to advertise the referral program, too. Like a new product launch, store promotion, or holiday event, your staff should be informing each customer as they enter your store or check out. Your referral program should be no different.
Train your employees to "sell" the program like they would any product that you have. The more enticing they make it seem, the more likely the shopper is to take advantage of it.
What Are Some of the Benefits of Referral Marketing?
There are many important ways that referral marketing can help a business grow. Let's take a look at several specifics.
Referred shoppers are more profitable in the long-term
More likely to be returning shoppers
More commonly refer others down the road
Spend more money each time they're in your store
Provide higher lifetime value as shoppers
With a great referral marketing program, your business will be guaranteed healthy growth. It's an easy thing to implement, monitor, and adjust is need be. Rely on your point of sale system to help guide you through the process and make sure that everything is going to plan.
To learn more about how KORONA POS can help, set up a free trial. Once you get started, you can schedule a personal demo with one of our product specialists. They'll show you the ropes and upload your own product data. You can play around with the sales reporting features to see how a referral program might even work in your store. Click below to get started!