The retail industry is constantly changing and evolving. Trends come and go, and the market remains highly competitive. Of course, creating a different and compelling concept that sets you apart from your competitors is imperative. Then, you must implement that concept, so that target audience is reached and become lifelong customers. All leading retail companies have such defining characteristics and strategies. Find out in this article the key characteristics of a retail business and some important resources to better manage your retail business.
Table of Contents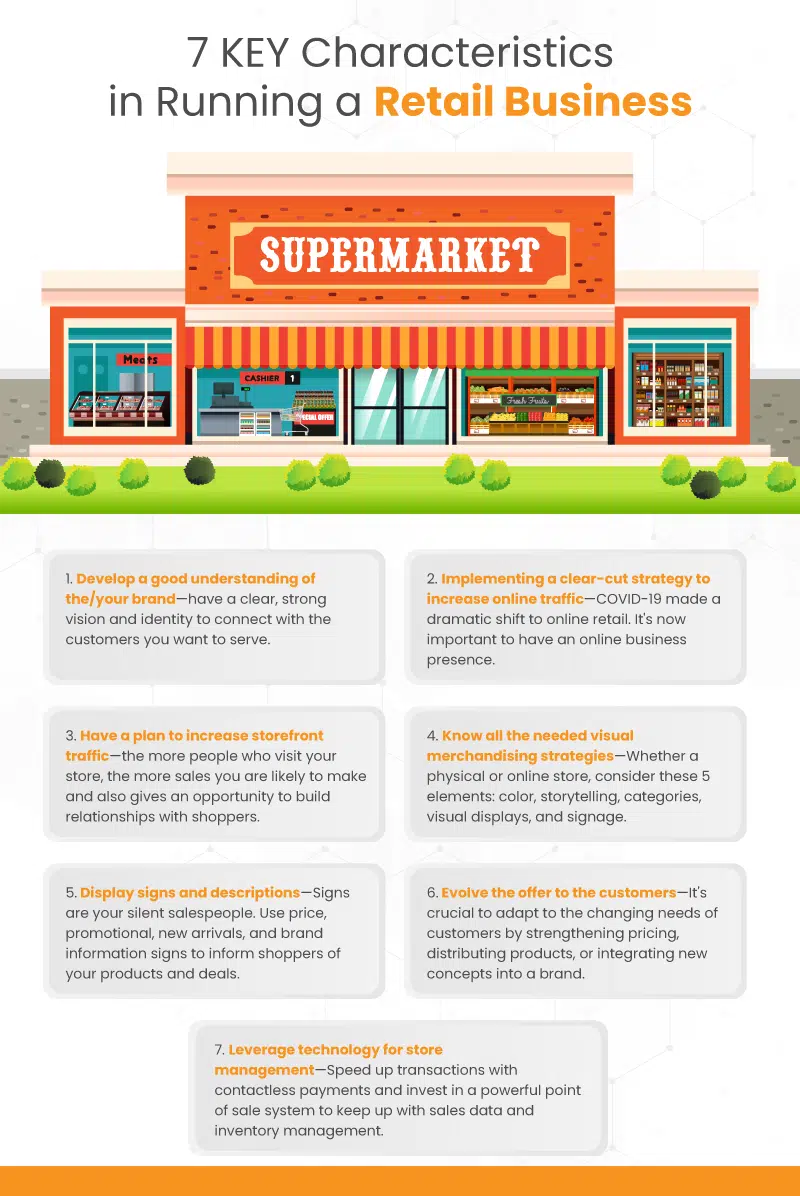 A Good Understanding Of Your Brand
One of the key characteristics of a retail business is a strong understanding/knowledge of the company's brand. Companies with successful retail concepts tend to have a strong vision that connects them to a core group of customers.
Your customers need to know who you are. The way you portray yourself online and in your brick-and-mortar store reveals everything about who you are, what you sell, the messages you want your customers to hear about you and your brand, and who your target customers are. The offering, target group identity, and value proposition are clear.
A good understanding of your brand comes down to several key factors. Are the items you offer high-end and made abroad? Or are they relatively cheap but sustainable and made in America? Are you targeting the six-figure corporate executive or the frugal student? Do you represent manufacturing and consumer sustainability?
The more you know who you are as a brand and who you serve, the clearer your message will be. Brands like L.L. Bean, REI, Walmart, The Body Shop, Muji, Tokyo Hands, IKEA, Zara, H&M, Enterprise Rent-A-Car, Best Buy Geek Squad, Whole Foods Market, Subway, Apple, Zappo's, and dozens of others have successfully maintained a distinctive offering that attracts an extremely loyal customer base. If you connect to a market segment, as long as it's a reasonable size, you tend to have a sales base, a clear message, and a set of nodes that can communicate and define your concept. A clear vision helps make that connection.
A Clear-Cut Strategy To Increase Online Traffic
The COVID-19 crisis has brought about an unprecedented change in the retail industry. This change has resulted in a dramatic increase in online shopping and consumer behavior in their shopping process. According to Think with Google, 63% of purchases start online, whether a person ends up buying in an eCommerce store or in a physical store. So one of the most important characteristics of a retail business today stems from its online presence.
Whether you have a brick-and-mortar store or not, your online presence is critical to your overall growth. If you don't have one, it's time to consider this in your plan. To define your plan, you need to understand what makes you unique to stand out among all the online noise. Once you determine what makes you unique, you need to choose how to showcase it on your site. The first few seconds of the visit are the most crucial. This is the only time you have to make that first impression that will entice visitors to browse your site.
Once you have set up your e-store, you need to think about implementing strategies to increase site traffic and, most importantly, convert visitors into consumers. You can run paid advertising campaigns on social media. Attract customers, too, through content marketing and use search engine optimization to improve your store's visibility.
Have a Plan To Increase Storefront Traffic
The more people visit your store, the more sales you are likely to make. Plus, connecting with shoppers in person is a unique opportunity to build relationships and earn loyalty. And that's where your marketing and communication skills come in.
You must develop a comprehensive plan that draws customers to your physical location. An effective way to drive traffic to a retail store is to increase short-term attendance. Hosting in-store events to introduce new products and demonstrations is a good strategy to increase customer engagement.
Similarly, arranging facilities, product displays, and merchandise is essential in driving traffic to your retail store. Developing a merchandising strategy in conjunction with your store layout plans will help you make the most of floor space to improve traffic flow.
The way you showcase items in the store, including product displays, mannequins, and window displays, also significantly increases foot traffic to your retail store.
For example, placing top-selling products at the front of the store can help attract passersby who see it from the street, and investing in window displays is a sure way to get visitors to your store.
Also, email marketing remains a smart strategy. The people on your email list are often more loyal shoppers. You need to nurture these people and ensure they remain fans. Offer them special previews of new launches, products, or collections. Encourage them to go behind the scenes of your brand and company. Offer them incentives to come and shop in your store.
Implement Good Visual Merchandising Strategies
In retail, first impressions matter most. A store that wants to stand out from the crowd must be consistently at its best, offering the best visual representation of its products at all times. Thus, understanding the importance of having and implementing a solid visual merchandising strategy is essential to attracting more customers.
Visual merchandising encompasses everything from window displays and product displays to in-store signage. When implementing a merchandising strategy, there are five critical elements: color, storytelling, categories, visual displays, and signage/descriptions. These five elements work the same in physical or online stores and produce the same result.
Color
Colors tell your customers the characteristics you want them to know about you and your brand. When you hear Starbucks, you think of green. When you see yellow arches, you think of Mcdonald's; when you think of Facebook, the color that pops up immediately is blue.
Facebook's website is full of blue accents, the logo is blue, and blue is prevalent throughout the user experience. In contrast, at Starbucks, green is present in the stores, employee uniforms, website and app, and packaging. Color sets the mood for brand expression. Emotions are powerful and can influence decision-making.
Categories
Categories are how your products are grouped. You need to group similar items or collections together in your store and on your website, so customers can find what they want quickly and easily. You should also create subcategories where possible. This makes the shopping experience even more streamlined.
Storytelling
Brand storytelling is important because it allows businesses to personalize their brand and create a deeper connection with their customers. Developing an effective brand storytelling strategy can help your audience learn more about your brand, purpose, and products.
There are several types of brand storytelling, such as data-driven brand storytelling, visual brand storytelling, audience-centric brand storytelling, mission-driven brand storytelling, etc. The stories you create should inform your customers about your product – how, what for, and where it can be used. Your website's stories can be built around a general theme, such as new arrivals, sale items, or new brands you offer.
Visual Displays
Creativity is the key to quality visual displays. Brick-and-mortar stores should change the type of props used, the number of items per display, and the mannequins used in the windows. As for online stores, be sure to vary the photos' layout with different types of displays in the photos. The more variety you can offer your customers, the more they will engage with your website or store.
Signs/descriptions
Signs are your silent salespeople. Effective signage can bring customers into the store, show them where to find what they want, introduce them to new products and alert them to good deals. If your signage follows simple guidelines, you can increase sales while providing your customers a pleasant shopping experience. A practical signage strategy will include the following:
Price signs – highlight essential items and regular solid prices

Sales/promotional signs – showcase great deals and special promotions

New arrivals signs – let your customers know what's new in your store

Brand Information Signs – brand information signs provide behind-the-scenes information about the brands you carry. Use them only in key areas of the store.
Like signs in a brick-and-mortar store, the text you use on your website should serve to inform and engage with your customers. If there isn't enough information about your products, your customers may become frustrated and confused and, ultimately, leave. Too much information can make your pages look cluttered and distract from the main purpose of your website – your products. Consider each of these strategies when planning your sales goals for your brick-and-mortar store or online store.
Evolve The Offer Of The Customers/ Evolve Your Brand
One of the essential characteristics of a retail business is the ability to adapt to the changing needs of its customers and evolve its offerings. From redesigning core brand assets to the marketing and digital elements that support them, there are many different ways to breathe new life into your brand or simply bring an entirely new concept. Here are some ways to evolve your brand and offerings.
Think about the product in a new light – when you redefine what something is or could be, you reframe its context, and it's much easier to redefine what it can be used for. When you stop thinking of milk as a beverage, for example, and start thinking of it as a food, you change the scope of the product you're working with in many ways.
Distribute your products differently – changing the distribution channel can be a very effective way to turn your white-label product into one that is appreciated by a more specific audience. iTunes has put value back into music by reinventing the concept of a "single" into a single digital track and allowing people to buy the music they wanted in a new way at a new price. Tablets have the same effect on books and magazines: they are redefining how consumers access and purchase content. New concepts like BOPIS (Buy Online Pick Up In Store) are all strategies you can develop to improve the consumer experience.
Price differently – This approach is especially effective when combined with segmentation. Target different parts of the market with products that have different levels of added value and are priced accordingly. For example, you'll find mass-market products at mass-market prices, high-end or specialty products at high-end prices, and consumer-focused products that can operate at flexible prices.
Integrate social and environmental programs into the brand– It is noteworthy how many successful new concepts integrate social or environmental programs into their offerings. Whole Foods and Muji have broken through with visible substance and are seen to share the values, interests, and even lifestyles of a significant customer segment. Muji is very environmentally conscious in its offerings and, in addition, has developed a set of three large campgrounds that allow people to enjoy undisturbed nature.
Best Buy's "Greener Together" program implements its recycling and sustainability programs. The slogan "Whole Foods, Whole People, Whole Planet" reflects Whole Foods Market's many programs, such as using farmed seafood, wind power as an energy source, and reusable grocery bags. Retailers have the unique opportunity to experiment, test many concepts with modest investments and wait for a concept to hit. They have many variables to work with, including location, ambiance, selection, visible policies, and customer interaction.
Technology At The Heart Of Store Management
Another key characteristic of a retail business is technology to streamline store management and make the consumer shopping experience easier. Today's retail ecosystem is heavily technology-driven, leaving retailers with little choice but to keep up with the latest developments and integrate them into their business. Retailers lagging behind in technology cannot seize the opportunity and, in doing so, risk dissatisfying their customers and losing opportunities.
Point of Sale System
The point of sale system is the backbone of running a successful retail store. Modern POS systems offer much more functionality than just transaction management. They can support other business functions and make essential decisions:
Centralizing your inventory management

Collecting and viewing sales data in real-time

Building detailed customer profiles

Accepting payments anywhere

Improving in-store sales

Open new stores faster

Adapt to changing business needs
With the help of handheld computers, scanners, and printers with integrated credit card readers, the point of sale can be made fully mobile and, therefore, much faster. In times of high sales, these mobile point of sale terminals can be used throughout the store at multiple locations so that customers can quickly charge their purchases at any of these counters. In addition, sales staff equipped with these mobile terminals can process transactions while moving through checkout lines to speed up the payment process.
Price checking has always been a tedious process for most retail businesses. Using wireless devices such as a tablet or laptop, the salesperson can check price tags on all products by scanning the shelf tags with a barcode scanner. These devices can be linked to the store's central product database, which is also linked to the payment terminals, to track product prices.
However, it is important to note that there are a plethora of POS providers in the market. Do your research on POS providers and try out a few demos to ensure that your choice of POS is the best one. If you are looking for the right POS system for your retail store, check out the following blogs to make a better choice:
Contactless Payments
Contactless payments are one of the most significant technological advances in the payments world. They help speed up the payment process in retail stores. Contactless payment systems can accept credit cards, debit cards, smart cards, or even devices like smartphones and tablets through radio frequency identification (RFID) or near-field communication (NFC) technologies to secure payments. For online store owners, they should have all payment methods available online to make the checkout process easy and reduce cart abandonment.
Augmented reality
Some companies, such as IKEA, are also offering additional services through their catalogs, using augmented reality to give customers a virtual view of products. The goal is to help shoppers make better and more confident decisions when choosing a product. Augmented reality is one of the best ways to improve the customer experience and increase sales, and is becoming increasingly common in some retail businesses.
Inventory management software
Inventory management software is a tool that automates aspects of a store's product catalog, streamlining the tasks needed to track inventory, manage replenishments, and update accounting data efficiently. Today, most inventory management software is cloud-based, which most experts recommend. Cloud-based software doesn't require you to maintain servers or IT staff, nor does it require you to establish your cybersecurity plan. Instead, the software company manages cloud-based software for you. Cloud-based software is typically a monthly subscription and can significantly reduce the cost and challenges of managing the system. Retailers should look for the following features in inventory management software: point of sale integration, inventory catalog, automated replenishment, eCommerce integrations, barcoding, etc.
Should you be looking for inventory management software for your retail store, check out the resources below:
Get Started with KORONA POS today!
Tell us a little bit about your business and explore all features that KORONA POS has to offer. And there's no commitment or credit card required.
FAQs: What Are The Key Characteristics Of An Enterprise In Retail
1. What are the three keys to retail success?
While there are many aspects to a successful retail business, there are three essential elements to a successful retail store: the quality of the products you sell to customers. the price at which you sell them, and the location (distribution). Are you offering the products your customers want through their channels and locations? Are the prices affordable or too expensive?
2. What are the key characteristics in retailing?
Price, convenience, and store experience are functional characteristics that make up a strong retail brand. These functional characteristics are common to almost all retail stores. A brand can use its in-store experience to create an emotional connection by matching its brand characteristics to consumer values.
3. What is a retailing enterprise?
A retail business is a business that sells goods individually or in small quantities to consumers. 
4. What is a POS retail system?
Point of sale software is an operating system that retailers use to manage their retail store operations. Point of sale software helps merchants manage sales and track inventory, employees, and customers. It also comes with reports that help retailers gauge store performance and sales over time.