You're reading this post for two possible reasons.
One, you're starting a business and you want to make sure you are doing everything right.
Two, you've been running your business for quite some time but haven't implemented an employee benefit program yet.
These are valid concerns.
Oh, there's one more possible reason: you're unsure about employee benefits because your business is small. You're afraid that a small business employee benefits package is way out of your league.
But there are so many reasons that small businesses should offer employee benefits. Many benefits are more affordable than it may seem. And they're great ways to attract top candidates and retain your best employees. Whether you're just starting out or looking for the best type of employee benefits for your business, this guide is for you.
What are Employee Benefits?
Employee benefits are perks or privileges given to employees on top of their salaries or wages. These non-wage compensation packages can come in many forms, from healthcare to free travel, retirement pensions, and more.
Some employee benefits are required by law, such as payments to Social Security and Medicare. Businesses can also contribute to disability programs if your state has one. Disability insurance includes giving equal benefits to disabled veterans in the U.S.
So, if you're just starting a business, you better start with these two basic employee benefits to avoid legal problems.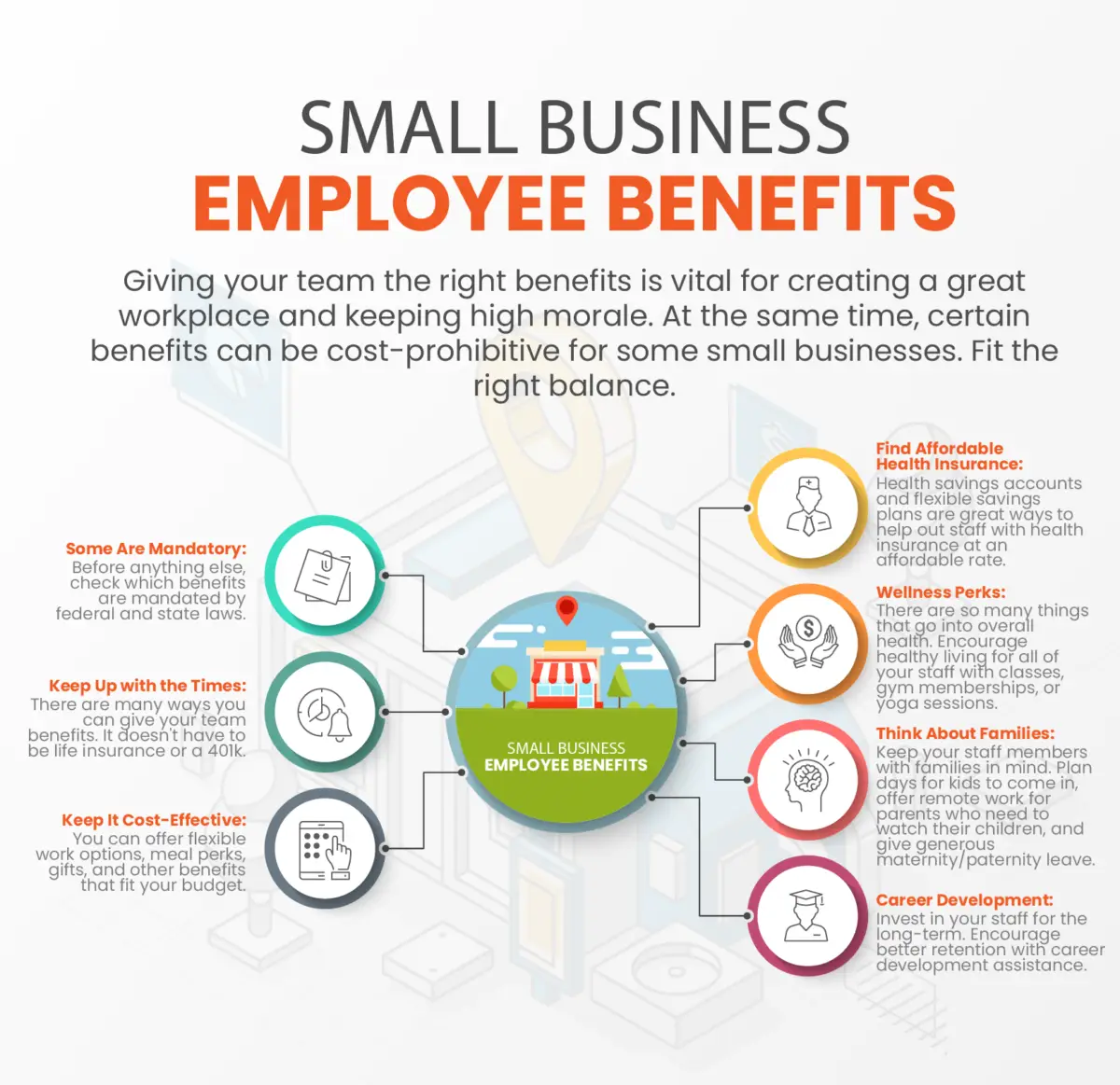 Do You Really Need Employee Benefits?
Companies in the U.S. have a turnover rate of 22%, which is a significant number. Of this, 81% left their employers for better job opportunities.
With the rising scarcity of top talents, employee benefit packages have become more important than ever.
Its greatest impact is on employee retention, obviously.
Research shows that employees who enjoy perks and benefits in their workplaces are less likely to leave. But that's not the only benefit.
Turns out, employee benefits are also a way to motivate and encourage your employees to perform. Benefits, along with competitive salaries and positive work culture, are several of the main drivers of job satisfaction.
And some benefits are mandatory – all businesses must purchase workers' compensation insurance and businesses that are larger than 50 employees must provide health insurance under the Affordable Care Act (ACA).
Having a benefits program in place is a great tool to boost employee morale. In turn, you can expect productivity, efficiency, and genuine concern for your business from these people.
The New Face of the Employee Benefits Program
If you only have life insurance in mind, you're stuck in the past.
Over the years, employee benefits packages have evolved to provide a holistic approach to employee well-being.
More and more employees prefer innovative benefits programs that touch on various aspects of well-being, including mental health.
Affordable Employee Benefits for Small Business
Right now, you're convinced that employee benefits are crucial to keeping your workers happy and engaged.
But there's one more problem: you don't have the budget.
It's always terrifying for those starting a business to come up with a benefits plan due to financial issues.
But here's the good news – you can devise an attractive benefits program for your employees without wrecking your small business budget. These include staff discounts, perks, and wellness benefits, flexible work options, free meals, workers' compensation, and greater flexibility.
The topics below go into a bit more detail:
Consumer-Oriented Benefits
This is an affordable setup that many small businesses use today. You're giving your staff the privilege to choose which perk or benefit they want, according to your budget. These could include anything from wellness allowances to premium wellness apps, gift cards, fitness perks (membership to a sports club they want), and so on.
Flexible Work Options
If you have busy moms or working students in your staff, allowing them to work from home when necessary is an amazing (and virtually free) benefit. Many people quit their jobs due to stress-related concerns. Giving them flexible schedules and helping them achieve a life-work balance is one of the best perks you can give to them.
Meal Perks
How about stocking up on healthy snacks in your office? Research shows that companies that offer free snacks have happier employees than those who don't.
Instead of snacks, it can also be free lunches or breakfast, or whatever suits your business. You can also arrange for weekly team dinners or lunches by ordering in or going out to a restaurant.
Workers' Compensation
Accidents can happen at any time. Consider getting your staff workers' compensation insurance that covers salary replacement, medical bills, and rehabilitation allowance. Typically, the cost of a workers' compensation plan is 1.4% of the employee's salary. And, in some states, workers' comp insurance is required by law.
Affordable Health Plans
The most common type of employment benefits is health insurance. Since you are already contributing to their Medicare plans, some great options that won't hurt your wallet are HSAs and FSAs.
Health savings account (HSA) – This is a tax-advantaged account that your employees can use for medical expenses. It can also serve as a retirement account.
Flexible savings accounts (FSA) – This type of savings account allows employees to save up a portion of their pre-tax earnings to pay for future medical expenses. As the employer, you will pre-fund their account and they will make the contributions throughout the year.
With HSAs and FSAs, you don't need to pay taxes for employee contributions, which can save you money.
Wellness Perks
Promoting wellness practices in your company is an affordable way to keep your employees happy and productive. After all, prevention is better than cure". So, before they catch a cold or some flu virus, help boost their immune system by providing your employees with wellness treats.
Some ideas would be a weekly yoga session in the office, in-office exercise classes, quarterly fitness challenges (with amazing prizes), or free memberships to wellness apps.
Think About Families, Too
Another way to keep your employees engaged at work is by extending their benefits to their family members. Here are some ideas:
Provide a better parental leave plan beyond the legal requirements in your state.

Offer meal stipend once or twice a month or gift checks that they can use to buy groceries.

Plan for "bring-your-kid" days at work. Think about creative ways you can help with childcare.

You can also plan for "bring-your-pet" days. After all, pets are family members too.

Offer gifts for new parents. These can be anything from baby bath sets to prepared meals.
Career Development Programs
Great employees value learning. You can find low-cost development programs that will help your staff enhance their skills and learn new ones that promote career growth while also benefiting your business.
Pay for online training courses and certifications.

Organize activities where employees can learn from their peers.

Launch a mentoring program where you team senior employees with newbies.
Retirement plans
Just like you, your employees are thinking about their retirement. To stay competitive, experts recommend that small companies provide retirement plan packages, too.
Retirement plan packages vary. A reasonable term is something that allows the employee to contribute up to 6% of his salary to his 401(k), and you – up to 3%.
Building a Low-Cost Employee Benefits Structure
Now that you have plenty of knowledge and ideas about affordable employee benefits for your small business, it's time to put those into action.
It's important to be strategic with your employee benefits plan. You want to make sure you don't get hit by the costs and that your employees will be happy.
Here are some tips to get started:
Set a budget. Don't be pressured by what other companies are doing. You can eventually grow your employee benefits plan over time.

Set clear goals. You can only choose a few. Make goals and choose the benefits that help you achieve your goals.

Try to be competitive. The ideas we've listed here are just some of the many perks and benefits you can offer to your employees. Be creative.

Think of mutual benefits. Consider how these benefits will benefit your company too. Or how they are going to add value to your business.
Employee Benefits in 2021 and Beyond
Small businesses across the country are starting to offer their staff more competitive benefits. Start by considering the big ones. Health care and retirement benefits are the most important for most individuals and families. Also consider some lesser benefits for your team, like daily perks, more flexibility, and free/discounted items. Help out families as much as possible, too. And improve retention with career development programs. Small businesses can start small and add more benefits over time.
With all these tips and ideas, you can successfully set up a low-cost employee benefits structure that works for you and your team.
Jim Hughes is a content marketer who has significant experience covering technology, finance, economics, and business topics for about 3 years. At the moment he works as a content manager at OpenCashAdvance.com.