Operating a retail business is no easy task, and it can be particularly challenging when an owner is faced with unexpected challenges or financial burdens.
For small businesses, these expenses can be detrimental depending on the severity of the emergency. It could be something as simple as a computer or point of sale system needing repairs, or a larger issue such as structural damage to a retail space. No matter what the emergency is, it's important for any small business owner to be prepared to manage the fallout that comes after an emergency occurs.
Identifying the risks your business could face and preparing a plan that lays out all the options available to you is the most strategic method of managing a business that's prepared to face any situation. Let's take a look at tips you can use in your own business emergency management.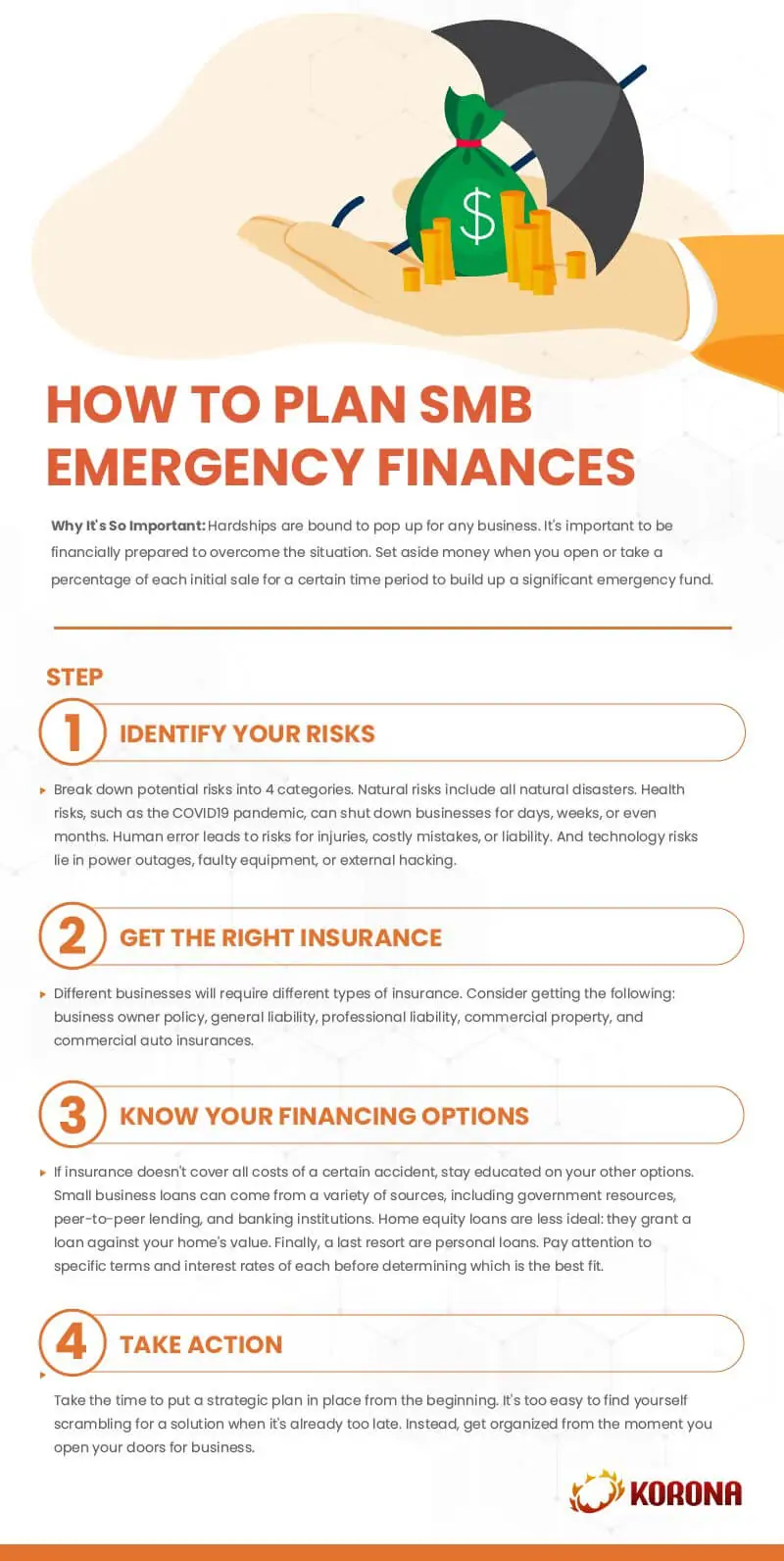 The Importance Of A Small Business Emergency Expenses Fund
Many financial experts would agree that having an emergency fund set aside is the best way to manage any unexpected expenses you could face.
There are many ways you can start the basis of your emergency fund. For some, this could be investing their own personal assets, but for many this isn't always an attainable option.
One smart way to budget out your emergency fund is to set aside a realistic percentage of each sale that you make from your business. Over time, this will grow into a comfortable savings account that you'll be able to rely on. Though affording this could require something as small as 1% of all profits, it's still money you'll have at your disposal when the time comes.
Knowing that you have any asset available to fall back on can make an emergency seem less daunting. If you're unsure of where to begin, there are many resources and financial advisors available that can help you get started in this process.
Identify Your Risks
The first step in having a strong management plan in place is to identify any risks that could be potentially problematic to your business. Break them down into categories and try to list as many variables you can think of under each category.
Natural
Health
Human
Technology
1. Natural
Certain natural disasters could threaten your business more than other risks depending on your geographical location. Worries such as hurricanes, tornadoes and earthquakes could cause massive damage to your storefront. Unfortunately for you, these risks are unpredictable and often unavoidable. Doing your best to identify and plan is the best way to combat them.
2. Health
As the recent year has shown us, health risks such as global pandemics or even a seasonal flu can pose threats to a small business owner. Being forced to close down during a quarantine period isn't something many people would have had planned for prior to recent events, but it's safe to assume that this will be a top priority for businesses moving forward. It'll also be increasingly more important to have proper sanitation procedures in place, further adding to the overall costs of running a business.
3. Human
Human error is far more common than many business owners often imagine it is. Though accidents happen, human error can become a costly mistake for a business. Additionally, any onsite accidents an employee has could mean costly medical bills or liability claims. Try to identify common errors or safety issues that could arise, and develop a strategic training and management program to avoid these risks.
4. Technology
Technology risks come in many forms. It could be a neighborhood power outage or it could be an equipment malfunction. For tech systems that business owners rely heavily on, it's important to prepare for the side effects of a system failure, whether it's down for 2 hours or 2 months.
Take Out Insurance
Having an insurance policy out on your small business can help reduce the financial implications associated with many of the above risks. Protecting your business from liability suits is vital. Depending on the size and nature of your business, you'll want to research the best comprehensive coverage for all of your businesses needs.
Take all your equipment, materials and technologies into consideration to be sure you chose the right policy. Below are some of the most common policies retailers opt in for:
1. Business Owner's Policy
This policy is comprehensive of most business risks. It gives the owner protection against risks such as property damage, lost income, and liability costs.
2. General Liability Insurance
This insurance covers the financial ramifications of lawsuits made against your business for bodily or property damage.
3. Professional Liability Insurance
This provides coverage against the financial burden caused by a lawsuit that claims your business had an omission or error in its services.
4. Commercial Property Insurance
This type of insurance offers protection for damage created by natural disasters that have damaged the property of the retail space.
5. Commercial Auto Insurance
This is important if your employees use a company vehicle. This insurance will cover them should they get in an accident while operating the vehicle.
As a retail business owner, it's critical that you consider the importance of having an insurance policy. It should be taken as seriously as one takes health insurance or home insurance in their personal lives. Having this coverage available when the need arises can save your business hundreds to thousands of dollars in emergency expenses.
Know Your Financial Options
When insurance doesn't cover the emergency you're being faced with or the cost is greater than imagined, you'll need to have a back-up plan in place. Knowing which external financial options you have available can make it easier to apply for one. The best option is to consider taking out a loan in the amount of the damage.
Small Business Loans: These loans are available in a range of increments, and they're specifically for small businesses to use as a source of capital when needed. There are actually several benefits of business loans that you may not know about.
Home Equity Loans: This alternative loan option can be used to come up with extra cash when needed to pay for emergency business expenses by using personal property as an asset. This loan uses your home's equity value to provide you with the necessary money in a loan that can be repaid to your mortgage lender.
Personal Loans: A personal loan is another option that can be used in times of need. Most banks and credit unions offer convenient personal loans you can take out in the amount needed.
There are many considerations to take into account when choosing the right loan option, from best interest rates, to length, to which provider is best. The better your financial wellness and credit score are, the better the options you'll have available to choose from when the time comes.
See related: How to Qualify for a Small Business Loan: 6 Key Areas to Consider
Make A Plan And Take Action
Proper emergency management requires a business owner to have a strategic plan in place. Using the above information, you should sit down with the stakeholders in your business to create a thought-out plan that'll help alleviate future stress around emergency expenses. Don't wait until an emergency is in front of you to tackle it, there are many steps you can take today to be prepared for any type of emergency.
To learn more about how protect your small business from emergencies and improve your overall operations, subscribe to our blog. And for a better POS system, sign up for a free trial below. Robust point of sale software helps businesses improve efficiency and boost profits, leaving you with a more comfortable emergency fund.
Get Started with KORONA today!
Tell us a little bit about your business and explore all features that KORONA has to offer. And there's no commitment or credit card required.