Updated: November 8, 2022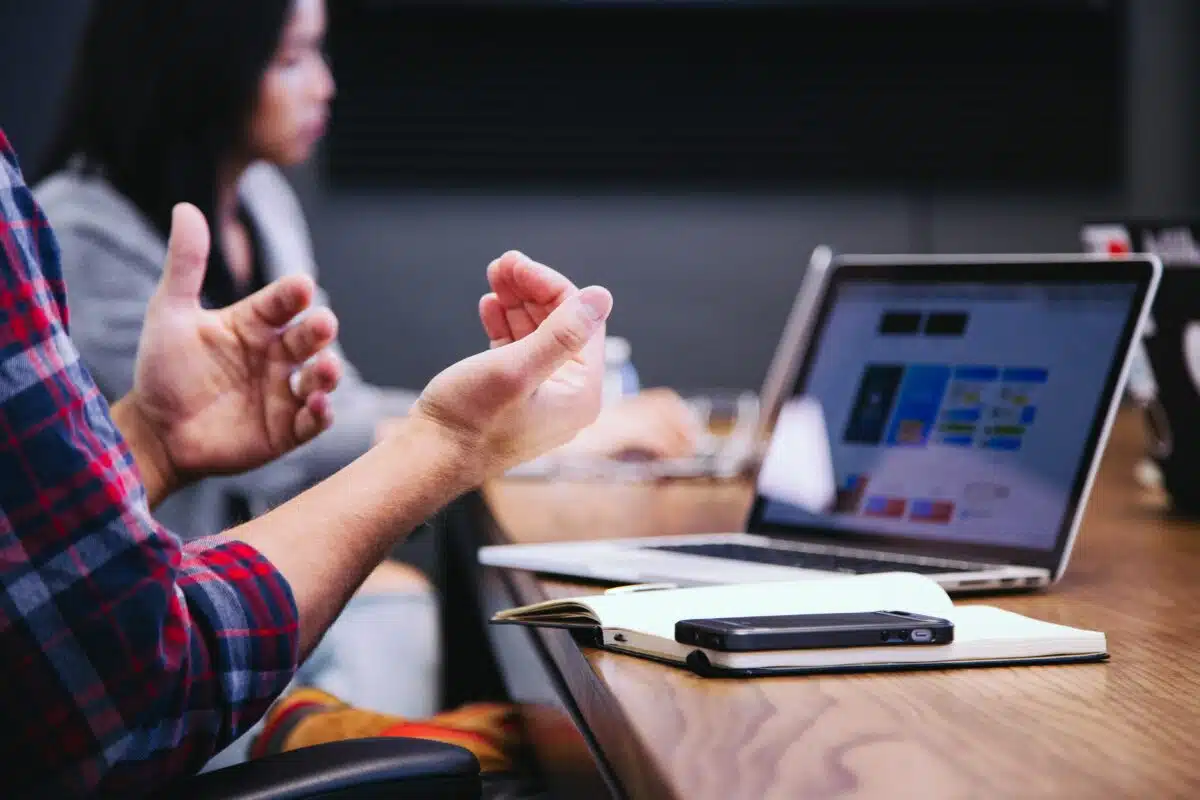 What is SEO anyway? An abbreviation for search engine optimization, SEO is a set of strategies meant to improve a website's ranking on search engines, primarily Google. It's at once remarkably intuitive and punishingly nuanced and finicky. It's also absolutely essential to do well. So why is SEO for retailers so important?
Many retailers believe this is only necessary for eCommerce sites, but brick-and-mortar retail stores will benefit from a great online presence; more online traffic will typically translate to more foot traffic.
And ranking highly on Google is even better. The first result of any query on Google has a 39.6% click-through-rate (CTR), while the second and third results drop to 18.4% and 10.1% respectively. A higher CTR means more visitors and more sales.
SEO also requires patience and persistence: changes don't happen overnight, and when they do, continued positive results necessitate constant maintenance. So let's take a look at the basic SEO steps necessary to boost your retail website ranking and drive more sales. Check out the video for a brief tutorial and the rest of the blog for a more in-depth look!
1. Attract a Local Audience
Before you even start worrying about your website and its content, get your online business listing organized and up-to-date. It's actually pretty simple.
Go to

Google My Business

, fill out their brief form and verify your business.

Verification can be done through various means, but is typically completed using a postcard. It's mailed to your physical address after which you're required to send the postcard back to Google in order to prove your business location.

Add extra details, like your business name, address, phone number, accurate hours, and a link to directions.

Gather as many reviews and photos as you can to include.
Below is a great example of a Google business page from one of our favorite stores 🙂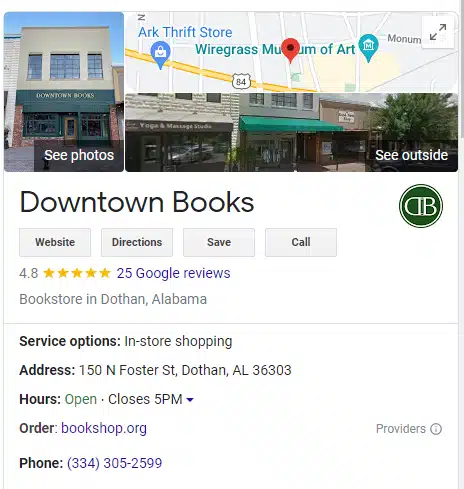 You can also try Google Local Inventory Ads. These enable to offer your product inventory in real-time on Google Search and Maps. Local shoppers will be directed to your store or eCommerce site to make a purchase.
Be sure to list your business on as many other sites as well. Include your information on those sites with the highest amount of users and traffic, like Yelp, and Facebook, as well as any niche business sites that are relevant to your retail store. Triple-check details on each to ensure all information is correct and perfectly consistent. Inaccurate online information easily frustrates potential customers.
Ideally, you want your business to come up in Google Maps Pack. These are the businesses that Google maps recommends based on your search query. Making it into this recommended section can do wonders for your traffic and sales.
2. Start Your Research
So now that you've established your store's presence on Google, begin your research on building out your website.
This project is extensive, but if properly done can make your work down the road a lot easier. The key is to find your target audience through your keywords, thereby generating more business. Targeting the wrong audience is like building a house with a shaky foundation. Your website might look great aesthetically, but it will eventually collapse on any search engine.
Building a website isn't just about ranking on Google for any old term. It's about ranking for terms that a potential customer to your store is searching for. So it's important to do the proper research beforehand to determine what searches your retail website should be targeting.
A) How Do You Target Keywords?
Great question. It's difficult.
Put yourself in the buyer's shoes. What does your average customer want to see? How would they search for a product? Again, you want traffic that is going to generate a sale.

Look at the competition

for each keyword. Sometimes ranking for competitive keywords is unavoidable, but always try to go after those with less competition.

Analyze your industry competitors' websites for keywords that they target. You'll likely want to target the same words or slight variations of them.

The same goes for

search volume

. Target keywords with greater search volume. It's often difficult, but finding the combination of low competition and high volume is ideal.

There are many

free keyword research tools

, such as

Ubersuggest,

that help narrow down your results.

Google Adwords

also has a free tool that differentiates global and local searches. If it's in your budget, paid services might be worth a few extra dollars for more advanced data. Below you'll see the results on Ubersuggest for the keyword, "SEO for retailers." The columns on the right show the term competition and search volume.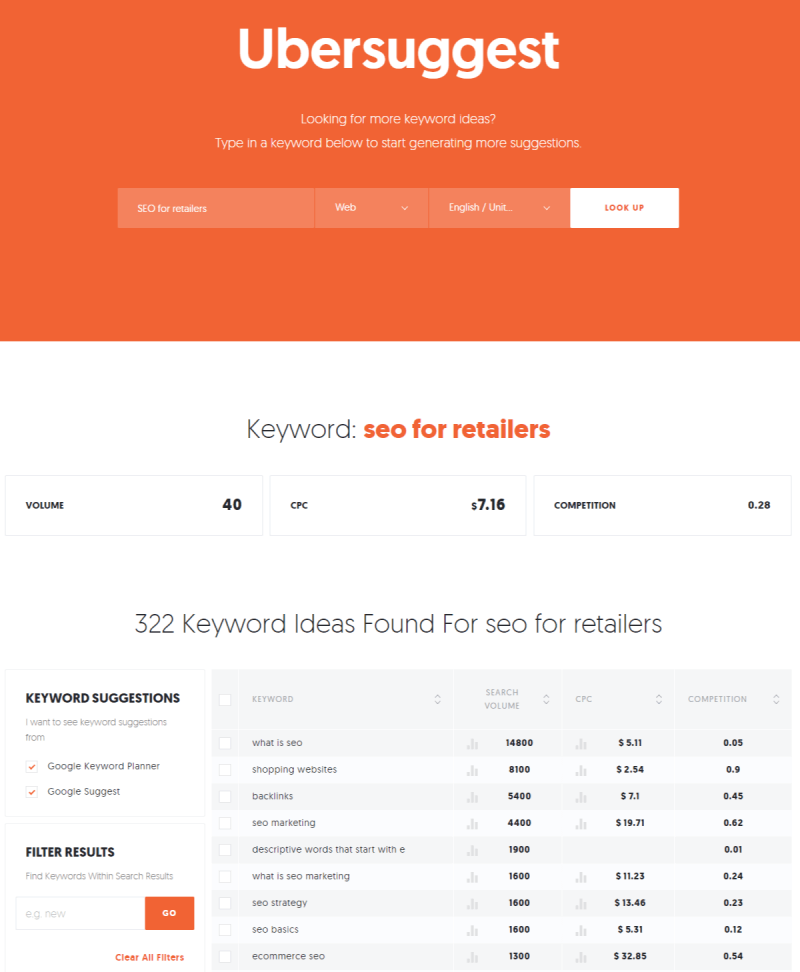 B) Watch Out for a Few Major Pitfalls
Focus

is the most important aspect. Broad keywords will get you nowhere, even if you rank for them. Broad keywords attract a larger audience, many of whom will not interested in your specific product. This will lead to more people leaving your site quickly (something called the "

Bounce Rate") and a lower percentage of conversions. Both of these are red flags for Google.

Though the top keywords have a high search volume, they only constitute 25-30% of all searches. More specific keywords are still valuable; you just need to target more of them.

When writing pages of content for your website, be careful not to choose keywords that will compete with any other pages on your site, especially your landing or product pages. This is called

keyword cannibalization

and is a quick way to get your content buried in any search engine. Writing similar, supporting content is great, just don't make it directly competitive.

Similarly, don't write duplicate content. Copying and pasting is ALWAYS poor practice.
C) There Are Three Types of Keywords to Target
Product Keywords: These are focused on the actual products that you're selling and will naturally be more product focused. Your product pages need to be optimized just like any other page. Just be sure to differentiate your product keywords from those in the next two categories.
Category Keywords

: Scan competitor websites to see what they are trying to rank for. You can follow related product suggestions and similar searches to get an idea of other category keywords to rank for. Category keywords will be found on your landing pages (these are basically your homepages for different sections of your website).

Content Keywords

: Your blog is a great place to host pages with your content keywords. You have more freedom with your blog and can use it as a place to get people informed about your website and product, even without making a sale. Here, you can also target

long-tailed keywords

. These are even more focused than the main keywords you chose during the initial keyword research.
3. Web Page Structure and Optimization
So you've finished the hardest part of the process. What's next? Well, creating great content and building out the website. While creating the content, it's important to ask yourself two questions:
How can I optimize each page individually?

How does this page fit into the broader picture?
More content is great, but it has to be quality content. It also has to fit into the story/brand of your business and the rest of your website. Also, remember that Google's main concern is to provide the best answer to each query it receives. There's no tricking it. Instead, your job is to attract potential customers with useful information. And with over a billion websites and more than a trillion Google searches per year, you need to find ways to make your retail website stand out.
A) Keyword Optimization
Once selecting a great keyword for a product, landing or blog page, make sure it's used correctly throughout the page. Keywords should be used 3-5 times and only in a natural way. Also, include your focus keyword in the following:
Title
Meta Description
One Sub-heading
Product description
URL
Image File Name
Image Alt-Text
Be careful not to "stuff" the keyword too much, however. Google punishes pages which try to rank for a keyword by the sheer number of uses. Again, its concern is quality over quantity.
B) Structure of Your Site
Your website must be intuitive and easy to navigate, both for search engine crawling, as well as for your users. Keep it simple and scalable. Creating the right framework makes expanding your product line easy.
Make sure every page is within a few clicks from your homepage. Your top pages hold the most authority. If a page is too far away from those, that page will receive a fractional amount of this authority. You never want any pages, especially your retail product pages, lost in the ether.
A poorly structured site will also take authority away from your most important pages: homepage/landing pages, and product pages. Again, this will confuse search engines and users. Like keyword research, look at your best competitors' sites for inspiration on a good structure. Just try to do it better.
C) Add Internal Links
Do this tastefully. Using relevant anchor text, insert links that provide value and keep users on the website. This allows you to dictate added importance to keywords. Like keyword optimization, don't overdo it. Too many links is a bad sign for Google.
D) Increase the Usability
Make everything informative, fun, and easy to use.

Ensure that the checkout process is seamless and quick.

Add clear ways for users to contact you.

Consider installing a chat feature (just like our friend Beatrice in the bottom right corner!).

Make sure CTAs are bright and bold.
E) Optimize for Mobile Use
Mobile browsing now accounts for over half of all internet usage. And consumers are doing more and more shopping on their phones. Conversion rates are still lower than desktop usage, but the number of goods sold through phones will continue to skyrocket. Luckily for eCommerce stores, mobile SEO is easy. Just check your mobile usability on whichever SEO plugin tool you decide to use (Yoast is one of our favorites. It gives simple, constructive suggestions on how to optimize each page). Never worry about creating a second website or page for mobile browsing.
F) Add Customer Reviews
You will certainly increase conversion rates by adding customer reviews to your eCommerce store. Email customers shortly after a purchase asking for a review. Once added, it automatically gives you more unique content. Also, add reviews attached to your website on Google search results.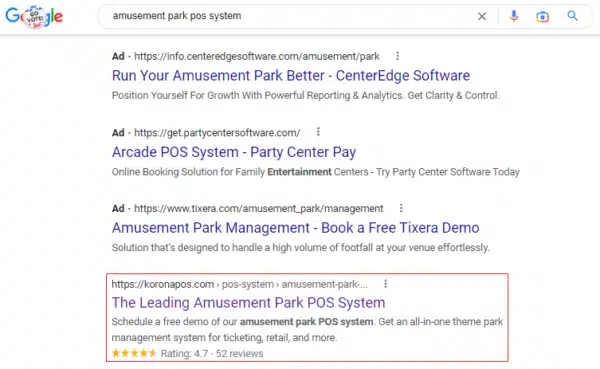 This can easily be done through Schema. It's free and adds immediate credibility to your site. 80% of customers check reviews while shopping, so make them as easy to find as possible.
G) Include Rich Snippets
You've probably noticed these pop up on Google searches more and more often over the last few years. Basically, it's a way for Google to provide its users with relevant information even faster, while also keeping them on Google's page itself. Include your list, image, video, gif, etc. using this snippet guide. Then test the snippet on Google and update your page! It adds a level of professionalism and is free and easy. Check out the example below for our POS Marketing Ideas post.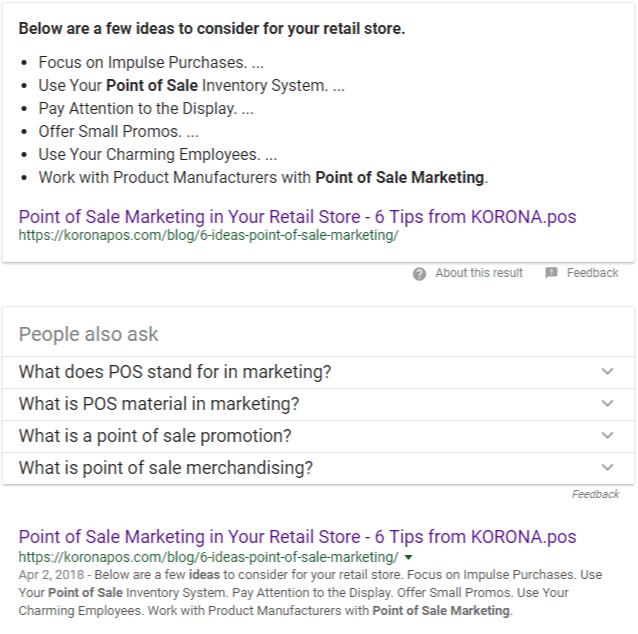 H) Social Media and Omnichannel Integration
Social media posts don't directly aid in SEO and page rankings but they bring more awareness and traffic to your site.
Use large, easy-to-read text.

Make the layout simple.

Images should be eye-catching and clear.

Make all CTAs large.

Add widgets at the base or side of each page so that your content is easily shareable.
Like managing your mobile platform, your social optimization should be easy with whichever platform you use to build your site. A branded social presence is also essential for purposes aside from SEO.
You can outsource your social media management if you'd like. If you'd like to write your own content, you can also use scheduling tools, like Buffer, to make the posts easy and automatic every day.
4. Identify Problems Already Existing on Your Website
Once you have content up on your site it's important to make sure it's running smoothly. There are various things that can go wrong and any of them are bad signs to Google.
A) Find Site Errors
Many top SEO experts use Screaming Frog to monitor their site's health. It crawls the entire site looking at links, images, CSS, script, and apps. Like many SEO tools, the basic version is free to use and helpful for most purposes.
B) Check for Duplicate Content
Duplicate content can ruin all of your hard SEO work, especially if it's copied and pasted. It's easy for Google to spot and a big red flag. Plus, if the content contains any keywords, you'll have multiple pages trying to rank for the same keywords. Try Siteliner. It's another free tool that identifies all duplicate content on your website.
C) Analyze Your Website's Speed
Big errors out of the way, now it's time to optimize your site even more. Speed is a big factor for keeping visitors occupied and on your site.
In fact, almost 50% of consumers expect a website to load in 2 seconds or less. People are especially impatient when they are spending money. Don't lose customers this way. Try out Pingdom or GTmetrix for a quick, free test of your website. If it's too slow, you can buy more server space, switch your eCommerce platform (if you have one), and change image/video file sizes.
5. Link Building Strategies
In order to rank well for many terms, you'll need to build your domain authority (DA). And one of the most important SEO strategies to get there is through reputable sites, with high DA themselves, linking to one of your pages.
It used to be the case that you could simply trade links with a relevant, but non-competitor business. But, like many old SEO "tricks," Google's algorithm can see right through this. It does little to add to your DA. In fact, if you trade links with a poorly regarded website it can even hurt your authority.
Therefore link building is one of the toughest hurdles in improving your SEO. Trust me. So how do you get those coveted links? (P.S. feel free to link this page in your blog!)
A) Create Great Content
The better your content is, the more readers will share it and link to it. This is especially the case if you do a great job with your keyword research and target a specific audience. Copyblogger is one of the best resources for free tips on improving your content marketing.
B) Use SEO Analysis Tools
You can also use tools to crawl the web for any link directed at whichever competitor you choose. This tool, unfortunately, is rarely free. But it might be one worth paying for. There are many comparable options available, including SEO Spyglass and SEMRush. Backlink Watch is a popular free tool but isn't nearly as easy to navigate or reliable as the paid programs.
C) Write Guest Blog Posts
Guest blogging can be a great way to build external links back to your site. Find relevant blogs to your retail industry. You can simply google similar keywords to your own and reach out to reputable blogs by pitching a blog topic that would be of value to their site. In exchange, you'll likely get a brief blurb about your retail store with a link to your homepage or a product page. Just be sure to always check their domain authority.
There are also "blog farms," which host guest posts from just about anyone. Be careful with these. They are typically unlikely to add much to your DA, and will be a waste of time and content.
D) Get Yourself in Media Outlets
If you can find a reliable media outlet to feature your eCommerce store or retail website, that's fantastic. These days, this often comes in the form of networking with social media influencers, especially for small retail brands.
You can also use services like Help a Reporter Out (HARO). Simply register as a journalist and/or source and choose your areas of interest and expertise. After being approved, you are able to send out queries to experts for primary source info that you might want to include in your own blog. You're also sent daily emails with other journalist queries. Here, you can respond to any that you wish. If they use your content, they'll also probably include a link to your site.
6. Advanced Testing and Maintenance
Ok, so you're done with all of that. What's next? As I mentioned at the beginning, SEO for retailers is never done. It requires regular upkeep and tweaking small things to further improve your website and eCommerce store.
A) Google Analytics
This is a free tool. And it's pretty incredible. Simply register and confirm your domain and you'll have endless data to analyze. It measures data about your pages individually, how viewers were brought to your site, historic traffic, and a whole lot more.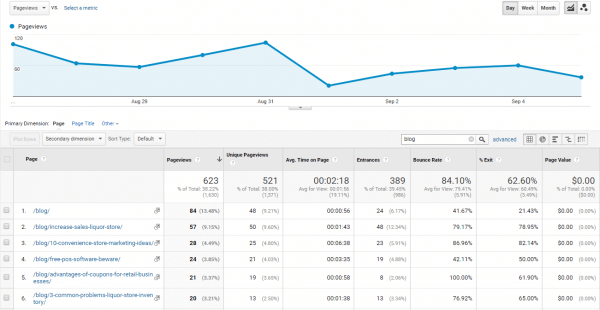 B) Google Search Console
This is also free! Google Search Console crawls your site for any errors, provides perspective on your site's structure, measures performance, and allows you to request immediate indexing if you've made changes to your site that you'd like Google to recognize quickly.
C) Related Keyword Research
Looking for secondary and tertiary keywords is a great way to further optimize pages. Find related keywords to your initial keyword list. You can simply enter a query in Google and scroll to the bottom of the page for similar searches. LSI Graph (Latent Semantic Indexing) is a great free tool for finding similar keywords. There are also affordable keyword research tools, such as Rank Tracker and SpyFu, that provide more in-depth research.
D) A/B Testing
Log any changes you've made to your website or store and monitor ranking and performance over the next several weeks. Play around with images and titles, or add keywords, CTAs, product descriptions, etc. It could be as simple as changing a button from saying "on sale" to "30% off." Sometimes minor tweaks can be more helpful than you imagined. Just be careful with your best-performing pages and products. You don't ever want to negatively affect a successful page.
Additionally, SEO best practices are constantly evolving for small businesses. Every update to search engines means that webmasters must adjust accordingly. So monitoring your progress is critical. A sudden jump may mean there was an update that you need to respond to with necessary changes.
E) Add as Many Product Details as Possible
Include relevant coupon information and expiry date, sale information, pricing, sizes, colors, and models. The more product information you give Google to crawl, the more authority you'll receive.
7. List of SEO for Retailers Tools
There are various SEO tools scattered throughout the post, but here they are in one list.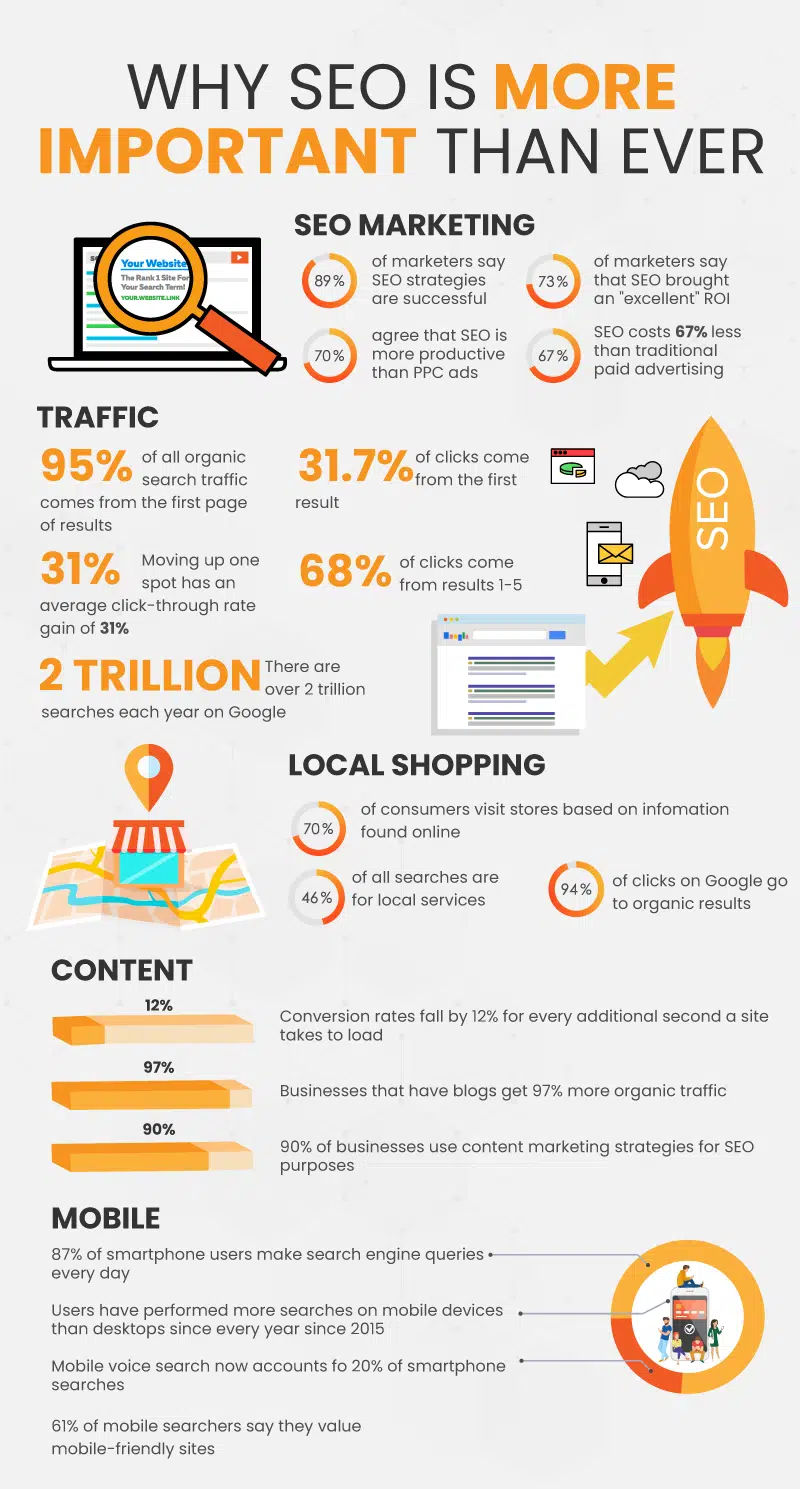 So there's a brief intro into improving your SEO for your eCommerce store or retail website. Just remember that it's a process and there are ALWAYS things to improve and learn. But hopefully, this provides a good starting point for small businesses. Let us know what you think. We are trying to grow and learn through this process ourselves. And for your retail POS solution, think about KORONA. We have a pretty great free trial. Just click below!
Get Started with KORONA POS today!
Tell us a little bit about your business and explore all features that KORONA POS has to offer. And there's no commitment or credit card required.