Whether you've been in business for quite some time now or you're still a newcomer in the industry, there's one thing that pretty much every business needs: an eCommerce website. Especially in recent times, buyers are opting to shop online for anything and everything. It's more convenient, at times, cheaper, and allows consumers to sift through a greater array of products.
It's necessary for you to keep up with the modern-day demands for a strong online presence. So, if you don't have a website yet, it's about time to get started (luckily, it's actually pretty easy to do!). And if you already have a website, then you have to continually identify what you can do to improve it. Competition is tough, especially in the eCommerce industry. It's not enough to have an ordinary website; you have to look for ways for your online platform to stand out.
With that said, here are seven best tips you can apply to take your eCommerce website to the next level:
1. Target Your Existing Customers
You may have heard of the all-important rule for both traditional and digital marketing: target new customers. However, this pursuit should never be at the expense of taking care of your existing customers. When you already have regular shoppers on your site, you have to maintain an effort in taking care of those existing customers. That way, you can continue to encourage these shoppers to keep coming back and make repeat purchases on your website.
So, how do you improve your eCommerce site with the right website architecture diagram to target those existing customers? Here are a few key strategies:
Make sure your site always loads quickly, whether your visitors are browsing from a computer or mobile screen

Improve the photo quality of the items you're selling

Keep your

content short but also thorough

Assess whether or not your website is still appealing to look at

Keep your checkout process as simple as possible
All that effort to tweak your site to target existing customers will all be worth it when you enjoy more revenue and higher rates of retention.
2. Avoid Visual Clutter
While you may want to have as many visual elements on your website as possible, this shouldn't cross the line into your website looking cluttered. By focusing on essential design elements, you'll keep your pages cleaner and achieve a higher conversion rate. Removing unnecessary and distracting website design elements and features will also help your visitors find what they're looking for. They won't feel confused or frustrated with the shopping experience.
Running an eCommerce website means you must always keep this question in mind: 'What decisions do you want your customers to make on your website?' Obviously, your ultimate goal is to guide them in making a purchase. So, whatever design elements you have that don't contribute to that goal shouldn't have a place in your website.
If you need help in decluttering your eCommerce site, here are some tips that may come in handy:
Learn to prioritize what your main site elements are

. Limit the number of font styles and colors you use to a maximum of two. That way, you can avoid confusing your visitors with too many visual elements.

Let minimalism be your friend.

You can achieve a minimalist design by focusing on the important elements. For instance, you may have too many graphics and audio elements that don't necessarily link you back to your page's objectives.

Give users what they want.

Take time to learn more about your visitor's behavior by studying your website's analytics.

Do a periodic audit of your website's content.

When you do this, you can remove pages that are underperforming.

Freshen up product descriptions.

As you do an audit of your website, you may also want to study all your product descriptions. Are they still up-to-date? Do they provide enough details? Are they optimized for SEO?
3. Keep Your Ecommerce Website Design Simple
One of the most important rules you have to remember throughout the design process is to keep things as simple as possible. When it comes to website design, the saying 'less is more' certainly applies. As mentioned, there's no need to overwhelm your website visitors with too many elements.
These might include multiple forms and pop-ups, lots of colors, confusing font styles, and too many flashy graphics. Apart from hurting your website's design effectiveness, those design elements will also make your page loading speed slower, thereby harming your SEO and organic traffic.
However, keeping your website design simple doesn't mean that you should limit yourself to running a boring website. It simply means removing all the unnecessary elements that don't contribute to keeping the focus on making sales.
You may also like: 11 Critical Ways to Get Your eCommerce Site Ready for the Holidays
4. Display The Icons That Prove Your Site's Trustworthiness
While online shopping is now becoming the norm, this doesn't mean that buyers aren't skeptical about the websites they visit. More than anything, buyers today are very selective with the websites they shop from. Though there are many trustworthy sites out there, there are also just as many scams that consumers are justifiably wary of.
Hence, you can be sure that no one will shop on your eCommerce site if it looks sketchy or untrustworthy. This is why one of the very first things you should do is to ensure that your website is secure. And don't be afraid to advertise it.
What can you do to prove your site's trustworthiness? Generally, it's as simple as using a reliable online payment gateway. This service ensures that all transactions are successful and securely completed online.
5. Simplify Your Menu
Most eCommerce sites have an extensive list of products. These are usually contained in menus that are broken down into various categories. Given how hard (and expensive) it is to get visitors to your website, it's important to optimize the user experience once they're there by keeping navigation intuitive and simple.
Here are some tips for you to simplify your menu effectively:
Use straightforward and easy-to-understand terms

Go with a standard font option

Make sure the drop-down menu doesn't lag

Check for broken links

Always provide links back to your home page and shopping cart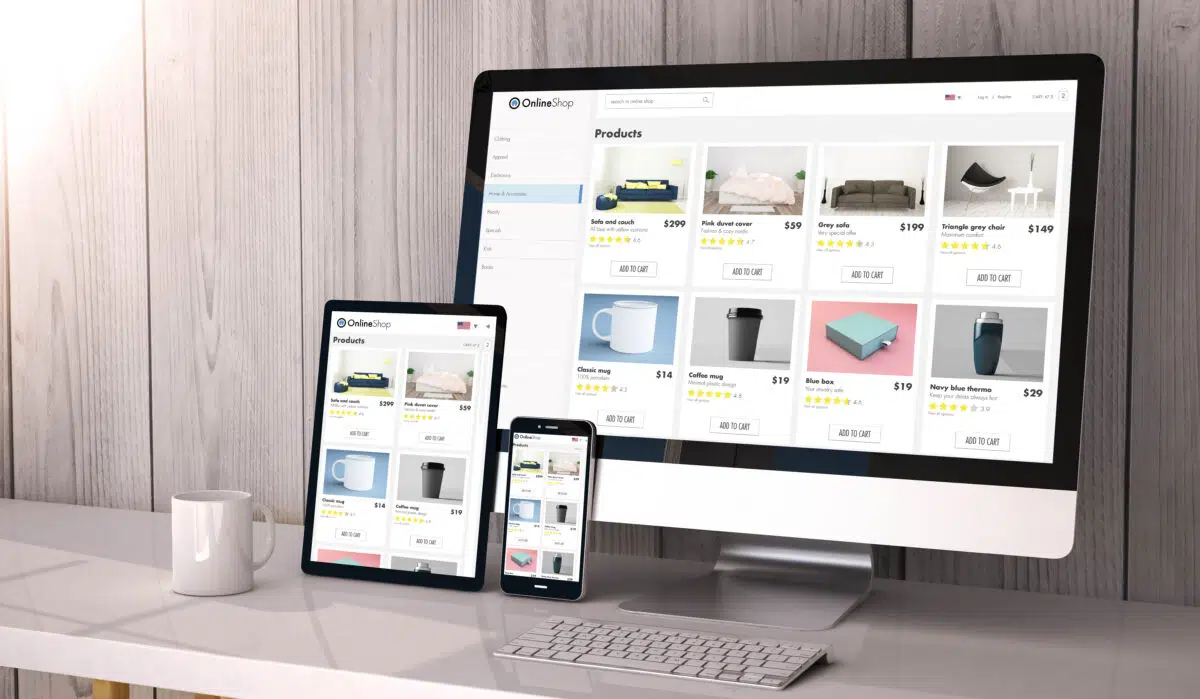 6. Add A Search Bar
The whole purpose of the search bar is to make it easy for your website visitors and customers to type specifically what they're looking for. Having poor site navigation is frustrating and will reduce your conversion rates.
Like your 'home' icon, this search bar should always be present, regardless of the pages your website visitors will visit. Treat this as just another aspect of your business's customer service.
7. Make Your Website Easily Navigable
Going hand-in-hand with adding your search bar is the need to make your website easy to navigate. This tip is especially important to keep your website accessible for mobile users. Even now, there are still many brands that make the mistake of failing to optimize their website for mobile devices. As a result, the site gets distorted when viewed from a smaller screen. This will hurt both your conversion rate and your search engine rankings.
The increasing use of smartphones and tablets today means that many internet users are browsing from mobile devices. If you don't optimize your website for mobile you will lose a sizeable audience.
How do you improve your website's navigability?
Keep the main menu color in contrast with the background, so your website visitors can easily set apart your menu from the rest of your website

Make sure the font size and style are still legible, even from a small mobile screen
Simplify your online payment system, such as offering not just credit card payments but bank deposits and cash on delivery, too
Running a Successful eCommerce Store with the Right POS
At the end of the day, the tips above won't lead to long-term success without the right business operations in place. A major part of that is getting a great POS solution to link your brick-and-mortar and eCommerce stores.
KORONA POS integrates with various eCommerce platforms so that you'll be able to run a seamless operation. It will optimize your inventory management, provide in-depth reports, help you run promotions, and ensure that your payments are secure. Learn more by clicking below.