What happens when a customer returns an item purchased in your store or eCommerce website? Will they get a refund of the money they paid? Maybe your store will offer a store credit or simply refuse the return.
Customers can be dissatisfied with a product for many reasons: it arrived damaged, they ordered the wrong size, or it simply didn't meet their expectations. And when confronted with this dissatisfaction, the customer will either want to change the item or request a refund for their purchase. If the store has a return policy with clearly defined return or exchange terms in advance, it eliminates any confusion in the minds of customers and staff.
A return policy is not only important to better regulate exchange and return conditions, but it can also give you an edge over the competition. But how? That's what you'll discover in the rest of this article. We'll walk you through how to write a return policy for a retail business and share with you some return policy templates. You'll also learn how it can give you a leg up on the competition.
Table of Contents
What Is a Return Policy?
A return policy is a document that defines your company's procedures and requirements for returning goods. The return policy lets customers know what items can be returned and for what reasons, as well as the time frame in which returns are accepted. Your return policy helps protect your business from inappropriate returns and credit card chargebacks that could result in financial loss and provides a guideline that allows you and your customers to follow a consistent process.
A good return policy is balanced to ensure that your business is not disadvantaged by returns while keeping your customers as satisfied as possible. Almost all major retailers offer return and refund policies to their customers, whether it's Apple's strict 14-day return policy or IKEA's generous 365-day policy. Your small business should have them, too.
What Are The Different Types Of Return Policies?
Unlimited returns
Unlimited retail return policies allow customers to return almost any item without a problem. This is the most flexible type of return policy, although some specifics may vary. Some unlimited return policies are "no questions asked." This means that the item can be in any condition and returned for any reason, whether purchased directly or from a reseller.
Unlimited return policies may or may not require a receipt or proof of purchase. Similarly, some unlimited return policies accept any item at any time, while others impose a time limit. For example, REI is an outdoor retailer with a well-known unlimited return policy. While initially, the return window was not time-limited, it has since changed. All purchases must now be returned within one year to qualify for a full refund if you are a member of the REI co-op or within 90 days of your purchase if you are not a member.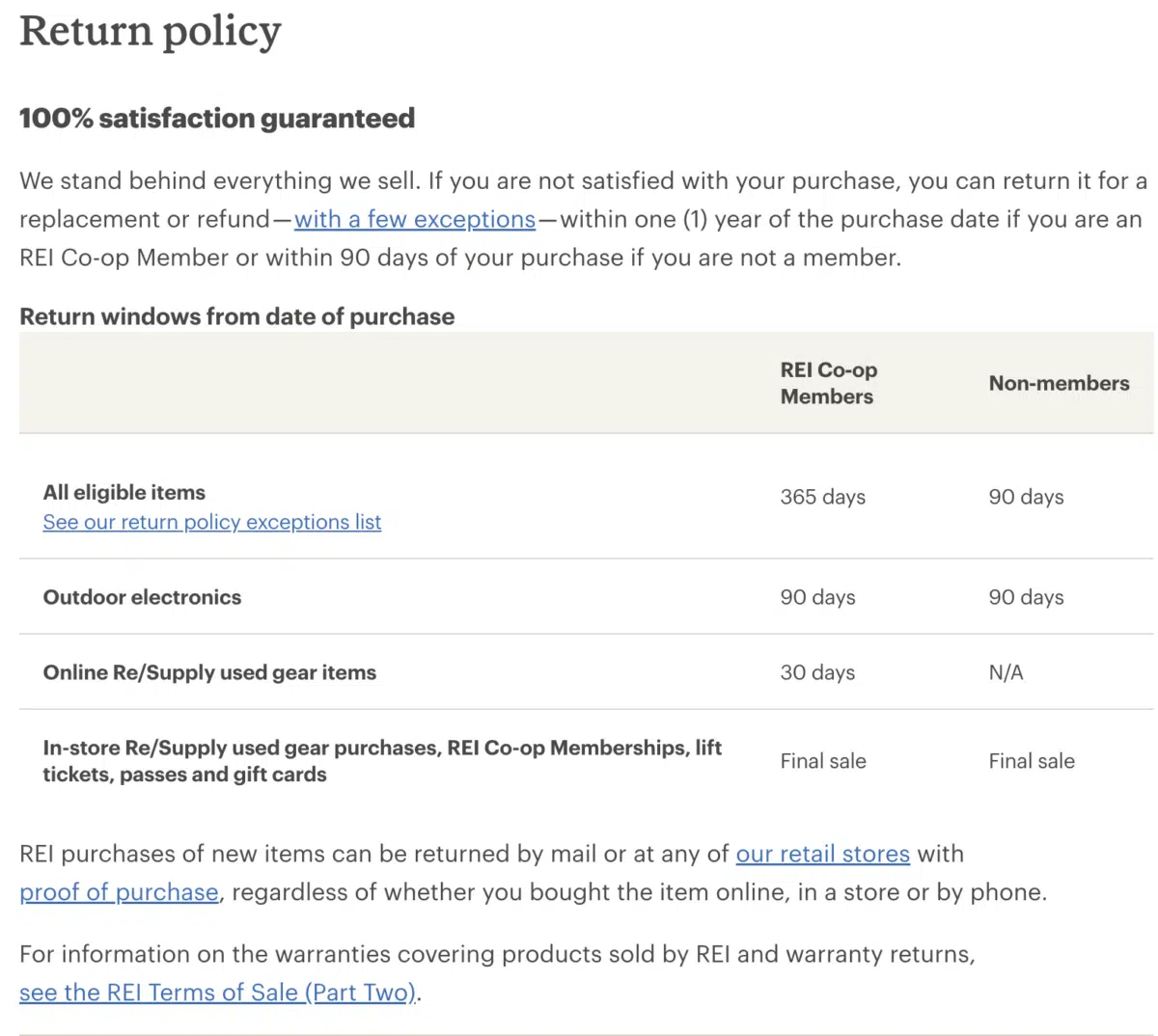 Conditional return policy
Conditional return policies provide conditions or parameters that the purchase must meet to be returned. In some cases, conditional return policies provide for a cash or credit refund, while others provide for store credit. The most common conditions of conditional return policies include that the item must still be unopened, have attached tags, include the receipt, be unused, and/or purchased at full price.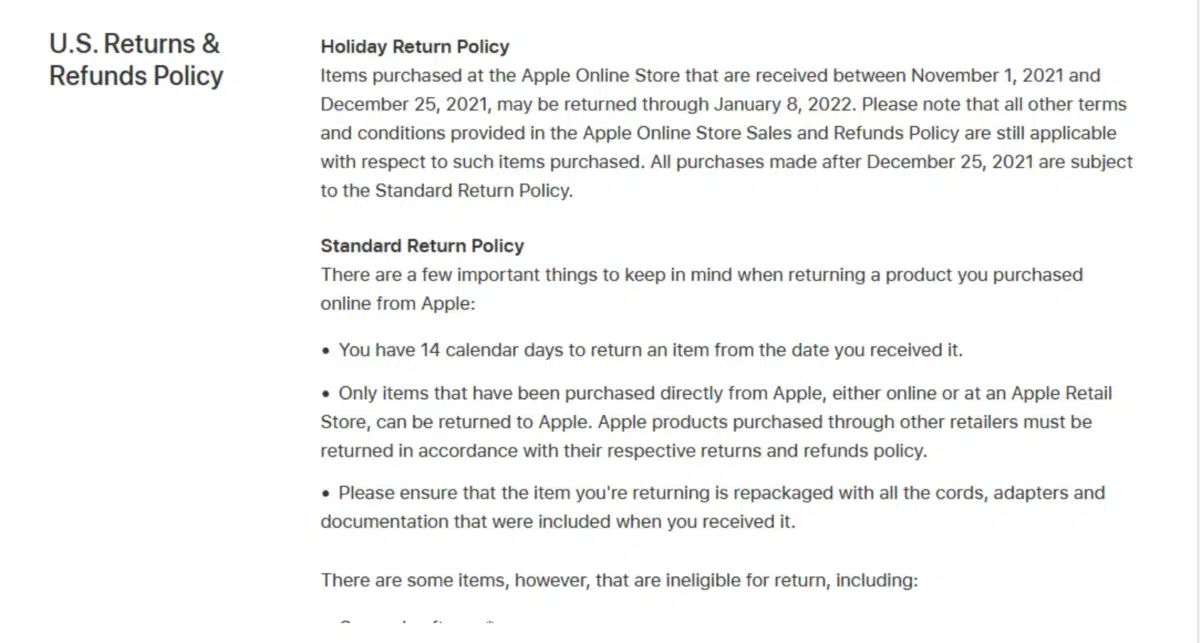 Returnless refund
A returnless refund is a case where customers can get their money back and keep the product they intended to return. Some online businesses opt for this return policy to reduce return processing costs and other logistical challenges, although it certainly affects profits. A brick-and-mortar retailer may also choose to offer a returnless refund for in-person purchases and returns.
This is a good idea if you can't reuse or resell returned merchandise like skin care products. You can encourage the customer to keep the product or share it with a friend who might appreciate it. However, before issuing a refund, you must have solid proof that the product is no longer usable or does not meet the customer's expectations.
Such a policy is far from ideal for most retailers. So be sure to ask yourself the following questions before opting for this policy:
Can the product be resold?

What is the cost of returning the product versus the benefits of reselling the product?

What is the impact of the no-return policy on your inventory?
The answer to these questions will determine the profitability of a returnless refund policy.
No return, or all sales final
An "all sales final" return policy means that customers cannot get a refund if they are unsatisfied with their purchase. This policy may be necessary for retailers who sell items such as food or perishable products.
However, you can add a caveat to these retail return policies to reassure shoppers. For example, if the product is defective, damaged, or expired prematurely, you will probably want to assume the error and offer a refund or replacement. An online store's all-sales final policy tends to be more detailed than physical stores, as unforeseen problems can occur with online purchases.
Customers can only rely on online product descriptions, and they will know the quality of the products after the purchase. If you sell products online, make sure your policy accounts for any exceptions to the final sale, such as defective products. As an example, Wayfair's return policy lists non-returnable items but provides exceptions if the items are damaged or defective.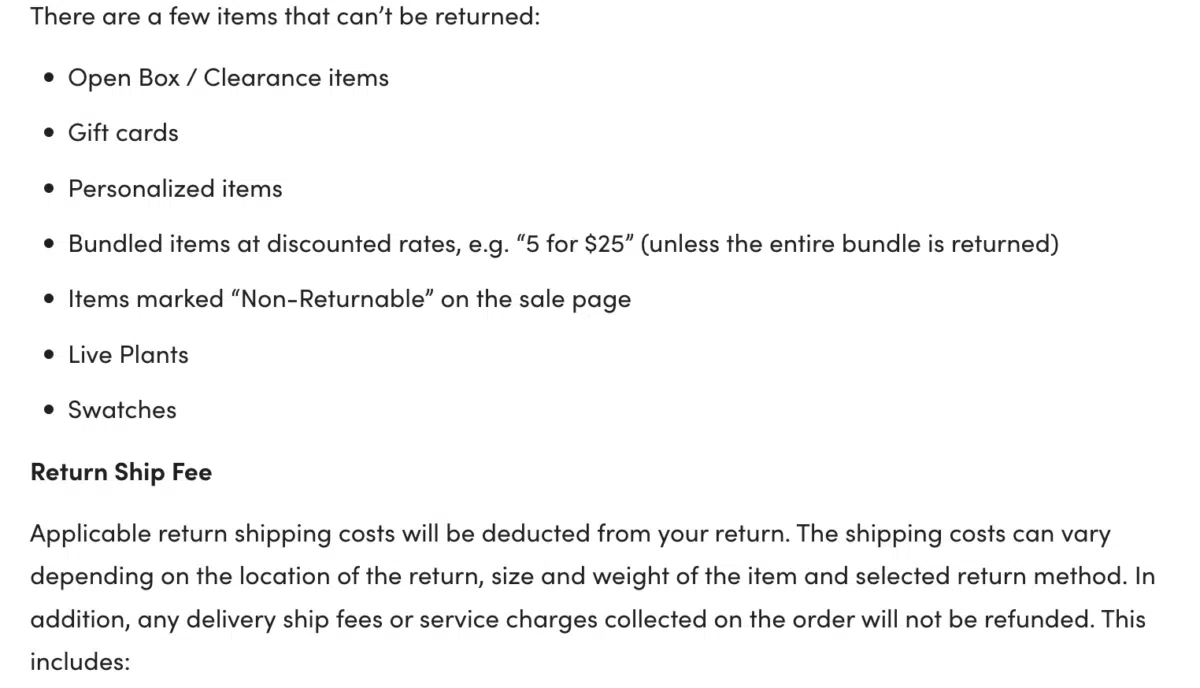 See related: How to Deal with Returns in Retail: Tips for a Refund and Exchange Policy
Writing Your Retail Return Policy & Including All The Right Elements
Writing a refund policy should be concise, transparent, and complete. Use simple, accessible, and easy-to-understand language. Check federal and state laws and regulations regarding refunds before drafting your policy. Consider the following when writing a refund policy:
Items accepted for returns
Define which items can be returned, which items can be exchanged, and what conditions are required. For example, you may accept returns of items in their original condition, i.e., in their sealed box or with the tags attached. You may also require a receipt for a return and an exchange without a receipt. You may also want to identify items considered "final sale" items, such as custom-made, personalized, or heavily discounted items for liquidation. It is also essential to identify which items are not eligible, such as sale items, cosmetics, underwear, etc.
The return window
The return window is the time the retailer gives customers to return a product. Following your state's laws and regulations, you may allow returns up to 30, 60, or 90 days after the date of purchase. You can also offer a combination of these time frames, such as a 30-day return and a 60-day exchange or store credit. Time frames can also be unique for holidays. Many retailers extend the return and exchange deadline to the end of the holiday season to accommodate gift-giving. A few retailers also opt for unlimited return policies, letting customers return or exchange products for extended periods, if at all. However, the most important thing is that you are honest and transparent about when customers can make a return.
The procedure for making the return
Your business operations will impact your return policy, especially if you only have one store, only an online store, or if you combine both.
You may accept items in your store or ship them to your eCommerce warehouse. The first thing to consider is how you will return the products: in person or by mail. In-store returns are restocked 12-16 days faster than items returned by other methods. If you accept returns by shipping, make sure that the return policy states who pays the shipping costs. 30% of retailers charge customers, while 70% offer some form of free return. If the customer exchanges the product instead of requesting a refund, it is advisable to pay the return shipping costs. The condition of the returned item, whether it should be unopened, or unused, or with tags, are also sometimes criteria required by retailers to make returns faster and easier for customers.
Type of refund
This segment of the return policy should explain how you will compensate the customer for the return and the necessary documentation, such as a receipt or order number. Be sure to specify the type of refund available, including whether it will be cash, card, store credit, or exchange, and the estimated time it will take to process the payment. You may issue a full refund based on the original payment method. Typically, consumers can exchange the returned item for the same item, such as a different size or color, or get store credit. Determine if you will charge a restocking fee, which is common for electronic products. Ensure you also address how you handle returns of lost or damaged items.
Read also: 5 Clauses for a Retail Store Return Policy and Why They're Important
Return Policy Template For Retail Business
Now that you know the essential elements, which should be included in your return policy, it is also important to take a look at some return policy templates from major brands.
1. Sephora
Sephora is one of the retail companies with a fairly detailed return and refund policy. The page specifies, among other things, the extended holiday return period, the procedures for returning online purchases, how refunds are made, etc. It is a perfect return policy template that you can draw on when writing your own.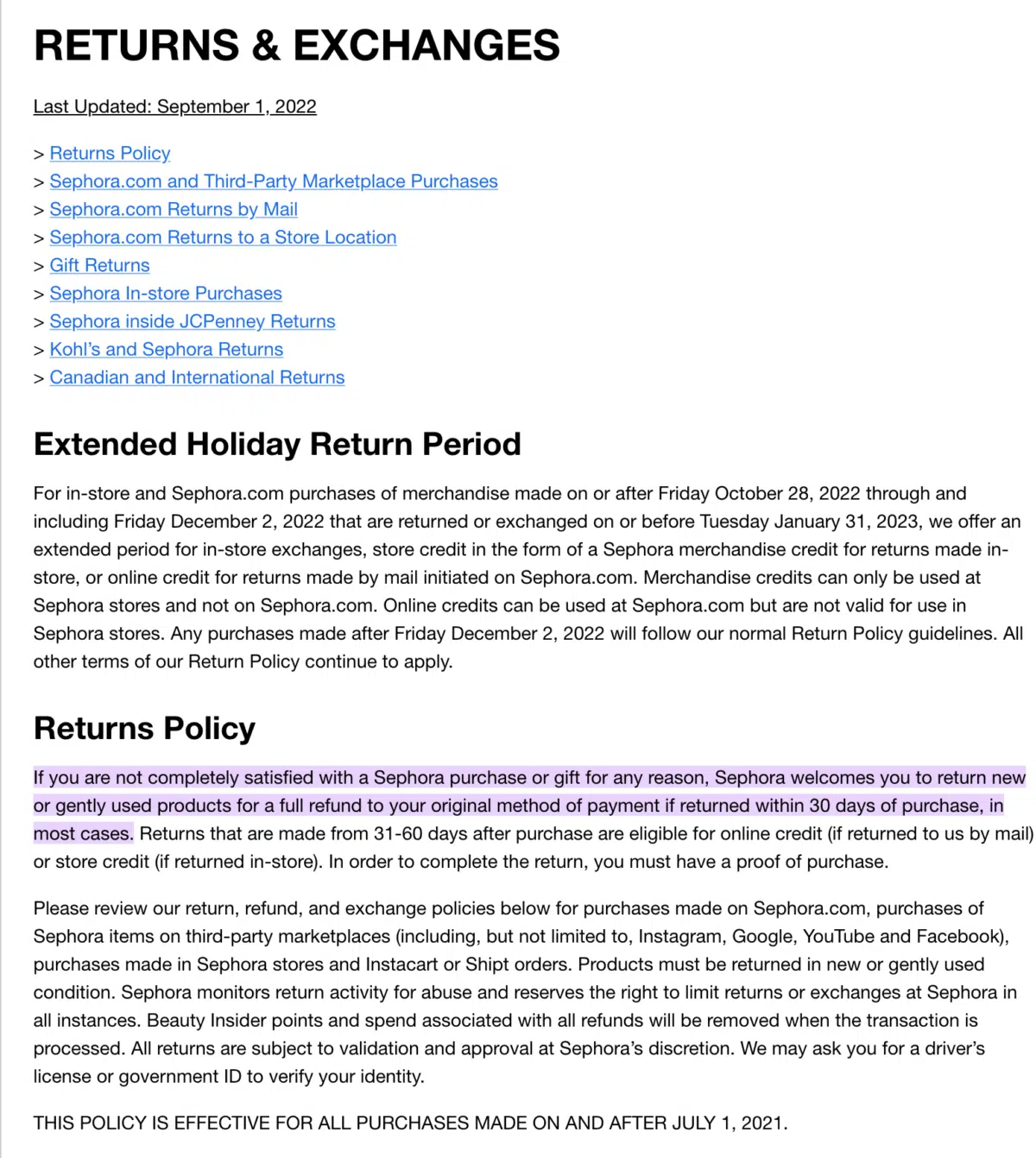 2. Nordstrom
In this return policy template, you could read Nordstrom explaining how to return merchandise to a store, by curbside drop-off or by mail.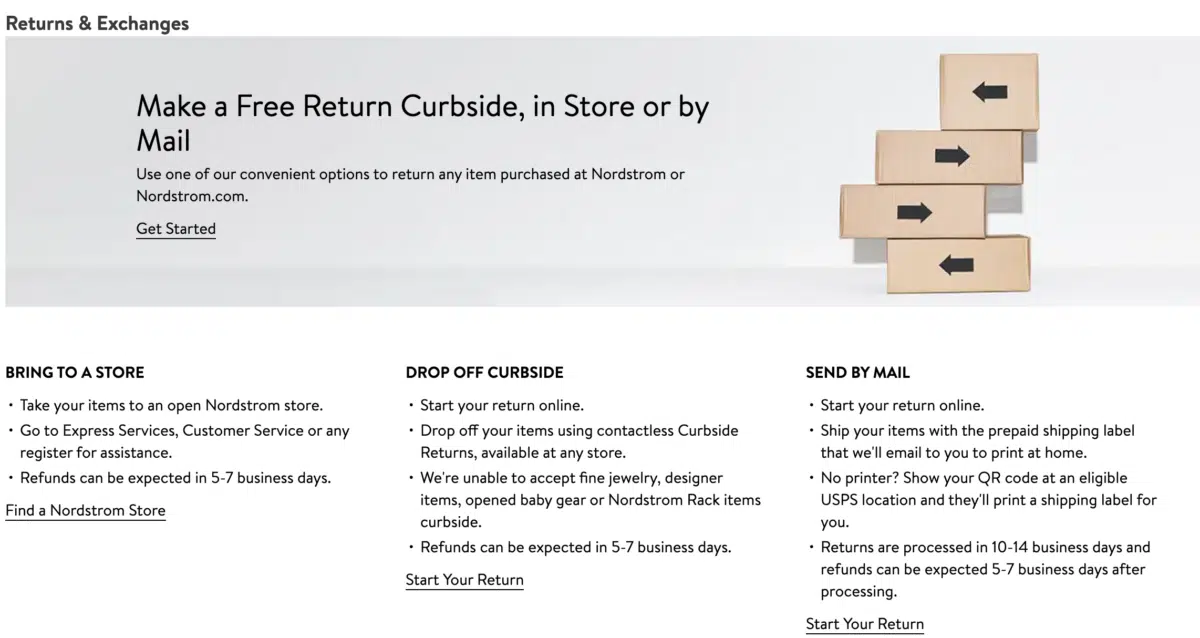 3. Philosophy
Unlike the aforementioned brands, Philosophy is a medium-sized retailer and has a clear, short return policy. One of Philosophy's clear rules is that it does not offer exchanges or credits on accounts at this time. Find Philosophy's return policy template below.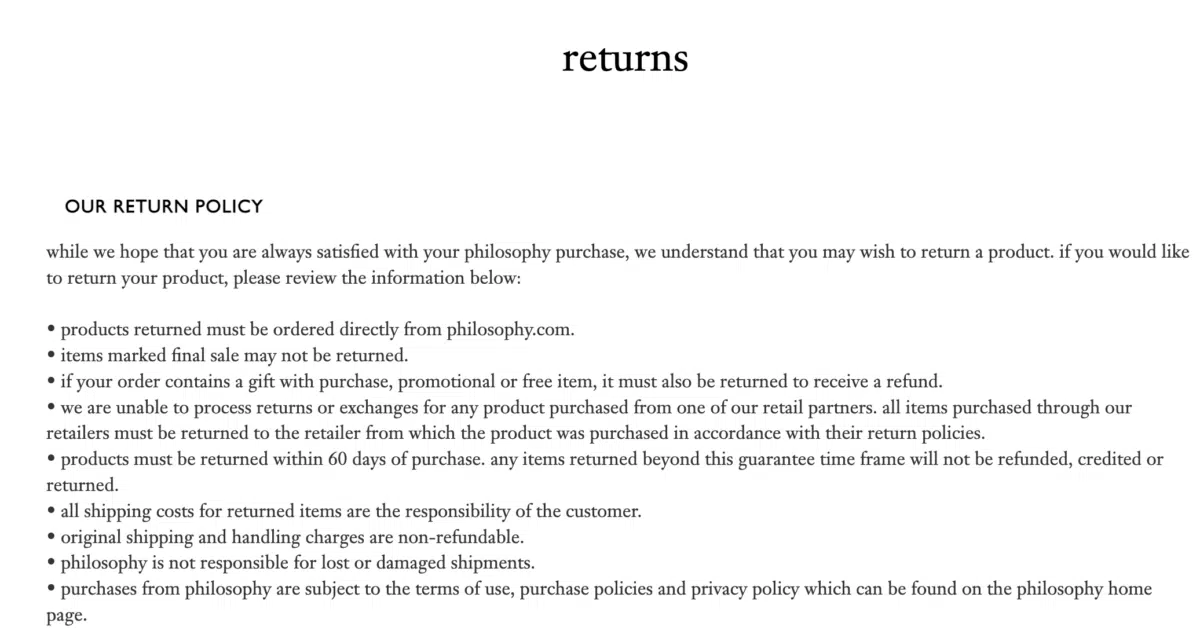 4. Save-on-crafts
In this return policy template, you will find the conditions and procedure for returns and refunds from the small business Save-on-Crafts for its online craft store.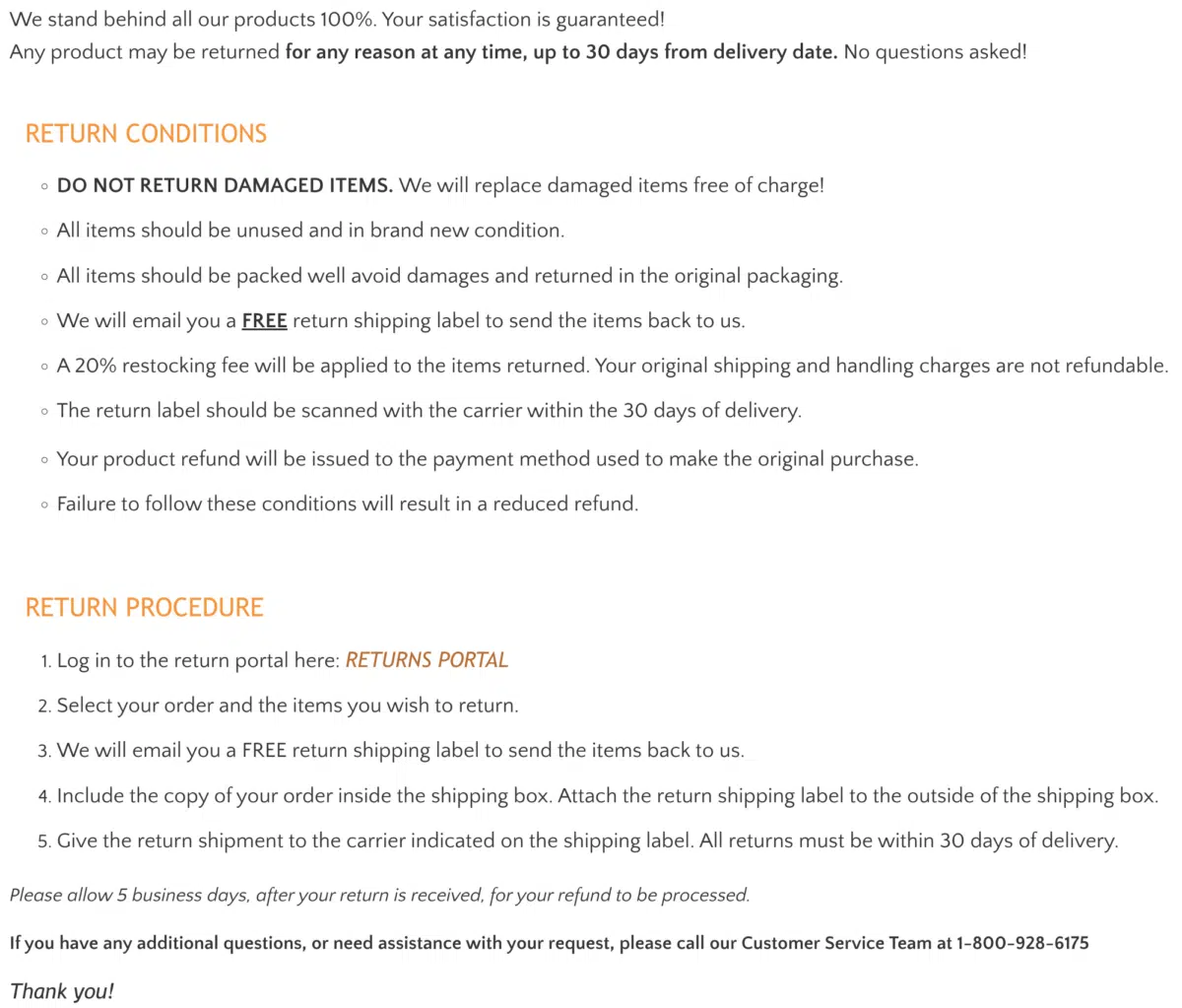 5. ProSound Gear
Another return policy template you can implement is that of ProSound Gear, which promises a full refund within 30 days and an exchange or store credit within 90 days of purchasing its recording and music gear.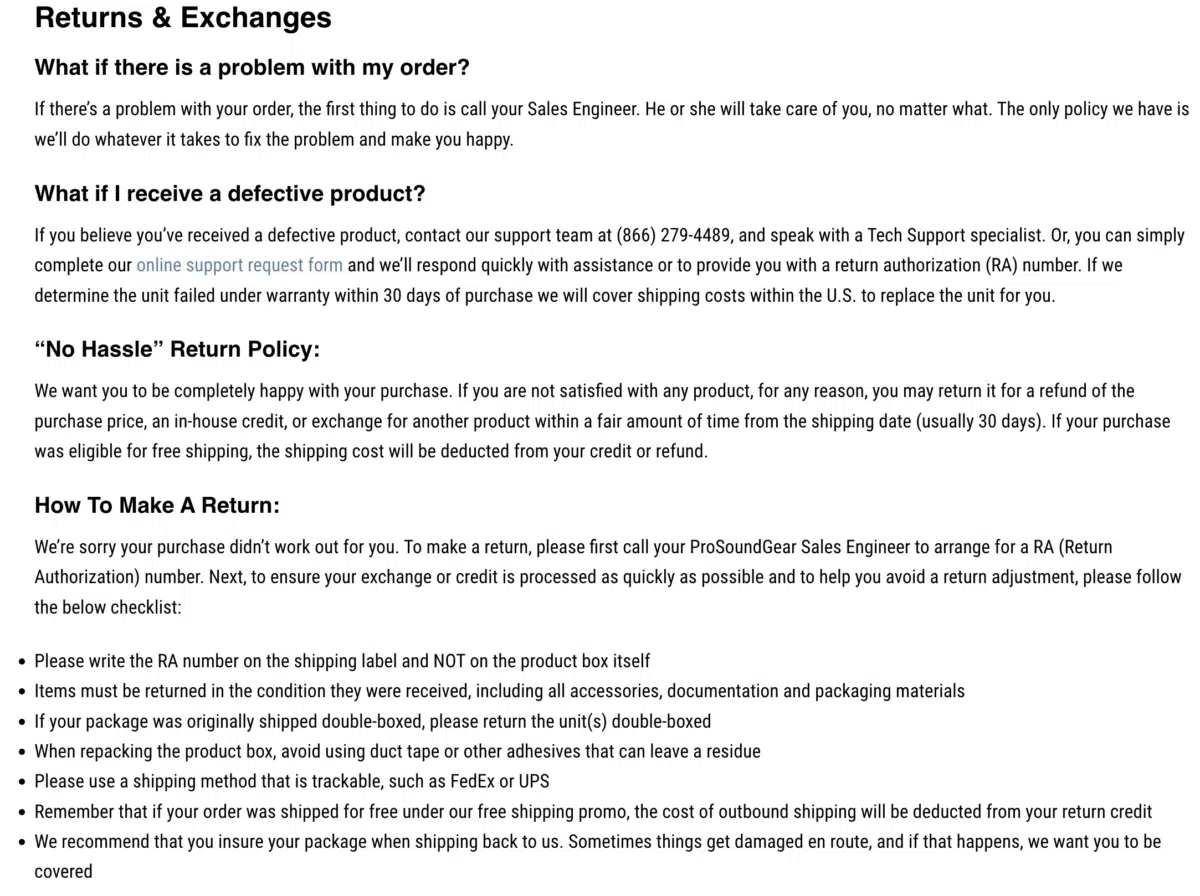 Display Your Return Policy Where Customers Can See It
Writing your return policy is a step in the right direction, but not enough. Making sure it is well-known and understood by customers should be the top priority. Employees must also be informed of the policy, so everyone is on the same wavelength.
Whether in a physical store or online here are some places to consider posting your store's return policy, whether in a physical store or online.
Physical store
Checkout counter: The checkout counter and point of sale (POS) area are excellent places to display your retail return policy. Customers don't need to read the entire document in detail. You can use an abbreviated version or list the most important points so the customer is not overwhelmed.
You can also train your employees to inform customers of the return policy at checkout. While you have it displayed at the point of sale, employees can also briefly address it with clients to provide better customer service.
Receipts: It is essential to include your retail return policy on printed receipts as well as email receipts. This makes it easy for shoppers to refer to it when considering returning an item.
Quick Response (QR) Code: A quick response code is also a way to get the word out about your return policy. Consider using a QR code that customers can scan. This also makes it easier to update any changes to your policy, as you won't need to reprint it for your in-store display.
In-store signage: Consider other areas where you have signage and visual merchandising. Fitting rooms are an excellent place to display the return policy.
Online store
Product Page: Include a small reminder and link to your retail price refund policy somewhere after or near the product description, pricing information, or "add to cart" button.
Shopping Cart: Customize the shopping cart page with text similar to your refund policy. This can help prevent cart abandonment.
Checkout page: The checkout page is an appropriate place to display information about your refund policy, which helps prevent last-minute hesitation.
Website Footer: The footer of your website is at the bottom of the page, and it's always there, no matter what page you're on. It's the perfect place to place essential links to your home page, terms and conditions, and return policy.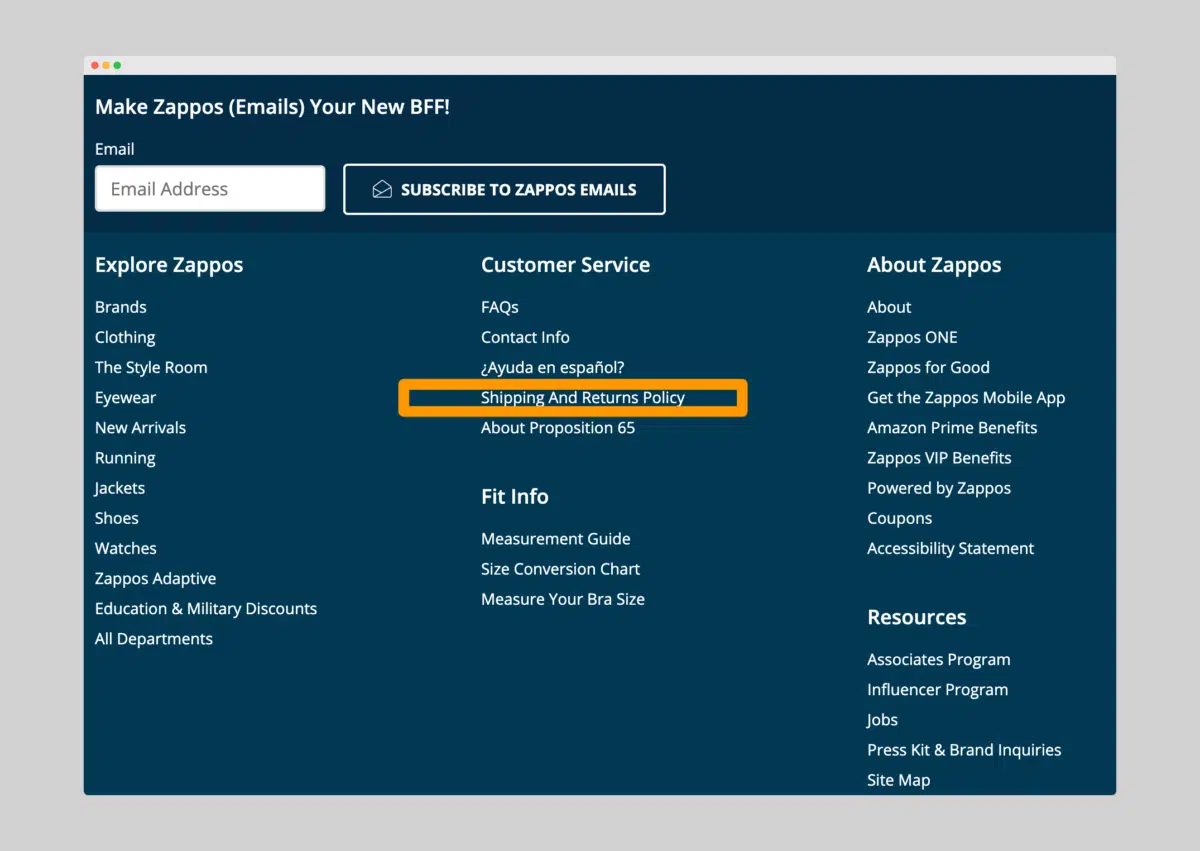 FAQ page: It is also possible to include a section dedicated to your return policy on your FAQ page or a similar page.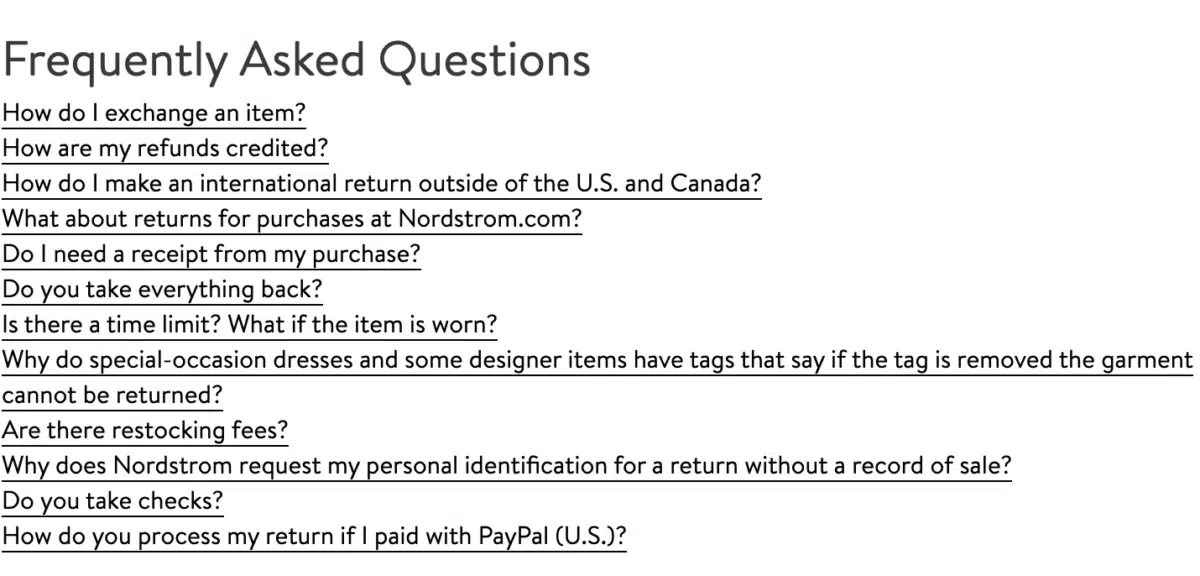 Creating the Best Retail Return Policy Template
The return policy should be included as part of your general customer service training. Checking other companies' retail policy templates can also be a great idea to better write yours. And make sure your associates understand how to accept a return. Some retailers only allow managers to process returns, which can help reduce fraud. However, during busy seasons, you should make sure this manager-only policy doesn't slow down business, inconvenience your customers, or leave a negative impression.
The best way to find out what customers think about your return policy is to ask them. Once customers have made a return, send them a short survey to find out what they liked or disliked about the process and what you could have improved. Use this feedback to find out what they would like you to improve to make your return policy more flexible.
One aspect that often goes overlooked in managing returns policies is your choice of the point of sale system. Choosing a POS system that allows you to process returns and exchanges efficiently is crucial.
This means that the system must allow cashiers and/or managers to do so securely with custom permission levels, help the customer conveniently complete the process to reduce frustration, and either return the item to your inventory management system or reflect its loss. KORONA POS allows you to seamlessly do all of this for both physical and online retail stores. Click on the button below to learn more about how KORONA POS can help you better manage your return policy.
FAQs: Return Policy
1. What is a return and refund policy?
A return and refund policy is a set of rules established by a company that governs how customers will be refunded after unwanted or defective product purchases.
2. How do I make a return policy?
Follow these steps: write an easy-to-understand return policy, offer a generous return window, include a return label in packages, allow in-store returns, ask for customer feedback, make it easy for customers to access your eCommerce return policy, and take responsibility for returns if necessary.
3. Are refunds legally required?
Although the United States does not have a federal refund law and many states do not legally require refunds, it is always a good idea to have a return and refund policy. Without a return policy, customers may forgo the purchase and buy elsewhere.
4. What's a good return policy?
Generally, 15 to 30 days is the norm, although some companies opt for 90 days or even a year. The time frame also depends on the type of product being sold. In any case, you will not be doing yourself any favors by accepting returns beyond this time frame.