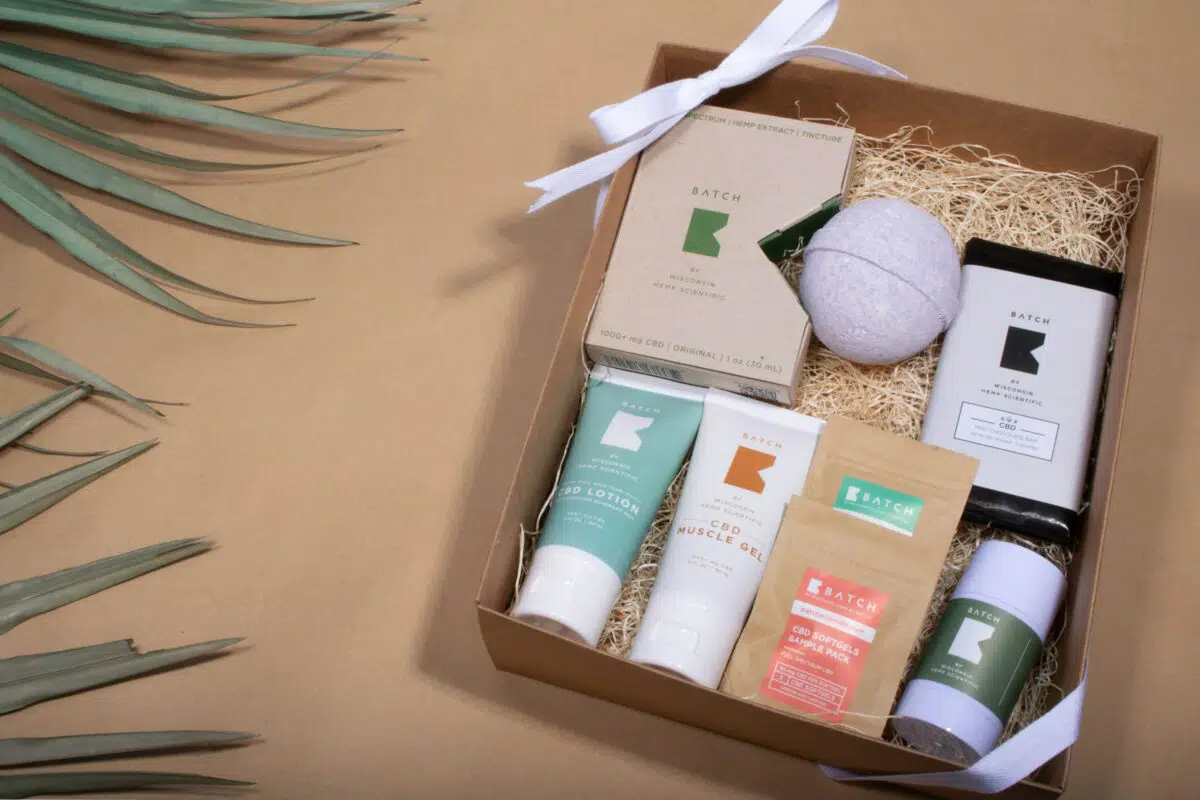 Subscription-based programs were already on the rise before COVID hit in 2020. Following the shutdown and the shift in consumer behavior, their popularity skyrocketed. In fact, subscription retail revenue continues to accelerate at a much faster rate than the rest of the retail landscape, and it promises to move into more industries and products.
A handful of companies, such as Netflix and Dollar Shave Club, are well-known successes of this subscription model, inspiring consumers to try more. Indeed, more than half of online shoppers have tried an online subscription box service, and the number continues to rise as subscription-based retail companies become more and more popular among younger consumers.
All sizes and types of companies use the subscription model, from the biggest of the big brands, like Amazon and Old Navy, to niche SMBs like Bokksu, who curate boxes of Japanese snacks. Subscription services are about meeting the needs of your customers, keeping them engaged and interested, and catering to their preferences. So what is a subscription box, and how can your company successfully implement a subscription service? Read on for retails.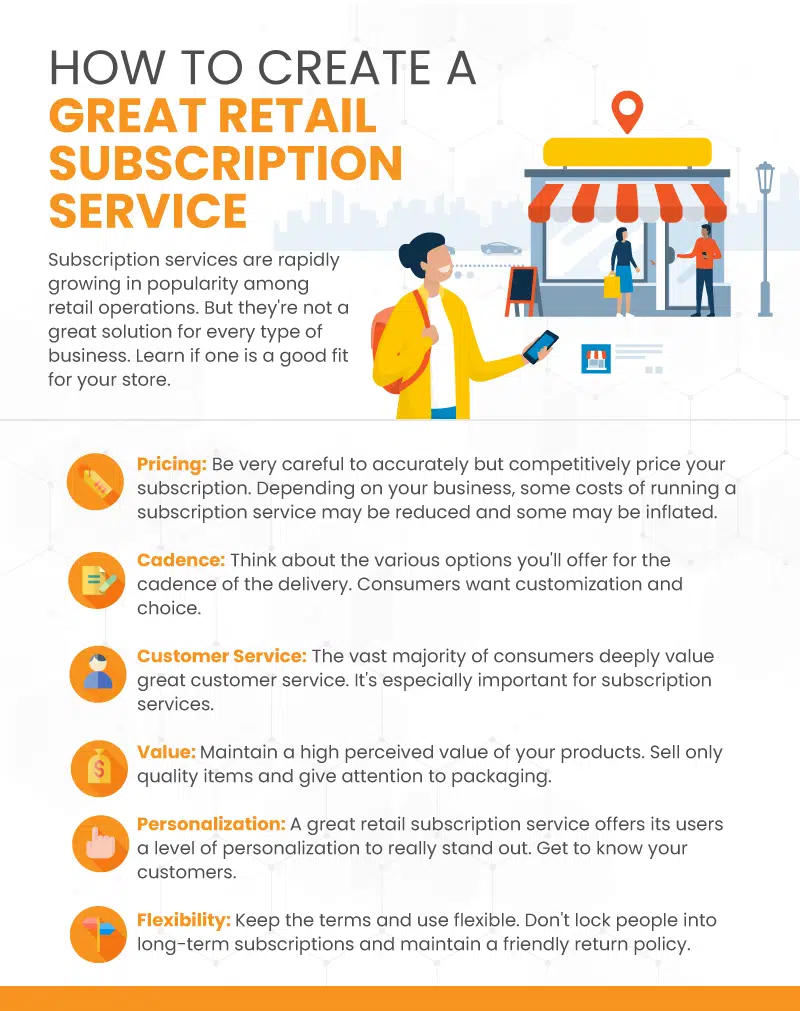 What Is A Subscription Box Business And What Types Are There
There are three main types of subscription services in the consumer world.
Access-Based Subscriptions
First, there are what's called access-based subscriptions. This refers to multimedia services, like Netflix and Hulu, as well as to fulfillment services, like Amazon Prime, that offer free and expedited shipping options.
Replenishment Subscription Program
For the purposes of this article and the purposes of the retail sector, we'll focus primarily on replenishment subscription programs. Some subscription programs function to provide the consumer with a streamlined refill of household items that they need. For example, the infamous direct-to-consumer company Dollar Shave Club sends recurring shipments of razors to individuals at a competitive subscription price so that they never have to worry about running out of razors or shaving with a dull edge.
Similarly, toothbrush company Goby's subscription model sends new brush heads on a specific schedule to ensure that you're swapping out new bristles according to dentist recommended timelines. Both of these subscriptions are based on the function of keeping the consumer stock up-to-date and refreshed.
Curation Subscription Program
Alternatively, some subscription boxes are designed to change every shipment. These "curated" options are based on taste, style, and variety. Companies will use their knowledge of products on the market, as well as specific customer preferences and feedback, to choose curated items to be included in the box.
Clothing companies are the most prominent examples of this type of subscription. Box clubs such as Trunk Club and Stitch Fix will put together seasonal packages of different clothing styles based on your personal preferences and past information about you. Wine clubs are another common type. This model is designed to keep the customer curious and excited.
Both Serve A Purpose
A friend of mine who's a busy lawyer has two subscriptions that he pays for monthly. One is Dollar Shave Club, which he says is useful to him because, as he explained, "I'm super busy with work, and I liked the set it and forget it aspect."
He also subscribes to Maguey Melate. They send him 2 bottles of mezcal per month. This curated and informative program helps him learn details about the variety of bottles he is drinking. More importantly, "getting access to unique local mezcal and supporting the producers" is a major selling point and keeps him satisfied with the subscription.
The subscription-based retail model can fit a range of consumers. What's your niche?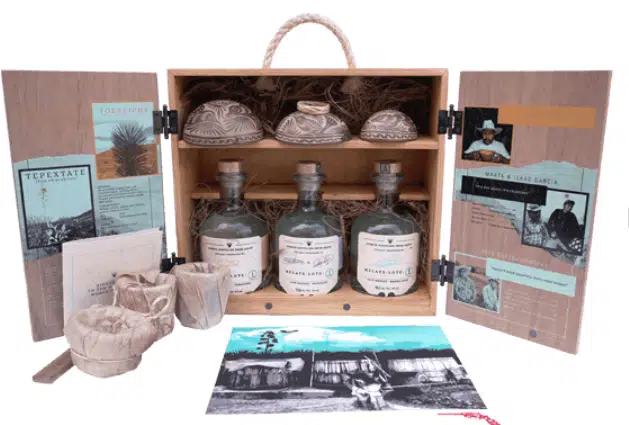 Retail Subscription Programs: Why Should My SMB Offer One?
Having your customers sign up for subscription programs offers many benefits.
Subscription Box Market Growth
As previously mentioned, subscription eCommerce programs continue to grow at a faster rate than the rest of the retail economy. Don't miss out on the exponential potential that this type of business model can offer your SMB.
Sales Projections
Subscription-based customers can help forecast sales projections for the near future. This helps your company achieve more predictability from season to season and year to year. Have more control over your margins and knowledge of your cash flow.
Predictive Inventory Management
Knowing what your future sales will look like can greatly help you predict how much inventory of what items you should have in stock. Allow your company to easily foresee restock ordering in order to maintain a healthy flow of incoming and outgoing goods.
Stronger Customer Relationships
These programs facilitate much more continuous interaction with active customers and subscribers. Use their consumer information to determine what they want and when they want it. Your communication line with subscribed clientele will be a great asset if you use it correctly.
How Does A Subscription Box Work For My Business?
Offering a subscription can be a great choice depending on what you sell and how your customers shop. Here are some vital points to think about to get your program going.
Does Your Product Make Sense As A Subscription?
Your subscription program should provide a service that is worthwhile to the needs of your customers or potential future customers. It shouldn't just be something that you add because it's a trendy or simply advantageous business move. Do some research from the perspective of customers. Always begin with the simple but all-important question: "What do they want?"
For some industries, this will be obvious. For example, if you are a boutique butcher, a subscription for frozen fine cuts of meat might be great. But if you sell steak knives, a subscription to new knives wouldn't exactly be the best look.
Make Sure Your Subscription Price Is Appropriate
When pricing your subscription, take into account all of your costs for running your business – not just currently but for the foreseeable future. Be thorough in doing market research and calculating margins when deciding on what you will charge.
Don't be afraid to offer different tiers and pricing levels for different levels of products. Research has shown that customers who feel as though they can't afford to pay for their subscription are more likely to keep them if they are offered a lower-tiered option. Thus, by having different pricing options you can reduce what companies call the churn rate. In simple terms, this refers to customers discontinuing their subscriptions. Here Carne Collective's flexibly tiered pricing for their meat delivery subscription program.
Set The Right Cadence
How often does it make sense for people to get the subscription delivered? This obviously depends on what type of products you provide. If you are distributing skin care products then monthly deliveries might make sense. On the other hand, if you are curating boxes of seasonal clothes your cadence should obviously be less frequent.
Overwhelming customers with too much product can cause them to be turned off by your service. Find a sweet spot in the right frequency to help guarantee longevity in your subscribers. Below you can see Blue Aprons frequency options which give some flexibility to their subscribers.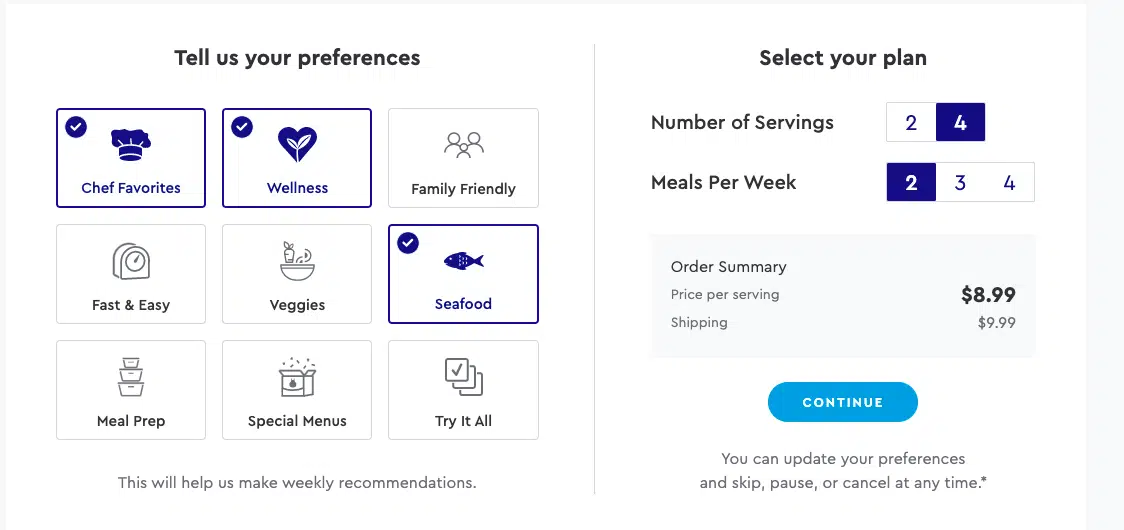 Customer Service Is KEY In Subscription eCommerce
Your company should be available to answer questions, make adjustments, and offer help for your subscriptions. Considering 80% percent of consumers say that their shopping experience is as important as the actual product they buy, customer satisfaction must be a key aspect of your business. Subscription programs are about generating and maintaining relationships with your customers. If your customer service falls short, subscribers will be dissuaded from continuing their relationship with your brand.
Remember, your subscription program exists to benefit their quality of life. This means keeping terms and conditions clear and fair. It also means making sign up, pausing, and termination simple and straightforward. Be honest with your customers!
Perception of Value Is Crucial
Your program should offer clear advantages for subscribers. Perception of value, in regards to both content and savings should be abundantly apparent. Try partnering with brands that have good reputations to gain recognition. Tell a story about your sourcing, a narrative about the products you offer, and why you chose to include them in your subscription at that time.
Keeping this interest going over the long haul is challenging but essential to keep customers onboard with their subscription programs. Offering discounted shipping, sales benefits, and incentives for longer subscriptions will keep your customers happy and on track.
An example of this is "record of the month club" Vinyl Me Please, who send curated records with deeper music history and album art. They offer discounts for longer subscriptions which can be a huge plus for both their subscribers and their margins.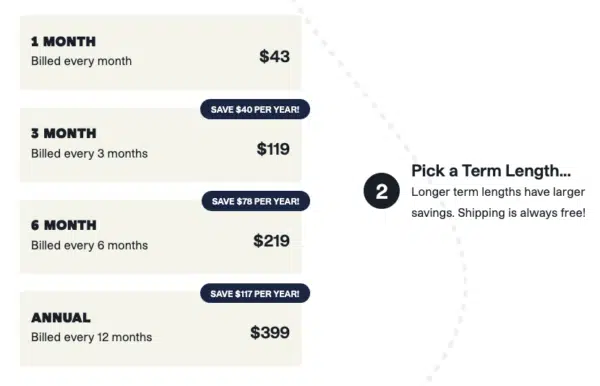 Personalize The Experience
Utilize technology to get an idea of what each customer wants from your subscription program. This is especially important for curated boxes that cater to individual styles and tastes. Keep track of customer purchases, feedback, and surveys. Take in as much information as you can about each subscriber in order to customize their experience. Again, the key to the subscription model is optimized customer relationships.
Hence, personalized and tailored packages will keep your subscribers satisfied and eager for more. Many companies will utilize quizzes and questionnaires at sign-up to more precisely cater to your exact tastes and styles. For example, curated clothing subscription box company Stitch Fix asks an extensive series of style, brand, pricing, and sizing questions. Here are just a couple of examples from their survey.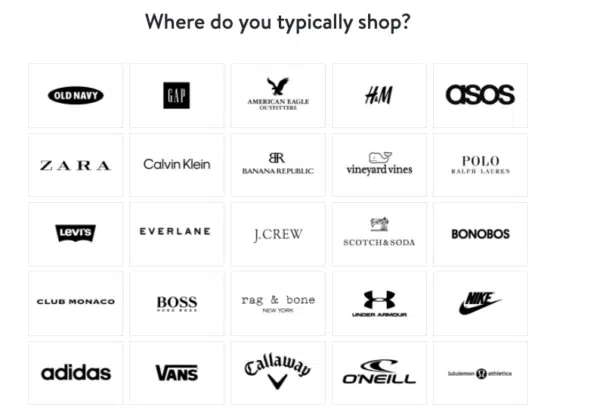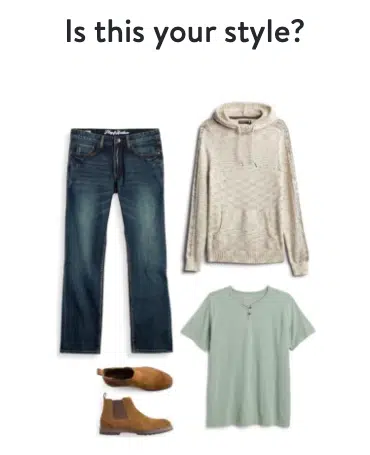 Flexible Subscription Management
Having some simple technical additions available to customers is a big asset. For example, allowing subscribers to skip an order or freeze their subscription can reduce their churn rate greatly. Better yet, allow them to do this as easily as possible through SMS or a simple toggle button on their app.
Awareness and communication with your customers about upcoming credit card expiration can greatly reduce involuntary churn. This refers to customers discontinuing their subscription accounts because they never update their new credit card number or expiry date.
Allow customers to easily update their payment information, perhaps even rewarding them for continuing to use your subscription. Never underestimate how much harder it is to get a new customer than it is to keep one you already have.
Subscription Management Companies
There are plenty of subscription management companies to choose from. For subscription specific services check out Chargebee, Stripe, Chargify, and SaaSOptics which are all viable options for SMBs. Shop around to see which platform will be most cost effective while properly integrating with your eCommerce platform.
Other general eCommerce platforms such as WooCommerce offer extensions to support subscription payments and products/services. KORONA POS seamlessly integrates with WooCommerce to support eCommerce retail. Check out a demo today!