Even before the COVID-19 challenge emerged, online and brick-and-mortar retailers were struggling with the high cost of returns. After the crisis subsides, the value of a well-written return policy will be even more evident, as shoppers reevaluate purchases made while they were staying home.
Now is the time to review your organization's return policy to minimize the losses caused when customers have a change of heart about in-store or online purchases.
The High Cost of Returned Products
American consumers return a lot of products, and those returns cost retailers a lot of money. According to the NRF, in 2022, US shoppers returned $816 billion in unwanted goods to the retailer. 
That cost reflects the products' value but doesn't include the expenses incurred in the shipping, sorting, receiving, and repackaging for getting those products back, turned around, and back onto the sales floor or eCommerce product page. 
Also not included in the valuation is the high (and growing) cost of fraudulent returns, which Appriss estimates at $27 billion — a 35% increase over the estimate for 2018!
And those numbers are just the quantifiable ones. More expenses are hidden in the consequences of managing returned goods. A Barclaycard survey asked retailers about impacts on business processes and found that the final costs of dealing with returns are staggering:
Over half (57%) of respondents stated that managing returns hurt day-to-day operations. 

Many sellers reported intentionally placing obstacles in the returns process to inhibit the shopper's opportunity to make a return.

One in three (33%) tried to offset the cost by applying delivery charges.

One in five (20%) increased product prices to account for the anticipated expense of possible returns.
Managing product returns costs any company more than simply the cost of return shipping.
Returns Impact the Consumer Experience, Too
Note that two of those three impacts mentioned above (delivery charges and higher prices) directly impact the customer's experience, in addition to the seller.
Often, retailers don't consider how the process of returning a product can negatively influence the customer's engagement with the brand, and don't clarify their return process activities according to who's doing the returning:
In many cases, consumers return the product because it fails to meet their expectations, or it was damaged in transit.

In other cases, shoppers intentionally purchase more items than they need and return those they don't want.

In still other cases, some consumers purchase several versions of a single product, then return the versions they don't like.
When any of these shoppers encounter interference in the product return process, they can quickly become frustrated and form negative opinions about the product itself, the retailer, or both.
These negative consumer experiences make it less likely that they will elect to shop at the store in the future.
What these retailers and product manufacturers are missing is the high value to the consumer of a well-executed product return policy. A well-written return policy does more than simply explain the process; it anticipates the cost of both the processing of the return as well as how the consumer will experience that circumstance:
Just as every sale generates valuable data about the product, so does every product return; as noted above, all products are not returned for the same reasons. Return policies can elicit consumer information from purchasers about those returned products, to clarify design or production elements that are off-putting or even dangerous.

In other cases, regardless of the reason for the return, consumers who had satisfactory return experiences also reported higher satisfaction with the seller/manufacturer.
In a 2015 study done by the Journal of Marketing Research, retailers who intentionally create return policies that generate a positive consumer opinion had higher profits than those that ignored the impact of negative return practices on their customers.
Clearly Stated Return Policies Reduce Returns
The growth of online shopping only underscores the increasing value of a high-quality return policy. Brick-and-mortar stores allow customers to both inspect the items before purchase and then discuss the return of those products in face-to-face conversations with store workers.
Online vendors have only that digital portal as the nexus between them and their market, so they must provide additional assurances that their shoppers have the same return opportunities.
In many cases, this assurance is provided through a well-structured and prominently displayed return policy.
In addition to giving customers a venue for complaints or observations about why they return goods and products, the policy also provides the vendor with valuable protections:
Both federal and state laws detail the rights and obligations of consumers and vendors. Neither entity can act fraudulently in the transaction and stores that post and follow their return policy procedures won't trigger unnecessary legal oversight.

Having a clear policy reduces the number of incidents of consumer complaints. Shoppers who can read and understand the return policy before they purchase can't come back later and claim they didn't know it existed or that it applied to their purchase.

The policy also outlines the processes shoppers will follow in the event they want to return a product. This capability lets them make their purchase knowing they can return the item if necessary, or that a return isn't possible, depending on the circumstances of each sale. In either event, the consumer makes the purchase in full awareness of the opportunity to return (or not return) an unwanted product.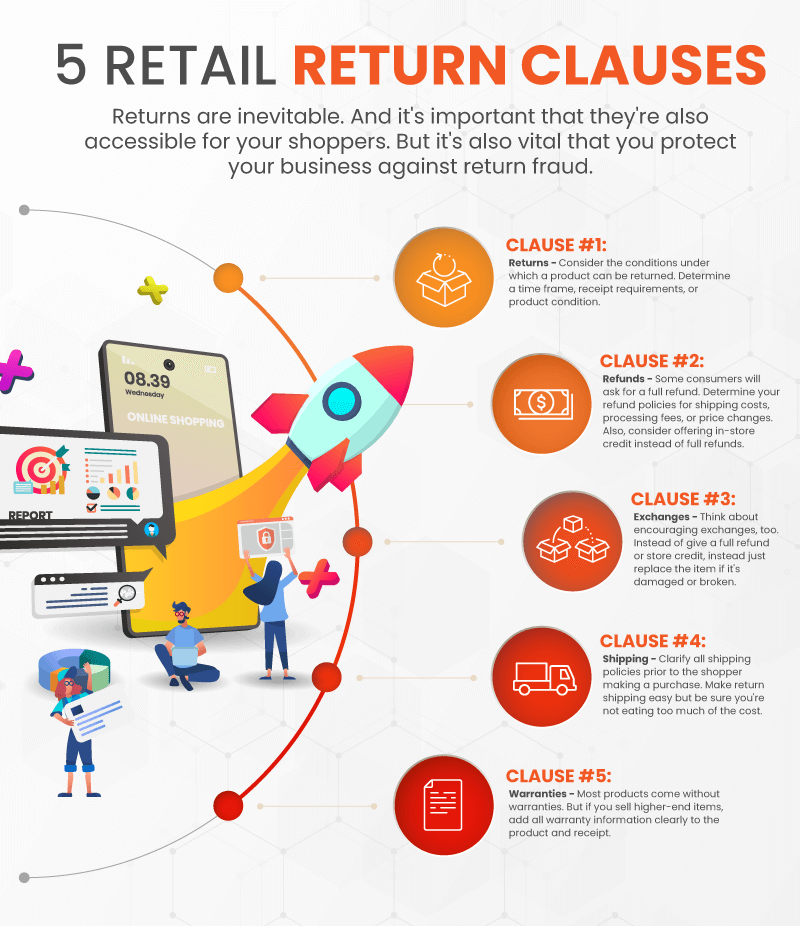 Optimizing the Return Policy with These 5 Clauses
An optimal return policy consists of five main sections:
1. Returns
This section of your return policy should explain whether returns are allowed and, if so, under what conditions.
Sometimes there's a time frame involved, allowing returns to occur within a specified period after the date of purchase. Often, the policy will state that a receipt or other packaging requirement is necessary before a return can be accepted.
The policy should also say when returns are not allowed, such as if they have clearly been used or damaged while in possession of the consumer. It is equally valid to have a "no returns" policy, so long as that is presented in detail.
2. Refunds
In many cases, consumers want their money back when returning the item, including shipping or mailing costs, if they also incurred those.
As a vendor, you can offer a full money-back guarantee with no questions asked or when specified conditions are met. Some sellers will provide a full refund of the purchase price, while others offer a partial refund, depending on the circumstances.
Many stores offer their customer an in-store credit that allows them to select any product they want with the cost of the returned item applied to that total.
Note that, for online purchases, the processes and timeframes for completing a refund should also be prominently displayed. Many reversal transactions take weeks to complete after that request is submitted.
3. Exchanges
Another alternative you may want to include in your policy is to permit the buyer to exchange the returned item for another product. The option could be for a replacement item, or for a different item of the same value as the returned item, depending on the customer's preference.
In this case, you are still helping your customer achieve their original purpose by providing a product that fulfills their particular need.
4. Shipping
Whether to pay the return shipping cost is a decision every seller must make. In some cases, covering that cost is considered a cost of doing business. In other cases, that cost may be excessive, and the merchant can rightly shift it to the customer.
Even a brick-and-mortar store should clarify its shipping policy in the event shoppers return their product from a distance. People are transient these days and can be traveling when they make their purchases. When they arrive home, they may need to return something that doesn't work for them there, or they may discover a failure in the product that wasn't visible when purchased.
Online stores must clarify their shipping policies for returned items. As noted above, those costs can be substantial for retailers. Customers should know they will bear the cost of return shipping if they decide to send their purchase back, regardless of the reason.
5. Warranties
Not all products come with warranties; those that have them should present that fact clearly, as well as the processes to follow to make a claim under that warranty. Products that don't have warranties should also declare that fact prominently, so consumers don't form a mistaken belief that one exists.
Note, too, that many manufacturers offer warranties that require purchasers to submit claims directly to them and not to the seller of the product. Be sure to include a reference to this circumstance in your company's return policy statement.
Retail Return Policies in 2020
The current COVID-19 concern has probably disrupted your regular business practices, and will likely continue to do so for weeks or months to come. As a consequence, you may now be more of an online enterprise than a brick-and-mortar establishment.
Either way, if you're in the business of selling goods, it is in your organization's best interest to tune up its return policies now so that it can provide — in whatever fashion — the products your customer base requires and will continue to require once this pandemic recedes.
To quickly and easily create or update your return policy, download Termly's free return policy template. This is a good place to get started with easy advice and guidance. And to learn more about KORONA's retail POS software, click below!