Many consumers have yet to realize it, but retail pickup lockers are popping up everywhere. It's the latest retail trend that has made strides to further unite the brick and mortar store with eCommerce shopping. Streamlining omnichannel retailing allows retailers to capitalize on both sides of the industry.
Sometimes called parcel lockers, retail lockers are the future of buying online and picking up in-store (BOPIS). The industry continues to grow year after year, and will soon be a $1Bn market. Lockers themselves are nothing new, of course, but incorporating them into the shopping experience is. And they've been introduced to benefit both consumers and businesses. So let's take a look at how they work and why retail lockers are becoming increasingly popular.
What Is a Retail Pickup Locker?
We all know what a locker looks like, but let's examine how it's used in a retail setting.
Simply put, retail lockers are storage containers that are used to help securely transfer goods from retailer to consumer.
The orders are placed online and then retrieved by the customer at the store. Lockers facilitate and expedite the pick up process by eliminating the need for a shopper to communicate with any retail staff members.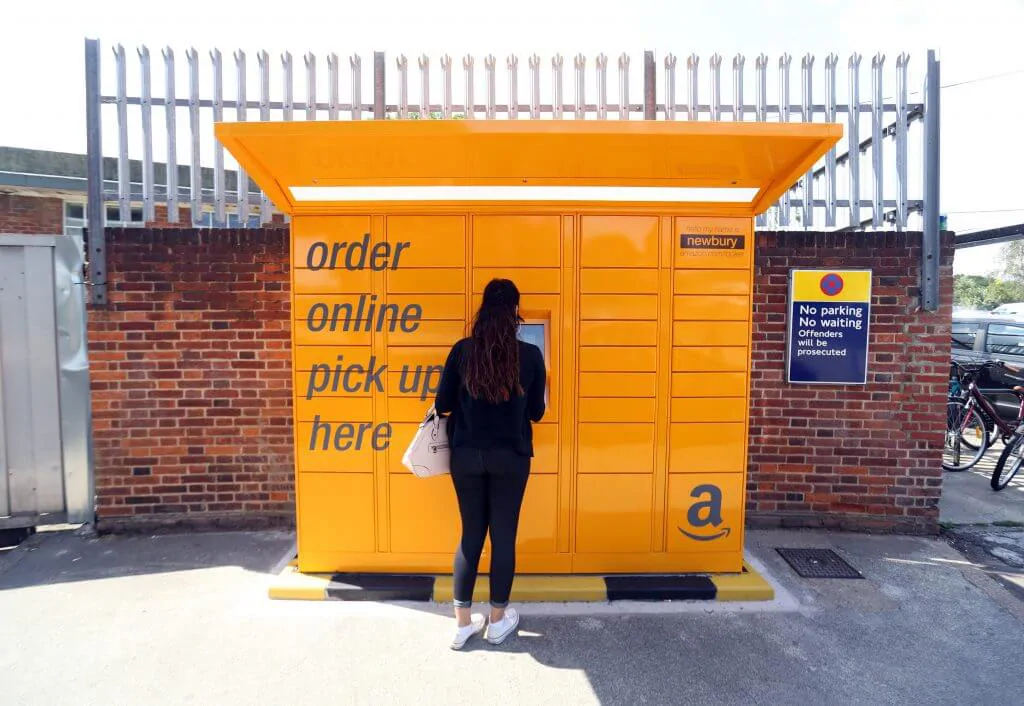 How Does a Parcel Locker Work?
Smart technology drives the efficiency of the lockers. In fact, the whole process is largely automated and rather simple.
A store employee (or courier if it's an off-site parcel locker) enters the access code to the locker and places the item inside the appropriate compartment.
The customer is immediately and automatically notified of the delivery by email, text, phone call, app notifications, etc. In this message, the customer is given a unique code that can be used to retrieve the package.
Finally, the shopper can now enter the store, input the code at the locker and pick up the purchased item. It's that simple.
What Is a BOPIS Order?
BOPIS, or, buy online pick up in store, is exactly as the name describes: shoppers make a purchase at an eCommerce store and then pick up the order at a participating retail brick and mortar location.
The BOPIS trend has caught on fast as consumers have taken advantage of the absence of delivery fees and the convenience of being in and out of the store in a minute or two.
Of course, when placing a BOPIS order, the customer must select a location for pick up. Multi-store retailers likely don't have the exact same stock at each location, so it's important that the online store confirm a pick up location for each order placed.

How Have Lockers Changed BOPIS?
It's been possible for some time to pick up an online order at a physical location. Retail lockers just make it a whole lot easier.
Before lockers, a shopper would place an order on an eCommerce site and request a pick-up location. Store associates would then have to confirm the order, find the product, take it to the designated pick-up area, notify the shopper that it's ready to be retrieved, and then hand it off directly to the customer when they arrived. Often, long lines and a backed-up system would hardly save the shopper any time.
Lockers have changed how these BOPIS orders are fulfilled. Once an order is placed, the shopper will get a notification confirming that the order is ready with specific pick-up instructions. Once they arrive at the lockers, they simply must enter an order number or scan a barcode/QR code to unlock the locker. Shoppers never have to wait in line or take the time of any retail associates, making it likely that you'll increase your eCommerce conversions.

Likewise, the only task for any staff members is to receive the order, fulfill it by placing it in the appropriate locker, and logging the information into the locker system. The rest is automated!
What Are Some of the Benefits of Retail Lockers?
Understanding a few of the benefits of retail lockers can help convince businesses of making the switch and implementing them at their stores. Below are a few of the biggest benefits.
Convenience
The idea behind BOPIS is to merge the eCommerce and brick and mortar shopping experiences. While the old model of having a service counter to deliver the package to the shopper may have saved them some time, it's not really enough of an incentive over just ordering the product for delivery. After all, one of the main reasons that shoppers make an online order is to avoid stressful, lengthy lines.
Parcel lockers eliminate this since they are the final step in the delivery process. Picking up a package takes mere seconds no matter how busy the rest of the store is.
Security
It's a more secure process, too. Online shoppers are tired of having their packages stolen from front porches and driveways. While security cameras have helped to somewhat alleviate the problem, there are still many issues with package theft.
BOPIS keeps packages secure in lockers instead of loose on a doorstep. This means that shoppers can confidently order a product and pick it up at their own convenience.
Efficiency
Locker pick-ups are also more efficient than traditional BOPIS transactions. Under the old model, store associates had to be present for each step of the process, from the time the order is placed until the final pick up. This use of your labor simply means that staff members are occupied with that instead of other tasks around the store.
Smart lockers automate almost the entire process. Store associates are only required for retrieving the product and entering the order number into the system. This streamlined process saves your labor costs and allows staff members to help other customers.
Environmentally Friendly
Online ordering has led to an extreme rise in shipping. This, of course, has had an impact on the amount of emissions given off. Shipping items internationally and cross-country costs an incredible amount of fuel. But a lot of the additional fuel and emissions come in the last step of the delivery process; getting a package to your actual door is tough! So BOPIS lockers eliminate this step, allowing retailers to keep their prices lower and reduce their carbon footprint.
Learn More About Other Retail Trends
Subscribe to our blog to learn more about this and other transformative trends in retail, like this one! And if you're looking for a new POS system, you can also sign up for a no-commitment free trial with KORONA. Click below to get started and find out how we can help your small business grow.
Get Started with KORONA POS today!
Tell us a little bit about your business and explore all features that KORONA POS has to offer. And there's no commitment or credit card required.