Last Updated: November 18, 2020
Many big eCommerce retailers are now offering free shipping. Amazon Prime members get free shipping on any Prime item, Walmart now offers free 2-day shipping on any order over $35, and Target offers free 2-day shipping if you use their REDcard and $2.99 next-day delivery.
Of course, these rates are impossible for small businesses to compete with. Large retailers can afford to take losses on their generous shipping policies. Amazon, for instance, lost over $7 billion in 2016 on shipping alone. In 2019, 27.9% of their net sales went to shipping and fulfillment costs.
So, while it's not realistic to match these types of shipping offers, ways of cutting costs are critical to consider. Undercharging for shipping can easily cost your business thousands of dollars; Overcharging or failing to stay competitive with your shipping prices will lose you valuable customers. So how can you find that happy medium? Let's look at 12 ways that small businesses can reduce eCommerce shipping costs.
1. Barter with Your Various Shipping Carriers to Reduce Shipping Costs
Every shipping company offers different rates depending on the time of year, the quantity being shipped, weight, destination, and desired time frame. And like any business, they are all competing for more customers. Though many business owners don't realize , this means that prices can be negotiated.
This is particularly applicable if you're shipping a large number of parcels. Larger quantities of packages being sent means that you'll qualify for cheaper rates.
Look at your shipping zones/ranges and package weights, too. Retailers that ship a lot locally or ship light packages will also be more likely to qualify for cheaper rates.
And then check to see if your order fulfillment provider is also a volume shipment provider. Volume shipment is priced based on the space a set of packages takes up in a truck. So if they are a volume shipper, they might be able to offer you more discounts. Some more larger eCommerce businesses are beginning to outsource their fulfillment and shipping.

Know your shipping data so that you have relevant information to bring to the discussion. Armed with the ins and outs of your shipping needs will leave shipping providers scrambling for your business.
2. Think About Signing a Shipping Contract
If you ship many products it might be worth negotiating a contract with one of the major shipping companies. Exclusively shipping through one provider will lower your rates. Just be sure that the rates are fairly lessened.
Look at extra fees, like additional handling charges, remote delivery surcharges, signature required/repeat delivery attempts, and heavy package fees. These can all be negotiated with the carrier.
Make sure that your contract includes refunds for any packages that are delivered late. Many businesses offer discounts to shoppers who receive a late delivery, so make sure you protect your profits with a late-delivery refund.
Beware of policy changes. All shipping carriers are changing their rates and terms each year, so have a plan to leave if the rates become too unfavorable for your business.
3. Automate the Process with Shipping Software
The downside of not signing an exclusive contract with one carrier is that you'll have to constantly evaluate where the cheapest rates are coming from.
There are helpful software solutions to automate this decision. The software imports all orders from your various market channels and then calculates the shipping rates for whichever carriers you select.
4. Package Products in Small and Lightweight Boxes with USPS
If you're sending lightweight and non-fragile products, get bubble mailers. Send anything under 13 ounces through the US Postal Service. Though USPS has gotten a bad name due to lost packages and late delivery, most of these problems have been resolved. It's become a reliable and affordable service.
For these packages, you can also ship First Class. It will be delivered within 1-3 days and at a great price. For heavier packages, you can check out the Priority Mail options from USPS – this comes with free packaging and $50 insurance – but you may be better off going with a private shipping company. If you do use Priority with USPS, ship it through Express 1, their business shipping service.
5. Ask Your Suppliers to Use Your Shipping Accounts
Most businesses have their suppliers/distributors ship them the products through their own source. The shipping costs are either added into the product price itself or a secondary surcharge on your order.
But it's smart to convince suppliers to ship through your account. It may take some convincing, but if it works, the benefit is twofold:
Additional shipping through your account means that you'll pad your volume, thereby decreasing your rates (again, carriers charge less per package if you're shipping more).

Second, this prevents overcompensation for shipping. Some distributors charge premium rates for shipping, taking a small profit off the top of every package sent.
6. Stick to the Standard Dimensions That Your Shipping Providers Use
No matter which service you use, a package with a smaller surface area will be cheaper. If packages incorrectly, a large box containing a lightweight item can easily cost more than a smaller package that weighs 30 or 40 lbs. Package dimensions are a pricing factor for every shipping company.
Keeping your product in a smaller space also saves you money on protective packing materials and helps prevents damage from its transit.
Finally, use packaging that your carrier provides. This ensures that you'll never be charged extra for sending obscure dimensions. If your carrier doesn't provide the packaging then ask them which dimensions will be the cheapest.
7. Use Good Packaging Materials and Look for Free Package Protection
Inner packaging isn't cheap and you certainly don't want to be wasteful with it, but it's still a necessary investment. A little extra cost on the front end will save you cash down the road. If a shipped product is broken or damaged on the way, you'll need to pay for the return shipping, eat the production cost of the item, and then pay for the new shipment. Plus, it's not a good look. Customers will be frustrated by the inconvenience and delay in receiving their order.
For some carriers, like USPS's Priority Mail, you'll be able to find free boxes and packing materials. Other providers, like FedEx, have self-service stations in each store that you can use to package your orders.
Additionally, some shipping options will come with free insurance for each item sent. If possible, certainly take advantage of this.
8. Look for Smaller, Regional Shipping Options
If you're shipping items locally or even regionally, look at smaller carriers. There are many more shipping companies out there than most business owners know about.
Though they have smaller delivery ranges than the bigger carriers, these companies offer more flexibility and responsiveness. You'll get better customer service and better rates.
These types of carriers also have higher on-time delivery rates and much lower rates of damaged products. The package goes through fewer hands and transport centers, keeping it more protected.
The order will also be fulfilled more quickly and efficiently. Rather than a locally-shipped item getting sent to distribution centers across the country en route, these shipping options keep everything local, allowing the companies to keep prices down and your business to limit its carbon footprint along the way.
Lastly, regional carriers offer more negotiable prices, lower minimum shipments, and far fewer surcharges and fees. Below is a helpful map that lists several of the most popular regional shipping options.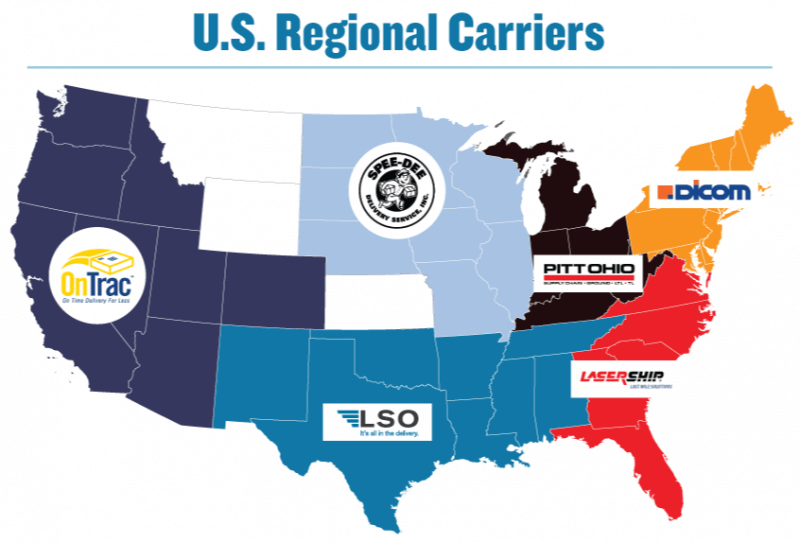 9. Pre-Pay Your Shipping Online
Like most of the world, the shipping industry is incentivizing the use of its automated features. Ordering and paying for your shipping online is almost always cheaper, faster, and easier. It also may come with free package pick-up, saving you a trip to the carrier location.
From the carrier end, they are able to offer significant discounts because of saved costs on staffing. It's time consuming for employees to weigh, measure, and discuss options with each guest in line. Instead, they want the customers to do it all themselves. There might be a bit of a learning curve on making the process fast, but once you have the right tools and a little experience, it will save you time and money. In some cases, the costs will be over 50% less.
This option is quickly becoming more popular among eCommerce small businesses.
10. Look at Outside Insurance Companies
Some of the big carriers offer pretty steep insurance rates – typically, between 80 cents and one dollar for every $100 insured, or, 0.8-1%. While this doesn't seem like a large amount, it can be extremely costly for retailers that ship expensive products.
While rates vary between companies, insurance from third-party providers is much closer to 0.5%. If you ship $500,000 worth of product in a year, the latter option will save you $1,500-2,500.
Look into your current insurance rates and see if outside providers might lessen this expense for your business.
11. Factor the Shipping Costs Into Your Prices
Perhaps the most obvious way to save in this list, adding the cost of shipping onto each order eliminates shipping costs and makes the whole process straightforward. Having your customers absorb the cost protects your business from racking up unsustainable shipping fees.
On the flip side, this strategy is hard to market in the face of so many free shipping options from big-box retailers. Consumers are becoming more and more accustomed to free shipping that the additional fees after their cart is finalized can be enough reason to abandon and shop elsewhere.
An alternative to directly including your shipping cost to your product prices is setting a threshold for spending a certain amount of money in order to receive free shipping. Make it approachable though, because even orders under $50 are expected by most customers to delivered for free.
Therefore, many smaller businesses have taken a hybrid approach to the shipping dilemma: standard shipping costs are simply built into the ticket price for each item at the eCommerce store. For those shoppers who want expedited shipping, a more palatable additional fee is then charged once the item is in the cart. While this does slightly raise prices across the board, it protects you against massive profit losses due to free shipping and keeps your customers happy with no extra fees or surcharges at the end of the shopping process.
12. Consider Hybrid Shippers/"Last Mile Delivery"
Hybrid shipping services is a more recent development in the industry. UPS's SurePost and FedEx's SmartPost, to name the two most popular services, pick up the package at your business or distribution center and take each parcel to the USPS office nearest its final destination. From there, the local delivery service will make the final dropoff. This will save most businesses about 50% on their shipping costs, though the delivery time will often be a few days longer.
Why Lowering Your Shipping Costs Is So Important
Every year, customers seem to be demanding lower and lower shipping prices. Meanwhile retailers grow in frustration as they try to manage shipping costs. More than half of retailers feel challenged by shipping logistics. It's not at all easy to meet both customer expectations and the needs of your business but you must do so in order to stay competitive in the market. By keeping your shipping costs low, you can retain more customers and allocate funds into other areas that can improve your business.
Reduce eCommerce Shipping Costs with KORONA!
Whichever option you choose, make sure that you're on top of delivery times and accuracy! Earn your shoppers trust by being transparent and reliable. And for more supplier management and shipping assistance, check out KORONA. Our POS software makes this process organized and efficient, keeping your inventory, costs, and sales accurate in real-time. This allows you to analyze important business decisions quickly and take action from there.
Get Started with KORONA POS today!
Tell us a little bit about your business and explore all features that KORONA POS has to offer. And there's no commitment or credit card required.