A lot of small businesses now sell their products online. And a lot of those have only started to do so recently. 2020 saw unprecedented growth in the eCommerce sector as companies across the world scrambled to increase their digital presence and reach new consumer audiences.
The increased demand for online shopping is great for retailers. But it's also come with an increased supply; the market is more competitive than ever. This means it's harder than ever to get shoppers to your website to browse your products.
Given how difficult it is to get shoppers in, it's vital to maintain healthy conversion rates. Unfortunately, abandoned carts are a major issue for nearly all small eCommerce businesses. But don't despair! There are some easy ways to optimize your eCommerce site and reduce abandoned carts. Once you make the changes, measure your success and see the difference they made in your final sales.
19 Ways To Reduce Abandoned Carts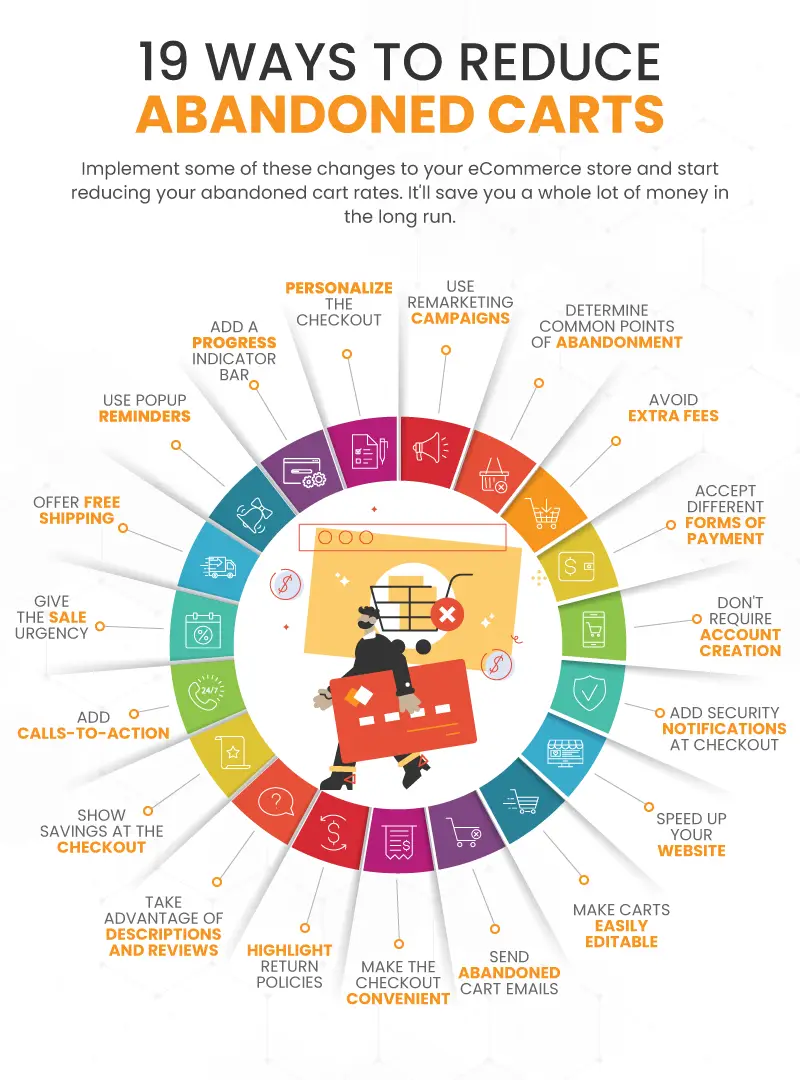 1. Personalize the Process
If the shopper has a profile with your store, be sure to leverage their history to create a more personalized shopping experience.
Any decent eCommerce platform will address the shopper by name, suggest products similar to those the shopper has purchased in the past, and offer the shopper the chance to repurchase something.
eCommerce stores are missing the personal experience that a brick and mortar retailer can offer. Use this simple step to help bridge that divide and get more sales conversions.
2. Put a Progress Indicator Bar at Checkout
Most people like accomplishing tasks, especially small ones that they can easily cross off. A progress indicator is a great way to satisfy this desire.
Not only is it satisfying, but it also shows the exact number of steps that are needed to complete the purchase. This will help your abandoned cart rates by assuring the shopper that this process won't take too long.
3. Use Popups to Increase Sales Conversions
Use your popups sparingly because they're annoying. But adding some strategic popups will help reduce abandoned carts.
The most obvious one to add is the exit popup. These occur when a user attempts to leave your website or checkout page. It can be triggered by any click off the page, a tab or window closure, or even navigating to the browser toolbar.
Another popular popup to consider is used to re-engage the shopper. These can appear after a certain threshold of inactivity in case they've moved to a different tab or left their device.
4. Offer Free Shipping to Reduce Abandoned Carts
The rise of big box eCommerce has resulted in a whole lot of consumers expecting to receive free shipping. While it's largely unrealistic for a lot of small businesses to compete with the big box prices and free shipping, it's still important to consider offering free shipping.
In turn, of course, you'll have to raise your prices. But doing so subtly can be quite effective. Consumers are happy to pay a premium for goods made by small businesses. They're often better quality, locally-made, and more sustainable after all! But they don't like when the premium comes as a shipping cost. Simply build the cost of shipping into your pricing and go from there.
5. Add Urgency to Promotions
Consumers are more likely to make a purchase when they think there is more competition or demand for the product. Ideally, you simply offer a high-quality product that people flock to your store for.
But for those of you who've yet to strike gold, creating some urgency, even if it's exaggerated, can be a great tactic. You might add a strict end time to all promotions with a clock showing the shopper the remaining time they have to make the purchase. Some businesses also include a "quantity remaining" number at the checkout.
6. Keep Calls to Action Bold
A lot of online shoppers add items to their cart without even ever going to the cart. Instead, they navigate off the website well before they make any purchase.
For this reason, make navigating to the cart the most obvious option throughout all pages of your website. Keep the cart icon updated with the amount of items in the cart as well.
Don't be afraid of people navigating away from product pages. You want to maximize your average cart spend but not at the expense of shoppers being confused how to get to the checkout.
7. Show Savings in the Cart
Consumers also like being reminded that they're saving money and found a great deal. Keeping your cart updated with the total savings that the customer has received will help encourage them to finalize the purchase.
Simply add a "You Saved:" or "Total Savings:" beneath the normal ticket price.
8. Use Great Descriptions and Add Reviews
Buying online can often be slightly more risky in the mind of the consumer, if for no other reason than they haven't actually handled the product before. Sizing, color, texture, and weight are some of the hardest things to visualize remotely.
To help alleviate this worry, write thorough product descriptions and add customer testimonials to the checkout page.
9. Highlight Return Policies
Again, shoppers are more wary of making the same purchase online than they are doing so in person. Reminding them of your return policy helps assure them that they still have options.
Like promotions, it's important to make returns simple and beneficial without giving away too much. But some returns are inevitable. It's important to embrace this fact before getting overwhelmed.
10. Make the Checkout Intuitive
Though most modern eCommerce platforms have done a great job of eliminating confusing checkout processes, there are still too many small businesses with horrible checkout systems.
Focus on making it fast and easy. Make sure that it's simple to move on to the next step in the checkout process while making it difficult to go back.
11. Send Abandoned Cart Emails
Email marketing is a key to any marketing strategy, but they're especially important for abandoned cart notifications.
Automate the process by sending emails after certain periods of lapsed time. Include a link back to their cart.
Some businesses also include a discount offer attached to these emails. Be careful though: this may increase your cart conversion rate, but it may also quickly be abused by savvy shoppers.
12. Make It Easy to Edit Carts
It's also smart to add some small features to your checkout that make editing the cart simple and efficient.
Add icons that allow the shopper to edit the quantity. Also give them the option of removing an item altogether.
Read more about this topic here: Shopping Cart Optimization: A Guide For eCommerce Retailers
13. Speed Up Your Website
A slow website can be disastrous to both your overall traffic and your conversion rates. Shoppers are an impatient bunch and don't like to have to wait. A delayed checkout experience can lead to a whole lot of abandoned carts.
Work with a developer to increase your site's speed. It'll have a major impact on your SEO while also helping to minimize the number of abandoned carts you're left with.
14. Add Security Steps to the Checkout
Reassure shoppers that you have a secure payment portal. Adding a few basic security features can go a long way. Additionally, add a badge from your payment gateway provider that shows the security of your website.
Again, though, do so without making the checkout process more tedious.
15. Don't Require Creating an Account
Likewise, avoid forcing your shoppers to create an account at the checkout. While it's important to build your customer database and loyalty program, it's an extremely detrimental factor in abandoned cart rates.
Still include the option of logging in or creating an account, but make the option to skip that step clearly visible, too.
16. Accept a Variety of Payments
Shoppers now want to use more payment options than ever before. Just like you do in your brick-and-mortar shop, you also want to offer as many options as you can.
Include options for all modern forms of payment and even popular forms of cryptocurrency.
17. Avoid Adding Fees
No one likes to be surprised by extra fees. Don't discourage your shoppers from making a purchase by taking on extra charges at the end of the checkout process.
The easiest way to avoid this is by offering free shipping. To encourage bigger orders you could add a minimum price threshold for free shipping.
You also should include all taxes in the listed price. It's annoying to have these tacked on at the end of the checkout process, too.
Finally, avoid any service fees if possible. They engender distrust and will leave many customers abandoning their cart.
18. Investigate Where Guests Are Leaving
If you have your eCommerce store synced with a traffic analytics program you'll be able to monitor shoppers' behavior. This is incredibly valuable for learning where your pain points lie.
Use a flow chart to see where customers are most likely to abandon their cart and try out new ways to improve these areas of your checkout process.
19. Use Remarketing
Finally, use powerful remarketing advertising to reach shoppers repeatedly after they've left your store. Remarketing uses cookies to remember where shoppers have been. This allows businesses to advertise to these past visitors at participating websites and browsers.
Remarketing is a powerful way to remind shoppers that they were thinking about buying something from you.
Get Started with KORONA POS today!
Tell us a little bit about your business and explore all features that KORONA POS has to offer. And there's no commitment or credit card required.