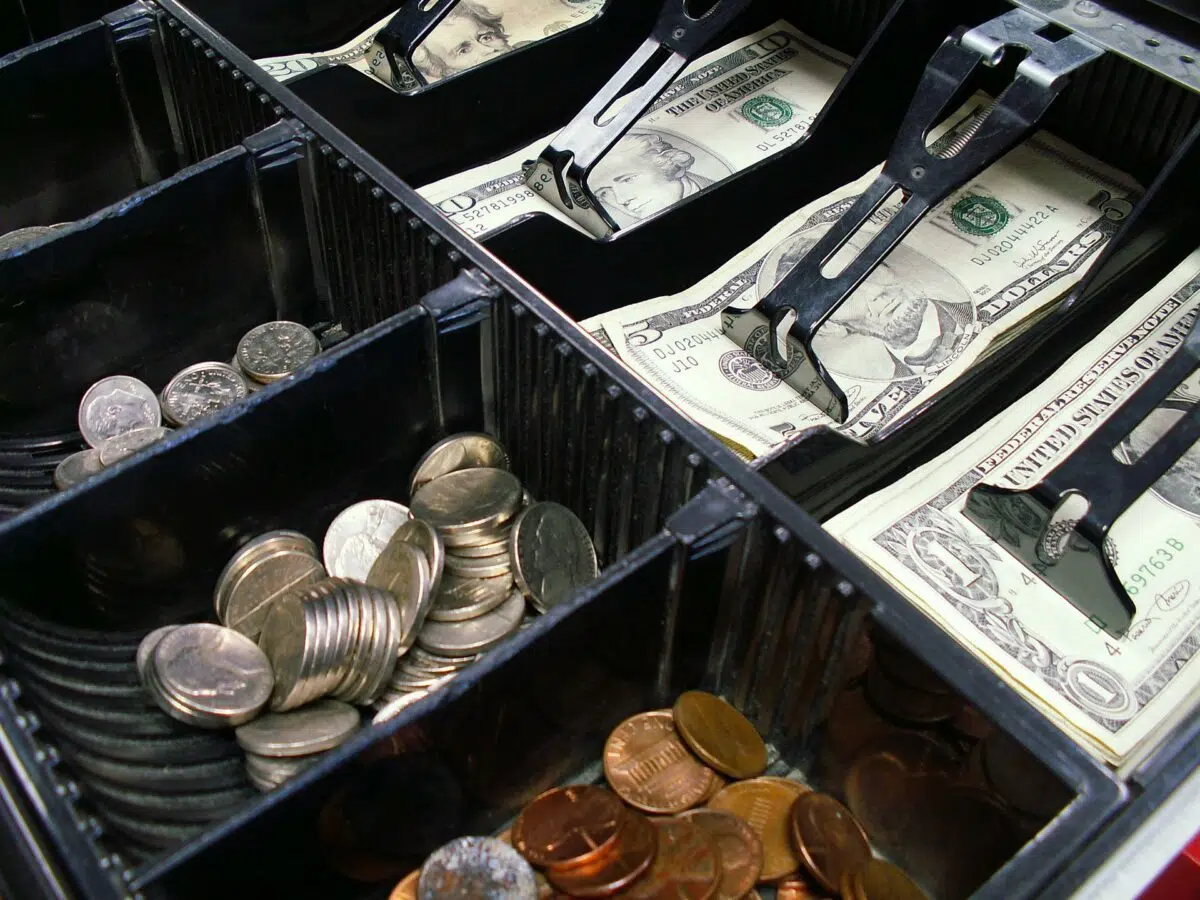 Cannabis is a cash business. Without federal credit institutions allowing dispensaries to use their financial services to execute transactions, very small amounts of debit cards are used in the marijuana retail space, and virtually zero credit cards are used. Hence dispensaries have a whole lot of paper money flowing into their cash registers each day.
Along with this large amount of cash comes complications with keeping it secure. One of the biggest threats of cash leakage actually comes from internal fraud, larceny, and skimming. Nonetheless, there are several steps you can take to secure your cash and prevent your employees from stealing from the register. Read more to learn the best practices to keep your dispensary income safe.
Table of Contents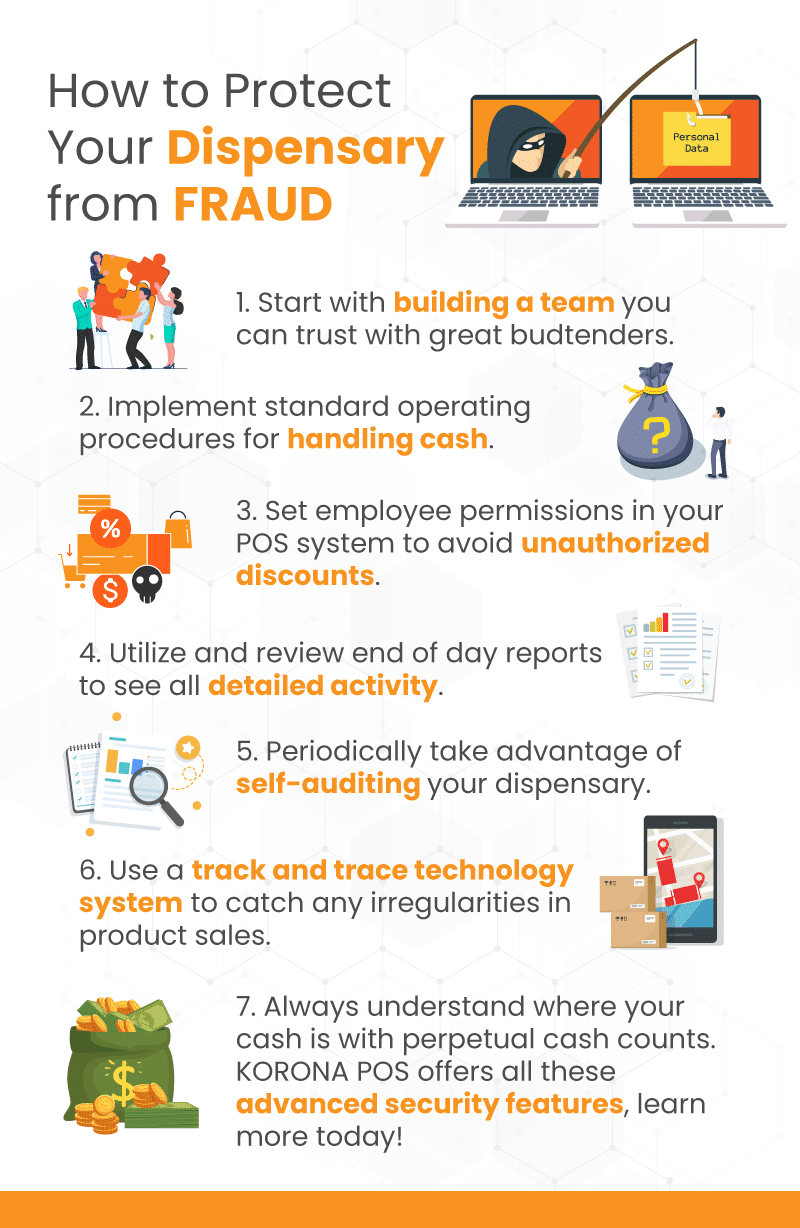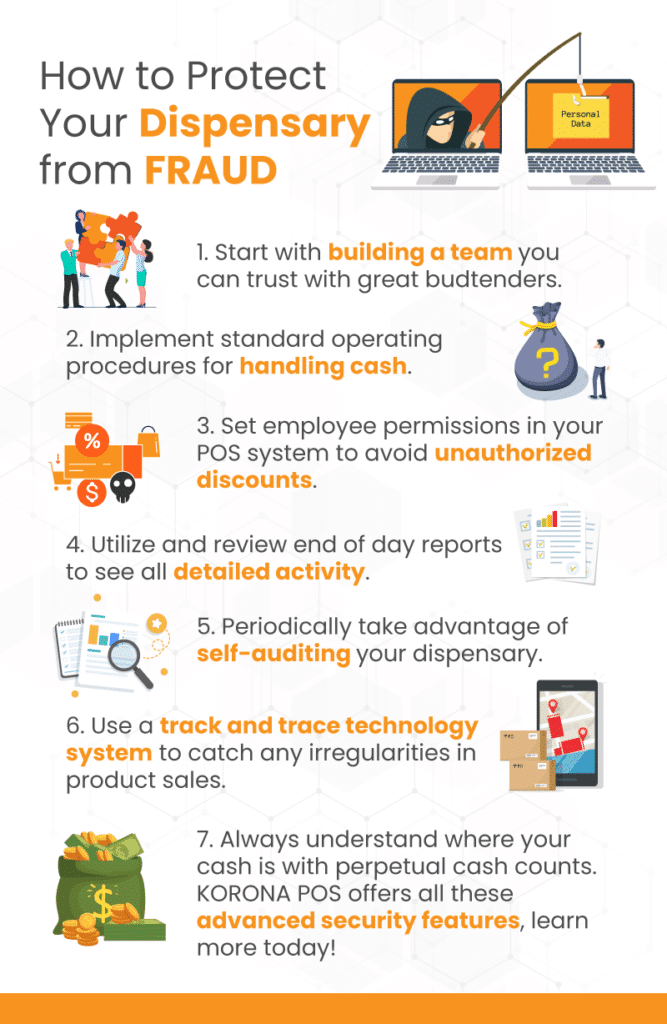 Build A Team You Can Trust
First and foremost, you have to treat your employees well. Foster an environment that makes your staff feel valued and respected. You can do this by emphasizing training in addition to offering comprehensive benefits and competitive pay.
Ensure that they don't feel overwhelmed or stretched too thin when your dispensary is at its peak hours. Having a manager on the floor to assist your budtenders with tangential tasks can help reduce stress and avoid purchase flow hiccups.
Listen to your employees, too. They're vital to the success of your dispensary, and their ideas and criticisms are based on real life workplace experience. Not only will this reduce the risk of them fomenting contempt for your business, but it's also the right thing to do. While you will never be able to root out every would-be thief, you will be creating a positive culture for your place of business and mitigate the risk of internal leakage.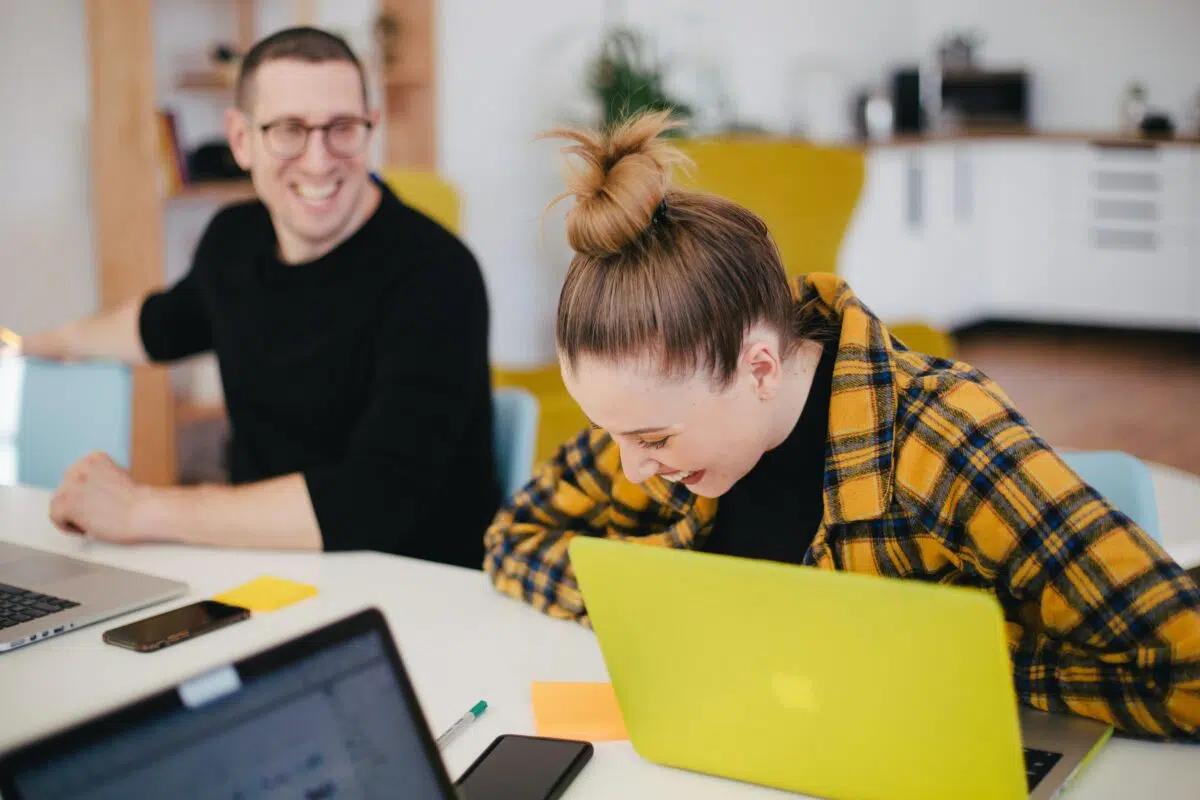 Handle Your Cash With A Standard Operating Procedure
To keep close track of your cash, you should get an accurate count of the cash drawer before and after each budtender shift. In case you have any inconsistencies or shortages you will know where the error came from.
Some companies have implemented a "blind reconciliation" policy, in which the cashier/budtender doesn't know how much cash sales they owe to the house until after they submit the drop. While you might not get to the bottom of the problem immediately, you will be able to take notice of any patterns that emerge with repetitive discrepancies from a single staff member.
In addition, you should have regulations set in place for every step of processing, counting, dropping, and storing your cash. Keeping everything official with scans, signatures, and time sheets will ensure that nothing slips through the cracks.
Set Permissions For Employees
Limiting certain functions to managerial staff and ownership can reduce lost revenue from inappropriate use of promotions and voids. One of the ways that budtenders have been known to try to skim from their dispensaries is through abusing unauthorized discount codes to get kickbacks from friends, family, or regulars.
With KORONA POS for dispensaries you can easily tailor each employee's permission level. The back office interface controls allow you to toggle every possible access option to customize which tasks and responsibilities are appropriate for each staff member. This will limit what features your budtenders and employees can access.
Review Detailed Activity Reports
When your dispensary is ready to process its end of day reports, your point of sale should offer direct access to detailed reports of your sales since opening that morning. KORONA POS batches your Z-report showing every individual employee action taken during that day. This information is stored digitally in the back office interface for dispensary owners to be able to remotely access whenever they need to monitor or review the end of day reports.
The ability to review your voids, ticket edits, discounts, and drawer reconciliation attempts allows dispensary owners to closely examine every employee's cash out each day you are open for business. By monitoring these reports, you'll be better prepared to catch any discrepancies or unauthorized adjustments made by your budtenders and managers.
Best of all, you can access all of this information digitally on the cloud through your cell phone – even if you're off-site or on the go you can easily keep an eye on your dispensary's cash.
Consider Self-Auditing
From time to time, it could be advantageous to self-audit your own retail company to make sure that your inventory and cash counts are adding up correctly. Keeping a close eye to ensure that all of your numbers are aligned can help save you cash leakage in the future, as well as protecting against costly fines from potential government audits or probes.
Self-auditing your cash flow can help determine if your operating procedures are working for you. Rarely does anything in the business world work with any sort of "set it and forget it" ease, and retail operations are no exception. As you expand and add new inventory, employees, integrations, and suppliers, keep up-to-date with how the handling of your cash is actually going.
See related: Asset Security In Retail: 7 Things Retailers Must Consider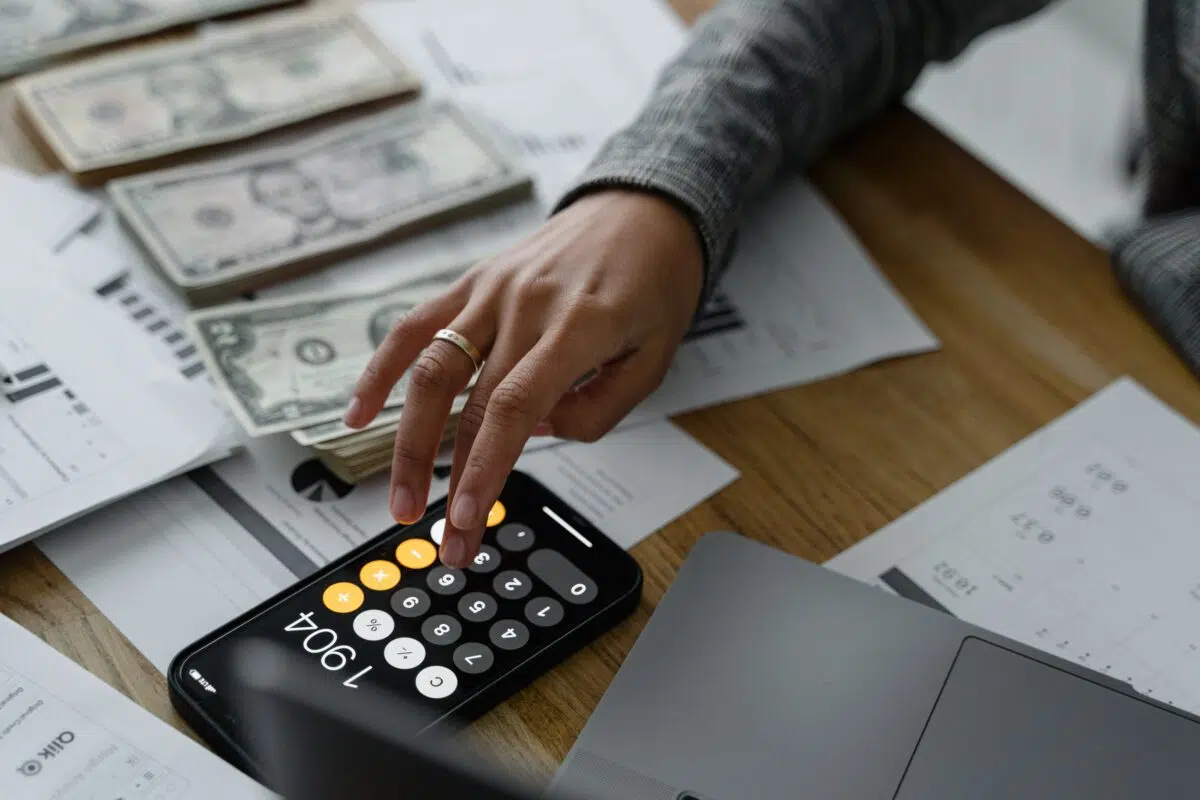 Metrc And Track And Trace
As far as inventory and product tracking is concerned, Metrc, or whichever track and trace system your state requires, won't really let your employees steal products from you without raising red flags. The software is designed to catch any irregularities in what comes in and what goes out of your dispensary. In this regard, Metrc operates both as a deterrent to employee theft, and as a reporter to state authorities if there appears to be diverted or mishandled marijuana inventory.
Having your management and budtenders well trained and familiar with how Metrc functions keeps cannabis products under tight control. Make sure you run your dispensary with a point of sale system that is fully ready to work with track-and-trace technology. KORONA POS comes with a complete Metrc integration so that you don't have to worry about manually reporting your product sales and inventory counts.
KORONA POS Offers Perpetual Cash Count
The future of cash security in marijuana retail businesses means knowing where every dollar is at every moment. As a dispensary owner you will be able to track your money between different point of sale drawers and safes in real time, in coordination with your inventory and stock counts.
In fact, much like perpetual inventory, KORONA POS offers a cash ledger system for continuous cash counting between all of the points of your workflow and storage. You will know exactly where all of your money is in one secure, immutable ledger that cannot be tampered with or altered by employees. We also integrate with Brink's BLUBeem to simplify your cash control.
Reach out to us today to learn more about the cash security features of KORONA POS. We offer the fastest and most robust point of sale system in the cannabis retail industry, with extremely competitive pricing and the best customer service available.
FAQs: Dispensary Fraud
Why do dispensaries get paid in cash?
Marijuana is illegal at the federal level, and therefore cannabis retail transactions won't be FDIC insured. In addition, large financial institutions are risk averse, and are afraid of potential penalties for working with companies that sell products that are not federally legalized. While some dispensaries have ways of accepting debit card payments, most accept cash only.
How can dispensaries secure their cash internally?
Establishing a healthy working environment for employees with a standard operating procedure for the handling of cash is of utmost importance. In addition, making sure that budtenders aren't taking advantage of store discounts or computer voids will help mitigate internal leakage. Finally, be sure to review reports and keep compliant with track-and-trace to have all cash and inventory accounted for.
How do dispensaries handle cash?
Internally, cash is handled much like other retail businesses, albeit with added security and safekeeping because of the sheer amount of notes that dispensaries handle. Dispensaries should also be outfitted with secure vaults. From there they will rely on pick ups from security services delivery companies to take the cash to local banks that work with cannabis-related businesses.
Can dispensaries have bank accounts? 
Yes, dispensaries can open bank accounts with institutions that are willing to work with marijuana-related businesses Most of the time, these banks and credit unions are smaller, local, and specialize in working with companies in the cannabis industry. Also, it will generally cost dispensaries more money than usual to open and keep an account with these banks.