Last Updated: May 3, 2022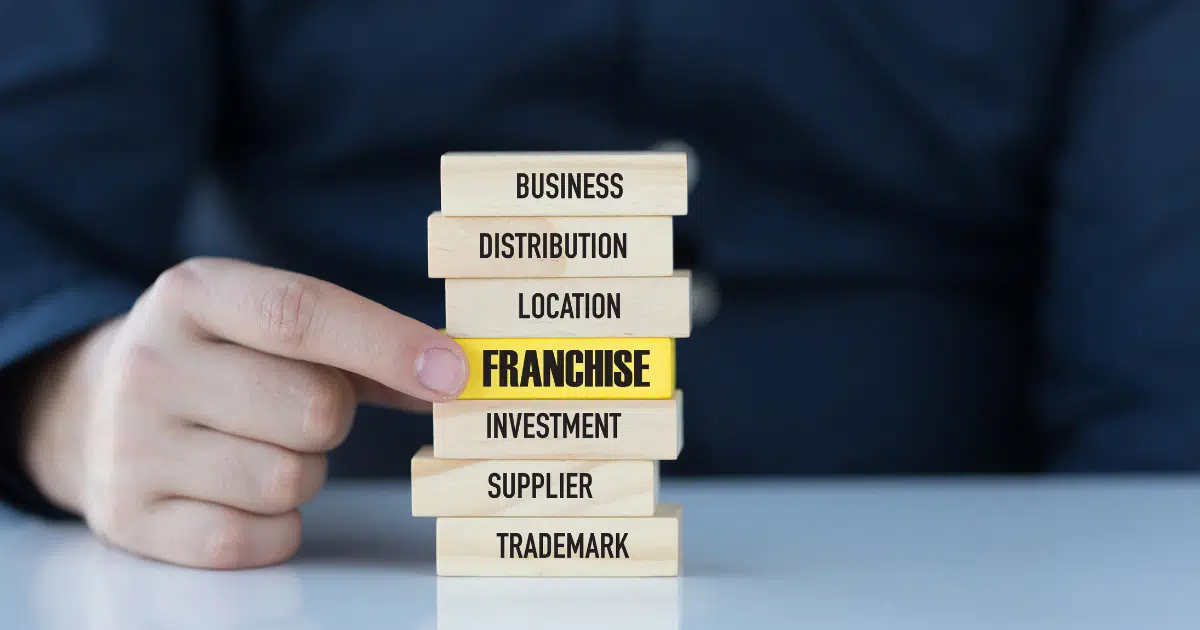 Franchises have a remarkable track record of success. There are nearly 800,000 franchisees in the U.S. alone, employing almost 20 million people. And they cover a variety of industries: auto care (Meineke), fast food (Jimmy John's), salons (Great Clips), shipping (UPS), hotels (Wyndham), home care (Ace Hardware), car rentals (Hertz), real estate (Century 21), health (GNC), and finances (H&R Block), to name a handful. Of course, there's a reason franchising is so popular. Franchises are simply much more likely to generate a profit. But this can sometimes come at a cost. Not all businesses will necessarily benefit from franchising, so it's important to consider the pros and cons of franchising your small business before doing so.
See Also: Tips for Franchising – 6 Tips for New Franchisors
PROS
CONS
What Exactly Is Franchising?
Simply put, franchising is a legal and commercial contract between the owner of the franchise (the franchisor) and someone who would like to use the brand, marketing strategy, and established operations (the franchisee). A franchisee is willing to pay to use the same formula that has made you, the franchisor, so successful.
There are many successful small businesses who are thinking about franchising their model, so let's look at a few of the pros and cons of this decision.
The Pros of Franchising a Business
1. Easy Capital
Coming up with capital for expanding your business is something that limits even the most successful retailers. It's riskier to borrow and more costly down the road, so having the cash on hand is always preferred.
Franchising can help provide this. Typically, a franchisee will pay an initial fee to purchase the rights to your business name and procedures. This fee is meant to cover all opening costs, from appliances and furniture to signage and rent deposits. This leaves the franchisor with a brand new location without having to worry about a massive loan or group of investors.
2. Royalty Income
Along with the initial franchise fee, franchisors also receive a cut of all sales from that location. This ranges between 3 and 6% in most cases and can mean a lot of extra cash in your pocket at the end of the year.
3. Better Store Management
Selling your franchise also tends to attract more successful and motivated candidates. Unlike running your own store, the franchisee is taking on complete responsibility. And also representing your brand. In most cases, this is a great combination. The franchisee stands to lose as much, or even more than you. It can, therefore, be a great asset to your business.
This is not as likely to be the case with a traditional business structure. Employees are more often not as motivated and always have less personally invested in the success of the business.
4. Less Hands-On Management
In turn, you're also able to step back and worry much less about day-to-day operations as you're probably used to. The franchisee has purchased a business. It's theirs to worry about. You still have a partnership and contract to abide by, but the franchisee is responsible for scheduling, payroll, accounting, workers' compensation, hiring, and firing. Franchise ownership allows you much more time, while also serving as a potentially large revenue stream.
5. Minimize Risk
Again, with the franchise fees, your risk is much less than it was when you opened your business. Your hard work has already paid off, so it might be time to save yourself the stress again and let someone else handle it. If you're confident in the model and sell your franchises carefully, there is little chance of any large errors.
The Cons of Franchising a Business
So low-investment for growth, massive scalability, less work, potential royalties, and little risk?! Why wouldn't everyone franchise their small business? Like everything in life, this comes with potential drawbacks.
1. Loss of Control
Perhaps the toughest pill for new franchisors to swallow is the fact that they're not the boss anymore. You're still in a contract and can collect income from the store, but you sold the rights to that location.
While a contract is present to prevent and mediate any disputes between the franchisor and franchisee, it's not always sufficient. Small disputes can be crippling to business and create expensive legal battles.
One common battle stems from the royalty structure: most franchises pay royalties as a percentage of total sales to the franchisor. The franchisee is left to collect all profits the store makes. For this reason, franchisors stand to benefit from long-term promotions and discounts to generate more sales, even if the store makes no profits. Franchisees, on the other hand, are not quite so keen on the idea. This is just one of many potential legal issues that can spring up.
2. Less Invested Corporate Community
While it's great to grow at such an amazing rate, the allegiance to your brand is not as strong and connected as a traditional business structure. Franchises have little reason to communicate with each other and work together to make the whole brand succeed.
They are also understandably less willing to invest in advertising, marketing, infrastructure, etc. that will make your entire business succeed. Rather, many franchisees will hope that others are taking care of that aspect so they can save money.
There are preliminary legal steps that can minimize this risk, but it's complicated and expensive. And it's quite difficult to terminate a franchise contract. There must be a clear breach of contract, followed by long and expensive court proceedings.
3. Lessened Creativity
The formula is already established. Once you decide to franchise, this formula is even more difficult to change. Take Dunkin' Donuts, for example. It took years of coordination, market research, and legal work to simply drop the "Donuts" and rename themselves simply "Dunkin.'"
If you're a business owner who enjoys coming up with new ideas and running with them, franchising might leave you feeling less excited and fulfilled about your business, even if you are raking in the cash.
4. Regulation
Operating a normal business already comes with laws, regulations, fees, and paperwork. Franchising just adds more.
Franchises must register as such in nearly all states. In addition, every state requires franchises to provide detailed income disclosures and franchise offering circulars. Combined, these documents are meant to protect franchisees against deceitful franchises. It provides financial information that helps potential franchisees know exactly what they're getting into.
There are many laws governing the operation of franchises. And most were instituted to protect the franchisee. And again, these are in addition to your standard employee contracts, taxes, health department regulations, lease agreements, etc.
5. It Might Just Not Work
Your risk is less, but this is far from guaranteed. Most businesses thinking about franchising are doing so because of the strong assurance of success. But there are still inherent risks. Your brand could be contaminated by an exceptionally poor franchisee. A franchise might also open in a location that you could have done so yourself. You're forced to share these profits and take home less revenue per unit sold.
Just remember that nothing in business is ever a sure thing. Also, remember that you are an important part of what has made your business successful. Franchising takes you almost completely out of the equation.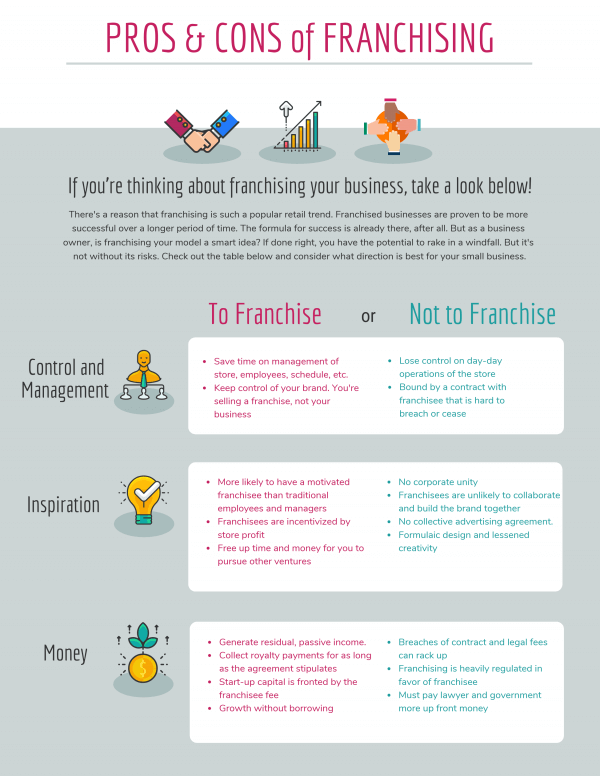 Pros and Cons of Franchising with Your POS System
If you're thinking about franchising and worried about your POS system being integrated between all locations, not to worry! KORONA POS has great software features for franchising that make transferring data and combined inventory as easy as a few clicks. It makes communications between your franchisees seamless and keeps you up to date in real-time every day. Click the button below to find out more!
Get Started with KORONA POS today!
Tell us a little bit about your business and explore all features that KORONA POS has to offer. And there's no commitment or credit card required.
Frequently Asked Questions About Franchises
What are the types of franchising?
There are several types of franchising. The main types are job, product, business format, investment, and conversion franchises.
What are some examples of franchises?
Some big-name franchises we all know are McDonald's, Dominos, Subway, Dunkin Donuts, and The UPS Store.