Product bundling is a marketing strategy that allows companies to combine complementary products into a unit and set a lower price than if they were sold individually. It allows brands to increase sales and average order value and save on advertising costs.
Jackets and ties. Smartphone and headset. Shoes and socks.
Some items or products just go well together and are easy to bundle. That's why many retail and eCommerce store owners use product bundling to get rid of excess inventory, increase revenue, and improve their customers' average order value (AOV). Forrester's research finds that upselling and cross-selling contribute to around 10-30% of eCommerce revenues.
Although product bundling may seem like a simple concept, it's based on something that's actually quite complicated: the psychology of consumer behavior. By offering a curated collection of products at discounted prices, customers will be happy with the deal even if they end up paying a little more in the long run. This article will walk you through the psychology behind bundling, some tips from industry experience, examples of brands doing it well, and the different types of bundling strategies used in retail.
Table of Contents
What Is Product Bundling?
Product bundling is the concept of several single goods or services being sold together as a combined package at a lower price than if they had been sold individually. Common examples of product bundles include discounted restaurant meals, beach kits, or shampoo and conditioner sets.
Some brands only sell certain bestsellers as part of a bundle rather than individually to encourage consumers to try products that complement their best sellers. And it seems to work; at both online and traditional stores, consumers have a positive outlook on bundled deals.
On the other hand, mixed product bundling occurs when a particular brand offers many popular items sold individually at a discounted price as part of a bundle. This gives consumers the option to purchase one or two items separately or as multiple products bundled together.
What Is the Psychology Behind Product Bundling?
Let's look more closely at why this strategy is good for your bottom line and how to incorporate it into your existing marketing strategy.
A study by Vineet Kumar of Harvard Business School revealed that when Nintendo sold console units using a hybrid bundle, sales increased by 100,000 units (and individual video game sales also increased by more than one million units). Conversely, when Nintendo tried pure bundles – with customers forced to buy only bundles – its sales dropped by 20%, including both the sales of video game consoles and the individual games themselves.
The numbers make it clear that the secret to bundling is finding the right combination for your bundle or setting up a hybrid bundle. However, to determine the right mix of items, you must first understand how customers perceive the value of your products. Of course, the higher the perceived value, the more popular the product bundles will be.
Because of the importance of such perceived value, the products in the bundle must all carry weight for the buyer and offer a significant discount when purchased together rather than individually. So it's not enough to simply lump products together and expect extraordinary results.
What Is Price Bundling?
Some retail bundles offer discounts or added value, but price bundling is another form of this strategy. Retailers select specific items that must be purchased together to receive a discount or bundled together as a general discount on multiple items. "Buy one get one free" (BOGO) discounts are a great example of price bundling.
The idea behind price bundles is to reduce the customer's "payment pain" (i.e., the negative feelings associated with spending money). By offering bundled discounts on top of the total price or adding perceived value (such as "free" items), customers feel like they are getting a good deal, even if they spend more than they had expected.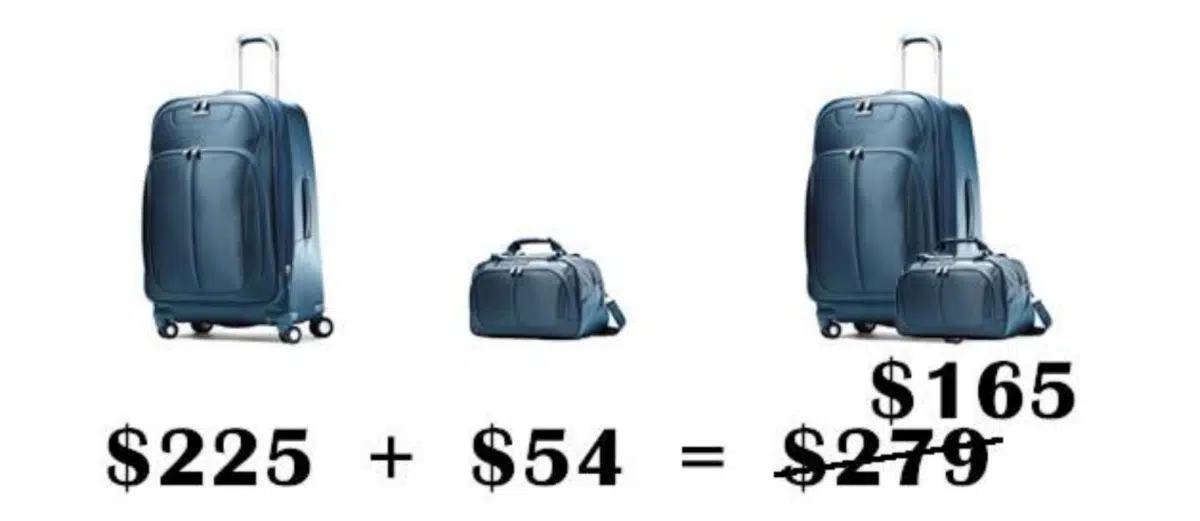 How to calculate bundle pricing
Pricing your bundle can be simple if you don't offer a discount.
To calculate the bundle price, you must first know your gross margin on each product in the bundle. To calculate the gross margin in dollars for a product, deduct the cost of goods sold (COGS) from the total selling price.
Gross margin dollars = Selling price – COGS
Once you know your cost basis, you can choose an appropriate discount.
Some basic rules of thumb for discounts:
For businesses with an average of 50% or more margins, cut between 10% and 20% off the subtotal.

For companies with an average of 50% or less margins, a discount rate between 5% and 10% is often enough.
It's also worth testing the chosen discount over time to see what works best. Just make sure that you're never sacrificing too much profit or even running at a loss. And in some cases, businesses can afford to take some losses but not for an extended period of time. So if you're running such a bundled promotion, set a definite end date/quantity to it to better manage your margins.
How To Decide What Products To Bundle?
Deciding which products to bundle is best determined by your current inventory, pricing, margins, and popularity of certain products.
Let's look at how to choose the right products for three of the most common types of bundles:
The "buy more, save more" bundle usually applies to your entire store or at least broad categories of merchandise. This technique is particularly effective in driving sales of

stagnant inventory

. Typically, retailers will choose the items in this bundle based on the slowest moving category of merchandise.

Quantity discounted bundles are geared towards selling multiple copies of the same product. You should select items based on your best sellers to increase the average order value (AOV). You can also find out if quantity discounts help move stagnant products.

Leverage the data. Since prepackaged kits work best for complementary products or products that are meant to be used together, choose items that your data shows are often purchased together. Analyzing customer data and tracking product performance indicators means you no longer need to guess which products generate the most sales when bundled. For example, if your customers usually buy chains along with earrings, that's a good indicator that you should sell a kit.
Tip from KORONA
Research shows that the higher the discount offered by a bundle, the more likely it is to sell. For instance, if the bundle is 20% off consumers usually prefer to buy a single product. But if the bundle percentage off is upped to 45% consumers prefer the overall bundle over buying the individual product. When deciding how many products to include in a bundle, keep in mind that if the cost of the product is high, it's better to bundle a small number of products at a higher price. Bundles that include more products at lower prices are better when costs are lower. It's also good to monitor competitors' discounts and see what they're offering in bundles to guide your strategy. Still, be sure not to make your offer too similar so that you stay interesting and unique. Finally, try not to overdo it with the bundling strategy. Pick one or two approaches and focus on those to ensure you don't swamp your customers with offers.
Consumer and top-selling product data are accessible through a point of sale system and ABC analysis. Together, these provide you with crucial data about your sales and your customers' preferences. An ABC analysis is an inventory categorization technique that helps merchants find their most (and least) valuable products.
Product Bundling Examples And Strategies To Try + Branding Proper Use
We touched on a few different styles of bundling earlier while discussing the types of products to include in retail bundles, but let's go more in-depth now. Below are 4 of the most common retail product bundling strategies.
1. Leverage pure bundling
Whether it's in a brick-and-mortar or an eCommerce store, there are always products that don't sell as well as others. This could be due to price, product positioning, packaging, or a slew of other factors. As a more long-term plan, you can certainly implement some pricing strategies to spur sales of these products, but in the short term, one of the most effective strategies to accelerate sales is through product bundling.
See Related: How to Price a Product
Pure bundling is an example of a product bundle that works best to push slow-moving items. Pure bundles are combos of the same product or different products that shoppers can't buy individually. Some examples of this are sets of hair dryers with different detachable heads or televisions with remotes. SquattyPotty, the FDA-approved pooping accessory manufacturer, has mastered this strategy. They used it for Invisibrush, their proprietary toilet brush + brush holder set, complete with a spare brush.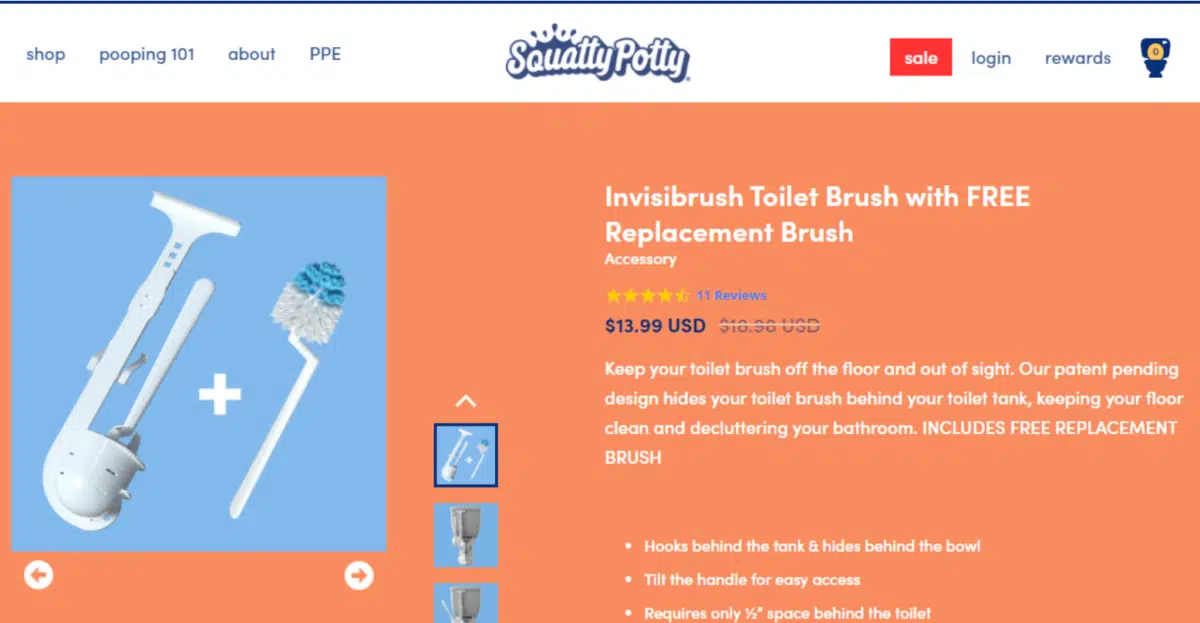 Given that a single buyer rarely purchases only the toilet brush and holder set, this is added to a bundle with the Squatty Potty.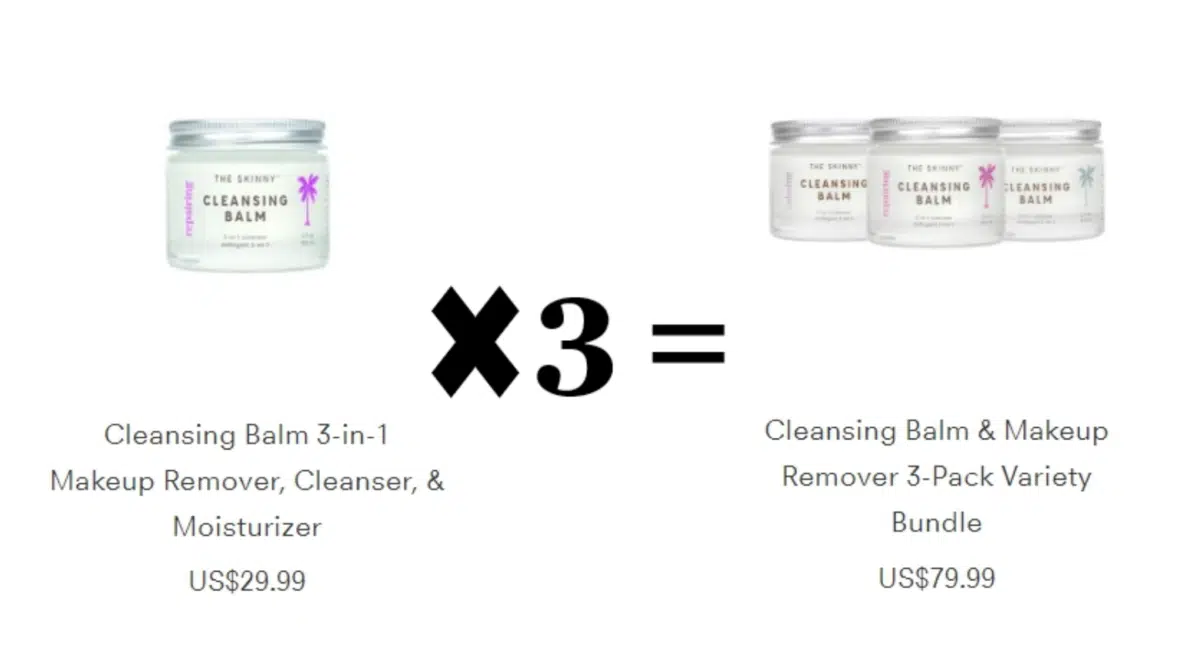 Skinny & Co's 3-Pack Makeup Remover Balm is another example of a pure bundle. In this case, it's a multiple-pack of the same product.
2. Use subscription boxes
Subscription boxes are bundles in their own right, not just for online retailers. Many brick-and-mortar retailers have launched their own subscription box services. WineCollective is just one example of a brick-and-mortar store that utilizes subscription boxes for education and product selection. The company eliminated decision-making difficulties from the buying process after realizing that some in-store customers struggled to get the right bottle.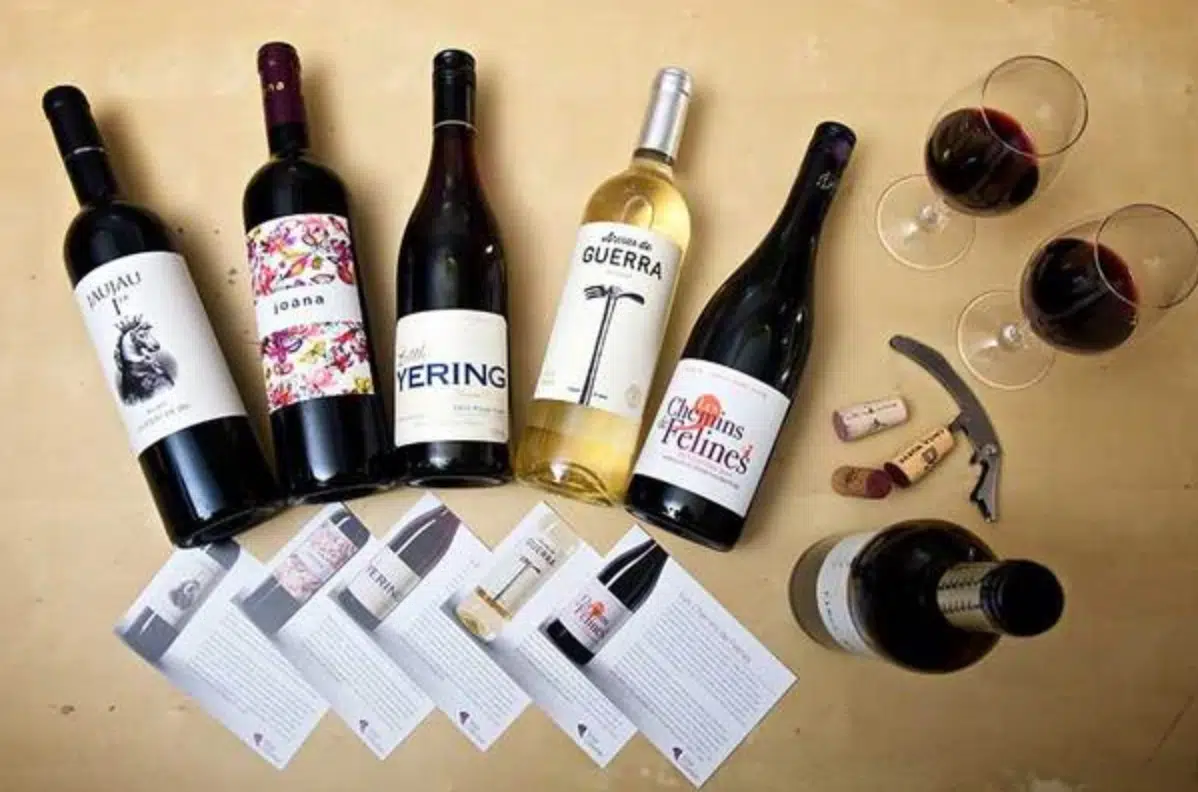 This allows customers to subscribe to crates of select items while also enabling WineCollective to bundle products they see as a best fit, educating customers and elevating their taste while also taking some of the stress off of their decision.
See Related: Retail Subscription Services : A Guide For SMBs
3. Make seasonal shopping easy
Bundles receive special attention during vacations and sales promotion days, such as Black Friday and Cyber Monday. As the term suggests, seasonal bundles are examples of product bundles built around special seasons and vacation themes. Consider some of the most popular times for seasonal bundles: Easter bundles, Fourth of July bundles, Chinese holidays, Black Friday/Cyber Monday, during the Christmas season, or Valentine's Day. But why limit your bundles to only special occasions. Think about offering them year-round. This allows customers to save money on these seasonal offers at any time of the year, not just on special dates. You can still add some urgency to the deals, too. Set specific deadlines and include a countdown timer at your eCommerce store.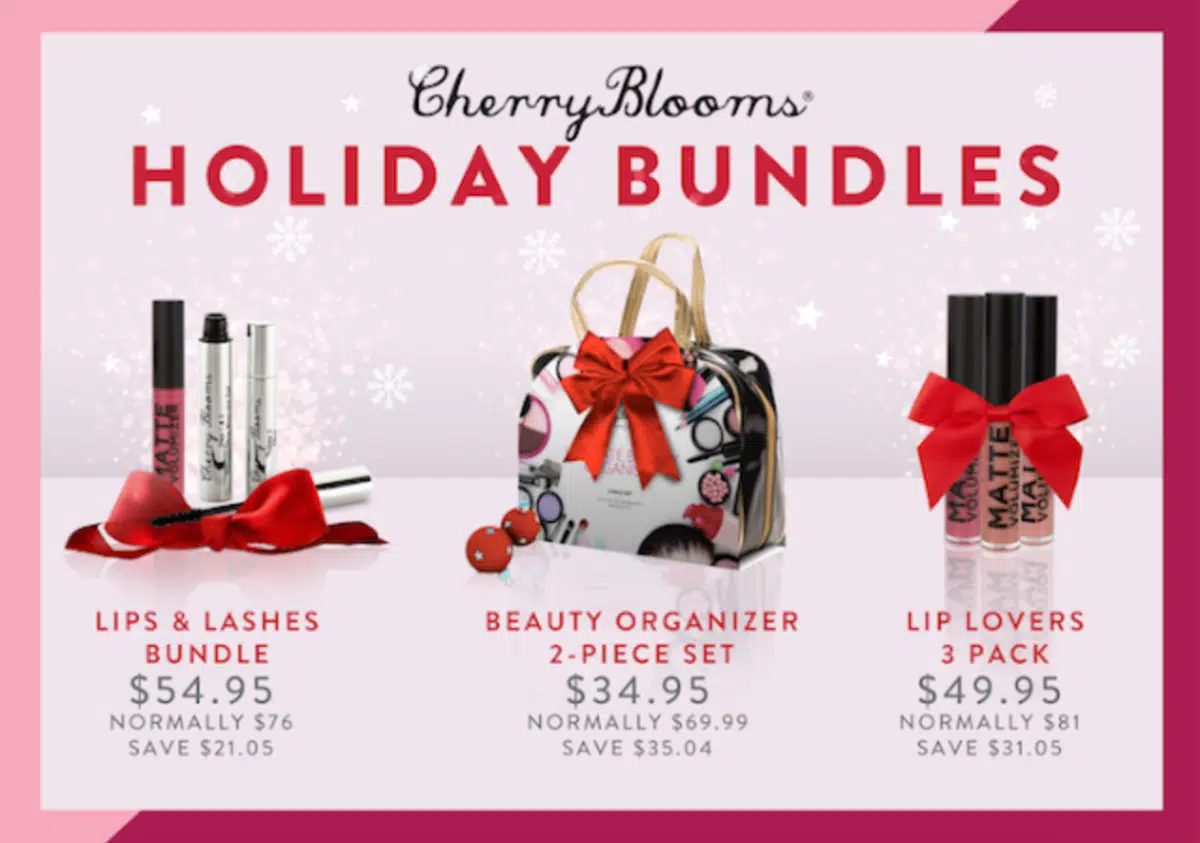 Here's a great example of a seasonal bundle from retailer Cherryblooms, which sells bundles of beauty kits available exclusively during the holiday season.
4. Get your customer into the DIY mode
Do-it-yourself (DIY) bundles let buyers choose the products they want to be included in their bundle. DIY bundles can offer a number of benefits:
Selling to a broader range of buyers

Improving buyer satisfaction

Providing your customers with an exceptional brand experience
As you may have guessed, DIY bundles have proven very successful in the fashion industry. However, do-it-yourself bundling can also be used effectively for many other product categories, like technology products, where shoppers can choose needed accessories to accompany their primary purchase (smartphones, computers, drones, etc.).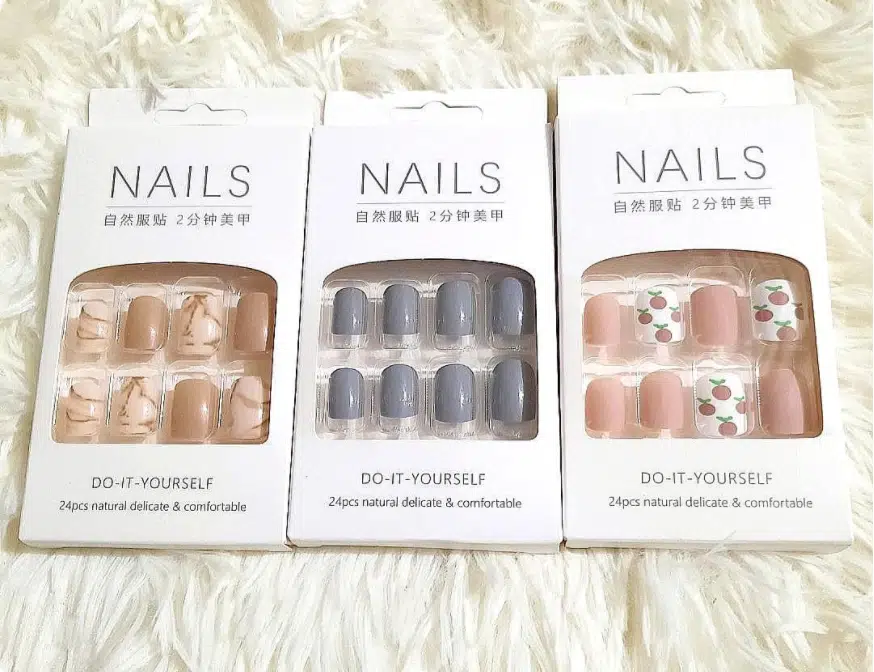 Another example of a DIY bundle is this bundle offered by casual fashion retailer Culture Kings.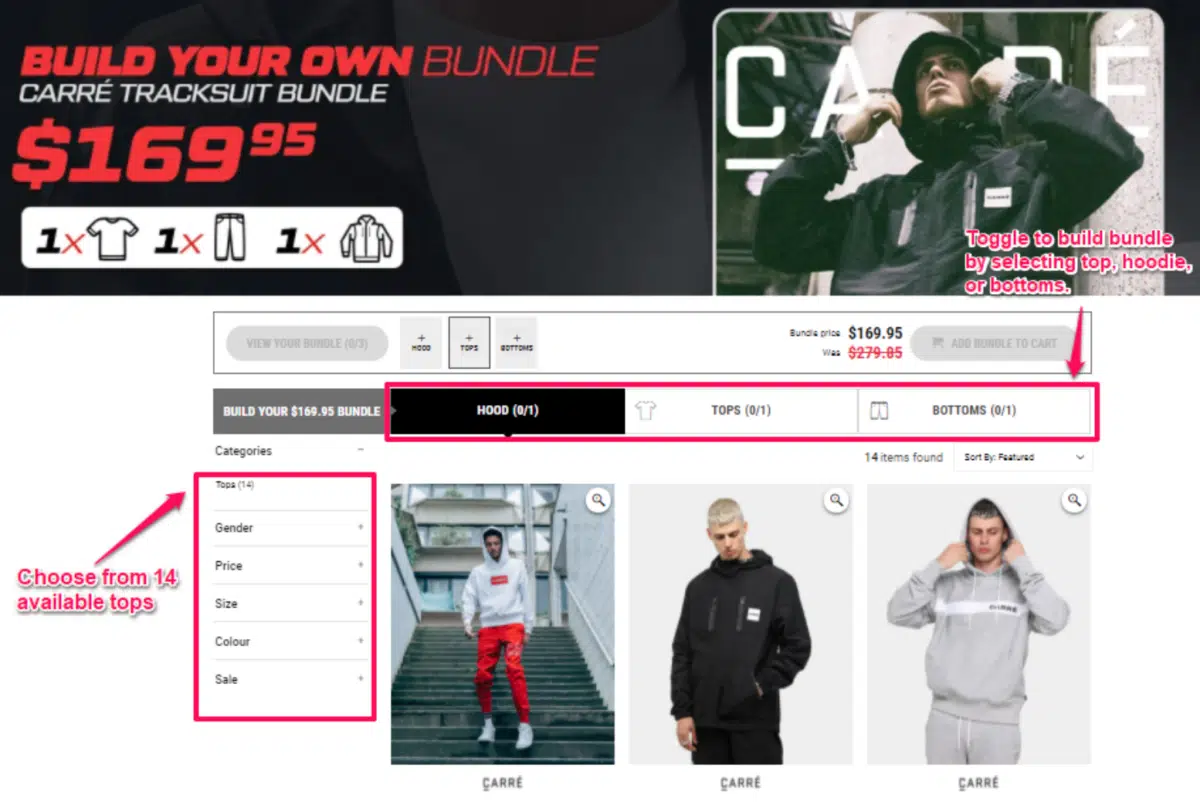 5
.

Mix low-selling items with high-selling ones

A common product bundling tactic is to combine high-margin items with low-margin items in order to create a more attractive price for the bundle. Buyers looking to purchase a high-demand item will see the bundle as a great deal and be more likely to close the deal. For example, you have a French press in your store that is selling very well and a coffee blend that does not sell at all. Bundle these two products together to make an attractive package! Also, if you find that an item is very hard to sell, try using it to get your customers to take action. Small inducements can be very effective in getting the results you want.
Best Practices For Marketing Your product Bundle
There are many ways to promote your product bundles. Here are some common strategies you can use:
1. Display the discount information prominently
When your bundle is intended to offer a discount or added value, it's critical to highlight this information on your product page or in your store and as part of your marketing efforts. Making the discount a key part of the bundle reminds shoppers that they get a good deal. As a result, it can spur consumers to make more purchases.
2. Use your bundles for gift guides
Promoting bundles around the holidays is another classic method. Many companies create a landing page for gift guides, which can be promoted via email, social media, and in-app. Below is an example of the mattress company Purple promoting its bundles as Valentine's Day gifts: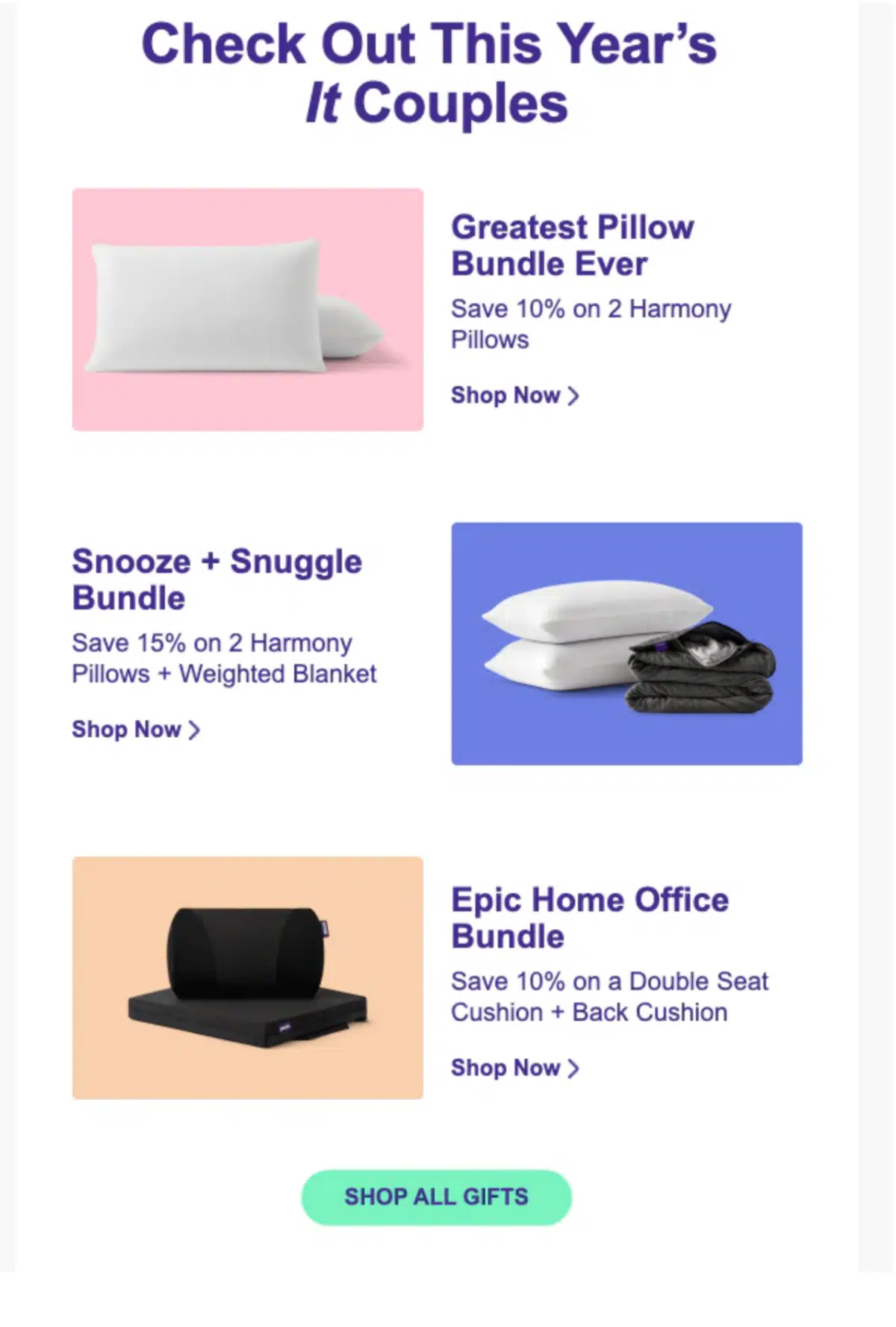 3. Offer your bundles at checkout
By offering a bundle at the checkout, you can help a customer purchase multiple items. In a store, the salesperson may mention that if the customer adds an additional item to their purchase, they get a 15% discount on all items. If you have an eCommerce store, this can be presented as a message during the checkout process.
See related: 8 Ways to Market the Retail Checkout Counter and POS Area
Get Started with KORONA POS today!
Tell us a little bit about your business and explore all features that KORONA POS has to offer. And there's no commitment or credit card required.
FAQs: Product Bundling
Is product bundling effective?
Bundling products is typically efficient as it reduces marketing and distribution costs. It allows the consumer to purchase from a single source that offers multiple solutions. A bundling strategy can increase profits on individual sales over time. It provides companies with cash flow and the ability to eliminate excess inventory.
What is the bundling strategy?
Bundling is a marketing strategy in which companies sell several products or services together as one combined unit. Bundled products and services are usually related, but they can also be made up of separate items of interest to a group of customers.
How do you bundle a product?
You can bundle a product in several ways. You can combine complementary products, sell items separately, or keep bundling fun and straightforward. 
4. What states have the strictest liquor laws?
The strictest states on alcohol are Pennsylvania, Utah and North Carolina. For example, in North Carolina, drink offers such as "buy one get one free" are completely prohibited.