Last Updated: February 10, 2021
While brick and mortar stores still account for the majority of all retail sales, optimizing your store's online presence is still critical for a multitude of reasons.
Of course, you still want to cater to online shoppers by creating a great webshop and eCommerce retail store. But you also need to leverage your web presence to attract brick and mortar shoppers.
The majority of consumers do substantial research before and during their shopping. So it's important that your retail store shows up when people search for terms related to what you sell. Ranking high on Google can greatly increase your sales both for your eCommerce and brick and mortar businesses.
So how exactly do you optimize Google My Business and other tools? And how can you get your retail store to rank higher on Google? Here are a few steps every retail business should take to increase exposure and visibility on Google.

Set Up Your Google My Business Page
This is a free tool that every small business must take advantage of. It allows you to control and manage how your business appears on Google and helps increase general visibility.
Your Google Business page will typically contain your business name, your business address, store hours, photos, and reviews. This is the best place to begin in ranking high on Google.
First, create your account by entering all relevant information. Check the information meticulously to avoid any errors. Once complete, Google will ask you to verify your business by sending a postcard to the address listed on your business page. The postcard contains a code which you will enter electronically on your Google My Business profile. This will confirm your small business listing and make your profile live.
Most businesses verify by mail but some service area businesses are able to verify via email, phone, or Search Console. A few examples of the simple steps for registering your business with Google are shown below.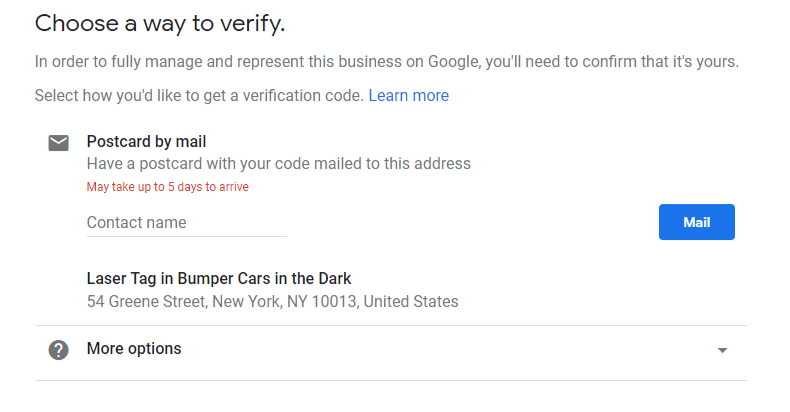 Add Photos from Your Retail Store
Photos of your retail store are important for your social media and review pages, but they're also helpful for your Google page. Google claims that businesses with photos receive 42% more requests for directions to the location and 35% more clicks to the website than businesses that publish no photos.
Start by adding a great cover photo. This will show up first for anyone seeing your business profile on Google. But additional photos are valuable. Consider adding shots of the exterior and interior of your business, as well as more specific product and action pictures. Feature at least your most popular items, and include your hardworking employees (including a team shot) when possible. If you serve food or beverages, include images of these, too.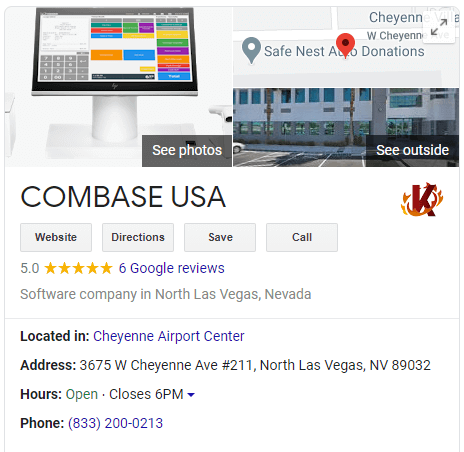 Create Videos for Your Retail Marketing
Videos are becoming increasingly important for high Google rankings.
First, you can add videos to your Google My Business page. The videos must be less than 30 seconds, less than 100 MB, and have a resolution of at least 720 pixels. Though photos are more important, these add to the user experience, which is all that Google ultimately cares about.
Outside of your business page, consider adding longer videos to your YouTube channel. Depending on the topic, it could be valuable to rank for a query with a video. Google values a diverse set of content; quality video footage is an important part of this.
Integrate Reviews into Your Business Page
Google Reviews are becoming a more common platform for hosting business reviews. Google has increased the amount of information relayed on the first page of a query. This includes all of the above as well as a handful of product or service reviews.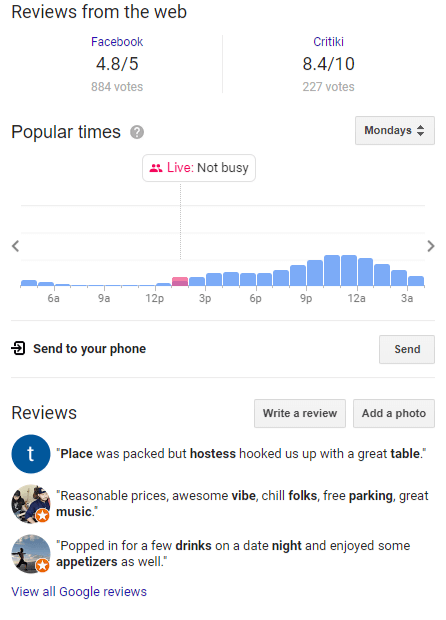 Find ways to encourage existing customers to leave positive reviews. Like referral programs, you can incentivize reviews by offering a free product or discount in return for a review. You can also send an email asking for a review to those who have made a purchase at your store. Many consumers actively participate in online reviews and will gladly leave a review.
Once reviews are left, it's always best practice to respond to all of them. Thank customers who leave a positive review, and politely address any negative reviews. Apologize to any legitimate complaints, and make it clear that you'd like to remedy a poor experience.
Reviews on other platforms are equally important. There are now MANY review sites, many which cater to certain niches of retail. For more general retail, here is are several of the most important:
Yelp
Foursquare
Better Business Bureau
Trip Advisor
Facebook
Amazon
While Google My Business pages receive the most views of any review pages, a presence on others will aid you with more specific searches on Google or within the internal search engine on any of those platforms.
Set Up Your Google Search Console/Webmaster Tools and Google Analytics
Once you have your retail business page setup, along with all relevant additional content, start your Google Search Console (previously called Webmaster Tools). This is a free service Google offers to provide your business with an overall site map and notifies you of problematic pages, broken links, and other issues that may harm your rank results. Through your Search Console, you can also request Google to crawl your site whenever you make an update or add new content.
Together with Google Analytics, these also help you sift through vast marketing data. It can help you determine who your audience is, what they are searching for, and how your competitors are ranking.
Search Console and Analytics are remarkably powerful tools that Google has created to help you provide a better experience for its users. Of course, Google's users are your potential customers. Take advantage of these tools; they are a win-win for both Google and retailers.
Optimize Your Website
As much work as you do on the Google side of things, it will all be for naught if you don't provide a quality experience on your website. Without going into too much detail, here are the main items to focus on:
Make sure overall usability is clean and easy. For many small businesses, using a basic WordPress template is enough. And you don't even have to hire a pro.
Differentiate your landing pages, product pages, and blog. These will generate different types of audiences, so be sure to target each one uniquely.
Check that all pages are mobile-friendly. More and more internet use is done on handheld devices, so it's important that your content looks good on both mobile and larger format screens.
If you use an eCommerce platform, such as WooCommerce or Shopify, make sure that it integrates with your point of sale. Also, check that the shopping and checkout experiences are convenient and seamless.
Improve images if necessary. Product shots and landing page photos should be original images and look great.
Overall, a well-maintained website combined with Google's business tools will show Google that your website is worth visiting. That means that your traffic will increase and with it, your sales.
Longer-Term Goals for Gaining More Traffic on Google
Once you have the basics set up through Google, there are several areas that you can focus on to impress Google and improve traffic even more. We covered these more in-depth with our look at SEO strategies for small businesses, but here are a few highlights to remember.
Do your keyword research. Again, Google Search Console can help with this, but there are many tools out there that can help your business optimize your target keywords. For instance, if you own a flower shop, you're trying to rank for searches that people are making when looking for flowers to buy. Of course, many of these keywords will be intuitive. But it's helpful to compile a list of keywords and differentiate between the types. A keyword on your product page will look very different than a keyword on your blog. Good keyword research will keep your website organized and help Google make sense of the content and product you're providing.
Set up all social media profiles. Maintaining even a basic social media presence is a great way to get some extra clicks and provide Google with evidence of even more content. You don't have to be the next Instagram sensation. Just a branded profile with consistent posts is sufficient for most retail businesses.
Consider buying ads on Google or other platforms. While everything we've discussed so far concerns increasing local and organic traffic, there are ways to increase your retail website traffic through paid avenues. Google Adwords and Google Local Inventory Ads are other possible marketing tools, though they will cost some money. Still, they can be affordable and, for many businesses, boost traffic. Advertising through Facebook, Instagram, or other platforms might also be worth considering.
Increase Your Business's Visibility by Optimizing Your Retail Store on Google
With over 2,000 searches being conducted every second, Google is the most important marketing tool for every small business. The most exciting aspects are that it's an even playing field and almost all of it is free. Begin by taking the basic steps to ensure that your business can be found. Once there, some time and hard work will make your business find customers.
Check out our other guides to social media below:
Get Started with KORONA POS today!
Tell us a little bit about your business and explore all features that KORONA POS has to offer. And there's no commitment or credit card required.