Anyone who's thinking about opening an eCommerce business this year is in good company. In a single weekend, online sales during Black Friday and Cyber Monday last year hit $10.8 billion. eCommerce is indeed booming. Experts also expect the global eCommerce market to reach around $6.5 trillion by 2022, so the industry's growth will only accelerate further.
The good news is that starting an eCommerce business has never been simpler now that online shopping's demand is skyrocketing. One can easily manage every part of running an eCommerce business, from logistics to sales, through user-friendly platforms and software. According to recent small business analytics, the majority of small enterprises use at least one digital platform in sharing their products.
In this beginner's guide, you'll learn how to set up and launch your own thriving online business. Read below to learn how to get started.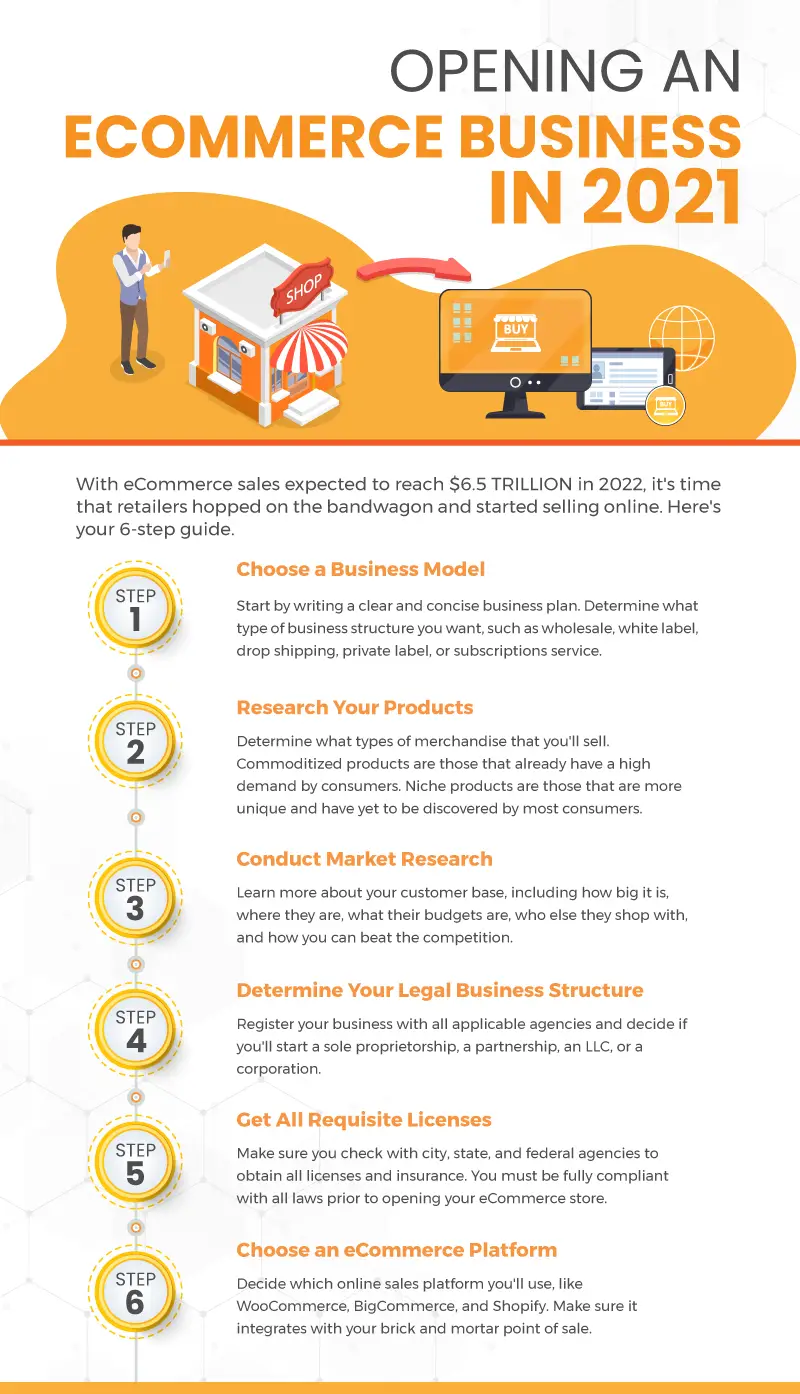 Step 1: Select Your Business Model
Knowing that you want to launch an eCommerce business isn't enough. Having a specific idea of the exact type of online business you want to set up is also necessary.
To know which business model is most suitable for you, it's best to craft a business plan. It can help you develop a clear vision of your enterprise.
If you have an existing business and are branching to an eCommerce platform, the current business model you have will guide you. However, you'll get a little more flexibility to choose a model if you're starting from scratch.
eCommerce businesses are often classified as one of the following:
Wholesale
As an eCommerce business owner, you have more responsibility and control in this business model. That's because you'll have to rent warehouse space where you can store the inventory you purchased from a supplier. Additionally, that also means higher up-front investment. When customers place orders from your online store, you'll be the one to pack and ship the items. Inventory management will also be your responsibility.
Drop Shipping
This eCommerce business model works for a lot of budding entrepreneurs since you can easily set it up. That's because drop shipping only requires you to partner with a supplier or business vendor who fulfills all of your received orders. The only thing you need to do is to develop your online store. Inventory management, as well as the packing and shipping of purchases, will be handled by the supplier. There's also no need to spend money upfront for inventory if you follow the drop shipping model.
White Label
An eCommerce business owner will brand a pre-existing product in this model. The item's manufacturer will then be the one to fulfill and ship any orders that you'll receive. Note that white labeling requires you to purchase a specific quantity of inventory.
Private Label
Entrepreneurs who have an idea for an original product will benefit the most from this business model. You'll design the items you'll list on your website and work with a manufacturer to produce them instead of buying and reselling products that already exist in the market. If you don't want to handle fulfillment and shipping, work with a manufacturing company that offers those additional services.
Subscription eCommerce
Over the past few years, subscription-based online stores have really grown. In this model, you'll deliver a box of products or individual items to buyers at regular intervals. Rather than picking the products on your eCommerce platform one at a time, customers buy the subscription package that you offer to receive the items every month or bimonthly.
Each of the models mentioned above has pros and cons. Before deciding which is best for your business, carefully study them one by one and make sure they align with your goals.
Step 2: Research the Products That You Want to Sell
Aspiring eCommerce entrepreneurs need to sell one of these two types of merchandise to be successful:
Commoditized Products
This type of merchandise has a broad existing consumer base. That's because commoditized products are popular physical or digital items. They're in demand. Simply saying, everyone needs them. The majority of business-to-consumer eCommerce sales are commoditized items. However, online retailers frequently change or adjust their prices to stay ahead of the competition. It's expected because commoditized products are commonly sold by online stores, so the competition is fierce.
Niche Products
As the name suggests, niche products cater to a specific consumer base or market. eCommerce business owners choose one high-quality product instead of a hundred different items. Note that a niche product can have multiple variants. Retailers will then build a targeted marketing strategy around these items. Niche goods tend to have higher profit margins because they're exclusive and desirable to their target buyers.
An eCommerce start-up can choose to sell a combination of commoditized and niche products. In fact, it's what most online stores do in their first one to three years. The handpicked commoditized items add volume to their list of offerings, while their niche products help them stand out from their competitors.
Step 3: Conduct Market Research
Any proposed business won't survive without a real market. You need to research a potential industry to evaluate the viability of your business idea. Does your online business idea have one? You'll know by answering these seven essential questions:
Do you have potential customers?
How many are there?
Can they pay for what you'll offer (product or service)?
What needs or problems do these customers have that your product or service can solve?
Do you have competitors?
Who are they and how many are there?
Is your business better than the competition? In what ways?
Step 4: Identify the Best Business Structure for You
Legal structures for businesses have four main types. Choosing the best one can be overwhelming for new business owners, but it's essential and something that you shouldn't miss out on when registering your business, no matter how confusing it can be. It's best to spend some time researching your options and learning more about them.
Consider how each business structure can help your company accomplish its goals today. Also, can it support your organization once it grows in the future?
Here are the four different types of business structures:
Sole Proprietorship
A sole proprietorship means that only one person is responsible for the profits and debts of the business. It's the most basic of all the four types of business entities.
Partnership
This type of business structure involves at least two people holding personal liability for a business. It means that they share responsibility for the company's profits and debts.
LLC Or Limited Liability Company
This structure includes a partnership's tax and flexibility benefits. However, LLC permits shareholders, partners, or owners to limit personal liability.
Corporation
Businesses operating under this structure have the permit to enter contracts, own property, pay taxes, and be held liable. Corporations are legally considered separate from the owners.
Step 5: Obtain Appropriate Business Licenses
A business license of some type is needed for eCommerce businesses that will operate under a structure other than a sole proprietorship. Note that you'll still have to obtain a DBA license if you follow the drop shipping model from home under an assumed name. You'll also need a sales tax license.
Part of obtaining appropriate business licenses is coming up with a business name. Choose a name that accurately represents your brand as it's how customers will identify your company and remember your product or service. Of course, your chosen business name will also influence the online domain name you choose.
Step 6: Choose A Platform to Host Your eCommerce Business
BigCommerce, WooCommerce, and Shopify are the most commonly used platforms of many eCommerce websites. These sites provide comprehensive and stable solutions for managing inventory, receiving orders through shopping carts, and securing payments from customers. Using an eCommerce platform is still your best bet when opening an online business in 2021 since they have the features and functionalities that can make your operations more efficient.
Equally important is making sure you choose a platform that seamlessly integrates to your retail point of sale system. It's imperative that you run your inventory under a single system, for both your brick and mortar stores as well as your online shop. Check with your existing POS provider to see what they integrate with.
Continue learning: eCommerce Pricing Strategies: The Ultimate Guide For Any eCommerce Retailer
Starting an Online Business the Right Way
Setting up a successful eCommerce store takes determination and dedication. You'll need a business plan to identify the most appropriate business model and structure for your company. Aspiring online business owners also have to research their products and the market carefully. Of course, it's vital to obtain proper licenses and spend time choosing the best platform to host your online store before you commence operation.
However, the most important thing is knowing how to perform branding for your company effectively. Learning how to create a well-researched marketing strategy can also make or break your start-up. All these steps, if taken correctly, will lead to a successful eCommerce business.
To learn more about KORONA POS and the eCommerce integrations that we provide, click below. You can sign up for a free trial with no commitments to see how it all works first hand.