Within the last 10-20 years retail has evolved into, effectively, a brand new industry. The internet has become an everyday essential for any individual to buy or sell items ranging from basic groceries to $30,000 watches. Prior to the internet, consumers, of course, had to purchase personal goods from departments, warehouses, discounts, pop-up shops, and other brick and mortar stores.
Customer experience was often assessed based on a few physical elements of contact between the customer and the establishment:
Are the employees helpful?

Is the store able to offer the product the customer is specifically looking for?

If the customer's product doesn't match the customer's expectations, is there a return policy that makes it easy to swap the product or have a full refund?
We regularly hear and throw around the expression "customer experience," yet its meaning could be a little clearer. The customer experience can incorporate a ton of components, however, it truly comes down to the feelings the client has of your business's brand and image. Customer experience can be measured by the responses during every stage of the consumer's experience, including the prepurchase, consumption, and post-purchase stages.
But as the internet became the basis of consumer interaction with many businesses, these stages have become more elaborate and adaptive. With the retail world and consumer demand evolving, technological enhancements have made shopping online easier and safer for both the consumer and vendor.
Is this the "Retail Apocalypse" or an opportunity to build another retail channel?
In the US, the COVID-19 pandemic required about 60% of all retail stores to briefly shut down their brick and mortar operations. Additionally, retailers have seen a 70% decline in consumer spending on "non-essential" items. Does this mean high street retail is a thing of the past?
No. Experts from Zenreach, a leading technology company that produces marketing software, reported that foot traffic to retail stores has recovered by 50% in recent months since stores began to reopen. These statistics suggest that brick-and-mortar retail stores are still important, especially for boutique shops and other small establishments. Therefore, optimizing your consumer-facing customer experience is extremely important through shop front branding, employee training, etc.
That being said, it's fairly certain that online shopping is going to continue to grow and likely become the main method of shopping. So it's important that you fully optimize your online store to compete with the plethora of other companies selling a similar service or product. Even slight mistakes in optimization can have a huge impact on things like abandoned cart rates or SEO rankings. Shoppers are a picky and impatient bunch; it doesn't require much for them to pick up and move on to a different store.
Why is optimizing your eCommerce experience difficult?
This boils down to business owners not fully understanding the importance of optimizing their digital customer experience.
The good news is that starting an online business is easier than ever! However, taking initiative to improve the retention of customers so that they keep coming back can take a bit of brainstorming and trial & error.
To help you with this journey we have listed 6 expert tips for improving customer experience in the eCommerce world.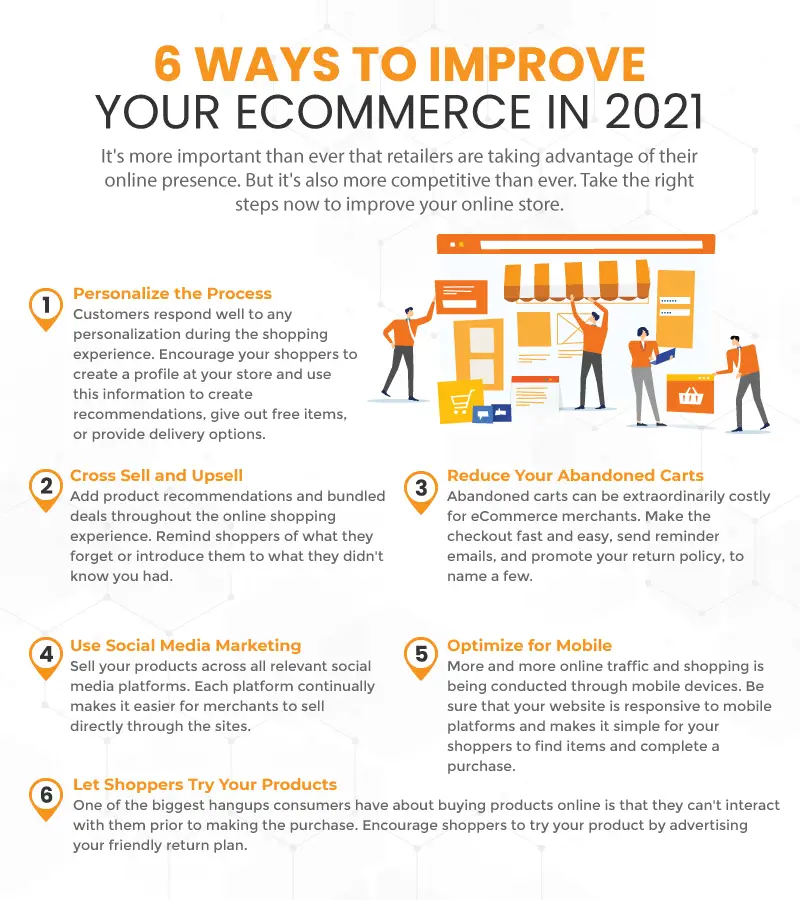 1. Make it relatable and personal
One of the strongest factors driving customer loyalty is personalization. What is meant by personalization? It means involving the individual customer as best you can by making them feel valued and not as just another number.
Below we'll go over a few ways to build a better-personalized service:
Identify services and products that are relevant to a customer's recent purchases and offer discounts on these items

Have a location service embedded to provide quick information on delivery options in their region

Use a system that recognizes previously viewed items and showcase recommendations

Let your pages communicate in the customer's native language. Identify the countries that have the most traffic directed towards your website.

Use data provided by the customer to create personalized emails, like sending a birthday discount or an invitation to an online VIP customer event
2. Offer relevant products – cross-sell and upsell
Similar to what was mentioned above, offering other products that are relevant to your customer's basket for example can be a great way to provide a superior online experience. However, it's a method that has to be executed correctly or it can harm your buyer's mindset. You can't hammer a customer with products that are irrelevant. Instead, show products that compliment or are suitable to the product that has already been selected for purchase.
You could also consider adding discounts to recommended products to create a cheaper package tailored to your customer.
3. Discourage abandoning carts
When a customer places a product into their cart there is often a misconception that it is a done deal. Unfortunately, that's far from the case. In fact, Statista reported in March 2020 that 88% of online shopping carts were abandoned (fun fact: the automotive industry has the highest abandonment rate of 96.88%).
There can be many reasons for this so don't be discouraged just yet. One of the main reasons is that individuals will place items in a basket because they approve of the product and don't want to forget about them. But they do.
If the basket becomes inactive for a certain amount of time it might be worth considering sending an email out reminding them of the product they added.
Another option that can entice a customer to take the plunge is offering multiple avenues for payment, such as PayPal, cryptocurrency, credit cards, installment plans, etc.
Check out this blog for a bunch of ways for retailers to reduce abandoned carts.
4. Social media marketing implementation
Integrating your store inside social media platforms can often sound like a daunting task, but it's probably a lot easier than you'd think.
In-app purchases on social media platforms – Many social media platforms now offer a service where a store can sell their products directly on their app.
A Facebook FAQ bot – Facebook has now introduced a customer service style FAQ that is triggered with bots. This can help your customers have basic questions answered such as ETA on the delivery, order confirmation, customer support, and product information.
These are just some of the ways you can take advantage of social media selling. It's also important that you monitor trends to look for better ways to market your product. You can download social media trend-monitoring tools that will follow discussions related to your product or service industry. It will allow you to have valuable insights into the needs and buying habits of your potential customers.
5. Mobile interface 
It's now as easy as a touch of a button to purchase goods on your phone. In fact, Business Insider predicts that the share of mobile spend in eCommerce will surpass 50% by the end of 2021. 
As convincing as these numbers are, it's very common for businesses to leave their website unattended and fail to optimize it for mobile phone use. In addition to negatively affecting your ranking on Google, it will ultimately deter customers from browsing your digital store if they are not at a computer.
The main thing is to ensure the client experience is frictionless and works appropriately on any gadget.
6. Allow customers to try your products
One of the biggest hang-ups that consumers have about making a purchase online is that they can't actually handle the product beforehand.
Offer your shoppers a clear and friendly return policy. You don't want to encourage too many product returns, but you want your customers to feel at ease making a purchase knowing that they can return it should it not meet their expectations.
Read More: 10 Tips For A Customer-Friendly eCommerce Website
Get Started with KORONA POS today!
Tell us a little bit about your business and explore all features that KORONA POS has to offer. And there's no commitment or credit card required.