Employee retention is more important than ever these days. In the current retail climate, employers just can't afford the high costs of turnover. Fortunately, if you use a labor management platform, there are a number of ways you can put the technology to work and improve employee retention. Technology that engages team members and simplifies tasks can make all the difference between a frustrated team with poor morale and – well, you get the idea.
To help you get the most out of your labor management system, here are 5 ways technology improves employee retention when done right: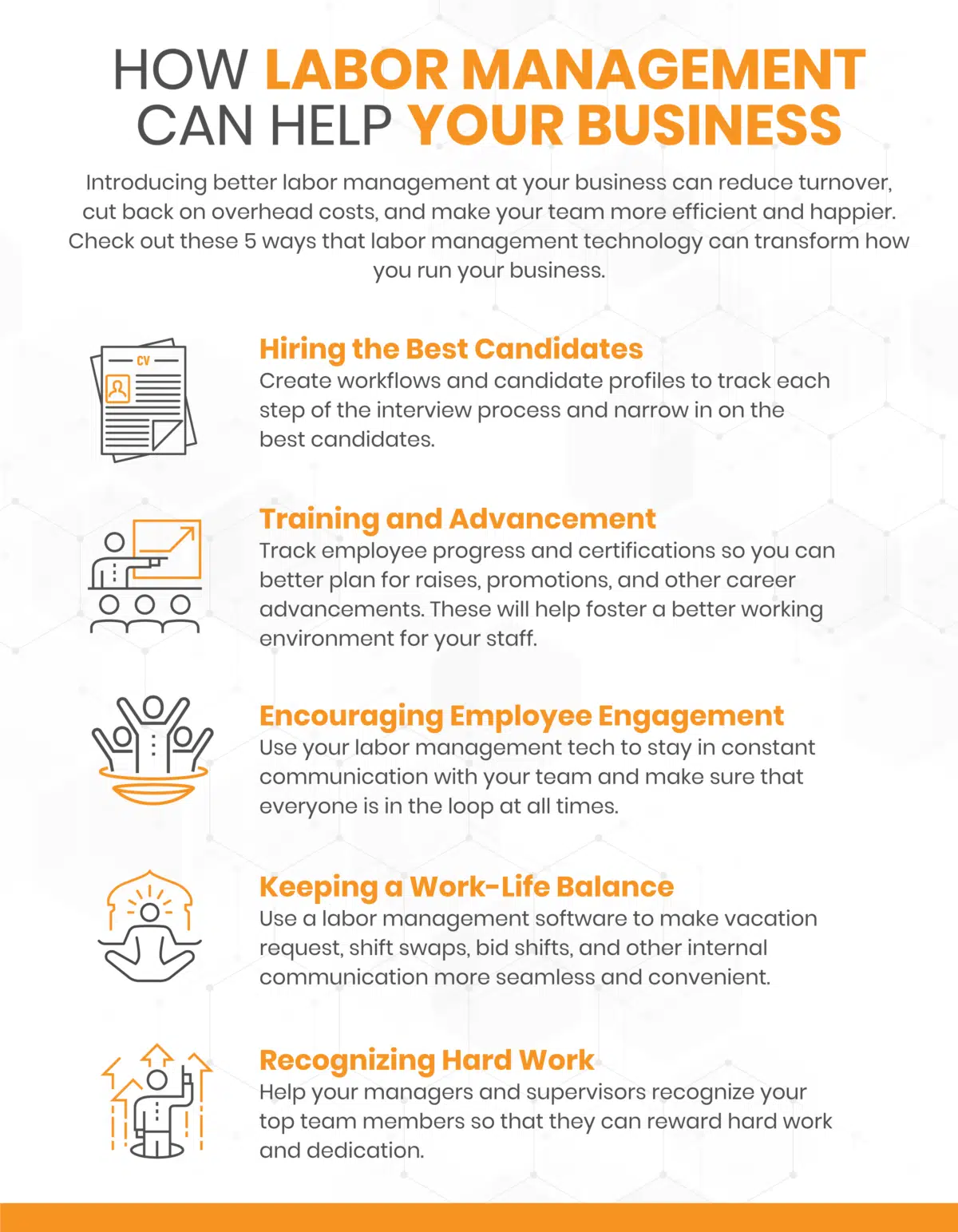 1. Hiring the right job candidates
Believe it or not, employee retention actually starts with the hiring process. If your labor management platform has an applicant tracking system (ATS), it can help. ATS technology improves employee retention by helping you identify the best candidates right from the start. For each job position, you create a workflow that hiring managers can follow. This keeps managers consistent – and consistently on target.
When interviewing job candidates, look for team players with a good attitude, even if they don't have a lot of relevant skills. It's much easier to train people to work a register than to be genuinely friendly and helpful toward customers. Recruiting people with the qualities you want to see in your staff, and who fit in well with your work culture, is the first step to making it easy for those new hires to become long-term employees.
2. Training and advancement opportunities
Once you've hired a promising team member, it's wise to continue supporting their professional growth. Training your staff and offering advancement opportunities make employees feel valued and give them goals to work toward. If your labor management platform tracks things like training and certifications, you can use these features to your advantage. For example, you might schedule employees for quarterly cross-training and track their progress toward certification. It can also help you stay on top of regular performance reviews.
Remember, you want your employees to be invested in the company's success. When you groom team members for advancement, you help them to acquire the knowledge and skills necessary to perform and move to the next level. This is easier and more affordable than hiring outside the company and tends to cause less friction among your existing staff.
3. Engaging employees and soliciting their input
Good communication is key to good employee engagement. Creating open, team-based communication between employees and management can foster a sense of community and a shared purpose. If your labor management technology supports team communication features, like instant messaging or company outing planning, you should make use of them regularly to check in with your employees. Take the time to get their perspectives and feedback on how things are going.
But there's more to employee engagement than check-ins. Things like daily staff logs and kudos can also help employees feel valued and in the loop. When you foster a culture of teamwork, everyone feels like they're contributing to the overall success of the business. And they're more likely to celebrate their accomplishments, too.
4. Supporting a healthy work-life balance
Although there may be times – especially during the labor shortage – when employees must work overtime or go the extra mile, you should be careful to avoid burnout and exhaustion. People need time to take care of themselves and their familial obligations. If your labor management platform supports shift swaps, bid shifts, and built-in time off requests, these are an excellent way to help your employees stay healthy.
To really level up your game, you'll want to employ sales forecasting as part of your process. Sales forecasting can help you build much more efficient schedules, letting you put your resources to the best use while avoiding burnout. And don't forget to be mindful of your area's labor laws. Your scheduling system should not only be taking care of your employees but protecting you from hefty fines and fees, too.
5. Recognizing hard work
Lastly, one more way that technology improves employee retention is by helping supervisors recognize hard work. It's important to regularly review not only your team's performance and metrics but also their short- and long-term goals. Talk about their future with the company. If an individual just isn't feeling fulfilled by their current role, or seeks more challenging work, it's a great time to discuss options.
Don't forget to recognize an employee's efforts when they do something beyond the call of duty. Let them know how much you appreciate their hard work. You don't need to hold a big ceremony or give out expensive gifts to do this, either! A simple message to say thank you or some kudos in the staff log can help make an employee feel included and valued.
KORONA POS and TimeForge Integration
Want a labor management platform that can increase employee retention and reduce turnover? Try TimeForge! It's got everything you need to keep your staff engaged, including a free mobile app for checking time sheets and work schedules.
And as one of our partners at KORONA POS, you'll be able to directly integrate your TimeForge labor management system with your POS. It's just one more way that we make our point of sale a one-stop shop. To learn more, click below and schedule a demo of how this integration works.