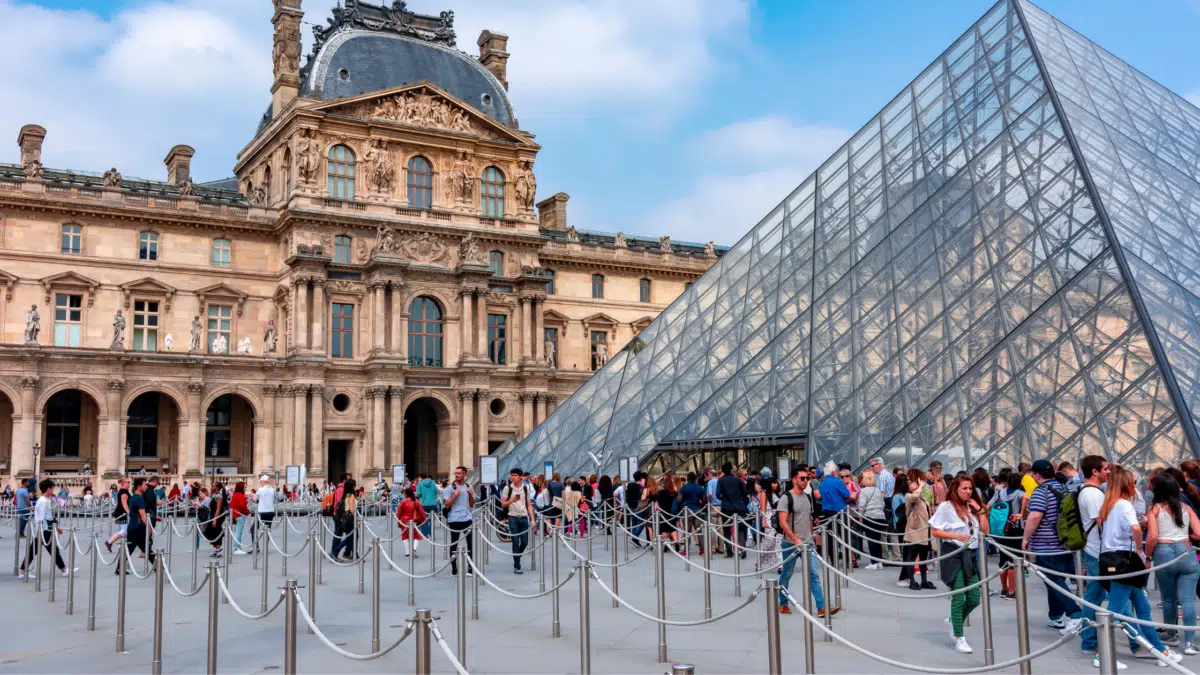 How do you get people to come and visit your museum? How do you get them to stay longer and enjoy themselves more? Museums are a cool place for people of all ages. So the good news is that you can take many different approaches in marketing your museum. Whether you run a science and technology museum, a history museum, or an art museum, you can use these ideas to increase your museum attendance.
Here are 7 ways you can increase your visitors' engagement, which in turn will lead to increased museum attendance rates.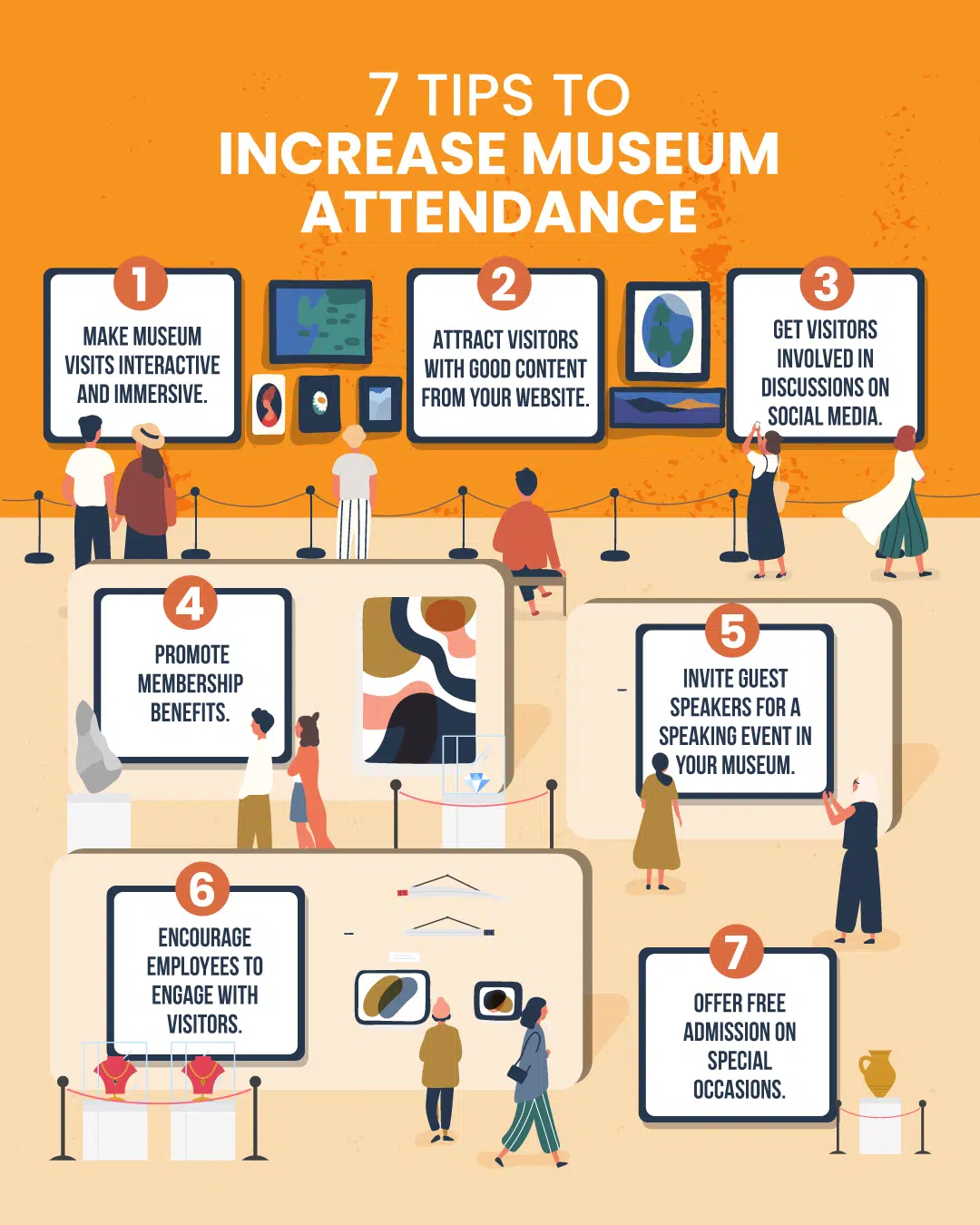 1. Make Museum Visits Interactive and Immersive
Here are some ideas to create a more interactive museum experience:
Use storytelling, games, and activities

which allow visitors to create memories.

Have exhibits on display that showcase items from different eras in history.

This will allow them the chance of seeing how things have changed over time.

Install screens with videos

recounting stories related historical events or milestones–or better yet, fill your walls with

screen projection technology

like the

Van Gogh Exhibit

.

Create guided tours

where guides answer questions asked by groups

Hold live theatre performances

that reenact events from your exhibits. Schedule them at specific times throughout your museum week.
From games and videos to live performances, there are so many ways you could go about creating a more enjoyable visit, therefore increasing museum attendance! It is much more engaging to visit a place where you can see all sorts of things, interact with them, or just get an idea for what it would be like to live an event.
2. Attract Visitors to Your Museum with Good Content from Your Website
Focus on attention-grabbing images and text
Your website will often be the first impression of your museum to many visitors. You want people to not only have an idea about what you do, but also get excited to want to visit! Entice them with photos that clearly show what can be found at each exhibit. To captivate them even more, include some quick interesting facts that will convince them to see the exhibit in person.
Keep your website updated, convenient, and resourceful
Don't forget to always update your website with current information and include useful resources and guides. Since your audience will be made up of a lot of tourists, it's also a good idea to translate all content into multiple languages. Your website is the place where you can inspire your visitors, share your story, and be a valuable resource so invest a lot of time on it.
3. Get People to Follow and Engage with Your Museum on Social Media
Bring your audience with you
Start by making your visitors feel like they want more information about what's currently taking place at the museum, be it an event or activity that's happening right in the moment. And don't exclude those everyday occurrences–everyone loves seeing behind-the scenes looks into how things work around places.
Increase social media shares
You should also allow and even encourage guests to take photos inside the museum that they can share online with friends and family. People are more likely to consider visiting your museum if it was talked about and recommended by someone they know.
See Related: How to Use Social Media in Retail: 5 Social Media Networks to Consider
4. Promote Membership Benefits
Let visitors know all the perks of becoming a member of your museum and promote them in person and online. You can throw an in-person event, print flyers and hand them out at the museum, and create a dedicated page on your website. Also, it won't hurt to regularly post about the membership as well on social media.
Ideas for museum membership benefits:
Discounts based on type of program: You can have discounts for families, seniors, and students or you can offer multiple tiers or program levels

Freebies from partnering museums

Early access and sneak peaks of upcoming exhibitions

Access to exclusive events like lectures, presentations, or workshops

Free stays at various nearby hotels

Monthly or seasonal passes
A tip within a tip: Grow and manage your members right from your point of sale. It is much more convenient and will allow you to collect visitor information faster. The more customer data you have, the more targeted your marketing efforts will be, which will effectively improve your museum's visitor count in the long run.
5. Invite Guest Speakers
Here's a great idea that's more outside of the box. Why not find guest speakers with interesting stories or backgrounds relevant to your museum's mission and invite them to a speaking event at your museum?
Guest speakers have unique insights and experiences
There is no shortage of qualified experts who would love nothing more than sharing their knowledge with others. They can provide invaluable knowledge that people may not be able to easily learn anywhere else and they can talk about them with more passion as an expert in their field.
Just remember to give yourself plenty of time to plan the event so you can send out emails and post on social media inviting your community.
6. Encourage Employees to Engage with Visitors
A professional and friendly staff makes a big difference
Your guests' experience in your museum will not only be about the physical objects in the exhibits they see–they will also notice how much thought has gone into making sure they feel welcomed and informed. It will be difficult to increase your museum attendance if word gets out that your employees are unpleasant. So make sure all of your employees are friendly, welcoming, well-trained, and knowledgeable.
Hire the right people and make sure to reward them
Start by hiring the right people then continue to communicate to them how important their engagement with the guests is in their role. It could even be a good idea to offer incentives, reward, and recognize your employees for how well they contribute to a guest's positive experience.
7. Offer Free Admission on Special Occasions 
Finally, what about offering free museum admission? This will certainly boost attendance at your museum. The success rate in gaining new visitors when marketing something as "free" is much higher than advertising with price points, which makes this strategy a really great opportunity. Everyone loves getting something for nothing these days, don't they?
One occasion you can offer free admission is on your birthday. It will bring in more people and help you celebrate the occasion with family, friends or coworkers who can't make it as often as they'd like. If you're up for it, you can also make this offer more frequent such as offering free admission on the first Saturday of every month. That way you get a boost of new visitors on a regular basis!
Increase Museum Attendance with KORONA POS
The best thing your museum can do to increase visitor rates is provide engaging experiences that encourage interest among your potential audience members. You can get creative with events, promotions, online marketing, and a good loyalty program. With this strategy you're more likely to succeed at increasing attendance numbers over time as well as build valuable communities.
Ready to level up your marketing game? KORONA's easy-to-use, yet powerful museum point of sale integrates with the best marketing tools, customer relationship management system, and loyalty programs. Start executing your new marketing strategies with the right POS tools and software. Click below to try it for free today.
FAQs: Increasing Museum Attendance
What makes a museum stand out?
For a museum to stand out, it must offer something unique that cannot be found or experienced anywhere else. Having high tech features, interactive experiences, and memorable events are fantastic ways to make a museum stand out. It also helps to have a very friendly staff. Being able to find the best people to represent your museum and provide exceptional customer service can be the key to give your museum a high competitive advantage.
How can I make museums fun?
There are so many ways to make your museum more fun. Think events, like inviting guest speakers, throwing celebrations, and having guests dress up in character. Or bring concepts to life by building interactive features throughout your exhibits. Hosting games that everyone can easily play can also make your museum a lot more fun.
How can a museum encourage visitors to keep coming back?
Start by picturing the entire experience your museum is offering. Are there any areas that can be improved? Once you can assure a great experience, focus on marketing strategies that will effectively convince visitors to come back for more. Running an excellent membership program full of perks, regularly offering free entry dates or times, and hosting fun events are just some of the many ways you encourage visitors to keep coming back to your museum.
How can museums compete with pop-up exhibits?
Don't be afraid to make things more fun and silly. When you focus on offering a more enjoyable experience, people will naturally flock to your museum. Make sure to encourage photo and video sharing by creating "Instagrammable" exhibits so that other people will want to experience themselves what it's like to visit your museum.