Updated: February 6, 2023
Impulse purchases add up. Fast. Let's say you have 300 customers making a purchase in your store every day, and a third of them make an impulse purchase at checkout with an average value of $5. That's an additional $500 in daily sales, and over $180,000 a year! And most of us fall for it. In fact, nearly 80% of Americans make impulse purchases.
There are strategies that both eCommerce and brick-and-mortar retailers can implement to help promote impulse purchases. Consumers, however, are more likely to spend that extra bit of cash in a physical store. That's because in-person retailers have more control over the entire in-store experience.
So what exactly are the steps that you can take to improve your impulse purchase at checkout sales? Here are a handful of ways that you can boost impulse buys at your store.
Focus on Impulse Product Visibility
No one will purchase a product that can't be seen. The floor plan and structure of your retail space matter. And there are ways to highlight particular impulse purchase items.
Get a lot of signage. Large signs grab attention and direct people to those areas. They can make people feel like it's too good of a deal to pass up.
Use bright colors. Red is typically the most popular among retail stores. It draws attention and gets customers interested.
Use rounded corners on displays. Curved or rounded edges appeal more to the average consumer. They are seen as more welcoming and less intimidating.
Packaging matters, too. The look and feel of the package can affect a customer's perception of your brand or product.
Pick a few changes to try out and see if sales change. A/B test each until you find the best solution!
Pick Your Location Strategically
In addition to making sure the product is easily seen, carefully choose where to position your impulse buys. The most common spot is at or around your point of sale area. The checkout zone is probably where you've noticed the most impulse buys in many retail stores. Depending on the layout of your store, you can display the products on the POS/checkout counter, or you can line them along the checkout line.
Check out these complementary items at one of the great vomFASS franchise locations.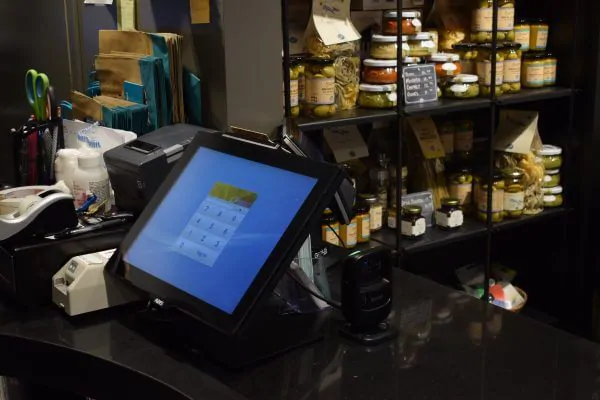 You can also place impulse purchase displays next to and nearby some of your most popular products. These are typically found in high traffic areas of the store and will undoubtedly be seen by more shoppers. Think about the Whole Foods cheese section. Nearby the display you'll find an amazing cracker selection, which physically suggests a complimentary product to shoppers. And shoppers usually buy the crackers!
See Related: Point of Sale Marketing in Your Store: 6 Tips on the Retail POS Area
Impulse Items: Choose the Products Wisely
Not every product in your store is suitable as an impulse buy. You typically want to choose small, inexpensive items. They can be easily grabbed on the go. Plus they will increase your average basket sizes without raising individual customer's ticket price too much. H&M's eye-catching sock collection is a great example. They line the checkout with boldly patterned socks for under $5. These are easy items to toss in your basket and feel guilt-free about.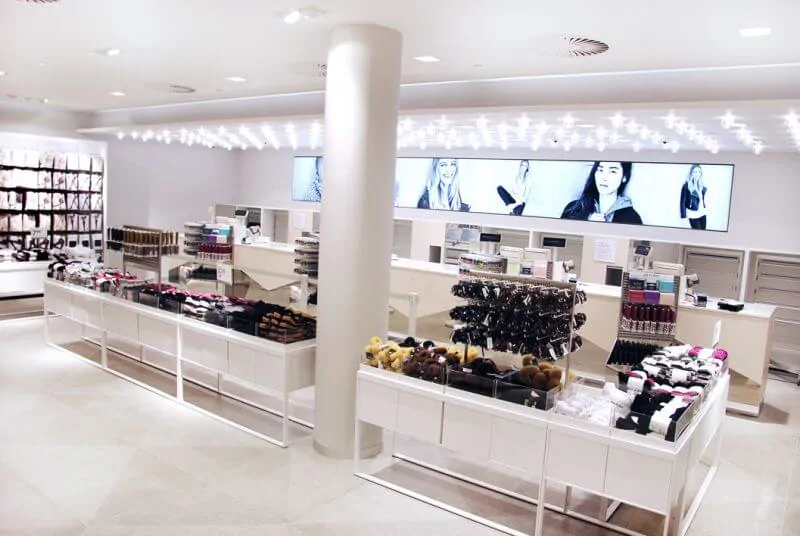 The socks are also a great example of the strategy of choosing complementary products for your impulse purchase items. In this case, the product might complement dozens of other clothing items in the store. In other cases, place the complementary impulse buy next to one of your best-sellers. This makes both products more irresistible.
With the holiday season upon us, choosing items that would make great stocking stuffers or small gifts is also smart. Seasonal items are also a great way to fill your impulse buy shelves.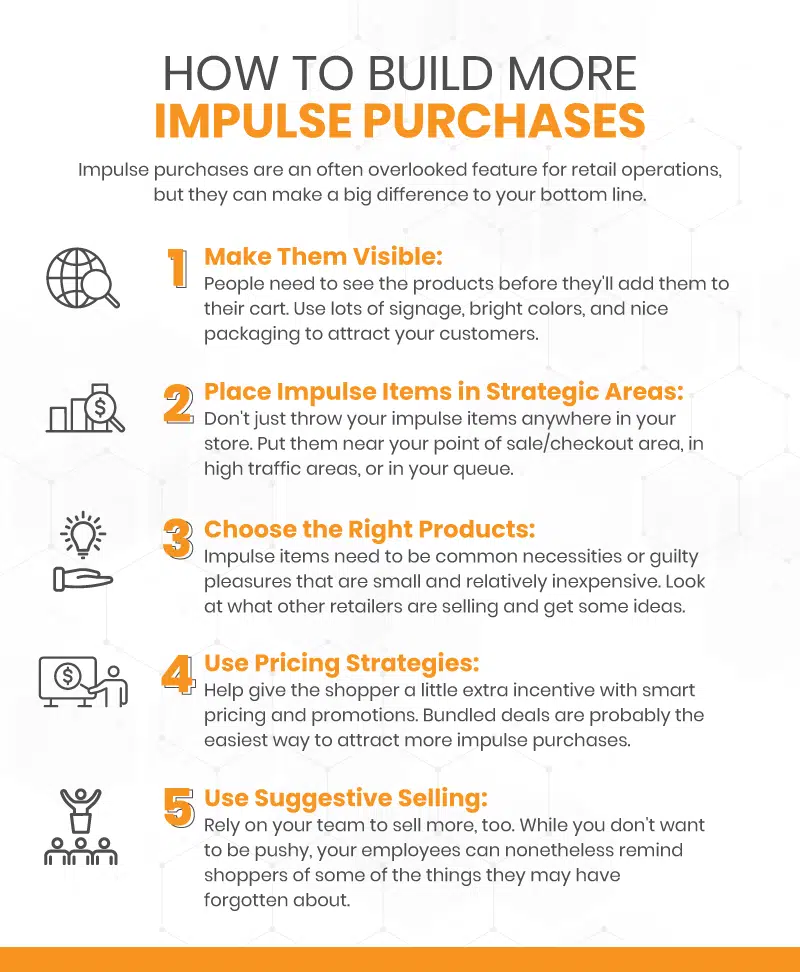 Remember Pricing Strategies and the Psychological Factor
Pricing your products well and featuring discounts, bundles, or sales add appeal to the purchase. Consumer behavior during the shopping experience is largely found in our subconscious. Most of us love spending money and we've been trained to feel happiness when receiving something new.
Limited-time or limited-product promotions instill a sense of urgency in the shopper. Putting a constraint on the deal makes it seem even better and many consumers immediately have a fear of missing out on the special offer. Commonly referred to as FOMO, "loss aversion" is a very real thing in retail.
Buy-one-get-one deals or bundled products add value to the purchase. You'll commonly see these around the POS area or featured in stand-alone displays through high-traffic locations. Upping the perceived value of an item is a great extra push to convince someone to make a purchase.
You can also get shoppers excited about new or unique products. Show off the products that you're excited about.
Like the other strategies mentioned, try out several changes and monitor how they impact sales and profit margins. This will help you find the most optimal combination.
See Related: Retail Pricing Strategies: Which Is Best for Your Small Business?
Take Advantage of Your Great Team
As we mentioned, impulse purchases are typically small and inexpensive. But with the right clientele and proper staff training, you may be able to sell higher-end impulse items. Along with carrying great products, a knowledgeable team can use tasteful suggestive selling to add an item or two to a cart.
Particularly astute salespeople will even take note of what is already in a customer's cart or basket and suggest items that would pair well with something in it.
Hire selectively and train well. It will pay dividends down the road.
Keep Track of Your Increased Impulse Purchases with Your POS System
KORONA POS cloud-based software offers industry-leading sales reports with a fully customizable key performance indicator dashboard. Using advanced analytics and data metrics through your retail point of sale, you can easily identify what's working and what's not. This allows you to quickly optimize your pricing and promotions. Click below to find out more about what KORONA can offer your store.
Get Started with KORONA POS today!
Tell us a little bit about your business and explore all features that KORONA POS has to offer. And there's no commitment or credit card required.
Frequently Asked Questions About Slow-Moving Inventory
What is impulse buying in retail?
Impulse buying in retail refers to items that are purchased by customers without pre-planning or initial intent before visiting the store. Impulse items are often displayed near the point of sale by retailers to entice shoppers. They are typically smaller, low-cost items.
What are examples of impulse purchases?
Examples of impulse purchases are gum and candy at a grocery store. Socks are a popular impulse purchase item that are displayed near the front of clothing stores. In gift shops and book stores, post-cards and book-marks are commonly displayed by the cash register to provide conveniency for customers while increasing sales for retail businesses.
What is the most common impulse buy?
Grocery items certainly make up a large share of impulse buys. In addition, small pieces of clothing like gloves and scarves, as well as kids gifts like small stuffed animals always catch shoppers attention as they are affordable and small enough to fit in shopping bags. Really every industry has their own popular impulse buys, and even e-commerce retailers are learning to promote this type of merchandising on their sites.