Improving your eCommerce conversions is a very different game than doing so in your brick and mortar store. Of course, both come down to creating a positive customer experience, but the paths that lead there cover different territory.
For online shopping, retailers must compensate for the fact that the shopper can't physically interact with the product prior to making the purchase. Which is why it's so important for your eCommerce marketing strategy to write great product descriptions.
Doing so doesn't take a Master's degree; you simply need to follow a few guidelines on how to write product descriptions for eCommerce sites. Go through the checklist below and you'll be all set.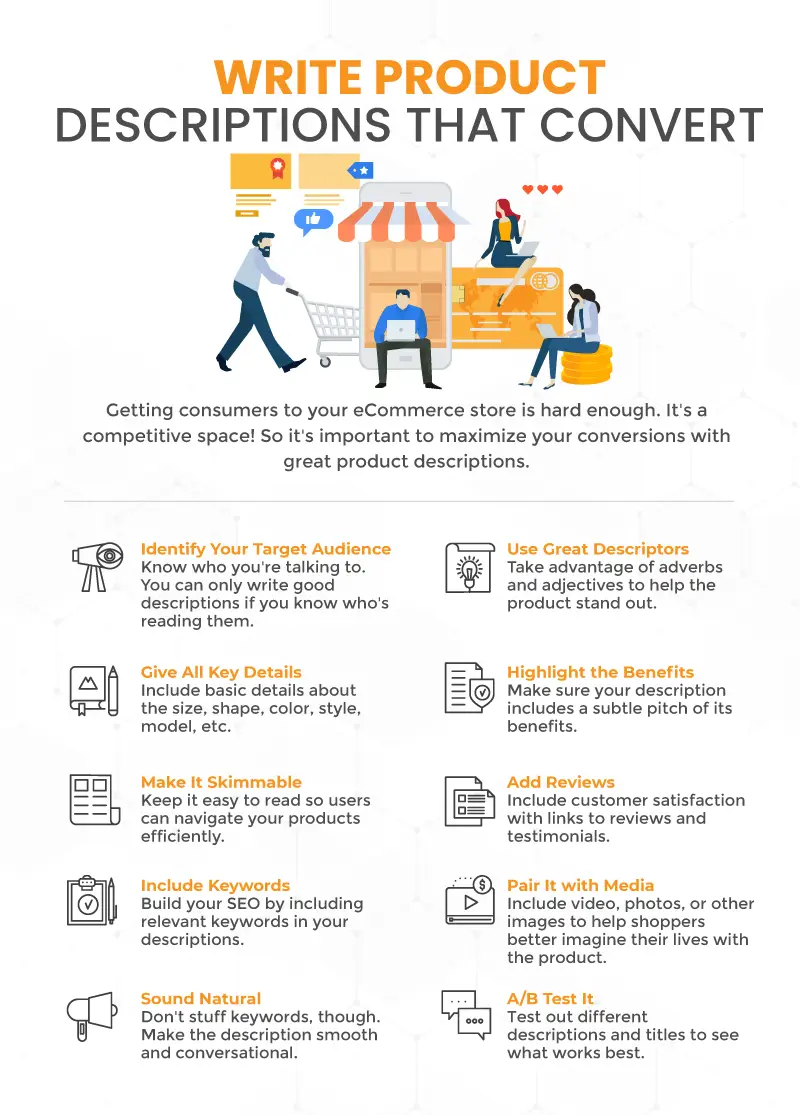 1. Identify Your Target Audience/Buyer Persona
Narrow your audience to a smaller pool of prospective buyers as you would with any marketing effort. You don't want to waste time and money by bringing in a group of shoppers who would never have any intention of purchasing your product.
But once you decide on the ideal customer for your product, you'll then have to write product descriptions in a way that appeals to that same type of person.
Can you make it funny?

Why are they shopping with you?

What do they care about?

What about your products will interest them?
Questions like these will help identify the right tone for your eCommerce product pages. Again, like all marketing avenues, you want to keep your product descriptions consistent with the rest of your brand.
Check out this product description for healing candles. Rather than focus on the scent as most candles would, they are writing for their audience with an emphasis on good health, healing, and positivity.
2. Give All Relevant Details
This step is vital for eCommerce descriptions. As we mentioned above, shoppers aren't always able to accurately envision all details of the product. Below are some common details that should be listed if relevant to the product:
Size

Weight

Dimensions

Ingredients

Materials

Warnings

Benefits

Certificates
If any details listed might still leave room for question, further clarify with some perspective. Clothing brands often list optimal height and weight for each size. Other retailers help shoppers picture dimensions by comparing them to the size of a common object. Most online eyeglasses retailers provide "mirrors" for customers to try on frames from their computer.
Know your audience and add details that you know they will appreciate learning about, like this mushroom supplement that simply lists all ingredients.
3. Make It Skimmable
Most shoppers no longer like to take the time to read paragraphs, especially online. In fact, internet users only read 16% of what's on a webpage. Instead, they're scanning for keywords to guide them to the next step quickly. Adding attention grabbing sections that make the copy easier to digest quickly is a key feature of product descriptions.
Try including the most relevant details in a small set of bullet points. Add extensive details elsewhere but don't let them clutter the page. You want your shoppers to be able to quickly identify important characteristics of the item that they're thinking about buying.
Fonts and styles are another way to grab attention and help direct the shopper through the experience. Adding large, bold, or colorful text helps consumers jump to the most important items quickly.
Finally, make sure you have enough white space. Cluttered websites mean a high bounce rate. Just like you want to keep your brick and mortar store tidy, keep your eCommerce site organized and easy to navigate.
4. Include Important Keywords
Just like other important pages of a website, keywords matter. You want search engines to recognize what you're selling on each product page so that they can guide customers in the right direction.
Remember, in addition to product descriptions, keywords must be included in titles, image tags, body content, and meta descriptions.
When deciding on what keywords to target consider a range of factors:
Search volume – Of course, it's better to rank highly for terms that have a higher search volume since you'll have more traffic into your store.

Term competition – But high traffic terms are more competitive, meaning that they will be higher to rank for.

Related keywords – So sometimes it's smart to go after similar, related terms or phrases instead.

Competitor keywords – When in doubt, see what your competitors are trying to rank for and you'll have a good starting point.
Successful use of keywords will also bring more organic traffic to your eCommerce store. This free traffic will pay dividends in the long run.
5. Sound Natural with Product Descriptions
While keywords are important, it's also necessary to sound natural. You never want your product descriptions to be a string of keyword stuffs that add nothing to the shopping experience.
All product descriptions should take on an informative and conversational tone. Your descriptions are part of your sales team. You wouldn't want one of your store's associates to sound like a robot regurgitating boring product details. The same goes for your descriptions. In a sense, they should be speaking with the customer, not just simply giving information.
6. Use Strategic Adjectives and Adverbs
While you've probably been tempted to throw in easy superlatives in product descriptions, don't be. They are more often viewed as disingenuous than accurate, hurting shoppers' trust in your brand. And backing up a claim that your product is the "best," "excellent," "revolutionary," etc. is nearly impossible.
Focus on words that elicit emotion or response rather than the tired cliches. Here are a few to get your started:
Breathtaking

Eye-opening

Fearless

Gritty

Miraculous

Staggering

Uplifting

Wondrous
When in doubt, you can always crack open the thesaurus for some suggestions. The right word or two can really make the text pop.
7. Highlight the Benefits
Features and details are critical for any product description at an eCommerce store, but exhibiting the benefits is wise.
Use benefits to paint a more thorough picture of the product and how it can impact the customer's life. For instance, a feature for a pair of shoes might be that they're breathable. But if you add a detail about how that feature makes the shoes perfect for long-distance running, you're more directly appealing to your target audience.
When thinking of benefits to include, consider how it will improve life for the customer and what problems it might solve. Shoppers don't simply want to hear about the list of features that make the product great. They want to hear a more illustrated account of how it will be worth the money.
8. Add Reviews or Mini-Stories
Similarly, product reviews and testimonials from past shoppers accomplish the same goal. They are great for exhibiting ways that the product can have a positive impact on the average person.
Displaying positive reviews next to or in the product description will build more brand trust and incentivize purchases.
9. Pair It With Accurate Images and Videos
Add clean and vibrant product images alongside all product descriptions. Product photos are in many cases even more important than your descriptions. The majority of shoppers will spend more time looking at photos than they will reading descriptions.
Any photos must not only be high quality, but they should also accurately reflect the product itself. Deceptive descriptions, claims, or images will lead to bad reviews and diminished brand trust.
Videos can also enhance your online product descriptions. Video content is especially useful for products that need explanation for use. If there is any assembly required, a short video is a great idea, much like the video attached to this gigantic 20-person tent from WalMart.
10. Keep A/B Testing
With any changes to your website, especially on product pages, it's important to closely monitor any changes. A/B testing allows you to see how changes affected traffic or conversions or a certain period. So when you do make a change to a product page, start by only doing it to one or two, not your entire catalog. This way, if the change has any unintended negative consequences, it only affected a few pages.
Don't make any changes to your most important pages without careful consideration. And learn from the changes that you make so that you can apply the same changes elsewhere on your site.
Get Started with KORONA POS today!
Tell us a little bit about your business and explore all features that KORONA POS has to offer. And there's no commitment or credit card required.