For many businesses, your regulars are what drives sales and keep your business profitable. Plus, it's so much more expensive to acquire a new customer than it is to retain existing shoppers. So it's important to keep them especially happy. A good consumer experience increases your chances of retaining and making them loyal to your company. 
Learn more about 5 Tips For Providing Better Customer Experience In Retail
Luckily, there are a lot of ways of doing so! We've already discussed some basic infrastructure that can help, like a simple point loyalty system, gift card programs, or a more in-depth club.
But today, let's look at some small ways that you can give back to your shoppers. Like any marketing effort, thanking your customers requires an initial investment but will bring you more sales down the road. Here are 15 tips for how to thank your customers. Don't wait! Start showing them the love they deserve and see your business grow even faster.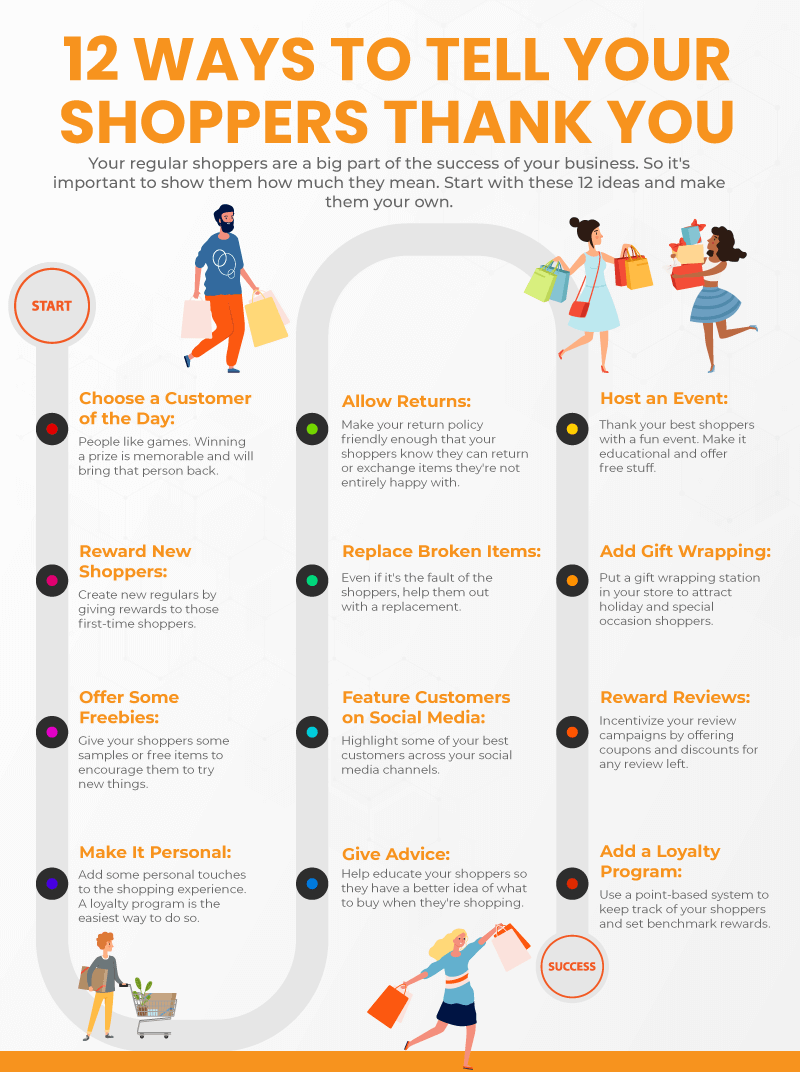 1. Name a Customer of the Day
Highlighting a shopper or two is a nice way to show some love to your customers. Most customers will be pleasantly surprised to be featured in such a manner.
You can reward shoppers who make milestone purchases or break a current sales record, like your 10,000th customer or the purchase that put you over $1 million in sales.
Advertise and engage the event on social media beforehand to generate more interest and encourage people to come shop with you. Do the same with the winning customer to encourage shoppers to come to your store in the future for the chance at the same.
2. Reward First-Time Buyers
It's so important to inspire new shoppers to come back to your store. It takes so much time, effort, and money to get new people to come to your store. So when they do, it's critical to give them a shopping experience that they'd like to come back to. After all, it's several times more expensive to attract a new customer than it is to retain an existing one.
Incentivize new shoppers by offering them free items, discounts, or gift cards with a purchase. For eCommerce stores, first time buyer discount codes are the easiest way to go. These also may come with a minimum purchase amount to qualify, helping to increase your average transaction value. Again, thanking your customers will also help your business succeed.
3. Offer Simple Niceties
Just standard gestures of kindness and basic customer service goes a long way. These are the most inexpensive way of thanking your shoppers but will still add to the overall experience and leave them with a positive experience to come back to.
Make sure to greet shoppers as they enter and leave to make them feel welcome and appreciated. Small conversations are also helpful to engage them about life in general and then more specifically about products in the store and what they're looking for. A lot of shoppers aren't decided on any particular purchase so a little help helps.
Make sure you also train cashiers to ask the right questions and provide exceptional customer service at the checkout. This ensures that each shopper leaves your store satisfied.
4. Personalize the Experience
One of the biggest battles in retail right now is figuring out how to best personalize the shopping experience. With the explosion of online retail and the personalization that it offers, it's so important for brick and mortar businesses to match shopper expectations.
An easy way to start is by celebrating birthdays. Offer free items or significant discounts for shoppers celebrating their birthdays as a thank you. It's also an excuse to collect basic personal data to build your CRM. Ask shoppers to provide their email, phone number, and birthday so you can stay in touch with them and remind them to come back to your store.
5. Be Friendly With Returns
Returns are another hot topic for retailers. Again, shoppers are expecting more convenience and flexibility with their returns than ever before. And again, this is due to the rise of eCommerce shopping – the remoteness of the buying process leaves many shoppers with items that don't meet expectations, hence more returns.
The best way to fix this is to improve your return policy. While you can't afford to accept just any return and you want to protect yourself against return fraud, you also want to make the process friendly and convenient. Remember not to take returns personally. No matter how good your product is, or how good you are at accurately marketing it with descriptions and tutorials, there will be returns. So having the policy consistent and favorable to the customer is the most important way to start.
6. Replace Lost or Broken Items
Likewise, if a shopper immediately drops a drink or sandwich, or accidentally loses or breaks a new item, it's nice to simply replace it without asking any questions. Of course, this comes at a cost of the lost inventory, but it will leave a great impression on the shopper and hopefully get them to come back and even tell their friends about the experience.
Your return policy need not simply be reserved for items that are returned by choice. You can also help out shoppers with returns when they just have some bad luck.
7. Feature Your Shoppers on Social Media
Social media, as annoying and frustrating as it might be to manage, is a great way to encourage consumer engagement with your brand.
An easy way to do so is to feature shoppers on your channel to thank them for their patronage. Like the featured customer we mentioned above, a social media feature will help drive more engagement on your page and more foot traffic in your doors.
Make it a contest that highlights your brand. This will encourage even more participation. Add in substantial gifts and prizes to give away. People love easy contests to enter on social media and will be more likely to follow, like, and share whatever it is your posting.
8. Give Customers Advice
Most shoppers that enter your store are not set on exactly what they will purchase that day. And they're even more unlikely to be experts on the products that you sell. So offering some simple advice on what you sell is helpful.
Start by engaging them in conversation and asking some basic questions to find out more about their preferences and what they're looking for.
Consider adding an employee recommendation section to your shelves. This is common at liquor or wine shops, bookstores, or specialty retailers.
9. Host a Customer Appreciation Event
Another way to educate your shoppers is by hosting an event. Inviting some of your best customers is a great way to thank them for their patronage, but also adds an opportunity to educate them on your store, mission, and products.
Wine classes are a popular way to get shoppers in your doors and buying new wine to try.
Book readings and discussions are exciting events for regulars to attend.
Health food stores might host a cooking or gardening class.
Any business can find a reason to host a group of loyal shoppers to raise awareness about new products or services and get more people talking about your store. Offer them the chance to invite a guest, too. You may even get a new customer out of the process.
10. Gift Wrap Some Packages
Adding some basic services to the retail experience is a great way to give shoppers an extra amenity or two. Gift wrapping around the holiday season is probably the most popular option.
Shoppers are generally crunched for time so saving them the trouble of gift wrapping at home is a great way to thank them for their loyalty.
Keep some materials for wrapping on hand all season, too. If you have a shopper coming in for a birthday present or wedding gift, you can offer to wrap it.
11. Reward Social Media Likes and Reviews
A lot of retailers offer discounts for social media ratings, reviews, or even likes. Maintaining a strong, positive online presence is critical in today's retail world. It builds trust in your brand and instills more confidence in those making a first-time purchase at your store.
Give your shoppers a nice gift or discount for leaving a review or adding a rating on Yelp, Facebook, Amazon, GrubHub, or any other relevant platform. Again, strong reviews build brand trust among consumers. Adding a gift incentivizes leaving a review and is a nice way of thanking shoppers who take the time to help promote your business.
And don't forget to respond to as many reviews as you can, especially negative ones. It's important to show shoppers that you care enough to remedy any bad situations and improve the overall experience for future customers.
12. Create a Loyalty Program to Thank Your Customers
Loyalty programs are the easiest way to say thank you to your shoppers. They also help encourage shoppers to return more often and spend more money every transaction. Additionally, there are a variety of loyalty programs giving retailers the flexibility to set up a strategy that works best for them.
For many small businesses, like bakeries, coffee shops, or liquor stores, a simple point-based system is best. Shoppers collect points, punches, or stamps with each purchase. At certain benchmarks, they're able to redeem their points for a free item.
Other businesses will need more robust loyalty programs, like a club membership. These are important for any subscription-based retail or clubs. The CRM is much more complicated and able to be more personally catered to each shopper.
Whichever type of loyalty you choose for your business, make sure it's built into your retail POS system or integrates with it. To find out more about how to thank your customers with the right loyalty program, click below and set up a free trial with KORONA. We'll walk you through a demo and show you each option you have to start rewarding your best shoppers.